August 6/19 12:58 pm - Dorel Reports Strong Second Quarter for Bicycle Division

Posted by Editoress on 08/6/19

Dorel Industries Inc. (TSX: DII.B, DII.A) announced on Friday results for the second quarter and six months ended June 30, 2019. Second quarter revenue was US$670.0 million, compared to US$623.2 million, up 7.5% from the same period a year ago. Adjusted net income was US$6.3 million or US$0.19 per diluted share, compared to US$12.7 million or US$0.39 per diluted share in 2018.

Revenue for the six months was US$1.30 billion, an increase of 2.4% compared to US$1.27 billion last year. Reported net loss was US$5.5 million or US$0.17 per diluted share, compared to US$10.0 million or US$0.31 per diluted share a year ago. The prior year included a first quarter impairment loss on trade accounts receivable of US$9.4 million after tax related to the liquidation of Toys"R"Us in the U.S. Without this impact, adjusted net income for the six months of 2018 was US$27.6 million or US$0.85 per diluted share.

"We are encouraged that, without exception, all our businesses have produced top-line growth," commented Dorel President & CEO, Martin Schwartz. "U.S. tariffs imposed on China-sourced goods and its impact on retail price points have created uncertainty on customers' buying decisions as well as on supply chain and inventory planning processes. The chaotic market conditions have resulted in margin pressure, particularly at Dorel Home and in the mass channel at Dorel Sports. Despite this, Dorel Home has done an exceptional job of growing its top line and is now focused on inventory and margin improvement. New product launches at Dorel Sports have delivered excellent results and we remain encouraged going forward, particularly with the on-going success at Cycling Sports Group (CSG). Dorel Juvenile was ahead of last year and there has been progress in Europe, however work is continuing to drive down costs and return the segment to the proper level of profitability."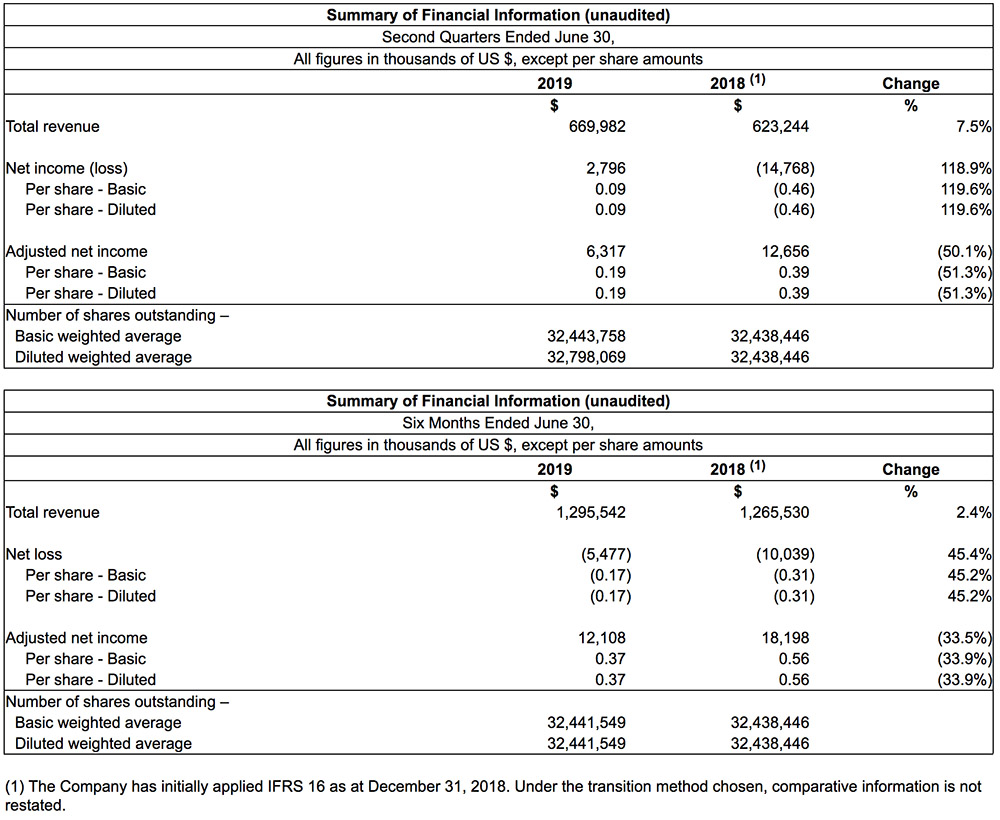 Dorel Sports

Second quarter results reflected successful new model bicycle launches and continued strength at CSG and Caloi. Revenue grew US$16.5 million, or 7.4%, to US$241.0 million. Excluding foreign exchange rate fluctuations year-over-year and the divesture of the performance apparel business last year, organic revenue increased 11.1%. Six-month revenue decreased US$5.6 million, or 1.3%, to US$425.6 million due to first quarter softness in Pacific Cycle's mass merchant business.

CSG posted high single-digit organic growth, with continued success in Europe, driven by the e-bike category including the new Tesoro Neo X and Synapse Neo. The U.S. independent bike dealers (IBD) channel saw solid growth thanks to Cannondale launches such as the Treadwell, Topstone and EVO. Introductions of the model year 2020 line-up were earlier than prior years and have received exceptional reviews from both the bicycle media and riders.

Caloi was solid with low double-digit organic growth on the back of success in sales to Brazil's bike sharing program and a better mix due to Cannondale's growth. Pacific Cycle reversed the first quarter sales decline with double-digit revenue growth due to a strong sales recovery at retail, both at brick and mortar and on-line.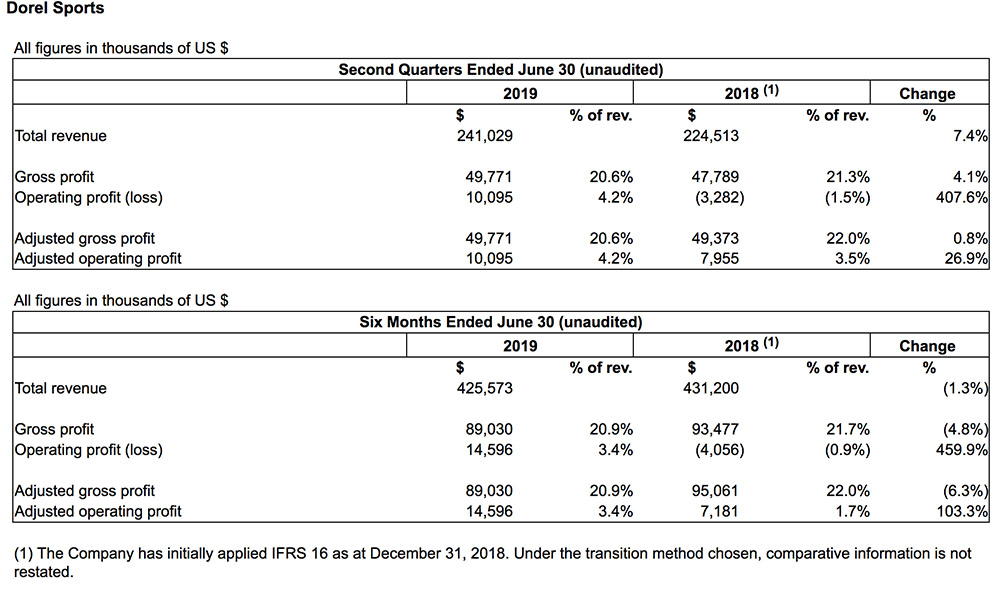 Reported and adjusted operating profit for the quarter was US$10.1 million compared to the prior year's operating loss of US$3.3 million and adjusted operating profit of US$8.0 million, excluding restructuring and other costs. CSG recorded significant growth in adjusted operating profit with its multiple successful new product launches. Partially offsetting this increase was lower adjusted operating profit at Pacific Cycle, principally due to the negative impacts of U.S. tariffs on its China based supply. First half reported and adjusted operating profit was US$14.6 million compared to an operating loss of US$4.1 million and an adjusted operating profit of US$7.2 million, excluding restructuring and other costs. The first quarter of 2018 included a US$6.6 million impairment loss on trade accounts receivable from Toys"R"Us.

Outlook

"The organic revenue growth in the first half of the year is expected to continue into the second half, with year-over-year increases in all three of our segments," commented Dorel President & CEO, Martin Schwartz. "Dorel Sports, led by strong revenue and earnings at CSG, is expected to deliver further sales and adjusted operating profit growth for the segment in the second half. Inventory management will be a key focus through the balance of the year with a targeted reduction of at least US$50 million by year-end."

"The most significant risk going forward remains the impact of U.S. tariffs on certain Chinese made goods. This could have an impact on consumer demand, our retail customers' purchasing behaviour and the economy overall. A strengthening US dollar also remains a risk for Dorel Juvenile and Dorel Sports. We are diligently managing these issues."