August 20/19 16:48 pm - Patrice Drouin Departs from Gestev - 30 Years of Mountain Biking

Posted by Editor on 08/20/19

Next week, the Mountain Bike World Championships return to Mont-Ste-Anne for the third time in the 30 year history of the event. It will be a swan song of sorts for one of the founders of event organizer Gestev, with the retirement of Patrice Drouin.

I have known Patrice for over 30 years - before the UCI officially recognized mountain biking as a sport, when he was organizing mountain bike races in Quebec, and Tracy and I were doing the same in Ontario.

Patrice and I sat down for a chat about his involvement in the sport.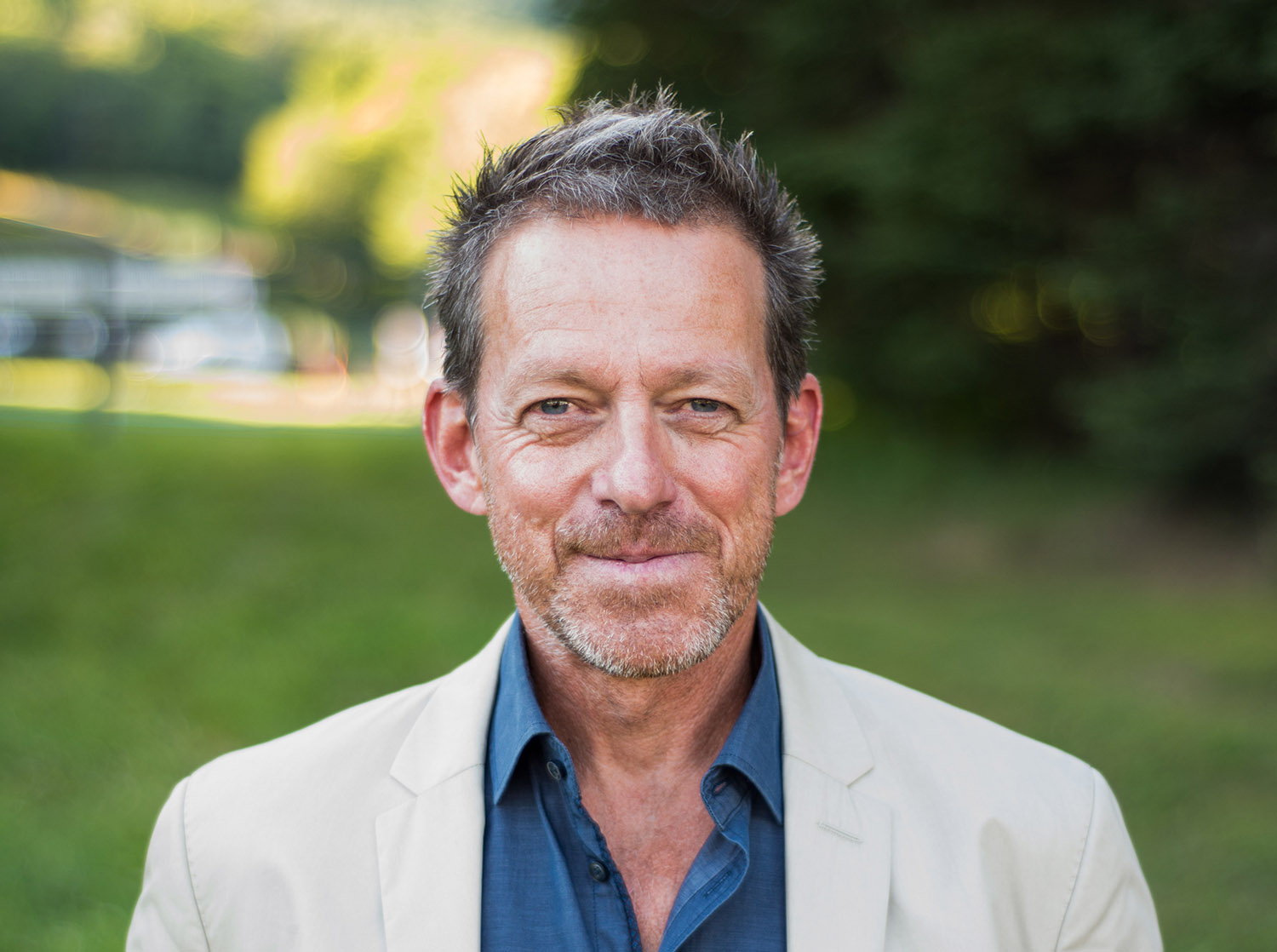 Canadian Cyclist: I don't know if you remember, but you and I first met about 31 years ago; the CCA (Cycling Canada) invited both of us up to Ottawa to talk about mountain biking because they didn't know much about it.

Patrice Drouin: It's been a long time, for sure. That was the beginning in Canada of a structured mountain bike sport. I was involved with the Quebec cycling federation (FQSC) and the AQVM, the mountain bike association I started in Quebec. I brought my association, with the clubs and the members and the racing calendar to the FQSC, and you were the same in Ontario, and then we were asked to go to the national federation and give them ideas on how to implement the sport nationally, and get going with a set of rules.

CC: And after that, Marc Lemay [president of the CCA at the time] went to the UCI and asked them what they were going to do about mountain biking and they made him President of the international mountain bike commission.

PD: Yes, Marc was already involved in BMX at the international level, and they asked him to start a commission for mountain biking. He was asked to bring someone knowledgable about MTB to the international commission meeting in February or March of 1989 to explain about the rules, and that was me. But I only went to the national federation meetings once, because I don't think they like liked the idea I had.

CC: What was that idea?

PD: Well, I was coming from a small association with not much money, so I suggested that we break it up into three regions - Quebec and the Maritimes, Ontario, and Manitoba to the West. Each region would work in itself and then come together to discuss things. I don't think that they liked that and were afraid that I would contaminate the rest of cycling!

CC: You brought in the first sponsor for the national team, when it was formed in 1990 for the first world championships.

PD: Yes, we had a sponsor for our Quebec series, the whiskey company, Canadian Club, and I spoke with the CCA, who adopted them as well for the first few years of racing. But today, if you tried to bring a hard liquor company on a jersey, I think it would not be possible. We also had Carlsberg [beer] as a sponsor for the provincial team.

CC: So, in 1991, the World Cup began and MSA was part of it. Is that when Gestev started?

PD: Yes, Gestev started with that event. Unofficially, nothing had been incorporated and the name Gestev was used as a starter. We did the event as a test for Chantal [Lachance] and I, to see how we worked together as partners. At the end of the event, we said 'okay, we worked very well together'. It went well and we had other events to put on, so we officially incorporated Gestev in January of 1992.

In 1992 we did the World Cup in Mont-Ste-Anne and the world championships in Bromont, and that's when it started, that was the take off year. Between 1991 and 2000 we did events in a bunch of places; we went to Wellington [New Zealand, 1997], Mexico Mazatlan [2000], the the world championships in Åre [Sweden, 1999], World Cup in Cairns [Australia] in 1994 and 1995, and 1996 world championships; Silverstar [B.C.], Mount Snow [Vermont], Grouse Mountain [Vancouver] ...

CC: And then in 1998, your first world championships at Mont-Ste-Anne.

PD: Yes, the first here. I think at that time the sport was almost at its best. The number of teams, size of teams, salaries of riders, sponsors around the World Cup and the enthusiasm around the sport. The first Olympics in '96 at Atlanta was a bit of a rush for the nations, because it was only added in 1993. But then you had the full Olympic period before Sydney [2000] and there was more structure around the sport. In 1998 Mont-Ste-Anne was a destination already known for mountain bike; great parties, great ambience. To my mind, it is one the best world championships I have seen.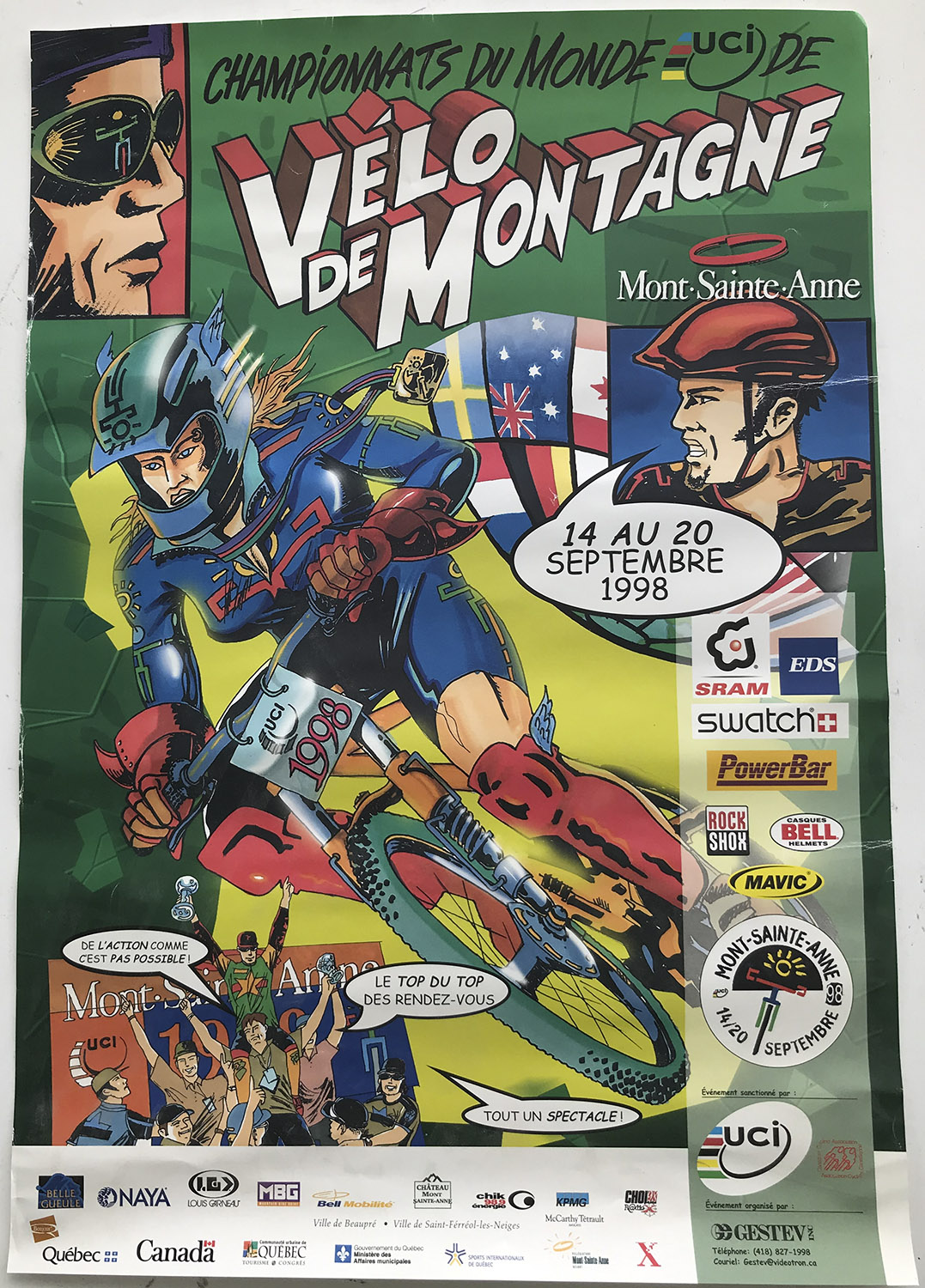 Poster for the 1998 World Championships
If you remember, in 1998 we used a super hero motif for the Worlds, and I remember when we went to the UCI and presented it to them, they were laughing and said that they didn't like it. They said they felt it was disrespectful to the athletes and the sport. I said 'mountain bike is not traditional and can allow itself to have superheroes', and we did it. We had fun producing the event and it was a good championships.

So, I think we were at the pinnacle of the sport in 1998, 1999, 2000 ... and then it flattened out for a while. But today, I feel similar to what I did in 1998. I feel the sport has matured with a great market. Resorts have woken up and are investing in the sport more than ever.

In 2010, the last time the world championships were in Mont-Ste-Anne, was very different. The sport was very professional, with specialists in the three disciplines - 4-Cross, Downhill and Cross-country. The rules were very specific and the sport was very structured, and I think a bit flat. We originally wanted to have it in 2008 for the 400th anniversary of Quebec, and we would have received a lot of financial support. But we got 2010 and it was a good edition, we had fun doing it and had good participation. But I think my preference is 1998, then 2010.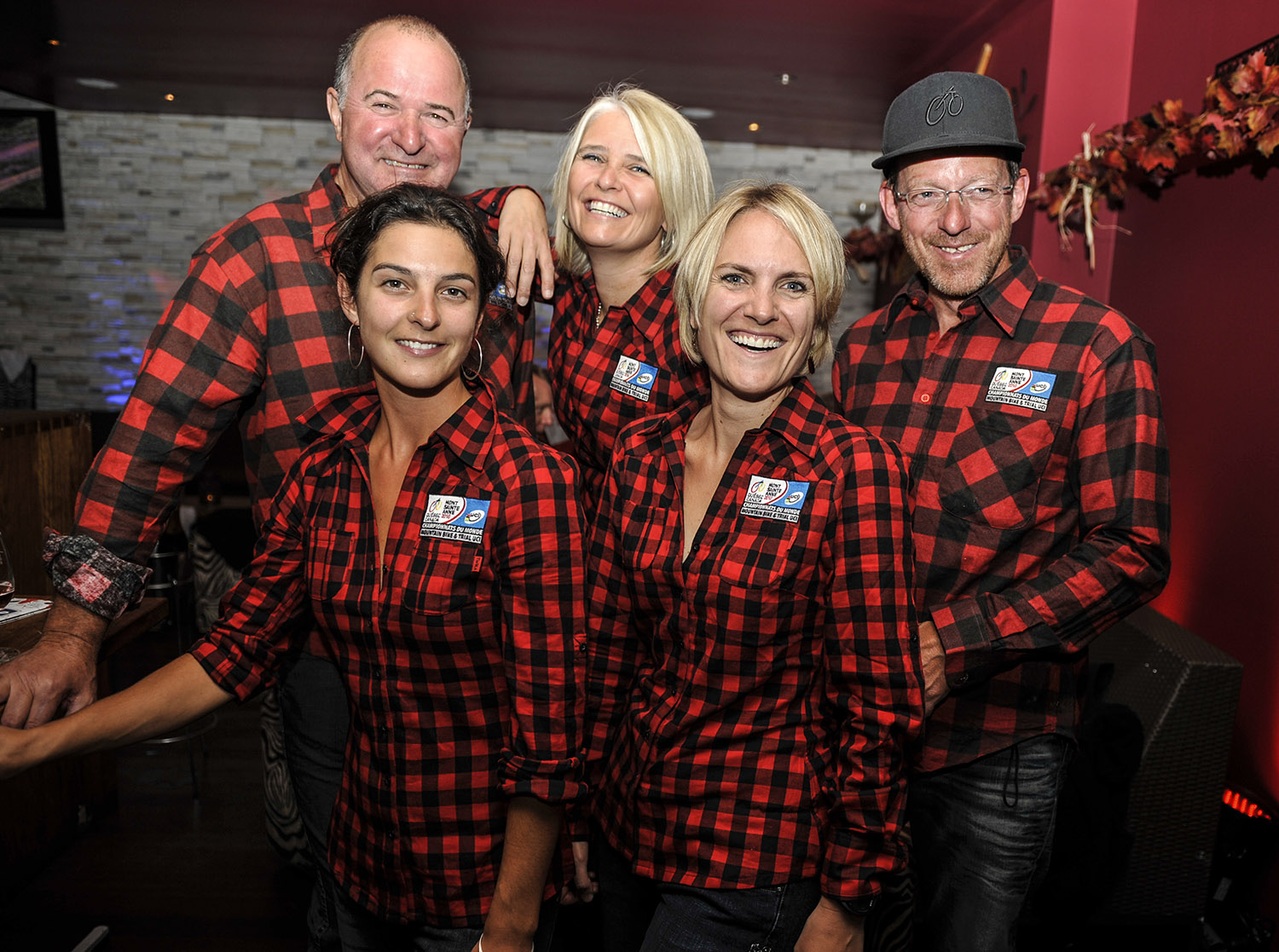 2009 Canberra: back: Yves Blouin, Chantal Lachance, Patrice Drouin
front: Anne Marie Gagne and Marie-Claire Daoust
I think 2019 will be a great edition, with the Masters coming back to the programme. It's prior to an Olympic year, so big decisions will be made here for selections.

CC: This will be the first world championships for electric mountain bikes - E-MTB. It was a late decision to add it to the programme for MSA.

PD: It came to our attention last year at the world championships in Lenzerheide [Switzerland] when David Lappartient [UCI President] and his team approached us about taking the lead on electric mountain bike racing. They asked us if we would be able to implement it in the 2019 programme. So, we went back home to talk as a group and see what we could do.

We couldn't impact our budget because it was already tight, but we found a way to include it on the Wednesday afternoon [August 28th]. There was no criteria about the race track so we were free to propose something. We came back to the UCI with our proposal for the course that would best suit the sport. So it is a 14.7 kilometre course, two laps, with lots of variation of terrain. It's not done for spectators, like the cross-country course design; it's more for the participant. The battery, the bikes, the finesse of using or not using the battery to last long enough ... we will see what happens. We will use this race and from other races around the world to improve for the next edition.

It is legitimate to ask the question - 'Why? People buy bikes to ride bikes, so why electric?' But let's see if we can find a good format that suits that kind of bicycle and those kind of athletes. That's my point of view. Never close the door to try new things, and I think that is what we should do with this sport. We might find something for the next generation of athletes that like to ride electric mountain bikes that is attractive and fun. If we would have closed the door to Downhill we would have never seen it. We have to stay open.

But we didn't want to put a shadow over Olympic cross-country with E-MTBs, so we were very strict with our approach to the UCI - we said we have to be separate on the programme and we cannot use the same course. We have to do it differently.

CC: Now, Gestev has evolved and changed also - you and Chantal started out in 1991/1992, it became bigger and moved into different events, and more recently was sold.

PD: We started with mountain bike; it is our sport and where we came from. Mountain bike was my sport. I brought ideas and our team try to innovate. We would always take comments from the athletes - good things, bad things - everything is important for us to grow. The mountain bike sport was our platform to grow.

We were doing a lot of mountain bike events in different locations, but it was all summer. We thought we should get something in the winter to make the wheels spin more equally. We started to work with FIS, the ski federation for snowboard, in 1996, and did our first World Cup in '97.

Also in '96 we proposed a big cultural event in Quebec - the Fêtes de la Nouvelle-France [New France Festival], which was a huge success. That was a big step up and we had an office in Quebec with ten staff. We were producing a different style of event, different demographics, so we became more interesting for the provincial government.

Then, Red Bull became available in Canada, in October, 2004. We were already connected with Red Bull because of the events we were doing worldwide. We had done the skateboard event in 2005 [Red Bull Combat], but in 2006 we did the first Crashed Ice and have been doing it since then.

Our approach was always to stay behind, out of the picture; we didn't really care if people knew who Gestev was. That changed with the second Crashed Ice in 2007. At that point the media started to search - 'who are those crazy guys behind this?'. Then Gestev became more known, publicly.

We went on doing our events like this until 2013; we were doing lots other events with Red Bull, plus our festivals and mountain bike events. This is when Quebecor became interested; they were opening the Videotron Centre [sports and concert arena] in 2015 and were looking for a group that would be the sport and entertainment division.

We met and had discussions, and finalized a deal. We sold Gestev to Quebecor in May 2013, and Chantal and I became employees for Quebecor. We became involved as the sport and entertainment division, doing concerts, sports events, hockey - we have two hockey clubs ... We have basically doubled the size of the business in the first four years.

CC: And now you are retiring.

PD: Recently, I decided to step aside. First, my contract was done in May 2018, but I agreed to stay for six more months, until December 2018. Then, in 2019 we kept going every month, but eventually we found a date - after the cross-country ski race in downtown Quebec [end of March]. It was a good time for me to close the books.

I am involved in the world championships, of course. I will always be there as long as mountain bike stays at Mont-Ste-Anne! It is close to me, and I will stay involved to help the event succeed and be the liaison with the UCI. There is an end to most of everything, and it is better to choose when it is going to end than to be forced. I am very happy with what we achieved as a team - with Chantal and as a group - but it is time to go and start a new life.

So now I'm learning how to decelerate - every night I had things to do for 30 years, so it's different, very different! I look behind and I'm happy, I look forward and I'm happy. That's a good situation.