August 31/19 23:28 pm - Batty 9th, with 4 Canadian Women in the Top-20

Posted by Editoress on 08/31/19

Canadian Elite women's cross-country champion Emily Batty had her best race of the year on Saturday at the Mountain Bike World Championships in Mont-Ste-Anne, Quebec, finishing ninth. She was joined in the top-20 by three other Canadians - Haley Smith (12th), Catharine Pendrel (14th) and Sandra Walter (18th). In the Elite men's category, Leandre Bouchard was the top Canadian in 27th place, while Laurie Arseneault was ninth in Under-23 women.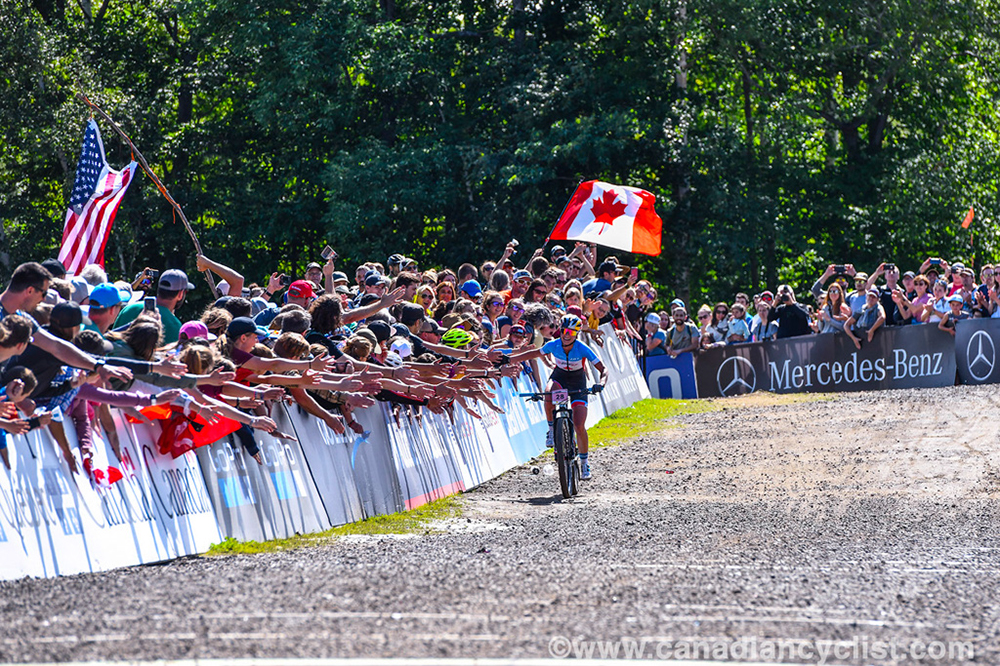 "I would say this is more of what I expect," said Batty, who has struggled on the World Cup circuit this season. "I was going for top-5, but I will take this. I was excited to race in front of all the people who have come from all across Canada, and grateful for them cheering me on. I started fifth row, and I don't remember being back that far before. That was such a chore; I think I was two minutes down by Lap 2, with all the traffic. But I was able to focus on my own race, and I made no mistakes I think with the season I have had, this was my top-3".

Elite Women
Pauline Ferrand Prevot wept on the top step of podium for the Elite women at the Mountain Bike World Championships, on Saturday in Mont-Ste-Anne, Quebec. The French rider has struggling for two years with leg problems, and underwent iliac artery surgery at the beginning of the year. By mid-summer she was beginning to show signs of the talent that led to concurrent world titles in Mountain Bike, Road and Cyclo-cross, with a World Cup win, and in Mont-Ste-Anne she won the rainbow jersey for the first time since 2015.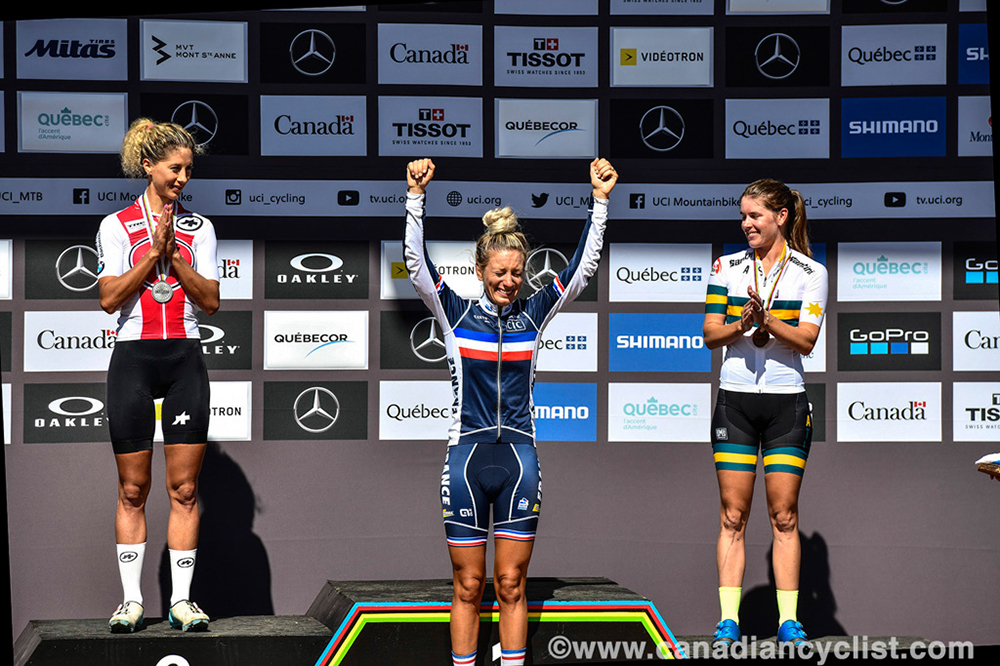 The women's field had tremendous depth, with other contenders including Jolanda Neff (Switzerland), defending champion Kate Courtney (USA), Dutch riders Anne Tauber and Anne Terpstra, plus Olympic champion Jenny Rissveds (Sweden), another rider in the midst of a comeback.

By the end of the first lap, Neff, Australian champion Rebecca McConnell and Courtney had 15 seconds on the two Dutch riders, with Ferrand Prevot seemingly out of contention at 49 seconds. However, Courtney was dropped by the other two and Ferrand Prevot was slowing reeling in the chasers - 35 seconds back at the end of Lap 2, and up to third at 22 seconds by Lap 4.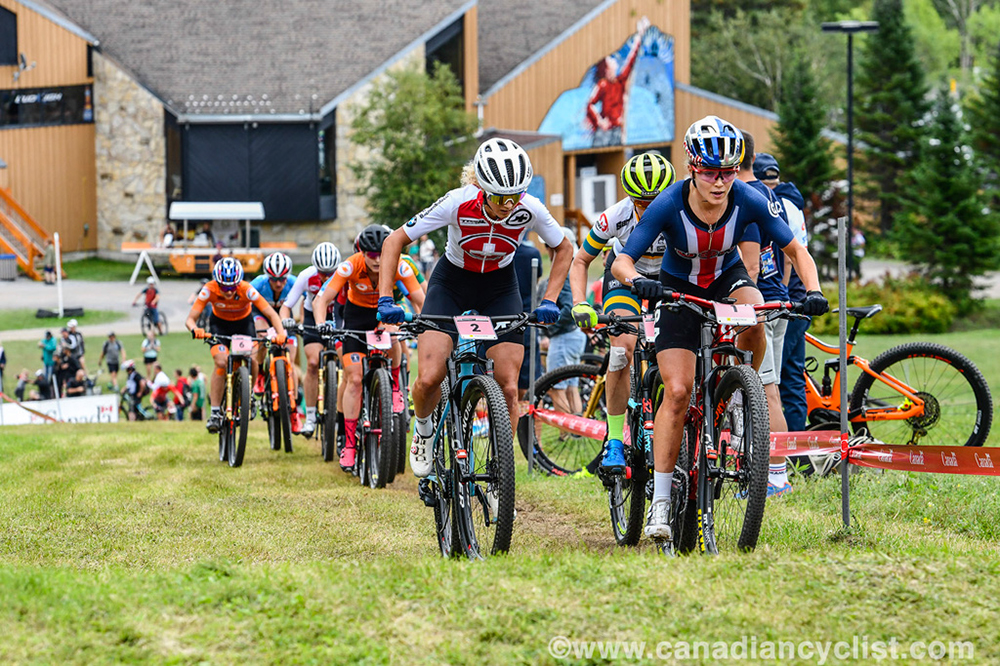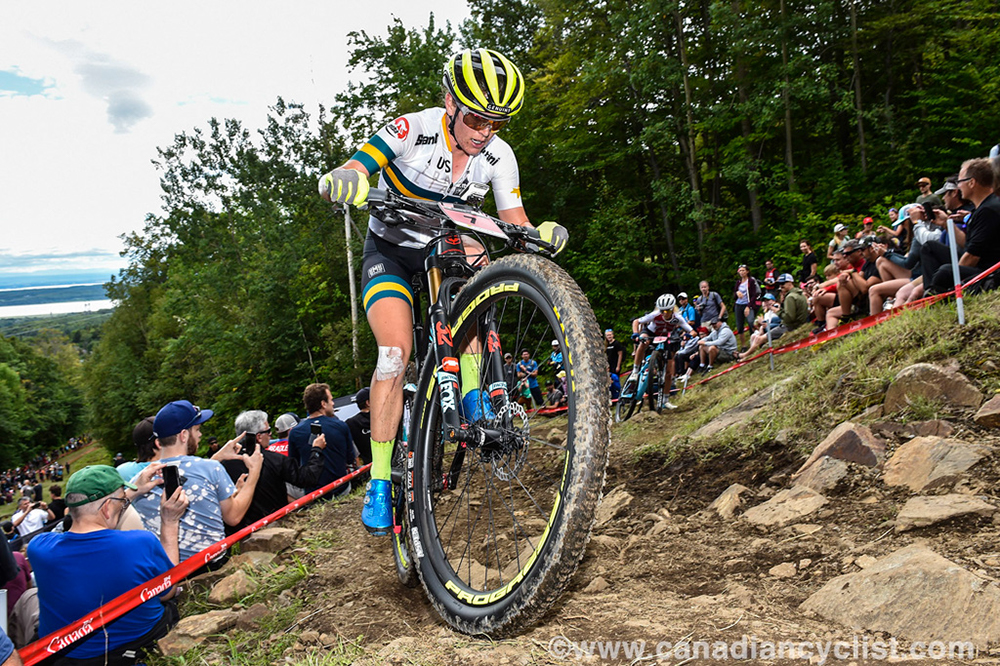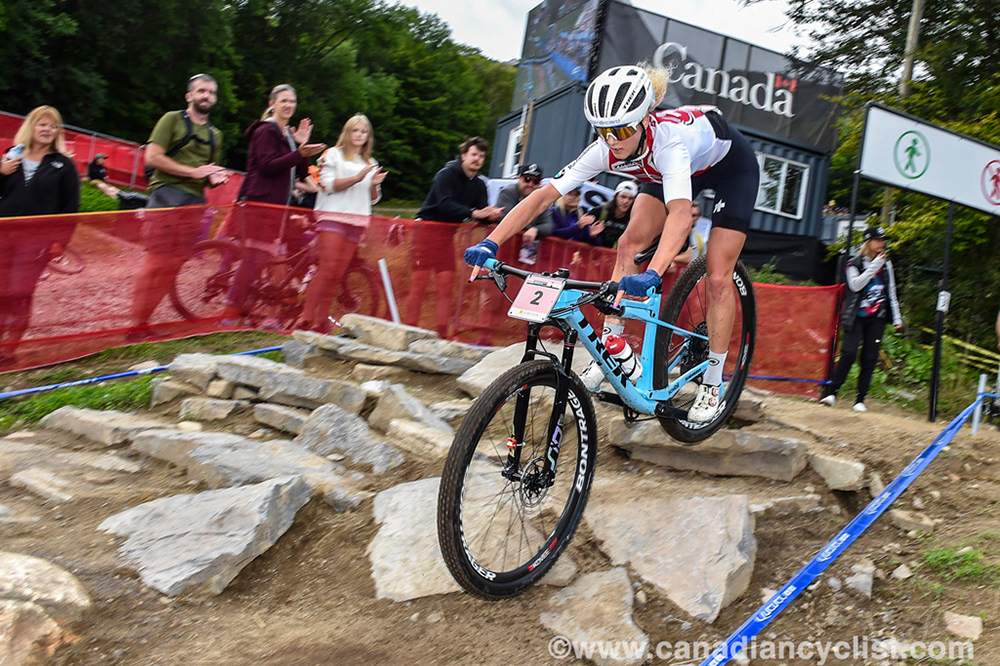 Neff started to fade in the fourth lap, leaving McConnell at the front on her own, and then Ferrand Prevot caught and dropped Neff to move into second, 30 seconds down on the Australian. By the penultimate fifth lap, Ferrand Prevot had caught and dropped McConnell to move into the lead, 41 seconds ahead at the start of the last lap, with Neff at 1:03. While Ferrand Prevot was racing to victory, Neff seemed to have gained her second wind, passing McConnell to claim second, with the Australian taking third.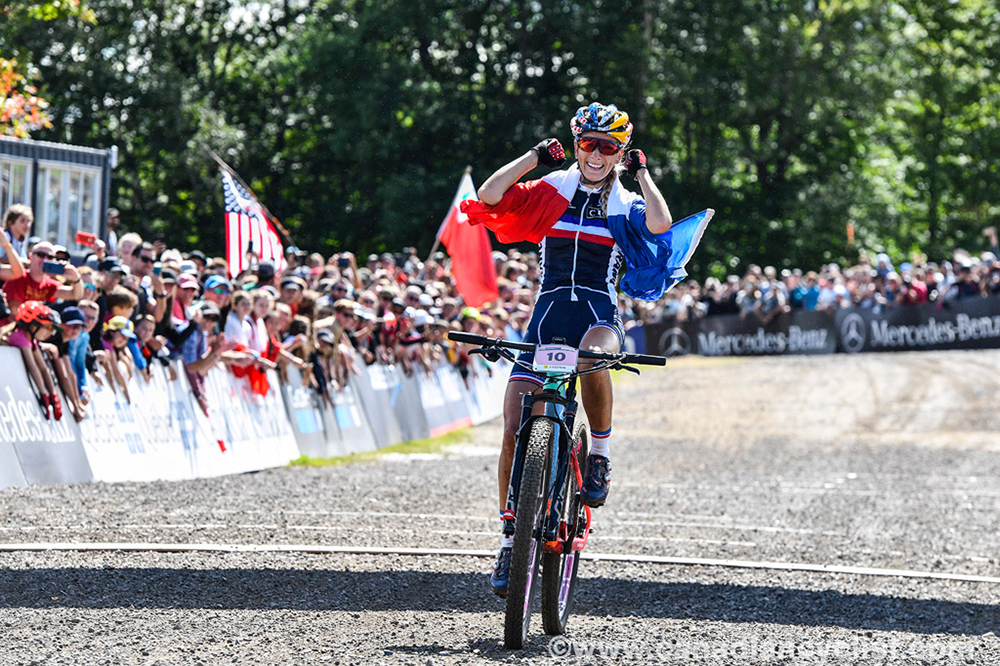 "It was a difficult journey back," said Ferrand Prevot. "Before my operation, it was almost like getting stabbed in the legs if I made an intense effort over two and a half minutes. So, I had to get the operation, even though they told me it could be risky."

"I didn't want to miss this opportunity. I gave everything I had from the start to finish. I really wanted to win today and I'm so happy to do it. The race overall was so crazy; to come from 15th to win! It's been a hard journey to get back to here. But this makes all of the hard decisions, all of the efforts and sacrifices worth it."

Pendrel had a strong start, and was with the original lead group. She was still riding top-10 when she crashed hard on Lap 3 and managed to stay in the top-9 until the final lap, when she started to slide back. Smith led through the start loop, but then fell back to the mid-teens before starting to move up again in the last two laps. Walter, starting well back in the seventh row, moved up steadily all race.

Elite Men
With chief rival Mathieu van der Poel (Netherlands) absent, Nino Schurter (Switzerland) was the clear favourite for the Elite men's title at the Mountain Bike World Championships, and he did not disappoint on Saturday in Mont-Ste-Anne, Canada, winning a record eighth title. Ironically, the last time the world championships were held here in 2010, Schurter double-flatted while in the lead, eventually finishing fourth.

He admitted that it had been on his mind and affected his preparation, "I've been coming here to race for more than ten years, and one of the key factors is to get through without any mechanicals. I invested more time than ever to investigate all kinds of different lines, to have the safest lines through the descents. I was also riding higher tire pressure than normal to reduce the chances of flat tires. I think that paid off; I was the only one in the top four without a mechanical."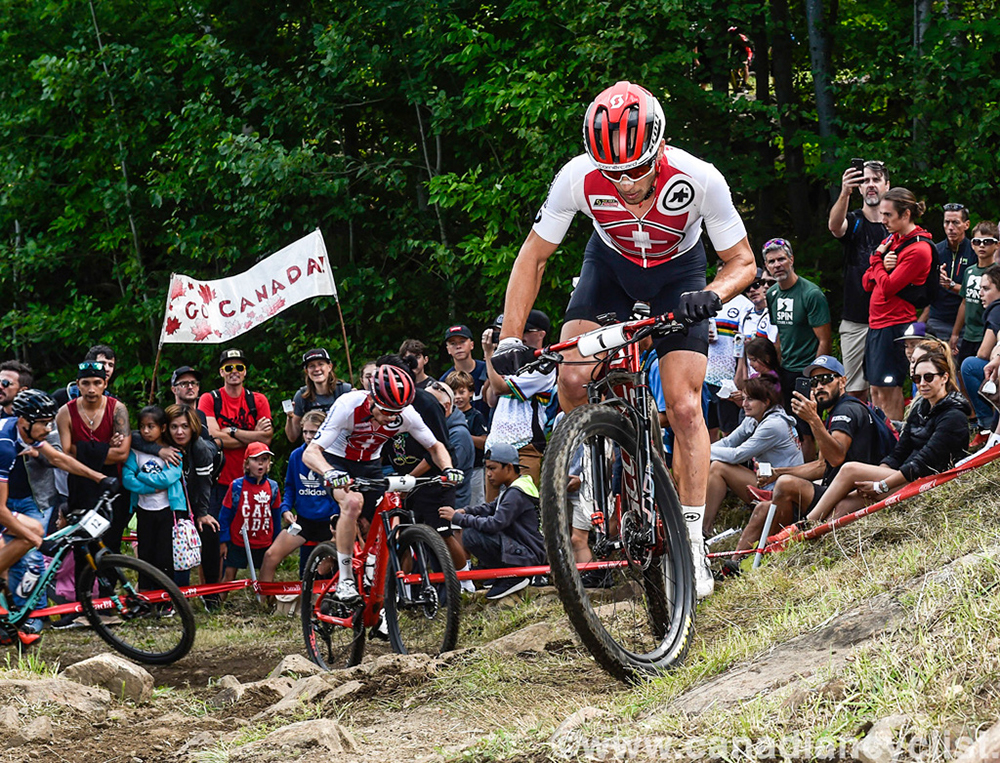 Schurter opened a gap on the field early, with only Stephane Tempier (France) able to stay with him. The rest of the contenders were some 30 seconds back, but could not make any headway. The two leaders stayed together until the fifth lap (of seven), when Schurter surged, quickly dropping Tempier, who then flatted, as did Mathias Flueckiger (Switzerland). Both rejoined the chase, where Gerhard Kerschbaumer (Italy) launched a well-timed attack to move into second.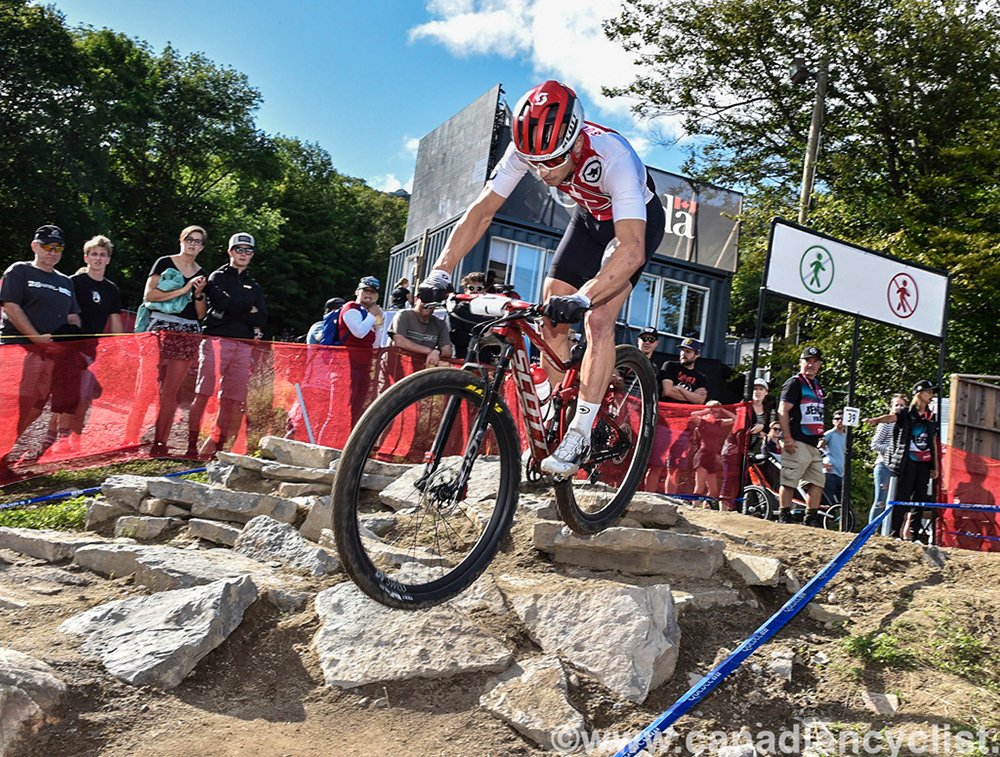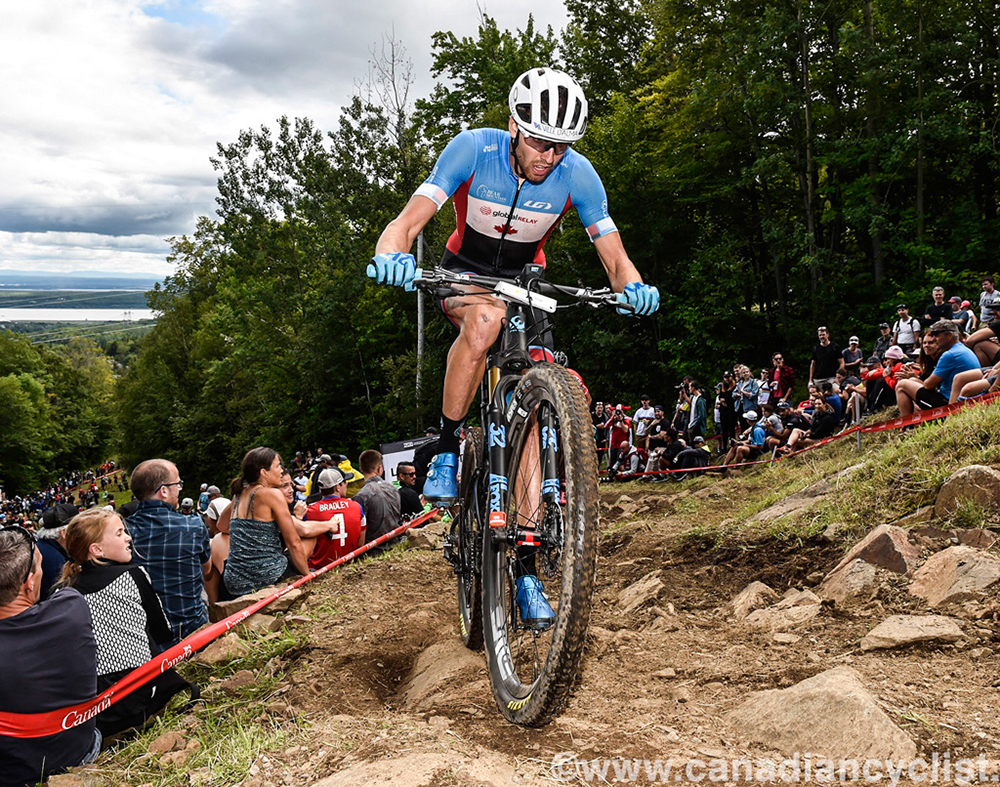 Bouchard was top N American
The first two spots seemed set, with Tempier and Flueckiger battling for the final medal, however, then Kerschbaumer flatted, less than 500 metres from the finish line, and was passed by three riders, with Flueckiger taking second and Tempier third.

"I felt really strong coming into the race today," said Schurter. "I didn't want to go too early. I attacked a few times in the hardest uphill but couldn't make a gap, then in the end I was away, but it was very hard. It's such an amazing and historic track that it is a really sweet victory."

Canadian champion Peter Disera had a strong start, riding in the top-20 on the first lap. However, he is still coming back to early season form after struggling through August, and began to fall back in the last few laps to eventually finish 34th. Bouchard, starting from the sixth row, moved up to the top-30 on the first lap and then maintained his position through the final laps.
MTB World Championships: Elite Women and Men XC results
MTB World Championships: U23 Women XC results
Fincham 11th in Under-23 Men at World Championships
Carter Woods 4th at Mont-Ste-Anne World Championships
Canada Opens Worlds with Fifth in Team Relay
Silver Medal for Canada at First e-MTB World Championship