January 24/20 23:59 pm - Canada Wins Three Medals at Milton World Cup

Posted by Editoress on 01/24/20

Canada had one of its strongest days ever in Track World Cup competition on Friday, at the Mattamy National Cycling Centre in Milton, Ontario, with medals in all three events it entered, including a gold medal in the Women's Team Sprint. Canadian riders also won bronze medals in both the women's and men's Team Pursuits.

Riding in the Team Sprint for the first time at the World Cup level, Lauriane Genest and Kelsey Mitchell improved dramatically in each of their three rides. After qualifying fourth with a time of 33.947 seconds, the duo won their first round heat and set the fastest time, at 33.317 seconds. In the gold medal final against Poland, the pair were even faster, at 33.012 seconds, to take their first ever World Cup win. Canada's NextGen P2M team of Sarah Orban and Amelia Walsh finished eighth overall.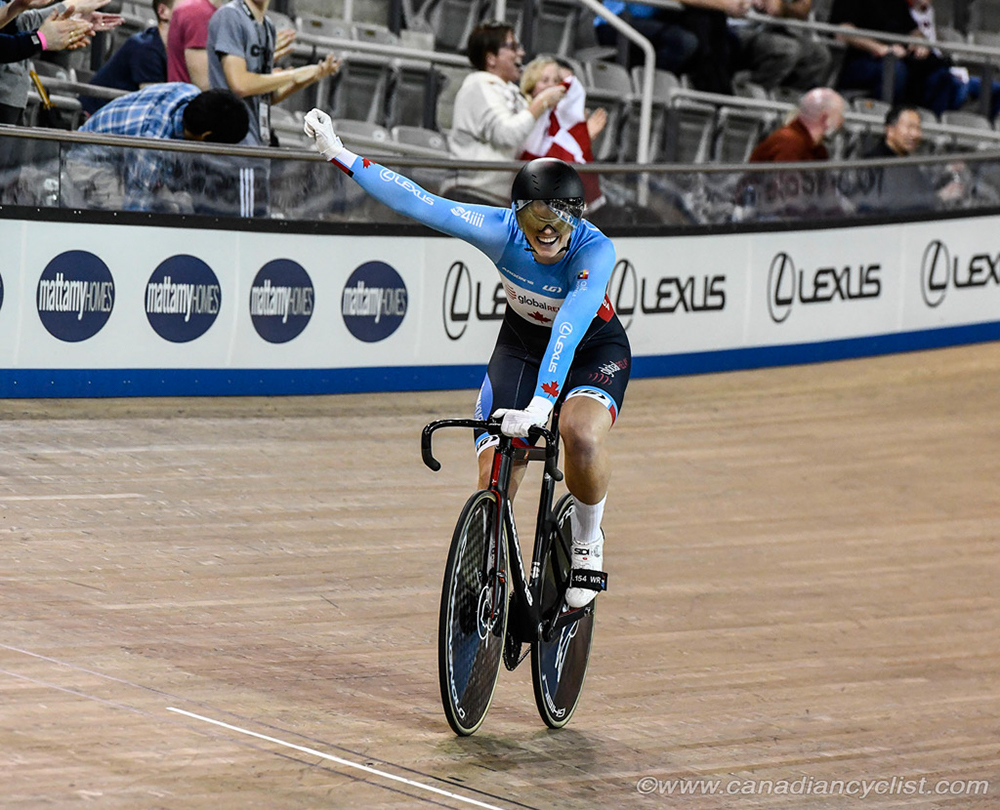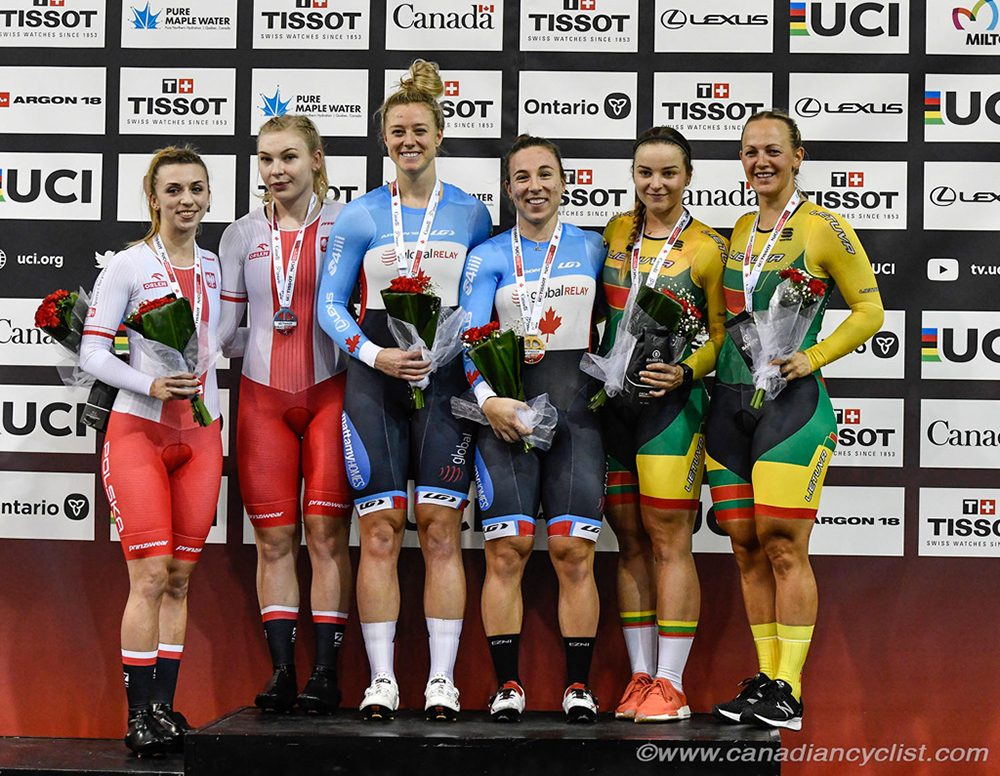 "It's incredible to win here, at home," said Genest. "After this morning's ride we were hoping for a podium, but not expecting a gold medal. But we just kept improving every ride, and did our best ride in the final where it counted the most. It's incredible that we were able to get on the highest step today. I'm extremely proud with what we've been doing with the female sprint program."

Both the Team Pursuit squads included NextGen riders matched with more experienced riders. The women's squad of Devaney Collier, Erin Attwell, Miriam Brouwer and Kinley Gibson set the fourth fastest time in the morning session to qualify for the bronze medal race against Belgium. In that race, the Canadians took charge in the second kilometre, steadily expanding their lead to finish more than 1.4 seconds ahead of Belgium.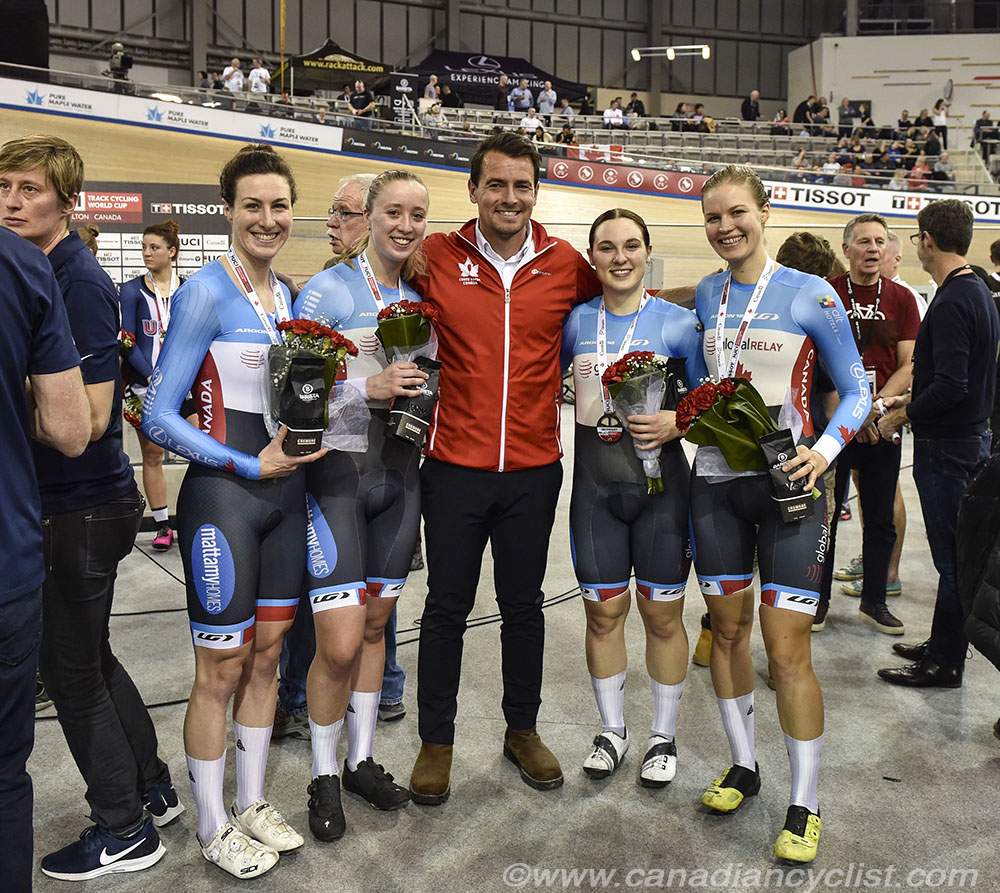 Women Team Pursuit Final photo gallery

In the men's competition, the Canadian team of Evan Burtnik, Chris Ernst, Amiel Flett-Brown and Sean Richardson bounced back from a disappointing qualifying race on Thursday to set the third fastest time and go up against Belarus for the bronze medal. Jackson Kinniburgh replaced Richardson for the medal ride, which proved to be a seesaw battle. The two squads swapped the lead three times, before Canada finally moved into the lead with only two laps to go, setting a time of 4:00.945, over six-tenths of a second ahead of their rivals.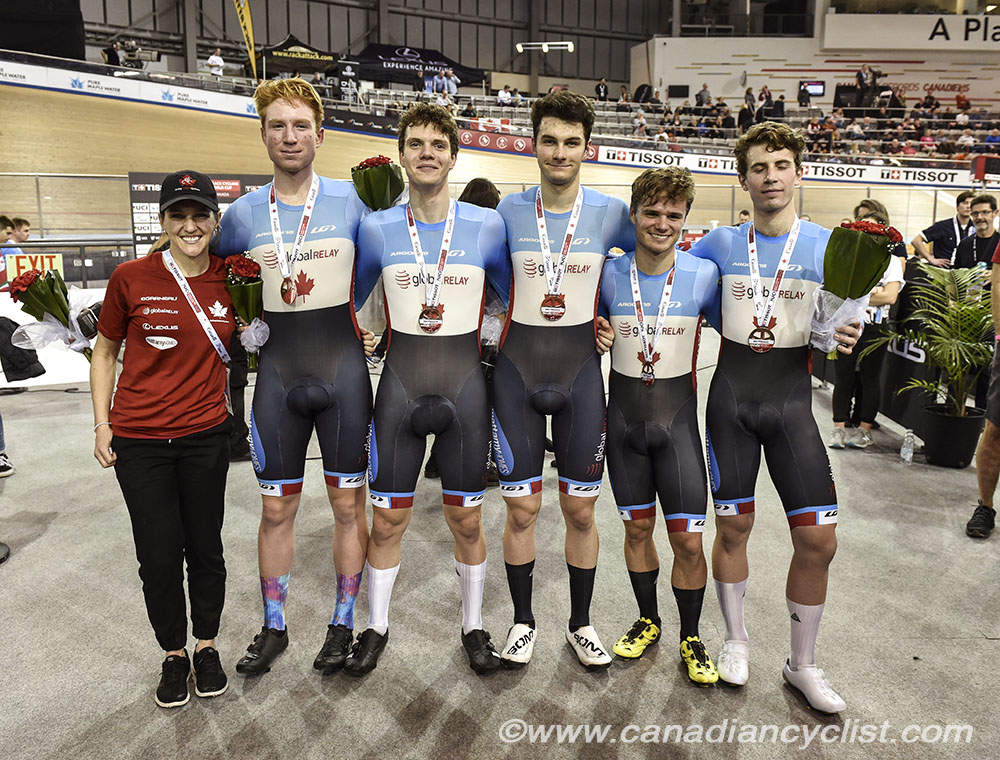 Men Team Pursuit Final photo gallery

"We got dropped into this team three weeks out [from Milton]," explained Burtnik, " so we didn't really know what we had. Qualifying was our first test, but luckily we were able to work out the kinks as we went. We all just fully committed and everything went great in the final. It was really awesome; I have a lot of family here, so it was extra special, a great feeling."
Track World Cup: Day 2 results
Canadian Women Second on Day 1 of Milton World Cup
Photo galleries