January 27/20 0:06 am - Canada Finishes Milton World Cup in Fifth Place

Posted by Editoress on 01/27/20

The final round of the Track World Cup in Milton, Ontario, concluded on Sunday with some strong performances from Canadian NextGen riders. Canada finished the World Cup with four medals - one gold, one silver and two bronze. This put Canada fifth in the nation standings, and third in total number of medals.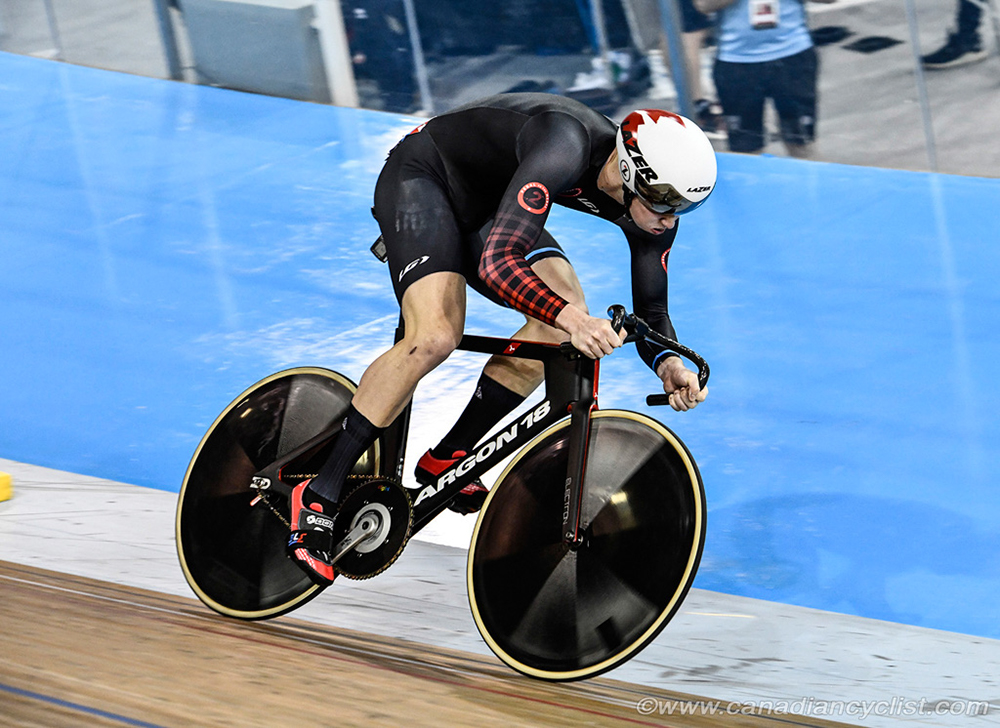 Nick Wammes
Sprinter Nick Wammes, riding for the PTM trade team, qualified third in the men's 200 metre time trial, with a personal best time of 9.755 seconds. Team Canada's Hugo Barrette was 12th. Wammes qualified directly to the eighth-final, but lost his race to finish ninth overall. Barrette lost his sixteenth-final and did not advance. Mateusz Rudyk of Poland took the gold ahead of Quentin Calyron of France.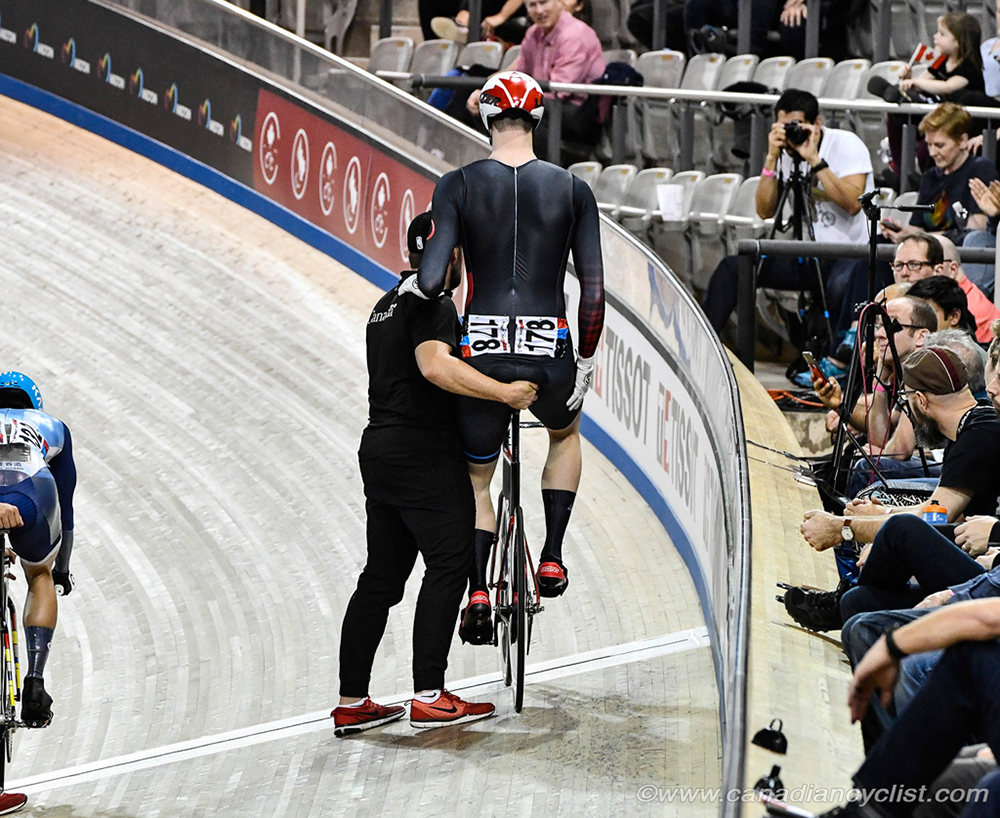 "I came here with a big goal of qualifying under ten seconds; it's been a really big goal of mine for the last year and a half, so to finally do it in a big fashion is a great thing. To qualify third and get a bye through the sixteenth-final was a big shock. I had my strategy for the race, but unfortunately wasn't able to execute properly and I just didn't have the speed to come around."

In the women's Keirin, Pan Am champion Lauriane Genest was a last minute substitute the ill Kelsey Mitchell. Genest lost her first round race but qualified for the second round through the repechage. She did not make the medal final, but won the small final to finish seventh overall. NextGen rider Sarah Orban, riding in PTM colours, did not advance past the Repechage round. Laurine van Riessen of the Netherlands won the gold medal race.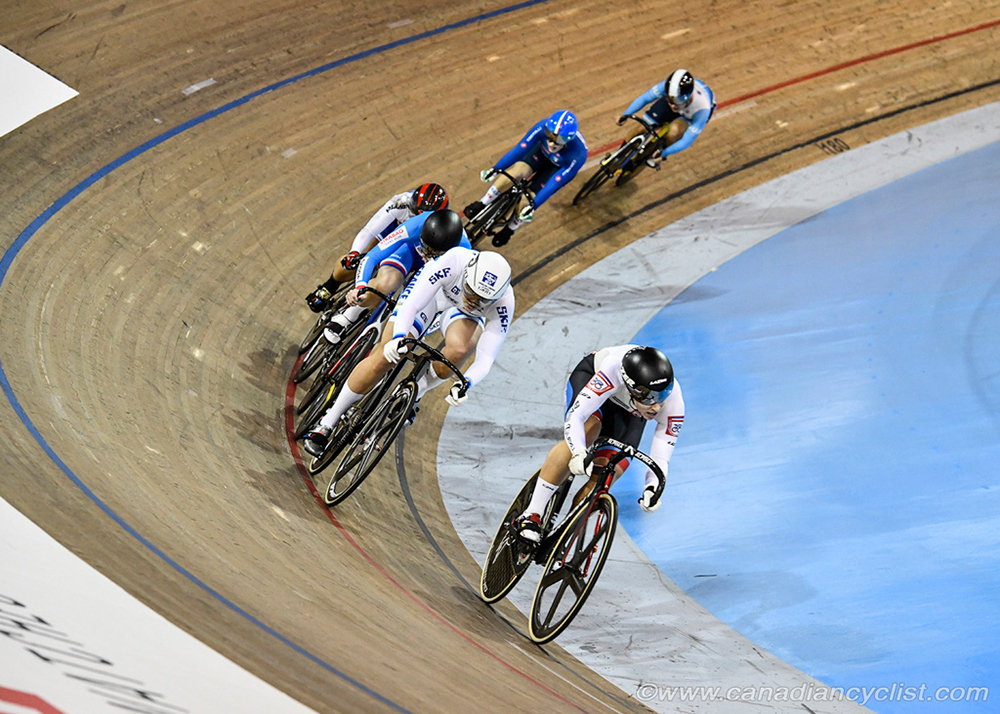 Lauriane Genest
"Kelsey has been sick all weekend, and I think she made a good decision to not race the Keirin, so I jumped in. It was a bit of an adjustment and I had to mentally change my mind. I think my ride in the morning showed that maybe I wasn't mentally prepared for it. But it got better in the evening. It was frustrating because I wanted to do better."

"I'm very happy with how the girls rode," said Franck Durivaux, Head Sprint Coach. "Kelsey was very sick, so we didn't think we could do it, but she was totally amazing. She and Lauriane did a personal best in the Team Sprint for gold, and on the second day Kelsey just smashed it again in the Sprint. So we decided that she would not do the Keirin for her health, and Lauriane just stepped in."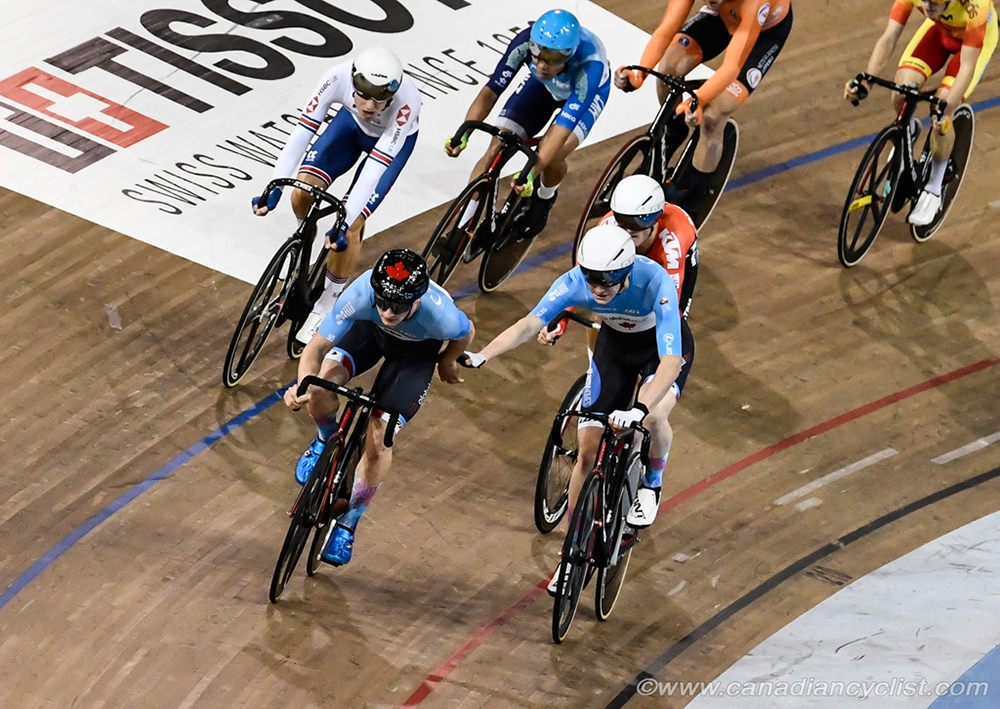 Jackson Kinniburgh and Riley Pickrell
The Canada team of Jackson Kinniburgh and Riley Pickrell had a strong start to the men's Madison, scoring points in the first two sprints. However, the pace of the 200 lap race proved to be too much for the NextGen riders, and they were forced to retire midway through the race. The Dutch team dominated the race to take gold ahead of Great Britain and France.

Canada was represented in the women's Omnium by NextGen rider Devaney Collier, who finished 11th overall after four events. Collier was 12th going into the final Points Race and managed to improve one position. She was also a member of the Team Pursuit squad that won a bronze medal and raced in the Madison. Jennifer Valente of the United States won the overall title, in a race that was marred by the withdrawal of Olympic champion Laura Kenny of Great Britain, who retired after a crash in the third event.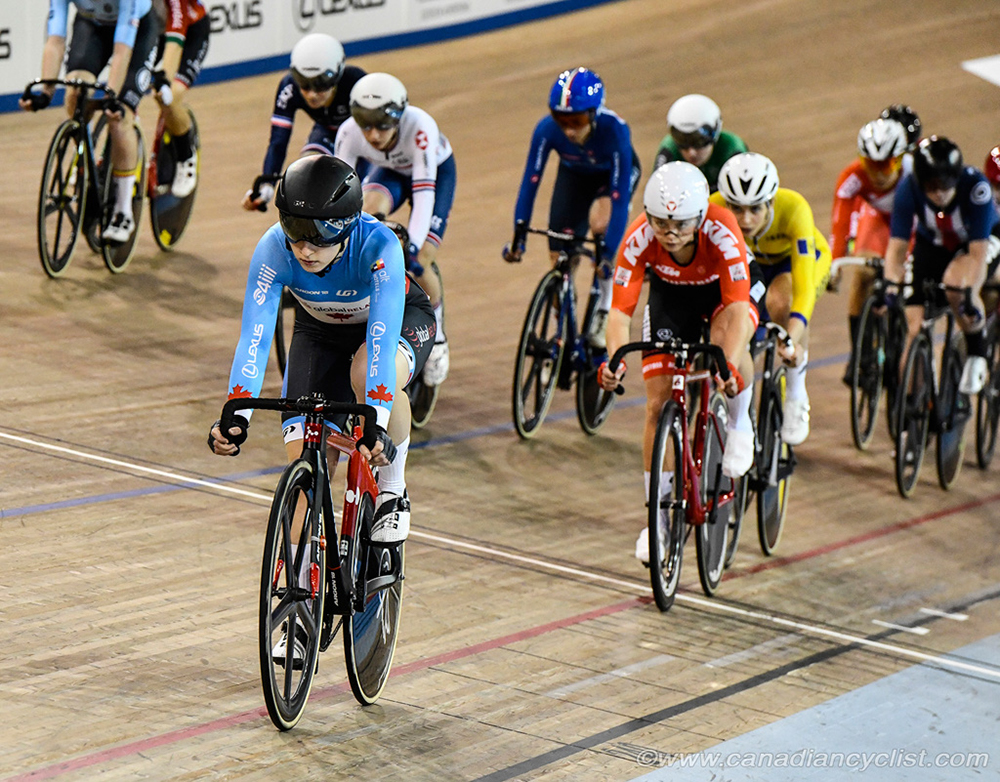 Devaney Collier
"It was a good weekend. A lot of racing, and the challenge was just making it through the whole thing. I think I managed to do all right in everything. I needed eight points to move up four spots, so I was trying to be opportunistic. It didn't work out this time, but I tried."
Track World Cup: Day 4 results
Day 3: Mitchell Adds a Silver Medal in the Sprint
Day 2: Canada Wins Three Medals at Milton World Cup
Canadian Women Second on Day 1 of Milton World Cup