February 3/20 18:04 pm - West Leads Canadian Results at Cross Worlds with 9th Place

Posted by Editoress on 02/3/20

Ruby West was the top Canadian rider at the Cyclo-cross World Championships in Dubendorf, Switzerland, finishing ninth in the Under-23 women's category. Maghalie Rochette finished 14th in Elite women and Michael van den Ham 24th in Elite men. The Netherlands dominated, winning four of six races, including both Elite titles, with France winning the Under-23 women and Belgium salvaging pride by sweeping the Junior men's podium.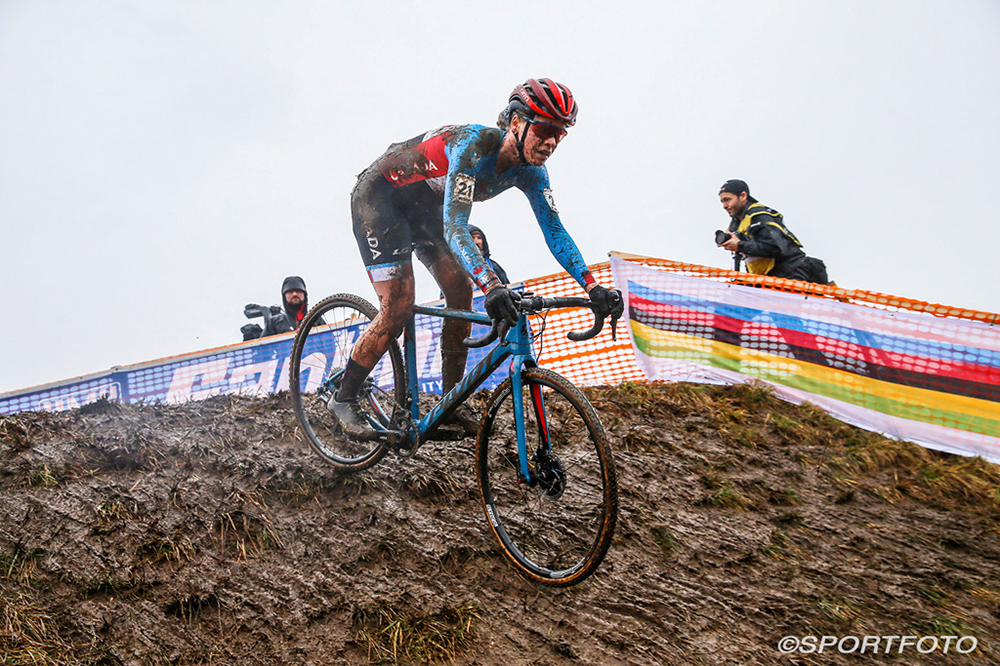 Ruby West
Elite Women
Rochette had a good start, but then fell back to the high teens before recovering in the last lap and a half. Dutch riders finished 1-2-3, with Ceylin del Carmen Alvarado taking the title ahead of teammates Annemarie Worst and Lucinda Brand. Jenn Jackson was Canada's only other entrant, finishing 27th.

"It was definitely not the day I was hoping for," admitted Rochette, "but you know, I am still proud. It's been a great season. My most successful season to date, but also my most fun season!"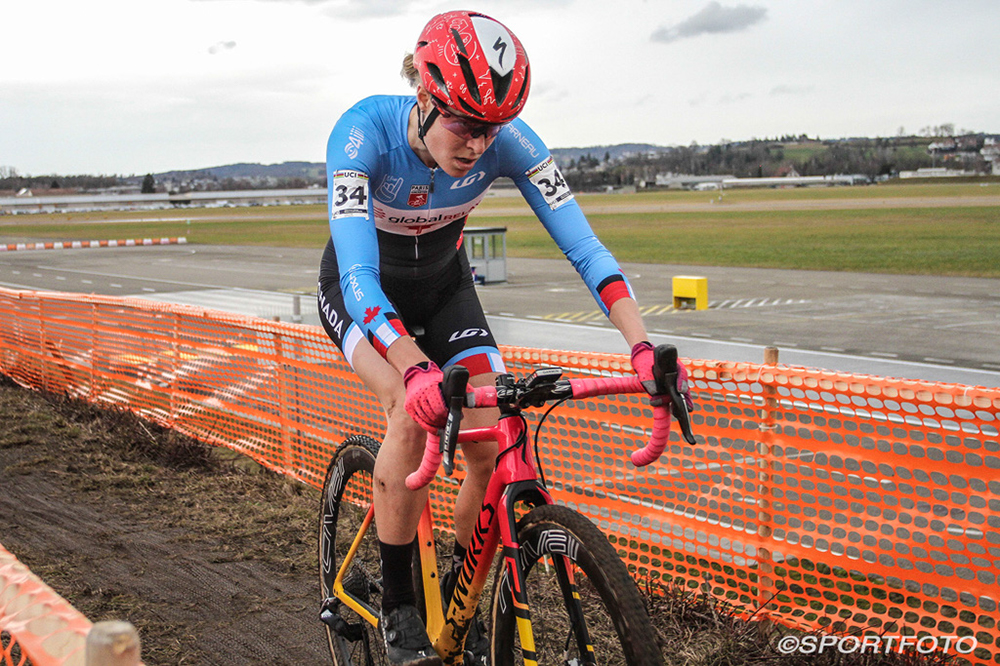 "Before starting the season, one of my goals was to approach each race with purpose and intensity. That sounds pretty obvious, but when you race 20-30 races over a six month period, there will definitely be moments when that's harder to do. However, I managed to do that. I didn't even cry once (Yay!) ... actually I cried when I won my first Word Cup, but that's all (and that doesn't really count!). I brought my best self to each race, and had a very consistent season. I'm super happy about that. The other goal we had was to have only positive vibes - and I'm happy to say both David and I managed that (which is not always easy through the ups & downs and challenges of a racing season), which resulted in our most fun season yet!

"For me, Worlds was a celebration of that season. One last chance to give it my all, and that's what I did. It did not result in the placing I wanted, but that's okay ... it's motivating me to tweak things a little bit and come back stronger next time.

"As athletes, we always want more. But when I look back to this season, I have to be happy and appreciate what we've accomplished. I'm walking away from this season with my first World Cup win, a sixth place in the World Cup Overall Series, a fourth place in the UCI ranking, a Canadian and PanAm championship title, and our Specialized/FeedbackSports racing program is doing better than ever.

"So tonight, although I wish I would have been on that World's podium, both David and I are smiling. We are happy! And we are very grateful for the support we receive, very thankful to be able to chase our dreams and live this awesome lifestyle!"

Jenn Jackson also spoke about her race: "It was tough jumping back in to racing at Worlds; I feel like a shadow of myself from the Fall, but gave my best on the day to represent Canada well and am grateful for the opportunity to race cyclocross abroad. 27th as ground zero for my first full 'Cross season and World Championship is something I look forward to building on for next year."

"It was a tricky couple days leading up to the race waiting for the track to ride in and the forecast to settle, but the team staff were on point advising on equipment and line choice on course. The course itself made for an unrelenting race, the flyovers added a lot of elevation, the knolls were very abrupt which required precision to either ride or run efficiently, and the flat straightaway transfers between features were very physical with the rough ground."

Elite Men
Dutch rider Mathieu van der Poel proved that he continues to be the best of the men by riding away from the entire field on the first lap, eventually finishing 1:20 ahead of Thomas Pidcock (Great Britain), with Toon Aerts (Belgium) a further 25 seconds in arrears. van der Poel was nearly two minutes up before backing off on the last lap to cruise into the finish. In addition to van den Ham's 24th place, Cameron Jette was 37th.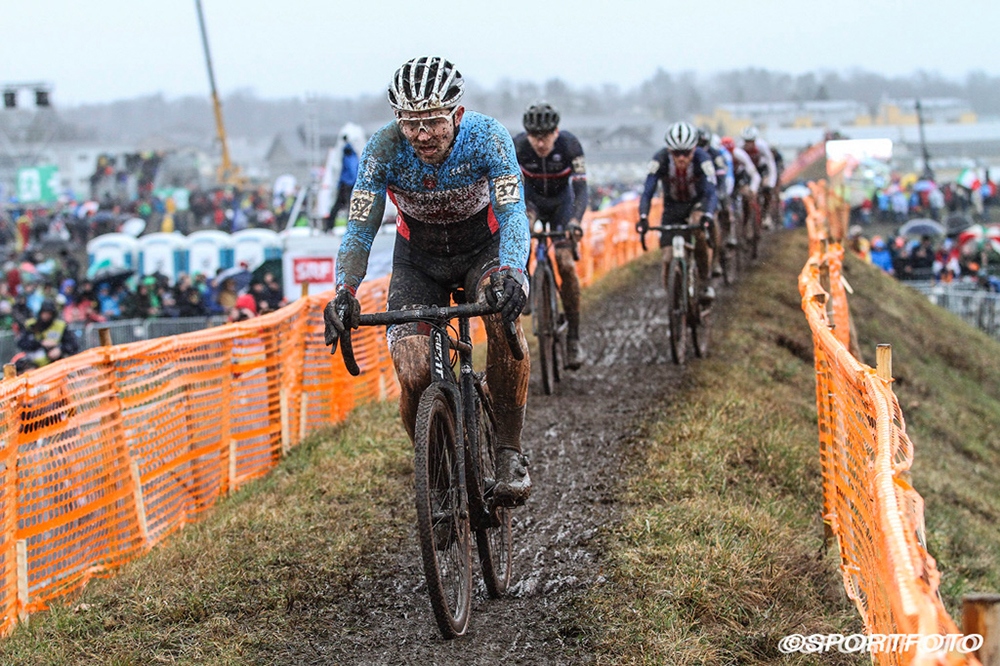 "I ended up 24th today at Worlds," said van den Ham, "and if you'd told me yesterday that's where I would end up, I'd probably have been very happy to hear it, but weirdly enough I'm actually a little disappointed about how this one ended.

"After rolling inside the top-20 for the first half of the race, I cracked in a pretty big way on the last couple of laps. I probably could have paced that one a little better, but sometimes you just have to go for it when the opportunity is there. I think a lot of times we, as riders, limit ourselves by how fast we think we can go and just stick in the same group race after race. Yeah, I'm not happy that I couldn't make it stick this time, but now I know I can ride with that next group up. So no, no regrets about it!

"My CX season is all wrapped up now. It's probably been my best one to date with four UCI wins and a lot of my best ever finishes in Europe. I definitely am in need of a little break now, but I'm already started to get excited to build on this for next year with another season of training and racing in the bank, I think you can expect to see some more from me next year.

"I also want to give a huge shout out to the whole Cyclocross Canada program. Scott Kelly has been a part of it since my first Worlds in Louisville and it's amazing to have the professional level of support that we have. From the stories I hear from older riders about Worlds before Scott was involved, it wasn't always like that, so I'm incredibly thankful we have that opportunity. So thank you Scott, Avery, Derek, Adam, Drew, Amanda, and Mike!"

Under-23 and Junior
In the Under-23 categories, Canada had a career-best rider from Ruby West in the women, while Dana Gilligan was 26th. Tyler Orschel was the top Canadian for the men in 31st, followed by Malcolm Barton in 47th.

"My race at Worlds was one of the best races I've ever had," said West. "I lined up on the second row, hoping to be able to put together a top-10 ride. I had high hopes for this race, but more than anything was just excited to see what I was capable of in this field of riders closer to my age than the elite World Cup field I had been racing in for the rest of the season.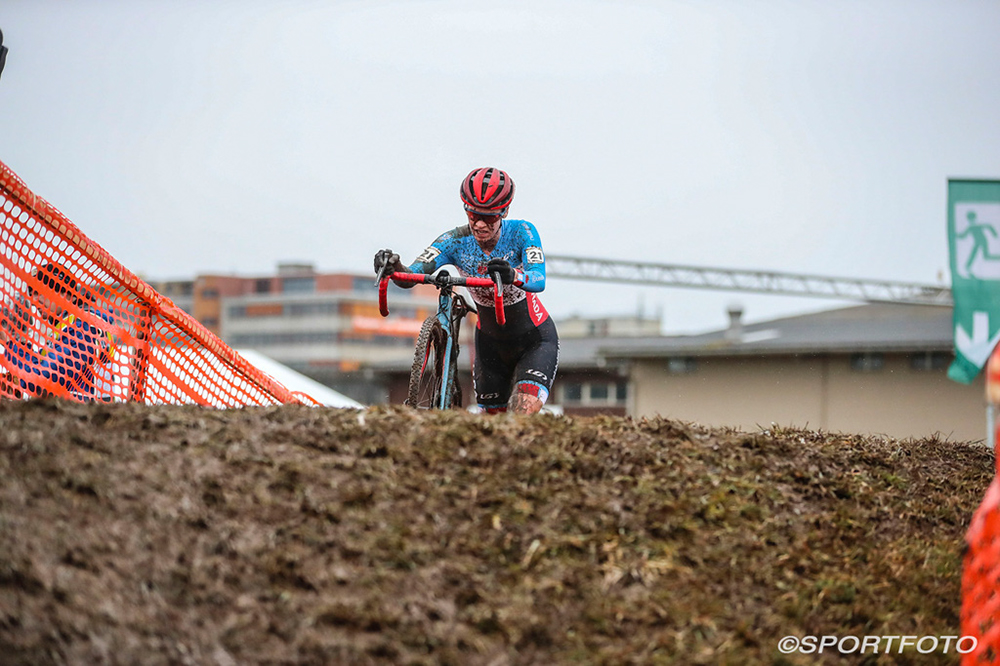 "The start was fast as expected, but early on in the race I found myself in the lead group. Marion (the eventual winner), broke off from this group pretty early, and as other riders around me were making mistakes, I found myself clear in second. I tried to maintain this pace and effort, but as the race went on, the mud got deeper and my early efforts started taking their toll. I had a few crashes, which although inevitable on a course so muddy and challenging, set me back a ways. I kept getting up and pushing on after those falls, trying to fight as hard as I could to the finish, knowing that this was my last race of the year and not the time to hold back.

"I was so lucky to have my team mechanic Drew Esherick in the pits cheering me on and swapping out the bikes after they got caked in mud every single lap. The Canadians along side the course were also incredibly loud which gave me an extra push towards the line. I came in for ninth place after four laps of the course, finishing in 53 minutes for what was supposed to be a 40 minute race, [which] just goes to show how tough the course was riding.

"I'm thrilled with the ride I had at Worlds, it felt like the perfect culmination of all I've learned and the confidence I've gained this season. It was especially special to share the day with my parents who came over to watch and were screaming their lungs out course side. This result was also special to me because it felt like I was finally able to give back to the Cyclo-cross Canada program that has given me so much support over the years. The program continues to grow and the support they are able to provide to athlete with the limited budget they are provided (exclusively through donations because cyclo-cross is not a funded olympic discipline) is truly amazing. We are so lucky to have Scott Kelly so dedicated to making this program work and it felt incredible to be able to repay his dedication to the program with a solid result."

Mountain biker Emilly Johnston was a strong 16th in Junior women, with Claire Steciuk finishing 41st. In Junior men, Cody Scott was 51st and Matthew Leliveld was 57th.
Cyclocross World Championships: Day 1 results
yclocross World Championships: Day 2 results