March 28/20 9:57 am - Race Revisit - Bear Mountain 2019 with Pete Disera

Posted by Editor on 03/28/20

We are beginning a new series - Race Revisit - where we will return to a past event that took place on (or around) this date. As well as a recap of the event and links to our original coverage - race reports, results, photos and video interviews - we will also be trying to include comments and in-depth commentary from some of the Canadian athletes who were there.

We start with the 2019 Bear Mountain Canada Cup; the opening round of the national mountain bike series, and one of the few times of the season that Canada's top pros get to race at home. Joining us for this revisit is Peter Disera of Norco Factory Racing, who won the Elite men's race for the second consecutive year; the start of a season that would see him record his first top-10 World Cup result later in the year.

Here are the links to our coverage (order in which they appeared):

Preview

Results

Report

Interviews

Disera and his Norco team mate Haley Smith dominated the men's and women's races, respectively, taking the lead on the opening lap and never looking back. Smith beat three-time defending champion Catharine Pendrel (Clif Pro Team), with Laurie Arseneault (ACQ) finishing third. Sandra Walter (Liv Giant) came back from a flat to beat Jenn Jackson (AWI Racing) for fourth.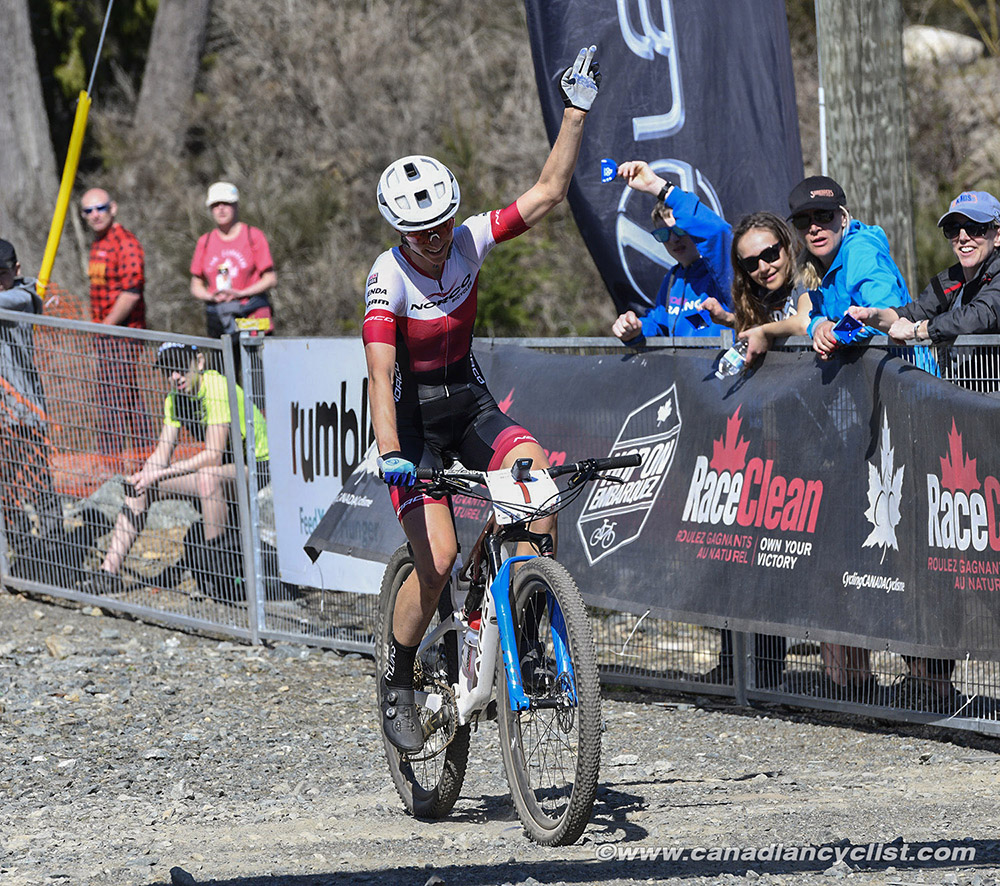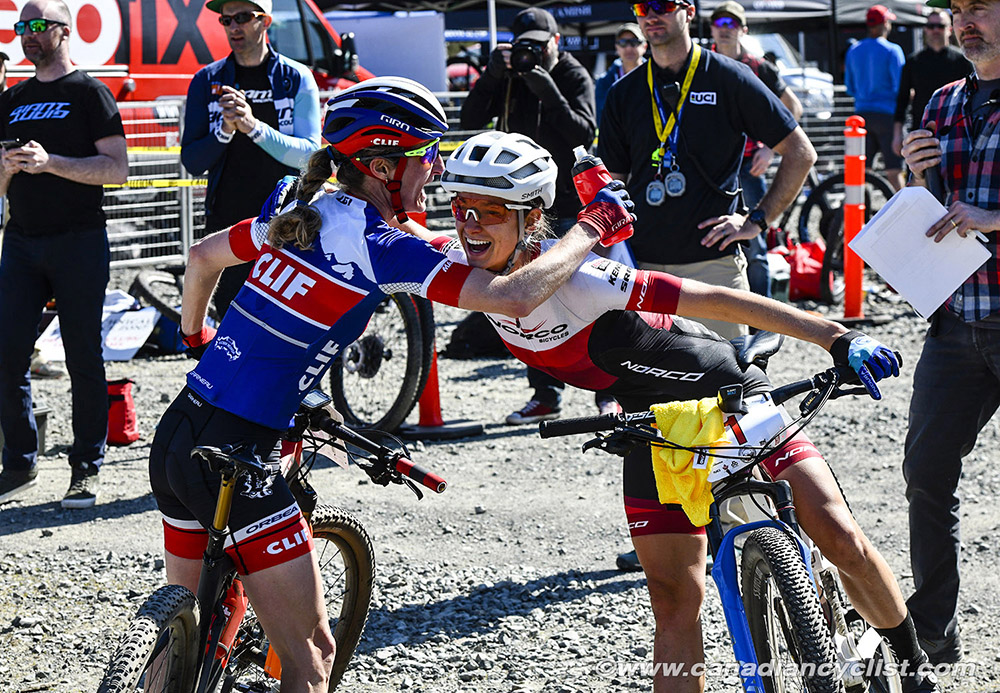 Haley Smith gets a Congrats! from Catharine Pendrel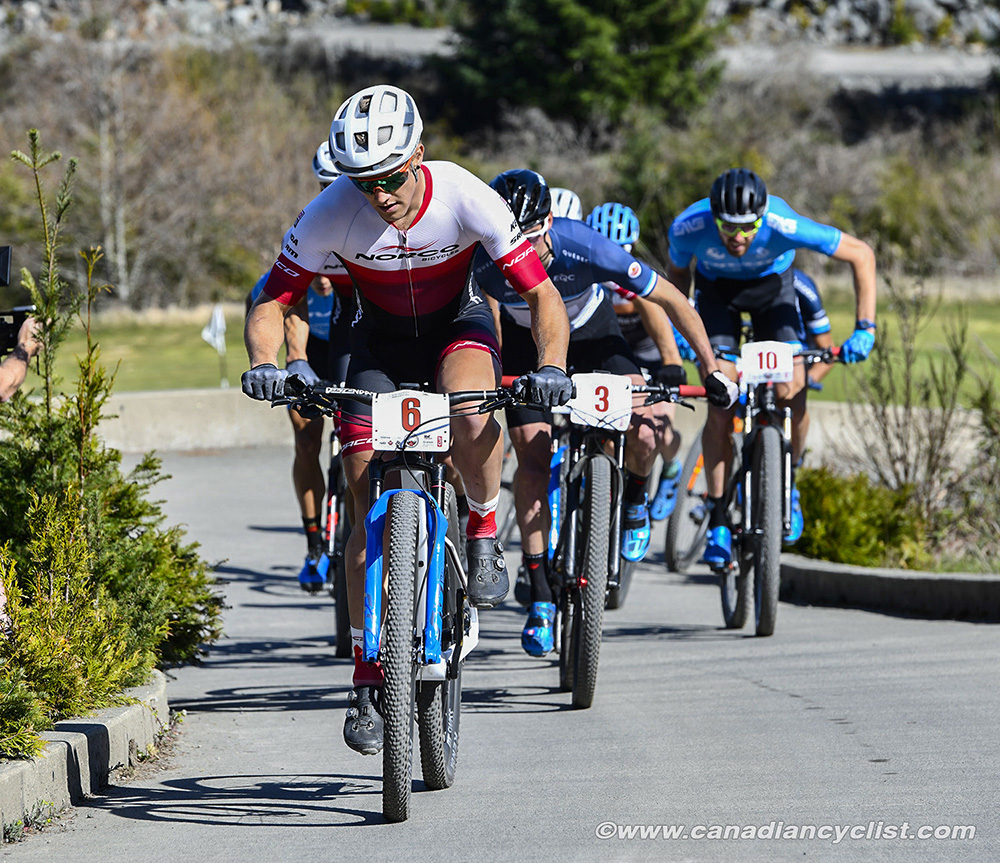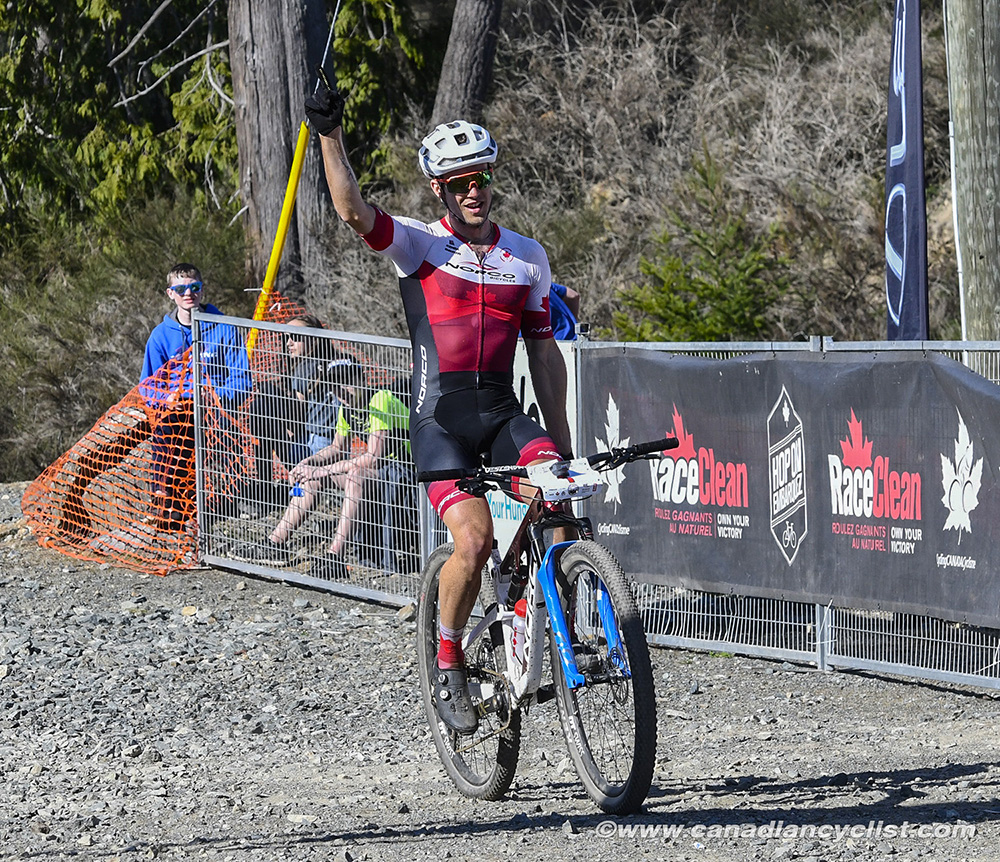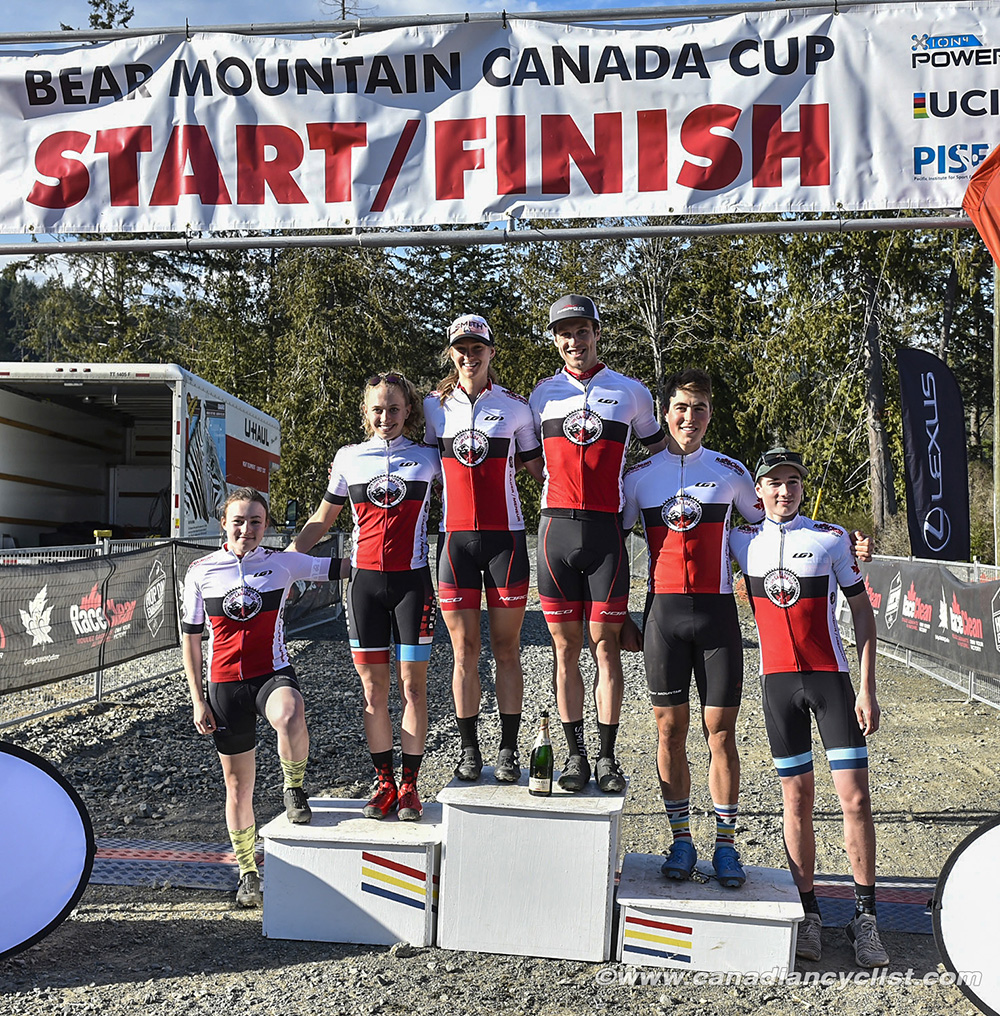 In the men's race, Disera quickly opened a gap on a chase group consisting of Raphael Gagne (Equipe du Quebec), Gunnar Holmgen (Hardwood Nextwave) and Leandre Bouchard (Pivot-OTE). Disera rode alone through the race to take the win, with Holmgen and Gagne chasing together until the final lap, when Gagne dropped his rival to take second. Holmgren faded in the last half lap and was overtaken by Bouchard for third. Marc-Andre Fortier (Pivot-OTE) took the fifth and final podium spot.

Peter provides insight on his win:

The start of the Canadian Mountain Bike season kicks off on the west coast up at Bear Mountain, just north of Victoria, BC. Bear Mountain hosts both the season opener and the biggest high performance national mountain bike team camp of the year. I've always enjoyed coming to Bear Mountain, both for these camps and the race. Now, it hasn't always been blue skies and 15 degrees, some years there has been snow, but for the most part Victoria is the best place in Canada to kick off the season this early.

In 2019 I started out with good form. During the US Cup campaign in California I had posted up some of my best results and had some amazing races. Leading into Bear Mountain 2019 I was feeling confident and ready.

The changes to the 2019 Canada Cup course were all for the best. The descent was broken up a bit, with new features and fast sections added, but the climb was still the good old 'sit at max for a few minutes'.

Admittedly my memory is far from phenomenal, however, upon reflecting on some notes in my race journal I'd like to share some insight into my victory last year. I had set out some process goals for the C1 classification race, they included getting a good start (wanting to lead the first single track), riding smooth (specifically in a few identified rough sections - protection of my equipment was the priority even if it meant losing a second or two), and lastly, focus on leg speed on the paved golf cart climb. These goals were things that I could focus on regardless of my race position or how the race was going.

The race started well. I got into the single track a little further back than I wanted to but was positioned well and relaxed. My Norco Factory teammate, Andrew L'Esperance, was leading until the feed-zone when I got past him. From there I kind of ignored my 2nd process goal because I bombed the second half of the descent to get a gap. It worked and from that point I continued to extend to a comfortable gap.

I recall pinning it for a lap and then settling into pace. However, I distinctly remember my coach, Keith Wilson, leaning out as I passed through the feed-zone on lap 4 saying 'one more good one'. I guess he wasn't impressed with the gap, or he was letting me know the boys were charging from behind. So, I went on the attack, managed to develop a margin and rode hard to the finish line.

I'd like to use this opportunity to emphasize that the Bear Mountain Canada Cup is not an easy course. A race sounds easy when summed up in a few sentences. That 4th lap attack was brutal. Let's relive that agony - allow me to share some numbers with you (Remember, mountain bikes don't pedal going downhill...).

The 2019 Bear Mountain Canada Cup finished in 1h 28m 6s, with an average power of 298W, average heart rate of 173bpm, normalized power of 371W, elevation gain of 1100m, average speed of 20kph, and a total distance of 29km.

My bike set up for the race was as follows:

Norco Revolver FS 100
2.2 Kenda SCT Boosters. 21 psi front, 22 psi rear
SID Ultimate: 106 psi. Rebound 5+
SID Deluxe Ultimate: 157 psi. Rebound 3+ [upon completion of the race a note was made that this was slightly soft and slow rebound]

Racing in Canada is always a special treat, and Bear Mountain always puts on a great event which works brilliantly with the early season calendar. I'd like to thank everyone who put such tremendous effort into these events, especially Bear Mountain / Eco-oasis for their support of the Canadian National Mountain Bike program. I always look forward to coming to the mountain for training camps. I'm now looking forward to reaching the light at the end of the tunnel when we can all get together on bikes again and kick off the Canadian Mountain Bike season at Bear!

Pete has also done some reminiscing about OCA camps back in Rocky Bottom and now these days when I joined the crew in Girona: www.peterdisera.com/girona/