March 29/20 10:15 am - Race Revisit - Fontana US Pro XC 2009 with Geoff Kabush

Posted by Editor on 03/29/20

Today is the second of a new series - Race Revisit - where we will return to a past event that took place on (or around) this date. As well as a recap of the event and links to our original coverage - race reports, results, photos and video interviews - we will also be trying to include comments and in-depth commentary from some of the Canadian athletes who were there.

Today, it is the Fontana US Pro XC cross-country from 2009. Canadians dominated these early season races in those days (and still do well). Geoff Kabush (Team Maxxis-Rocky Mountain) won ahead of fellow countryman Max Plaxton (Shoair/Specialized), with Derek Zandstra (3 Rox Racing) finishing seventh and Seamus McGrath (Jamis Factory) eighth. In the women's race, Catharine Pendrel (Luna) was second to American team mate Georgia Gould, with Emily Batty (Trek Bicycle Store) fourth, Amanda Sin (3 Rox Racing) sixth and Melanie McQuaid (Shoair/Specialized) ninth.

Unfortunately, the only coverage we have in our archives are results:

Results

However, Geoff graciously responded to our request for his memories of the event from his winter home in Truckee, California.

You are really throwing it back with Fontana 2009! I had to really rack my brains and do a bit of googling to try to refresh my memory and recall this one. I did have several of my career highlights in 2009 and the year started off well in Fontana. I always seemed race well coming straight off of winter training and that year was no different. [Note: Geoff was third in July at the Mont Ste Anne World Cup and then took his lone World Cup in at Bromont, on August 2nd]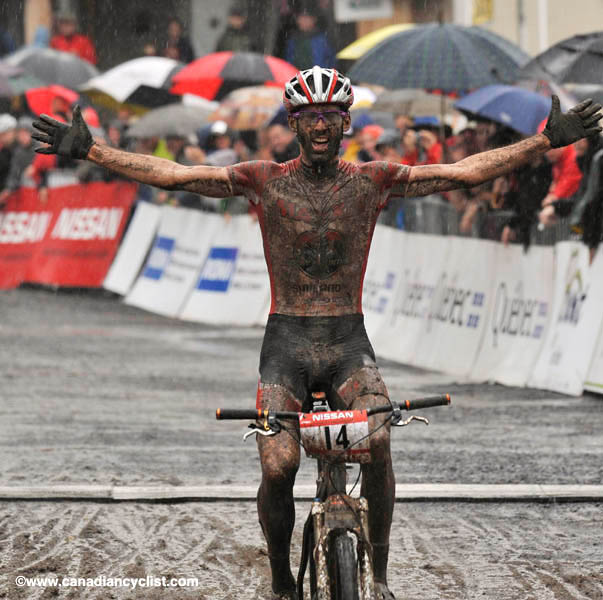 Bromont World Cup win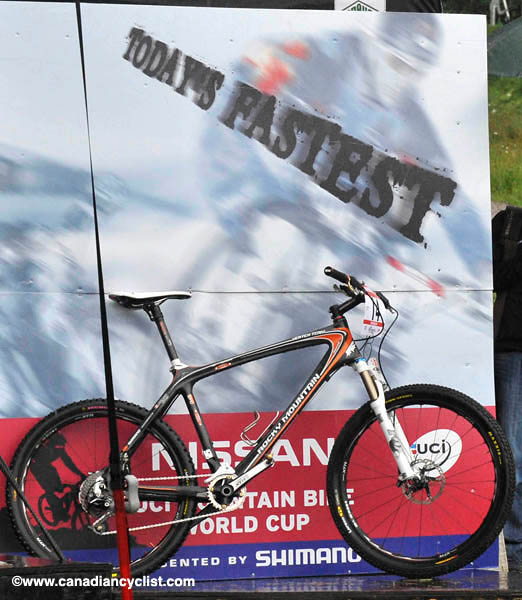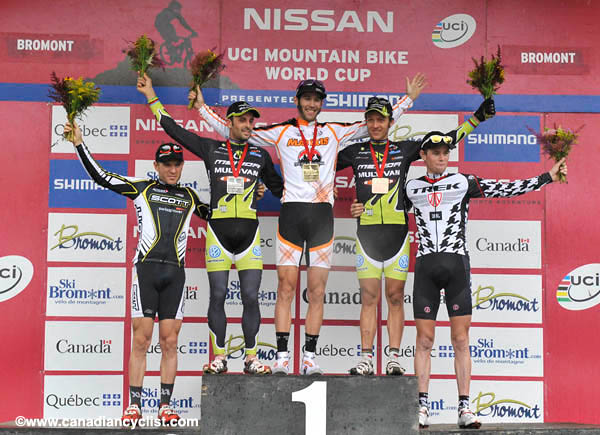 Bromont podium
I had won every year at Fontana since it had become a US National in 2006 and was hoping to continue the streak. At time I was riding for the Maxxis Factory Team and we had just started a new partnership with Rocky Mountain; I was riding the new Carbon 26 inch hardtail in Fontana. I raced the hardtail almost everywhere in 2009 as the dualie was still aluminum, a bit heavy, and a little outdated. We would work on and launch a nice carbon 26 inch dualie which unfortunately became outdated pretty quick as well as 29ers took over.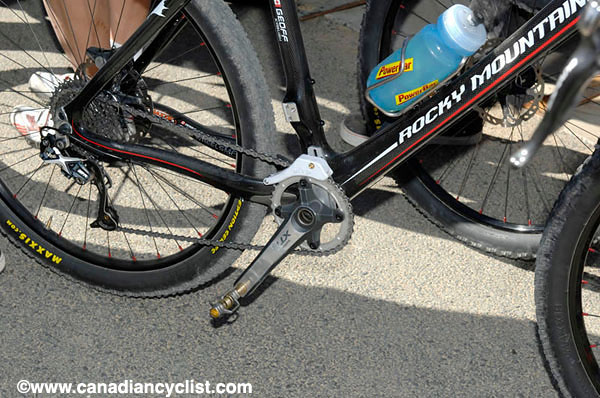 Geoff Kabush's Rocky Mountain with a single CR set up with chain guide
Young Peter Vallance, who was then at Rocky [now Cannondale's Global Director of Product Management], had helped make the partnership happen and it is crazy to see a post by him now riding around with his two kids. Time flies!

It was always a big deal to win the first events to start the season in SoCal, with all the extra media attention, and this year was especially nice to take a victory with the new bike sponsor. XC racing was still in the middle of its transformation; the loops were starting to shorten and the race time was also coming down. Looking at the results this one was still around 1hr50min, so I could still use one of my big strengths which was pacing.

Max was still figuring this out and he took off early in the race which was quite usual and I rode within myself. I had to battle a bit for position with Max's Australian teammate Sid [Taberlay] but eventually was able to get around, catch Max on the last lap, and get a significant gap by the finish.

I was riding the Maxxis Oriflamme semi-slick, which was one of my favourite 26 inch tires, and the extra rolling speed and efficiency really paid off at the end of longer races. I certainly had a lot of success in the US National Series when there was a lot of media coverage and that really helped establish my career in the mid-late 2000s.

Lots of good memories from the early season SoCal events and makes me miss seeing everyone at the races. Hope everyone is doing well.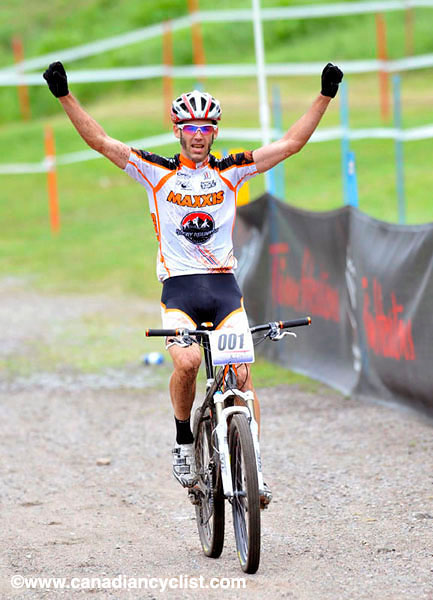 In 2009 a 5th consecutive national title for Kabush