April 8/20 18:01 pm - Race Revisit - 1990 Paris-Roubaix with Steve Bauer

Posted by Editoress on 04/8/20

Today is the latest in our series - Race Revisit - where we return to a past event that took place on (or around) this date. As well as a recap of the event and links to our original coverage - race reports, results, photos and video interviews - we will also be trying to include comments and in-depth commentary from some of the Canadian athletes who were there.

Today, we are going 'way back, to April 8, 1990, and possibly the greatest of all the Classics Monuments - Paris-Roubaix. 30 years ago in that year's race, one Canada's greatest ever road cyclists, Steve Bauer, finished second by one centimetre after seven hours and 37 minutes (and two seconds), and 265 kilometres of racing. This is still the closest ever finish at Paris-Roubaix.

In the final ten kilometres the lead was down to Bauer (7 Eleven-Hoonved), Eddy Planckaert (Panasonic-Sportlife) and Edwig van Hooydonck (Buckler-Colnago-Decca), with Planckaert considered the best sprinter. Bauer attacked a couple of times but couldn't drop the other two. Coming into the famous Roubaix velodrome for the final lap and a half, the three were joined by Planckaerts' teammate Jean-Marie Wampers, Martial Gayant (Toshiba) and Gilbert Duclos-Lassalle (Z-Tomasso).

Hooydonck attacked in the final lap, Bauer got on his wheel and went by below him, but Planckaert came over the top and both riders threw their bikes at the line. No one knew who had won for nearly ten minutes before it was announced that Planckaert took it by less than a tire width.

Of course, this was before the internet existed, but here are links to the results and videos of the race:

Results

Video of the final kilometres and finish

Race coverage (almost two hours)

Steve arrived back in Canada last weekend, after the shutdown of racing (he is been Team Sporting Manager for the WorldTour CCC team):

Obviously, I remember the final ten kilometres pretty well, and entering the velodrome and aspects of the sprint. I remember that Planckaert had been out front for a long time; he went quite early in the race with a small group. He did a great race - being in a long breakaway and then still being super good at the final.

I also remember that Laurent Fignon (Castorama-Raleigh) was very strong and that was good for me; he continued to attack and counterattack, and eventually I went on a counterattack from one of his efforts and managed to get across to the leaders. It was a critical moment to make it across to the front or not. The Panasonic guys had a couple of riders in our group - Wampers and Jean Talon - and they kept closing it down for Eddy, who was in a group in front of us.

When I did get across to the leaders I found myself in good position and good strength. I made a good attack on Carrefour de l'Abre [pavé section with about 25 kilometres to go], trying to drop those guys, and only Eddy and Edwig [van Hooydonck] stayed with me. But I couldn't shake Eddy, he was just too good. Obviously, I was concerned about him in the sprint and I wanted to get away, but I couldn't, and then we entered the velodrome.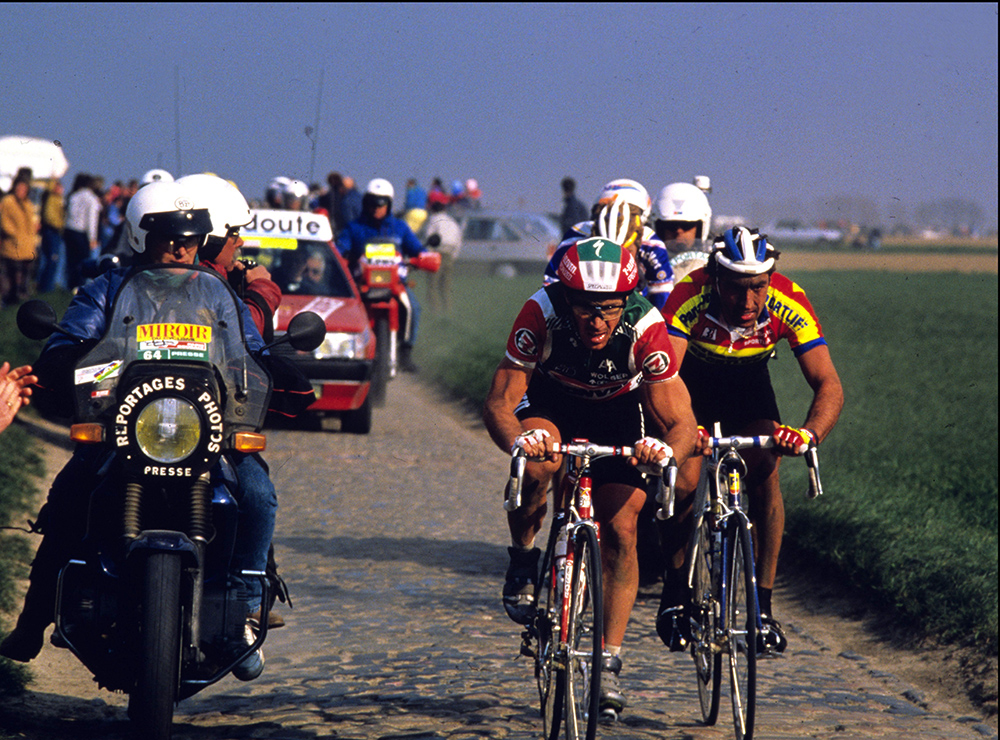 Just as we entered the track - since I had some track experience - I went up the banking immediately just to be able to have a clear view and, sure enough, Wampers and some others came through. Wampers went right to the front, because he had Eddy, and probably wanted to give him a good leadout. So, he took the front, and I was just watching Eddy's wheel. But then I saw that van Hooydonck had backed off, and he was going to try and take a run at us, and I read that really well.

So when Edwig came over the top I got on his wheel and made a nice track move underneath, and Eddy came over the top. The rest is history ... coming down the stretch, it was a photofinish, but I think both of us threw our bikes too late. I know I did, for sure. All I could see was black, and then the flash of the photofinish went off. I was like 'Holy shit, there's the line already!'.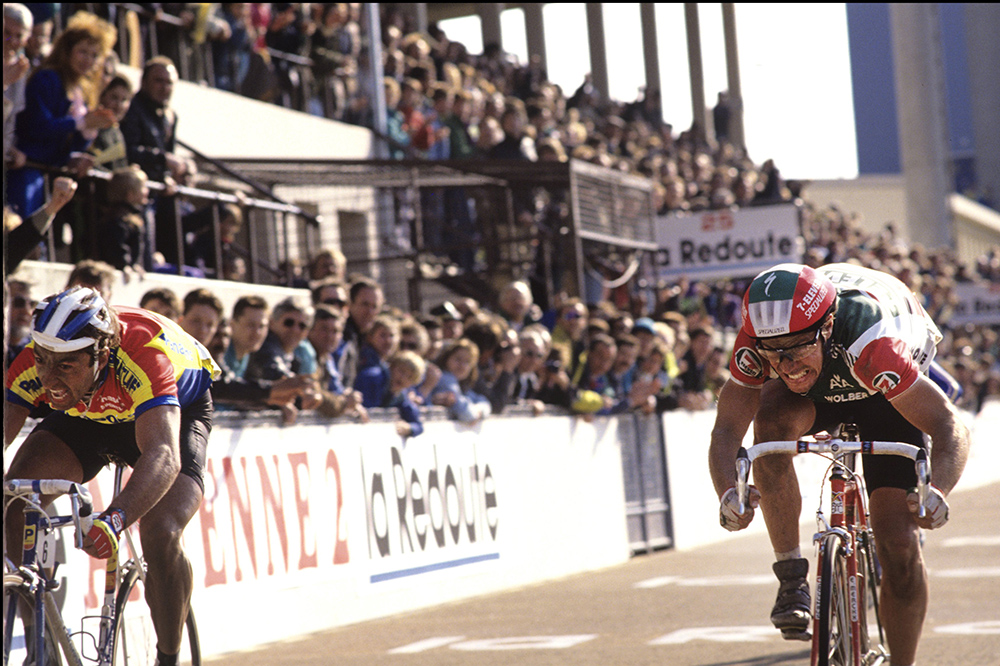 Graham Watson commented to me about his finish line shot: "The finish shot is all I have of that moment, no line in sight, I used a longish lens because I was so sure Steve would win and throw his arms aloft, but he didn't!"
The only regrets I have was that maybe I should have kept my eyes open [both Steve and Planckaert had their eyes shut as they crossed the line] ... and getting that bike throw right, because then I would have won the race.

But what can you say ... I rode sort of the perfect race, and lost by a centimetre.

When I was in top form, Flanders, Wevelgem and Roubaix, that sequence of races was my top goal, always. If I hit it right and was in great shape, I was super competitive [in 1988, Steve finished top-8 in all three]. Unfortunately, I never won one of the big ones, but definitely came close, really close in Flanders and really close in Roubaix ... the most historic, closest finish of Roubaix.

It was one of the best races of my career, but I just came up short. The other one is the world championships in Chambéry [France, 1989, won by Greg Lemond]. I flatted, the worst bad luck, because I was probably in the best condition of my career. I had just won Zurich and went into Chambéry in top shape. It was possibly the toughest world championships course I rode ... that flat tire killed me, I thought that was my race.

Steve also talked about the advice he now gives to his riders going into Paris-Roubaix:

You have to have little wins all the way along the race course. It's methodical ... in the first section of pavé, position is critical, fight for position. You just can't let the race get out of hand; every little win along the way gets you closer and closer to the final.

Now, the teams are so well organized that team tactics and having riders in numbers are really important. Quick Step do it so well, they always have so many strong players. We always strive to have more guys in the final with Greg [van Avermaet]. At CCC we are always working to pump up the roster and get stronger men with Greg. I think this year we were getting better at that, with [Matteo] Trentin joining the team; I think we had a shot at winning a big one, but, unfortunately, this virus has gotten in the way.