April 26/20 10:25 am - CRUSH COVID Ride Raises Over $200K

Posted by Editoress on 04/26/20

The Toronto Hustle cycling club raised a remarkable $210,000-plus to support Michael Garron Hospital's frontline healthcare workers with their CRUSH COVID 24 hour Zwift indoor cycling event - more than ten times their original goal. Team member Travis Samuel also set an unofficial GoZwift world record in the process, riding 1008 kilometres in 24 hours. Over 400 registered officially to participate, but thousands of riders from around the world actually took part.

Some of the stats from the event, which took place between 6:00 pm EDT Friday, April 24th, and 6:00 pm Saturday, April 25th:

Number of Participants - 418 (registered)
Number of Teams - 39
Number of Donations - 2376 (as of 11:00 am April 26th)
Amount Raised - $210,600.40 (as of 11:00 am April 26th)

Note: Donations continue to be accepted at crushcovid.ca until April 27th.

Team founder - and Toronto city councillor - Brad Bradford was one of the riders who rode the entire 24 hours, and said, "Toronto Hustle's goal was to raise money and awareness for the heroic work of frontline healthcare workers during the COVID-19 crisis. When we started putting the CRUSH COVID 24 hour marathon together three weeks ago, we thought it would mostly be people on our team raising money and riding. It's been completely overwhelming to see the cycling community in Ontario, in Canada and around the world come together to support healthcare workers. We started with a $20,000 fundraising goal and ended up raising over $200,000. I think this response demonstrates how much people value and appreciate the work of everyone at our community hospitals, especially when the stakes are so high. We will get through this together, and today, the cycling community did it's part, staying home but coming together, with dedication, resolve, and generosity. We had over 2364 donors, 39 teams and thousands of participants on Zwift. I'm so grateful."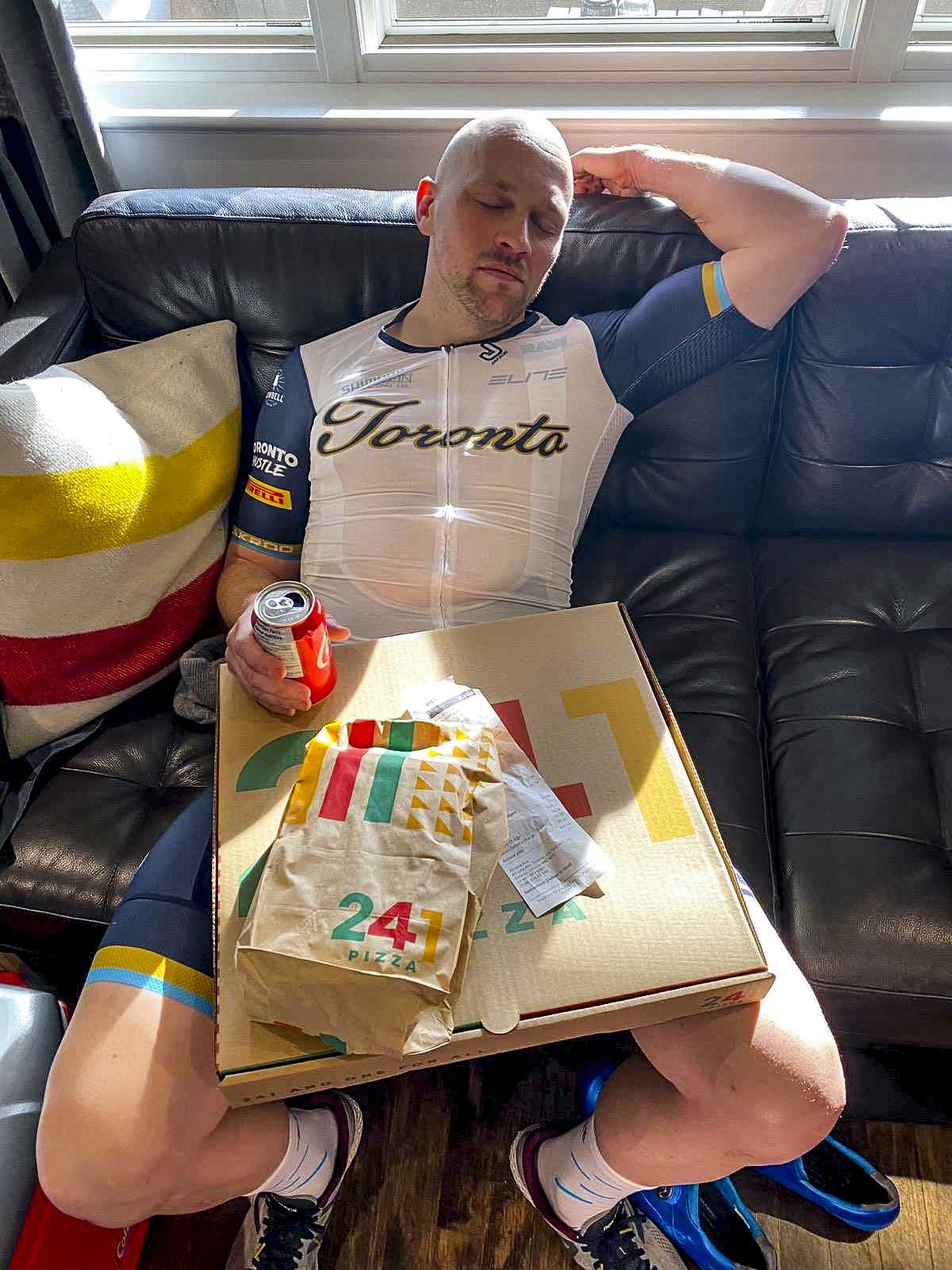 Brad Bradford
Travis Samuel, who is part of the team's race squad and was riding in Peterborough, Ontario, where he is going to school at Trent University, said, "It still hasn't set in, I broke the world record. It's one of the hardest things I've ever done. I think the hardest part though was sitting down after finishing. I'm pretty speechless, I had professional racers, my teammates and total strangers helping me and pushing me forward. There were dark times during the middle of the night and they got me through. The final total was 1008 kilometres, and I couldn't have done it without everyone's support. I want to say thank you to everyone who joined the ride and to everyone who donated. I really wouldn't have been able to do this without everyone's help!" [Note: The official Guinness world record for 24 hours ridden on Zwift remains 952.6 kilometres, set by Ed Veal on October 22-23, 2019]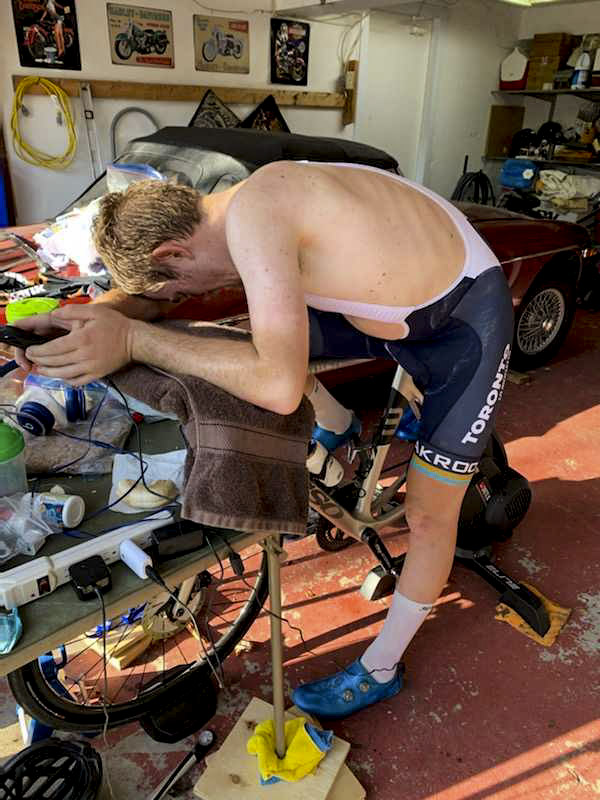 Travis Samuel
Women's Race Team member Hannah Simms commented, "I've always loved riding and racing my bike, but all of that has been put on hold due to the COVID crisis. We've all been hearing about the work people at hospitals have been doing and we've all been thinking about them. The CRUSH COVID marathon was a way for cyclists to give back to our community, and I was blown away by how many people from all over the world came out in support, over 2360 donors and 1000's of people riding online. We came together as a community and we beat our fundraising goal reaching over $200,000. It was amazing to be a part of this event!"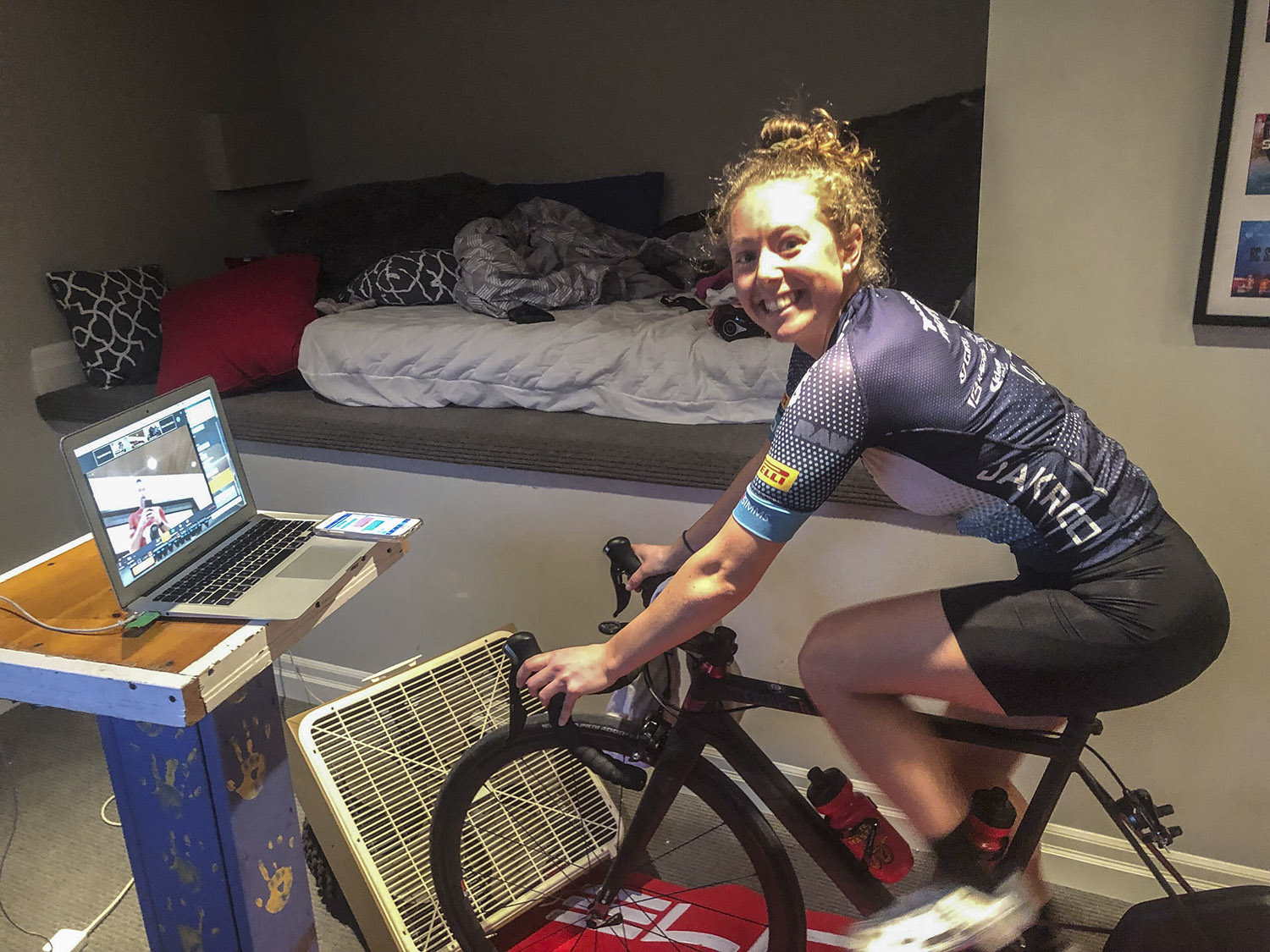 Hannah Simms
Among the thousands of riders who participated in the supporting rides on Zwift was Brett Howell: "It was a truly inspiring experience to be riding with over 400 other cyclists in the community and around the world. I really enjoyed hearing from the guest speakers that Brad hosted, especially Dr. Christoper Smith from Michael Garron Hospital, who rode after his shift - it helped to keep my legs going through the pain until 2 am. A fantastic event for a great cause!"