May 17/20 16:32 pm - Race Revisit - 2019 Nove Mesto MTB World Cup with Haley Smith

Posted by Editoress on 05/17/20

Today is the latest in our series - Race Revisit - where we return to a past event that took place on (or around) this date. As well as a recap of the event and links to our original coverage - race reports, results, photos and video interviews - we will also be trying to include comments and in-depth commentary from some of the Canadian athletes who were there.

Today, we are going back to May 26, 2019, and the first World Cup podium Haley Smith achieved, finishing third in Nove Mesto na Morave, Czech Republic. Anne Tauber (CST Sandd Bafang) attacked on the opening lap to take the lead, with Courtney, Jolanda Neff (Trek Factory), Rebecca McConnell (Primaflor Mondraker) and Sina Frei (Ghost Factory) chasing, and Smith sitting in the top-10. Going into the last lap, Smith was sitting in sixth place, 15 seconds out of the podium. After Tauber crashed, Courtney moved into sole possession of the lead. McConnell moved up to take second, while Haley Smith had the fastest lap of the day (12:54) to move from sixth to third, outsprinting Frei on the finishing straight. Smith moved up to eighth from 13th in the World Cup standings.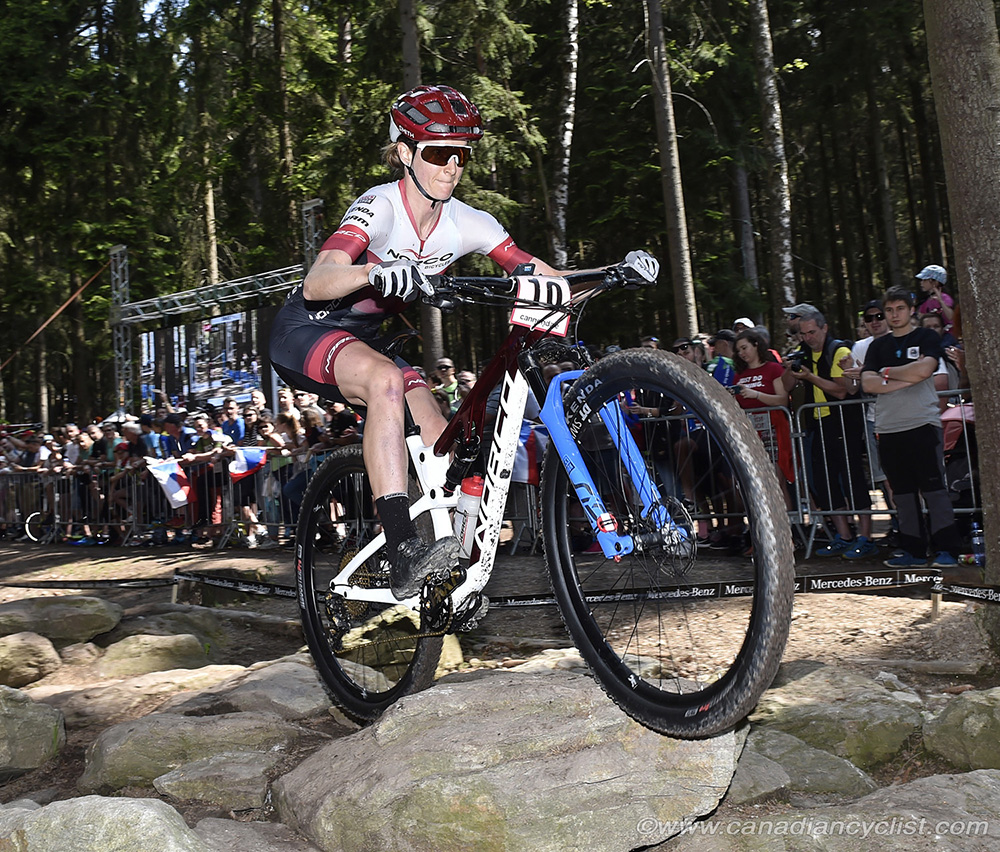 Rock and Roll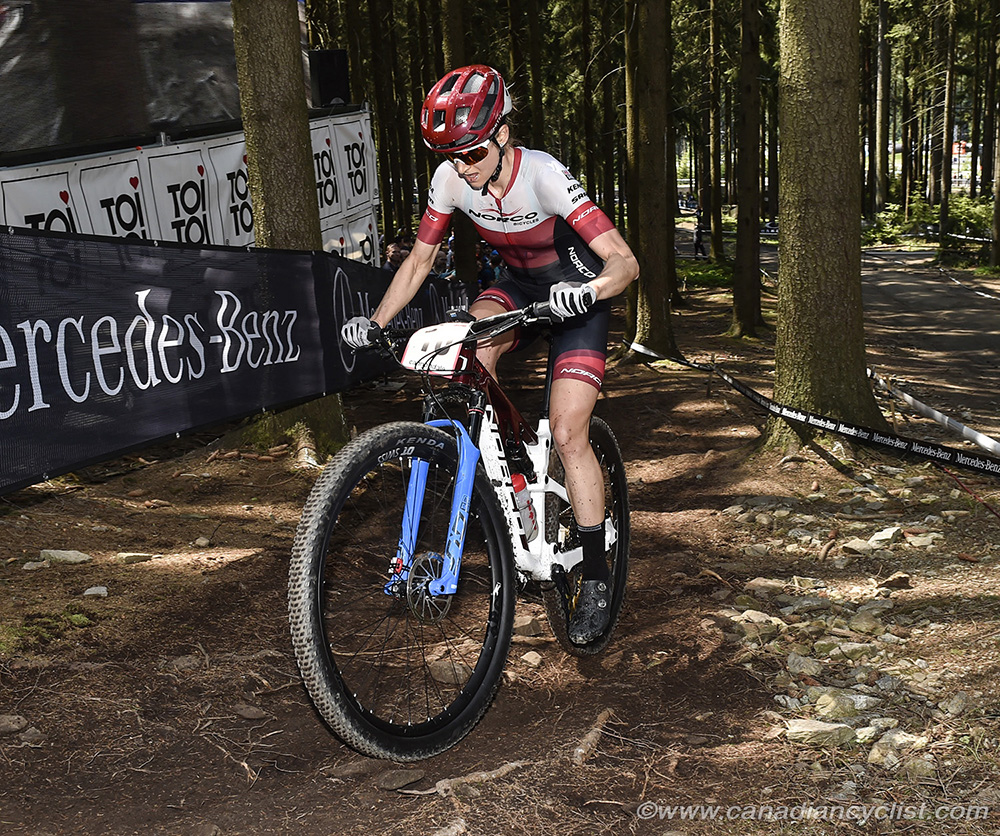 Last lap, Haley in 4th chasing 2nd and 3rd
In the men's race, Mathieu van der Poel (Corendon Circus) finally took his first Mountain Bike World Cup victory, with world champion Nino Schurter (Scott-SRAM) finishing second and Mathias Flueckiger (Thomas RN Swiss Bike) third. Leandre Bouchard (Pivot Cycles-OTE) was the top Canadian in 39th place, after breaking a spoke and flatting in the opening lap - passing 90 riders in a very impressive ride.

Results

Report

Photos

Post-race Video Interview

Haley spoke to us from Victoria, where she has been self-isolating with fiancee Andrew L'Esperance.

In some ways, it is still really hard to believe it; it almost feels, looking back, that in order to have that result, that something special should have happened, like ... how did that happen on a normal day? But it was a normal day and just that ... everything aligned. I didn't do anything special, didn't do anything that I don't normally do, except that we nailed the process leading into that race. And, I had good luck, in that I didn't get sick, I didn't have mechanicals, so everything just kind of came together. But, looking back, it's hard to reconcile the fact that there wasn't magic happening, because it still seems pretty special, and it's set apart in my head because I haven't managed to repeat it.

I mentioned to Haley that when I talked to Svein about taking the pink jersey at the Giro [see Race Revisit - 2014 Giro d'Italia with Svein Tuft] he pointed out that usually your best days, when everything is going perfectly, are on training days, and having it happen on a race day is amazing and unusual.

Yes, definitely. If you think about it, accounting for a day off every week, there are 310 training days in a year, and maybe you feel amazing on 50 of them, if you are super, super lucky, and that's not a high percentage. And if you translate them to the percentage likely [to happen] on race day, it's a very small number of days.

When did she know she was having that rare really, really good ride?

It happened gradually through the race, if I'm honest. I came through the start loop somewhere between ninth and 11th. I'd already had a really good start, but got in a little bit of traffic. But, I somehow managed to really narrowly avoid a high speed crash right in front of me on a single track ... it was luck, pure luck, that I got around that, and that put me into the top-10. I wasn't too surprised, because I had managed to do that the previous weekend [at Albstadt, Germany, where she eventually finished ninth].

It was very confidence inspiring, because it felt like the last weekend wasn't a fluke and I was, like, 'oh, I did this last week and I do belong here and I can do this again'. So, I rode the first half of the race with a lot of that confidence, and it carried me to seventh by the midpoint of the race. I knew that the second half of the race is usually my strong point, so I just kept my head down and continued to ride.

I didn't really think about a potential result, I didn't really think about how great the day was going; I focussed on what I was doing, and that allowed the day to become great.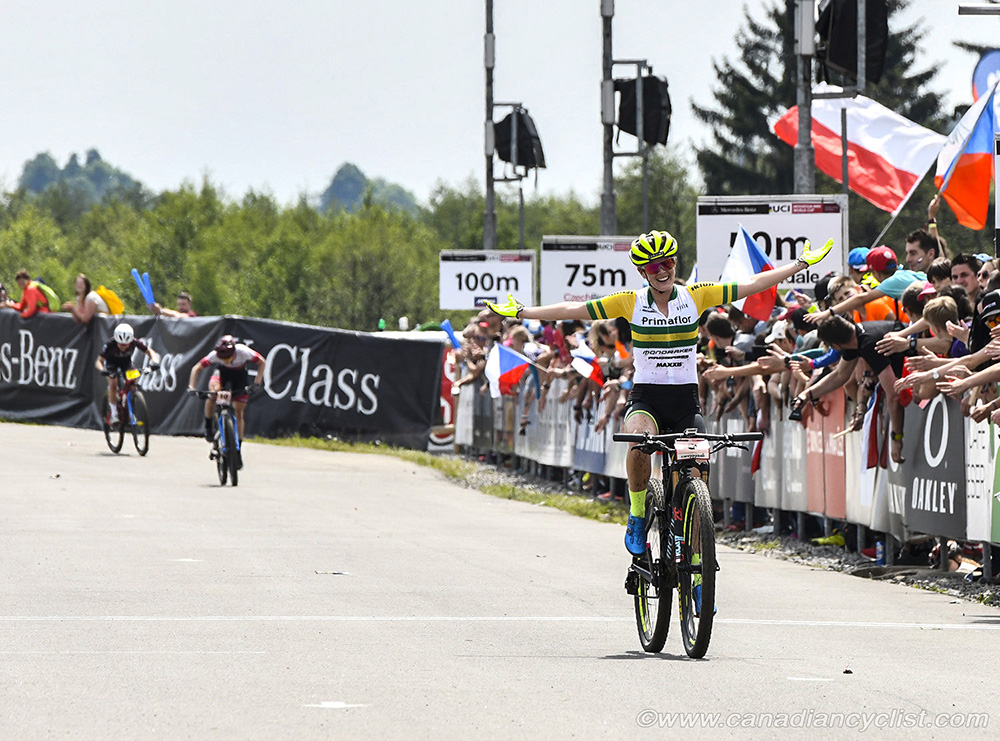 Beck McConnell finishing 2nd with Smith and Frei behind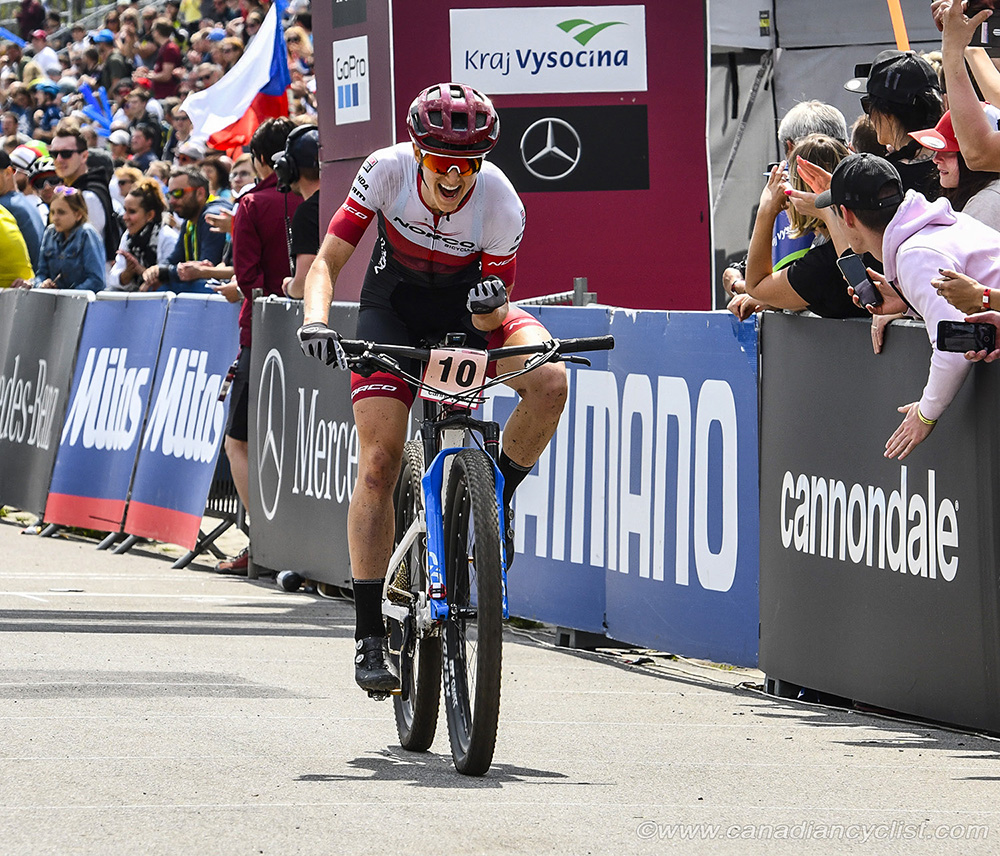 Crossing the finishline in 3rd
It really wasn't until the last lap when a podium became a possibility. It escalated fast! I started the last lap in sixth and I was still 15 seconds from a podium, and then all of a sudden I was in third. I didn't really have time to process 'wow, this is really a great ride' during the race, because it changed quickly, and you can't process it as you are riding, or else you will crash!

So, now you were getting grabbed for a post-race interview with Red Bull and the flower ceremony, which was new for you.

They didn't really have the post-race ceremony dialled for Nove Mesto ... there was a lot happening on the last lap, the lead changed, the entire makeup of the podium changed, and I think Red Bull was waiting for Anne Tauber to finish so they could speak to her ... so they pulled us to the side, but it was all a bit hectic and disorganized. So I got 15 minutes to see Tara [soigneur], Dan [Proulx, national coach], and Havi [Norco team manager] and Andrew. Catharine [Pendrel], Sandra [Walter] and Jenn [Jackson] all came over and hugged me.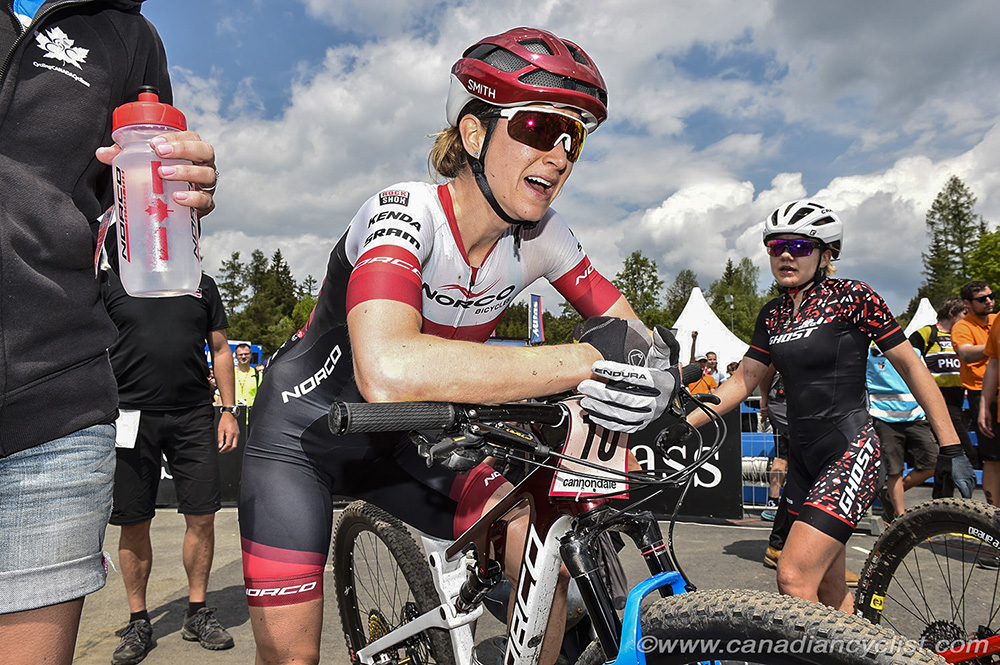 So, it was actually quite a relaxed situation for me, but it also meant that my first flower and podium ceremony was not the typical experience. For example, there weren't medals, which the three year old in me was sad about. But, at the same time, because it was that way, it allowed me to have a lot of time with family and friends right afterwards.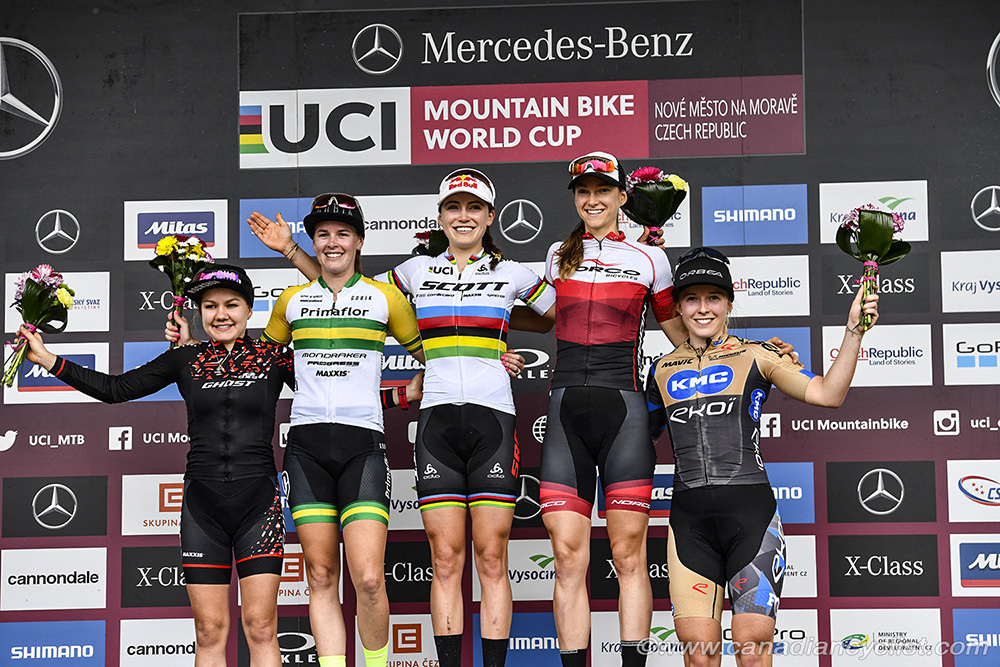 Podium
I asked Haley how, from her perspective, this result ranks compared to such things as finishing sixth at Worlds (2018) and a bronze medal at Commonwealth Games (2018)?

I think probably my best ride ever is that sixth place in Lenzerheide at Worlds, because it was such a massive step up from anything I had ever done before, and it is so challenging to do that at a world championships. There is only one of them a year; it is performance on demand. But I think that this third place is probably on par with it. If anything, it was probably a more mature ride, because I was confident in myself. Whereas, in Switzerland, the whole race it was more like ... 'holy crap, there's eighth place, holy crap, there's fifth place!'. I was very starstruck during that race, while in Nove Mesto, I was more sure of myself and I felt confident in my approach and process.

It's up there, it's definitely one of the best rides of my life so far.

A lot of riders say after their first top-5 ride that they still don't feel confident that they 'belong there' - how about you?

I know that I can do it, but it definitely still feels like when it happens that I am still riding out of my league a little bit. I'm just naturally not a confident person and even if I started to win or regularly podium, I don't if I would ever feel normal or that I truly belonged. It still feels magical when I have those days, and it's especially challenging right now, having an extended hiatus from racing. Because in order to build up that confidence, I'd like to have the opportunity to try again. The more distant these memories become, the more it feels like they were flukey. So, I'm definitely not confident, I still feel like I don't necessarily belong, but I'm starting to step into my space and maturity as a rider and some part of me knows that I can do it again. But some part of me still thinks 'I don't know if I can ever do that again'.

I still feel so emotional when I think about it. Just in terms of all the messages I received, and the notes of support and congratulations. I felt very connected to the community after that race, which I really appreciated. That really sticks out in my mind and gives me a lot of motivation right now.

Race revisits

Race Revisit - 1987 Tour de Beauce with Ivan Waddell
Race Revisit - 2012 Chrono Gatineau with Clara Hughes
Race Revisit - 2019 Baie-Saint-Paul Canada Cup with Leandre Bouchard
Race Revisit - 2019 Nove Mesto MTB World Cup with Haley Smith
Race Revisit - 2014 Giro d'Italia with Svein Tuft
Race Revisit - 1990 Paris-Roubaix with Steve Bauer