May 28/20 14:51 pm - Race Revisit - 2012 Chrono Gatineau with Clara Hughes

Posted by Editoress on 05/28/20

Today is the latest in our series - Race Revisit - where we return to a past event that took place on (or around) this date. As well as a recap of the event and links to our original coverage - race reports, results, photos and video interviews - we will also be trying to include comments and in-depth commentary from some of the Canadian athletes who were there.

Today, we are going back to May 19, 2012, and the Chrono Gatineau UCI-sanctioned women's time trial. In the early years, this race was held in mid-May; now it is early June. The race began in 2010 and Clara Hughes, one of Canada's most decorated athletes in both cycling and speedskating, is, surprisingly, the only Canadian rider to win the Chrono, winning back-to-back in 2011 and 2012. Her 2012 victory was one of her final races on Canadian soil before attending the London Olympics, where she finished fifth in the time trial and afterwards retired.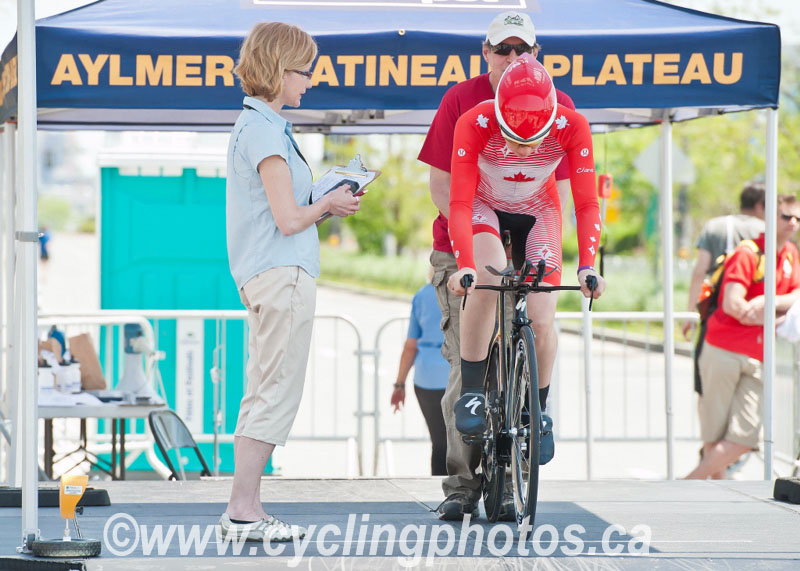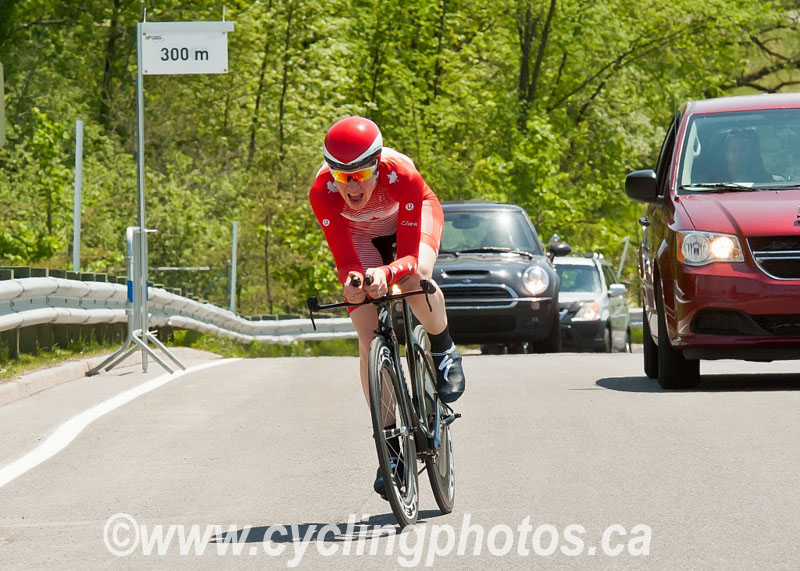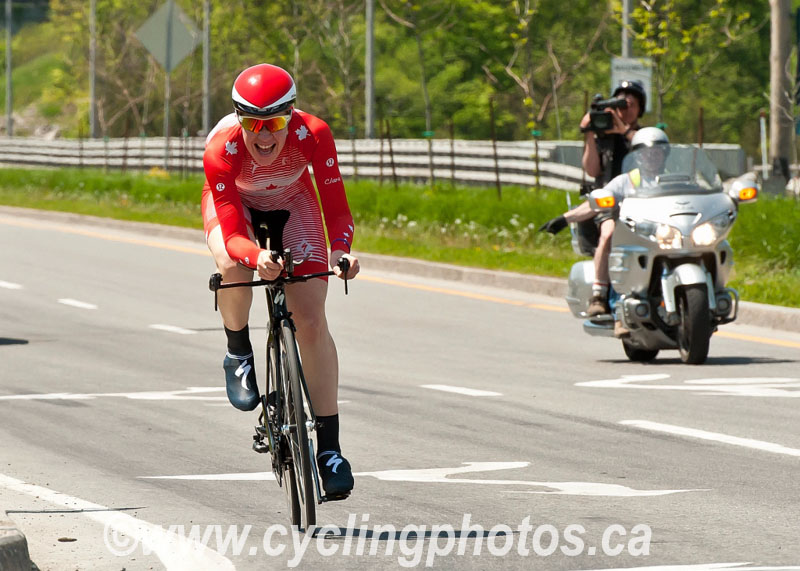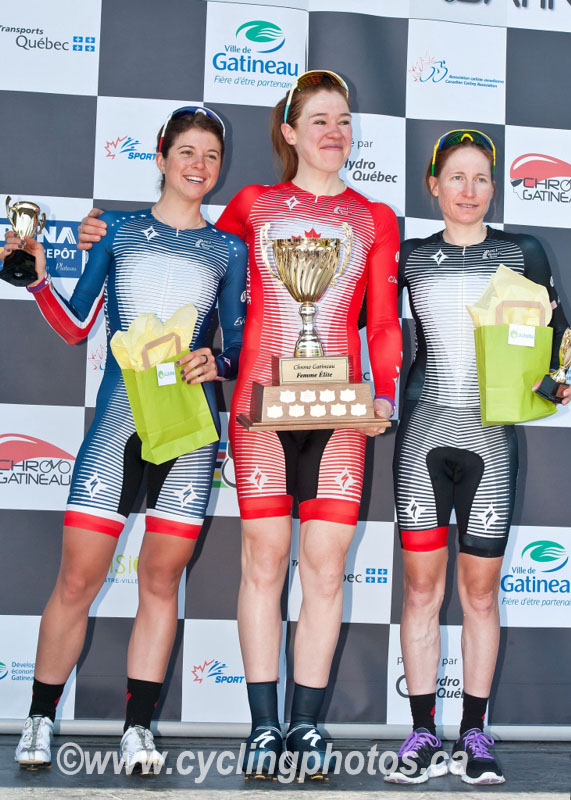 The course took the 47 riders twice around a 9.2 kilometre loop containing one 500 metre climb at 5.9 % and a few technical turns including a tricky roundabout. A very strong field was scheduled and Specialized lululemon was the team to beat with previous year's winner Hughes, Amber Neben (USA), US champion Evelyn Stevens and Ina-Yoko Teutenberg (Ger). The field also included Canadians Tara Whitten (TIBCO - To the Top), Rhae Shaw (Team Canada), Denise Ramsden (Optum p/b Kelly Benefits Strategies), Jasmin Glaesser (now Duehring) racing for Colavita ESPN and Annie Ewart (Team Canada), as well as numerous other international riders preparing for the Games. This was probably the strongest field ever assembled for the race.

American Marty Shea (Destination Cycling) posted the best early result with a strong time of 25:44.82, which would remain on top of the leader board for almost an hour. It took German powerhouse Ina-Yoko Teutenberg to top her with a very fast time of 24:38.45, averaging 44.88 km/h. Teutenberg's team mate Stevens took over the lead by 34 seconds, with another team mate, Neben slipping in between the other two Specialized lululemon riders. Tara Whitten moved into third spot with her ride, but Hughes was on fire, passing her minute rider, 2004 Olympic road champion Nicole Cooke (Faren Honda), to beat Stevens by 7.8 seconds. Whitten finished fourth, with Shaw sixth and Julie Beveridge (Team Canada) tenth.

For the second year in a row, Clara dedicated her ride to the Do It for Daron project; named after local young woman Daron Richardson who tragically lost her life. The campaign was to raise awareness and break down the stigma related to mental illness in young people.


2012 Results

2012 Report

2011 Report & Results

Clara spoke from her home in Canmore, where she and her husband Peter Guzman are sheltering in place during the pandemic.


You are the only Canadian to win the Chrono Gatineau, which I didn't realize until I looked up all the results. And in 2012 it was one of your last races before the Olympics, except for the Road Nationals the next month [where she won the time trial title and took silver in the road race].

That's funny, I didn't know that. It was one of my last races ... you what's funny - you do one sport and you remember a lot of things, but it's like a big massive confusion for me because there were so many races, and different seasons ... track, road, skating ... [Clara stopped bike racing to focus on speedskating after the 2002 Commonwealth Games before returning in late 2010].

But this race was definitely special to me because it was in Canada and I got to race here so few times. Plus, Evelyn, Ina, Amber were all on the Specialized lululemon team together with me, and there was a whole crew from lululemon that came out as our cheering squad. [Normally] there might be people at the start-finish area, but they [lululemon people] spread themselves out on the highway that was the out and back section, and they had the funniest signs and cheering antics. So, you are going all out - and it was fast on the highway - and then you see these crazy lululemon people on the side of the road with their signs, doing jumping jacks and handstands! So I started laughing when I went by them, so I had to say to myself, 'Clara, you've got to refocus, you are supposed to be racing'. But it kind of broke it up.

I loved the finish of that race because it was kind of twisty turny coming off of the divided highway and there were a lot of fun corners that you could cut really fast. Although I had learned the years before to be careful on the roundabout when I crashed [she still won]. That was one of the most embarrassing moments of my entire career - winter or summer! So, in my final year, in 2012, I was, 'whatever you do, do not crash!'.

It was a stellar field and an Olympic year, so it really meant a lot to win that race. It was a huge confidence boost and I also had really good friends from the area - Steph and Luke Richardson were there, and they had lost their daughter to suicide, and I was doing a lot of things with them in the area of awareness for mental health and wellness. Luke is a former NHLer with the Ottawa Senators ... and they were there cheering me on and that meant a lot because Luke is a really strong presence, and I had dedicated my race to their daughter, and the memory of Daron and all young people who struggle.

It was really cool to be in Canada and introduce my team mates to what I had been involved with, with mental health awareness and the Bell Let's Talk campaign, so they kind of got a little taste of the impact you can have when you stand up for things that are important to you.

I've always been really proud of the opportunities I've gotten into outside of sport, and racing for me over the years; it's morphed into something outside of sport and a chance to connect, and it's an honour to be an inspiration and represent people who struggle.

So to be there bike racing and feel so fast and strong, and to be on one of the best teams in the world for women at the time ... to be at home and racing my bike, and getting ready for my last Olympic Games ...

Yes, you didn't get to race a lot in Canada after your early days, and here you were, plus in the maple leaf jersey as national champion.

Yes, it was really, really special, because it was so rare that there were races of that calibre. Most of the racing that I did in my latter years in Canada, I raced with the men a lot. I was racing with the VW-Trek team with Josée Robitaille and all the guys from Quebec, so I did most of my racing with the men to prepare for things like the Commonwealth Games and the Pan Am Games in the early 2000s, when I was still doing speedskating and cycling.

And when I came back, I did a lot of racing in the States, and with the men in Quebec, because my coach,Chris Rozdilsky is out of Montreal, and I trained a lot out of Montreal and the townships. So to actually race against the best women in the world, in Canada, was phenomenal.

It meant a lot to be wearing my national champion's jersey, which I didn't get to wear that often, because it was for the time trial. So it was really, really special.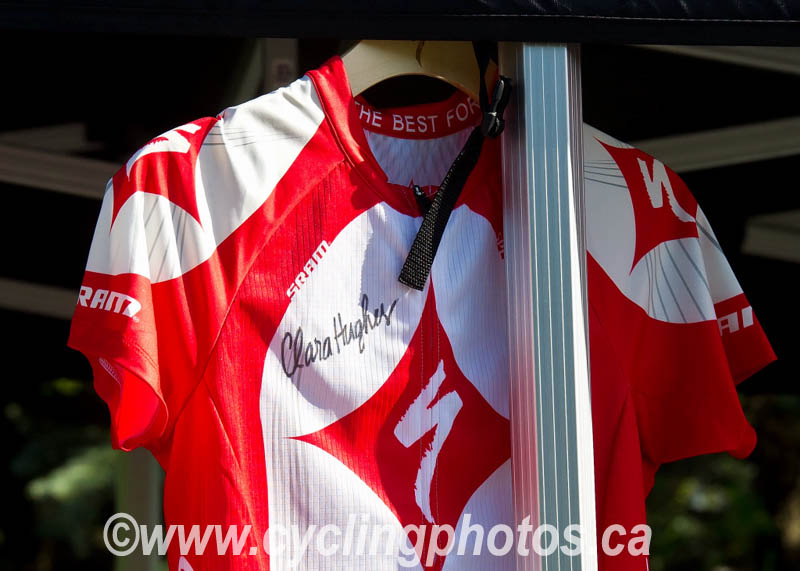 Also, I really love the Gatineau Park. We didn't go into it [more recently the race does], we were on the edge of it. There's just such great energy coming out of that green space. I have a lot of good memories of being there as a young cyclist; around national team training camps and races that used to happen there ... I'm a big fan of parks and public land. I was always bummed out because I wanted to go hiking there! It's a beautiful part of Canada, right on the Quebec-Ontario border.

Big crowds came out for the time trial; it was really sweet to see them cheering me on and all the Canadians racing. All the young riders from the Quebec cycling clubs came out ... it was great for young girls to have female role models, the best in the world being there ... seeing them so strong and confident, and to be able to do that in Canada and set that example was really special.

Clara pointed out that, unfortunately, there's nothing like the Canadian Tire Road series anymore, from when she started racing.

It's such a shame. But who knows, there's been such a big influx of interest in cycling, a resurgence in people getting out and active, and I hope that one of the positive spinoffs from this really difficult time is that people revisit how amazing it is for people to ride a bike. So maybe there can be more interest in bike racing and things can come back ... not to the way they were, I don't think that was perfect, but there were a lot of great things and actions. If you don't have those, then people aren't going to be trying out sports.

Clara's final reflections:

When you contacted me I was like, 'wow, that was eight years ago, a long time ago', but part of me thinks it wasn't that long ago. When I think about it, it still surprises me, coming back to bike racing [after retiring from speedskating after the 2010 Vancouver Winter Olympics]. It was such a whirlwind coming back to bike racing after ten years on the ice.

I am so grateful for that opportunity, because there were so many races that I never got to do [domestically] because I was so busy with international racing and I didn't race that much in North America as a pro in my earlier years. So I'm grateful to the Gatineau region for being able to do these races, it was such a gift. It's kind of like a dream looking back, so I'm grateful for every bit of it, even crashing on a roundabout by myself!

Race revisits


Race Revisit - 1987 Tour de Beauce with Ivan Waddell
Race Revisit - 2012 Chrono Gatineau with Clara Hughes
Race Revisit - 2019 Nove Mesto MTB World Cup with Haley Smith
Race Revisit - 2014 Giro d'Italia with Svein Tuft
Race Revisit - 1990 Paris-Roubaix with Steve Bauer