June 17/20 14:25 pm - Race Revisit - 1987 Tour de Beauce with Ivan Waddell

Posted by Editoress on 06/17/20

Today is the latest in our series - Race Revisit - where we return to a past event that took place on (or around) this date. As well as a recap of the event and links to our original coverage - race reports, results, photos and video interviews - we will also be trying to include comments and in-depth commentary from some of the Canadian athletes who were there.

Today, we are beginning a week of coverage for the Tour de Beauce. The Tour de Beauce would have been celebrating its 35th anniversary this year, from its start in 1986. Founded by Jean Lessard, it is a legendary race for Canadian men on the road and the oldest UCI-sanctioned stage race in North America. Beauce is known for the weather - ranging from scorching heat and humidity to snow atop Mont Megantic, as well as pouring rain and hail. The courses are relentless - more than one rider has said to me over the years that there is nowhere to rest or hide at Beauce. And then there are the roads ... rough and potholed; they beat a rider up and invariably result in punctures. First time attendees always say at some point 'The roads...', almost with a sense of awe - and they are a LOT better then 20 years ago!

Canada has had nine winners in the past 34 years of Beauce, with most in the early years before international teams began attending. We are going to talk with a number of them this week, beginning with Ivan Waddell, the winner in 1987, the second year of the race.

In 1987, the race was two stages - a three lap, 130 kilometre road race followed by a criterium. Waddell, riding for Club Poliquin, attacked on the second lap of the road race and won solo. He finished second in the criterium to take the overall title with a time of five hours, 13 minutes and 52 seconds. Two other Canadians took the next two spots on the general classification - Chris Koberstein (who was second in the road race) and Etienne Lemieux. Years later, Ivan became the race president for Beauce for a few years as well.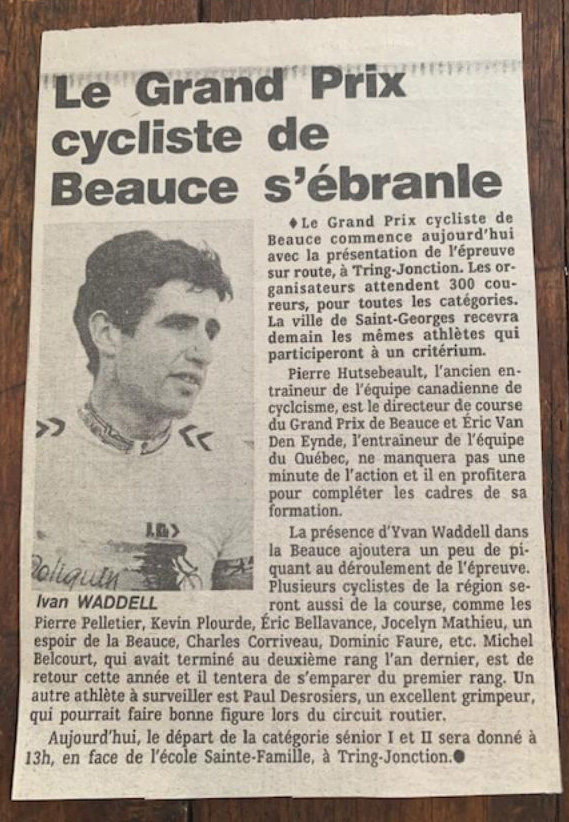 There is very little information available from these pre-internet days (even the Tour de Beauce doesn't have anything) - Ivan set us a couple of newspaper clippings, but that is about it. If anybody has additional materials - results, photos, etc., please let us know.

Ivan spoke to us from Quebec City, where he is one of the owners of the restaurant Microbrasserie Archibald Ste-Foy - like everyone in the hospitality industry, it has been tough times, but he took a few minutes to talk about his memories from the race.

I don't remember as much from '87; '88 I remember because it was the Olympic year and we were preparing for that, but '87 ... I know that I had just come back from Europe and I was flying; I had strong legs because of the tough races I had been doing there. The national team didn't have a lot of money, so they would throw us in races one after another while we were over there. But Beauce is always tough, the roads are hard and rough! If you weren't strong you couldn't sit on a wheel.

I think I was with Poliquin Sportif that year [correct]. They had started a little team of four, including me, as well as Pierre Pelletier and maybe Martin Barras [Felix Pelletier confirmed with his dad that it was Martin Barras and Jean-François Barré].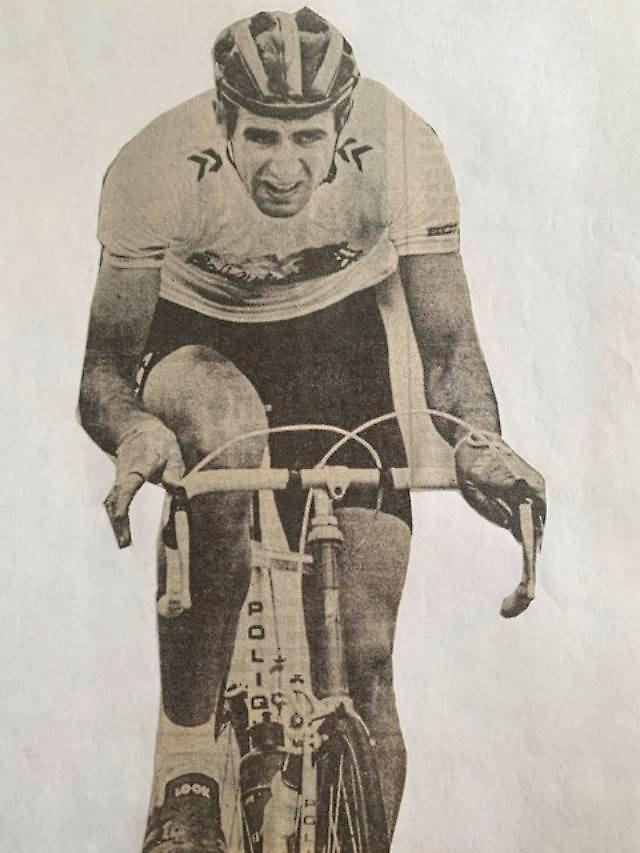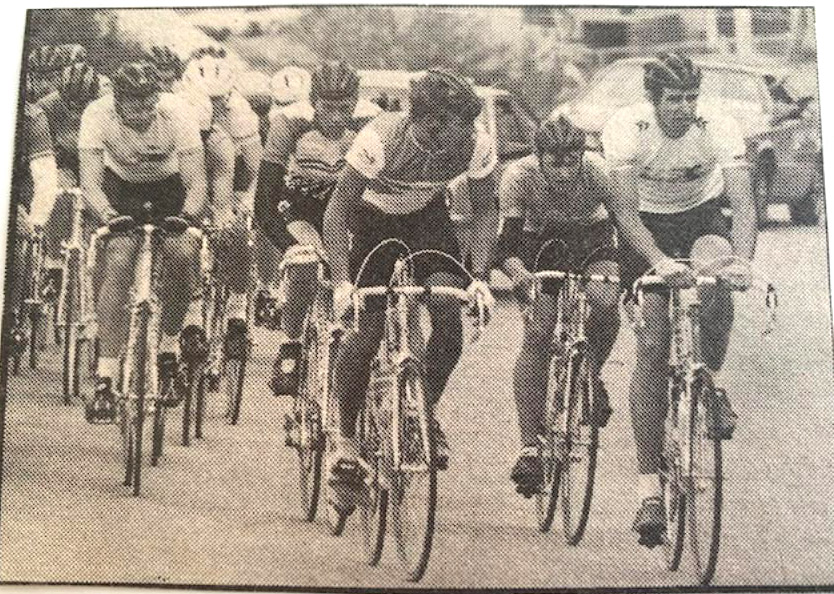 Waddell broke away halfway into the race, near the village of St Severin. Everybody was looking at me, thinking I would do all the work, which was BS; that was out of the question, I wasn't going to bring everyone to the finish line. I looked in some scrapbooks, hoping it would bring back some memories, but it's hard to remember from so long ago.

Beauce was always a very important race to me because it was close to my home town. People were following me closely because I had come back from Europe; I wanted to show them how fit I was. A lot of people would drive down to St-Georges to watch the racing.

I always liked Beauce because the people were friendly and kind. But I always recalled the roads being tough there ... the pavement was rough and the roads were up and down all the time; it was not easy stages. Sometimes it was rainy and cold and windy, which would help me after coming back from Europe because I had already seen that.

It was the type of course I liked because it was for powerful riders; not necessarily climbers, apart from Mont Megantic [in later years], where I finished third one year behind Jacques [Landry, the 1994 Beauce winner, who we are interviewing separately].

We had quite a few Nationals on those roads also, and I liked racing in Beauce, because it was made for tough people. People who weren't scared to hurt themselves on the roads and ride hard.

So, I liked it there and later I helped out with the race and even became the president for the race, to give back to cycling and the race for a few years. I helped pick the teams for the race and enjoyed myself working on the race.

I asked Ivan how important he though Beauce was for Canadian riders?

It's very important; it's a chance for riders who don't have the opportunity to go to Europe to race on a provincial or national team and race at a high level. It's well organized; even in those years there weren't a lot of races across Canada where you could race on a closed circuit, Quebec and B.C. were the only ones who were good at that. Beauce was renown for that and the set up was good and the teams that participated got stronger and stronger. When you performed well at Beauce it looked good on your resume. It could help out for your future, for selections [to the national team].

This year would have been the 35th year, which is amazing; how many races can say that? After all those years, people would be out on the side of the course, doing picnics ... Beauce is a good time. It's amazing, it's still there, still hanging in.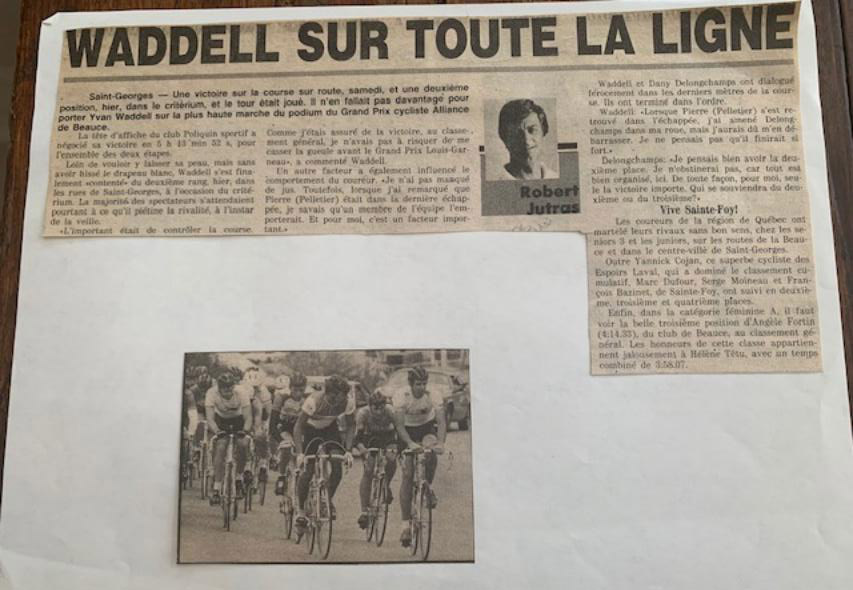 Race revisits


Race Revisit - 1987 Tour de Beauce with Ivan Waddell
Race Revisit - 2012 Chrono Gatineau with Clara Hughes
Race Revisit - 2019 Nove Mesto MTB World Cup with Haley Smith
Race Revisit - 2014 Giro d'Italia with Svein Tuft
Race Revisit - 1990 Paris-Roubaix with Steve Bauer