June 20/20 15:35 pm - Race Revisit - 1995 Tour de Beauce with Eric Wohlberg

Posted by Editoress on 06/20/20

Today is the latest in our series - Race Revisit - where we return to a past event that took place on (or around) this date. As well as a recap of the event and links to our original coverage - race reports, results, photos and video interviews - we will also be including comments and in-depth commentary from some of the Canadian athletes who were there.

We are continuing today with our week of coverage for the Tour de Beauce. The Tour de Beauce would have been celebrating its 35th anniversary this year, from its start in 1986. Founded by Jean Lessard, it is a legendary race for Canadian men on the road and the oldest UCI-sanctioned stage race in North America. Beauce is known for the weather - ranging from scorching heat and humidity to snow atop Mont Megantic, as well as pouring rain and hail. The courses are relentless - more than one rider has said to me over the years that there is nowhere to rest or hide at Beauce. And then there are the roads ... rough and potholed; they beat a rider up and invariably result in punctures. First time attendees always say at some point 'The roads...', almost with a sense of awe - and they are a LOT better then 20 years ago!

Canada has had nine winners in the past 34 years of Beauce, with most in the early years before international teams began attending. We are going to talk with a number of them this week - we began with 1987 winner Ivan Waddell and 1994 winner Jacques Landry, and today it is 1995 winner Eric Wohlberg.

In 1995, Wohlberg was part of the new Saturn Canada squad, which also included Michael Barry, Colin Davidson, Scott Hastie, Tim Hadfield, Jeff Barnes and Luca Segato.

Once again, there is not a tremendous amount of information available on the stage-by-stage results. Wohlberg remembers that his team mate Scott Hastie won the first stage and took the leader's jersey, but that they lost it again. He believes he may have taken it in the time trial and defended through the rest of the race [no confirmation]. Manuel Jose Garcia (Canels) took second overall at 1:19 and Fabien Bergeron (Radio Energie) was third at 1:48.

Wohlberg's team mate Barry was fourth, with other Canadians in the top-ten including Peter Wedge (Espoirs de Laval/Naya) fifth, John Powell (Neworld/Specialized) sixth, Anthony Bergeron (Excellence Sports) seventh, Kris Westwood (Velo-Excel Monteregie) ninth and Steve Rover (Espoirs de Laval/Naya) tenth. If anybody has additional materials - results, photos, etc., please let us know.

Eric spoke to us from San Jose, California, where he lives and is working for the planned start to the season for the Rally Cycling team, for which he is a Director Sportif.

One note - as anyone who knows Eric can attest, he has quite a sense of humour, so keep that in mind when reading his comments!

I think in terms of North American racing, GP Beauce has held a lot of esteem in the past and continues to do so. It's an epic stage race, a beautiful section of North America and very well run. So, I think people hold Beauce in very high esteem.

I'm not sure how many times I did Beauce, but I think at least six or seven. In '92, '93, '94 and '95 I raced for Canadian-based teams and in '96 I started racing for the Shaklee [U.S.-based] team, so I think we still came up and did Beauce - maybe as a composite national team project - but there definitely were a couple of years where I did not do Beauce. So, I haven't racked anywhere near as many as, say, Bruno Langlois or Gord [Fraser], for that matter.

I asked Eric about his recollections of how the race went, since there are few records from those pre-internet days.

First of all, I love the fact that it is pre-internet, so no one can go back and verify the stuff I say about the race ... so, in some people's opinion, the 1995 Gran Prix de Beauce was one of the hardest ever in the whole history of the race, period! And the '95 champion was probably the strongest rider to ever win Beauce.

I remember that on Day 1, Scott Hastie put himself in yellow through a great breakaway effort and ended up winning the stage. That was back in the day when the stages were a little bit different - the last few years they have run the same general stages every year - but back in the days I did it, they changed the routes a fair bit each year.

On the second day we were defending and I think he [Hastie] had a bit of a rough patch and we lost yellow - I didn't go into it for sure on Day 2, but it might of been after the time trial, I might have won that. I remember we had to defend on Mont Megantic, which was a tough one, for sure. I got my fat ass up the climb not too bad and then the last day was a little different [from the current circuit race]; we had some shorter circuits in the Beauce, but it wasn't the classic urban Beauce course where a lot of changes happened on the last day.

We went up past the CEGEP, so we still had a decent little climb in it, and kept climbing up to what is now the new bypass and then I think we dropped down that bypass, past where the Canadian Tire is [Note: this was a circuit used for a number of years]. It was still challenging enough for a non-climber like me, but I was able to pull it off.

I had a lot of great support - Scott Hastie, Time Hadfield, Jeff Barnes ... Michael was there, and I have to say that he probably could have won the Megantic day for sure, but he did the right thing and helped me get all the way up the climb, so hats off to Michael for doing the right thing there. We had a good group; that '95 team was a close-knit group of guys, so it was fun to win with them. We had some Beauce weather - no snow, but I remember some good rain, for sure.

The weekend before we had done the Lac Megantic stage race, which was only two days, i think, and I managed to pull that one off too. So that was a good little two weekend run for me.

The Quebecer Fabien Bergeron [third overall] was my biggest challenger, he was a plucky little rider. Kind of built like me, a bit of a pork chop sandwich; didn't climb super well, but just very aggressive, good time trialer and good all around rider. So he was a bit of a worry.

Eric had a pretty strong winning margin of 1:19, given many editions came down to a handful of seconds, and Eric responded, that just details the excellence I have achieved as a cyclist, so there you go!

Eric was also been, for a number of years, a Directeur Sportif at Beauce, so I asked him about how he uses his experience racing at Beauce to prepare his riders and develop team strategy.

We've had some good ones and some bad ones ... the crazy thing about Beauce is actually Day 1 - you just never really know what's going to happen, and we've benefitted from it sometimes and it's bitten us in the ass other times. For no good reason you can have a significant group go up the road ... it's not during any hard selection point, it's just that maybe riders get complacent and the next thing you know, there's a group of 15 or 20 guys that have just noodled up the road and everyone just sits around and looks at each other, and boom, there's the GC [General Classification] set up for whole race.

You might not have your best guy, and a couple of teams may not have their best guy in that move that goes early on. Everyone's happy to roll the dice and no one wants to commit to chasing it back. It's a bit of a bluffing game, and there's been times that we've had that happen, and sometimes we've had good guys go up the road in those moves and be happy with it. But all of a sudden you are down to just one or two cards to play, and you are going to have to hope your guy in that move is going to be able to out-climb most people, or out-time trial most guys in that move. That's a calculation you have to make.

When I spoke with Ivan Waddell [1987 winner], he said that, although there is a lot of climbing, it is more of a power rider's race than a pure climber - I asked Eric if he would agree?

I think that is a great way to look at it, honestly. It is not a pure climber's race. You've got to be a hard man for sure, because some of those days are relentless, with roller after roller, and then you throw in some bad weather ... traditionally, you throw in some crosswinds that would be difficult on the tiny little climbers, so you did have to be a pretty good all arounder. If you lost a little bit of time on Mont Megantic, there were still opportunities to pull that back in the heavy rolling stuff and the bad weather.

I think we've seen that Megantic can really solidify the GC, and if the guy that wins it can time trial or has a strong enough team to get him through the crosswinds ... but it's not necessarily the stage that you have to win to win the GC. You can't bleed a lot of time on it, but if you play your cards right, you can afford to lose a bit to some of the best climbers and still deal with them in the last couple of days.

Eric has won many national titles, Commonwealth Games gold and represented Canada at the Olympics, so how does Beauce stack up as a career result?

To have a GC win in Beauce, I think most Canadian riders can identify with. They kind of understand the difficulty of the courses, the potential challenges of the weather and stuff. So, it gives you street cred, for sure. I actually still have that '95 jersey that I will put on every now and then to try and relive that glory...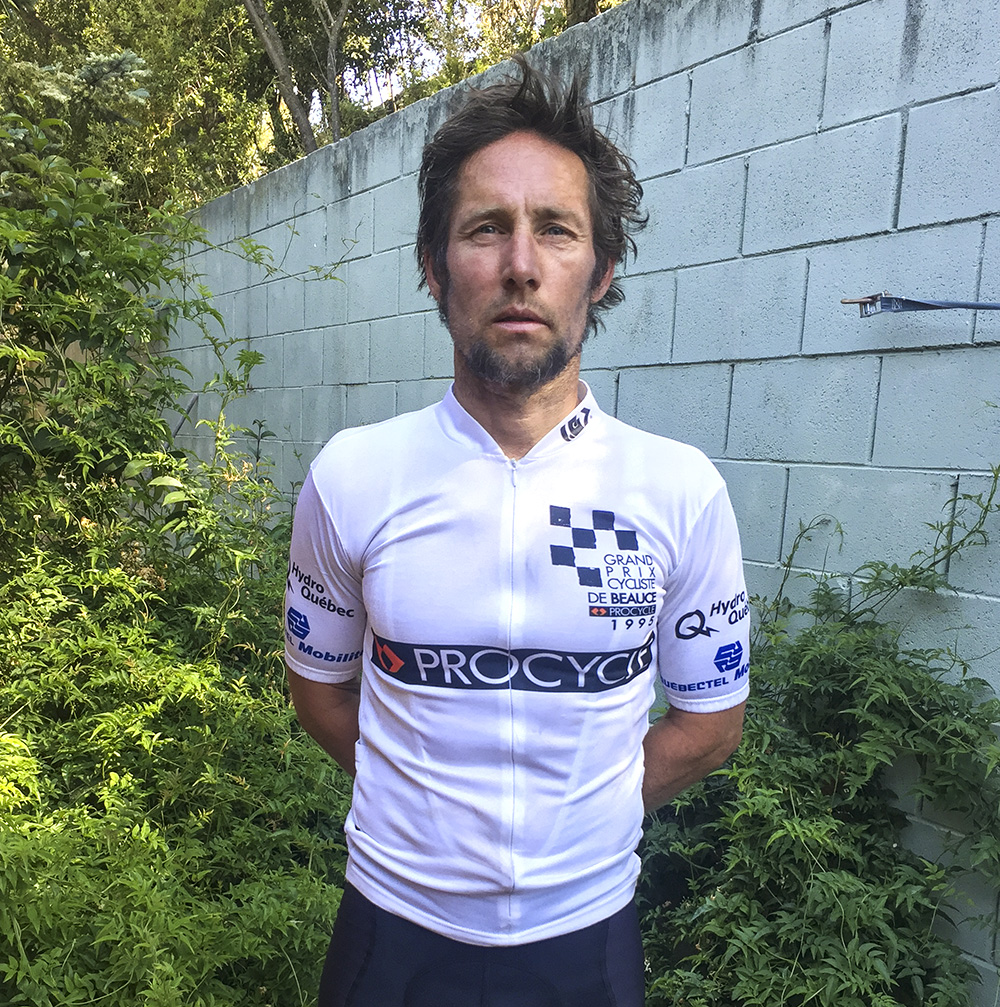 It's disappointing that they aren't going to be able to have the 2020 edition. I know the organization quite well from doing so many events as a rider and a director, and that same organization has done a very good job on national championships over the years. I have a lot of respect for the Board and the organization, and a lot of respect for the community of St-Georges, how they continue to rally around the race and keep it going. We look forward to 2021 and hope there will be a Beauce Classic, so we can come back and support it.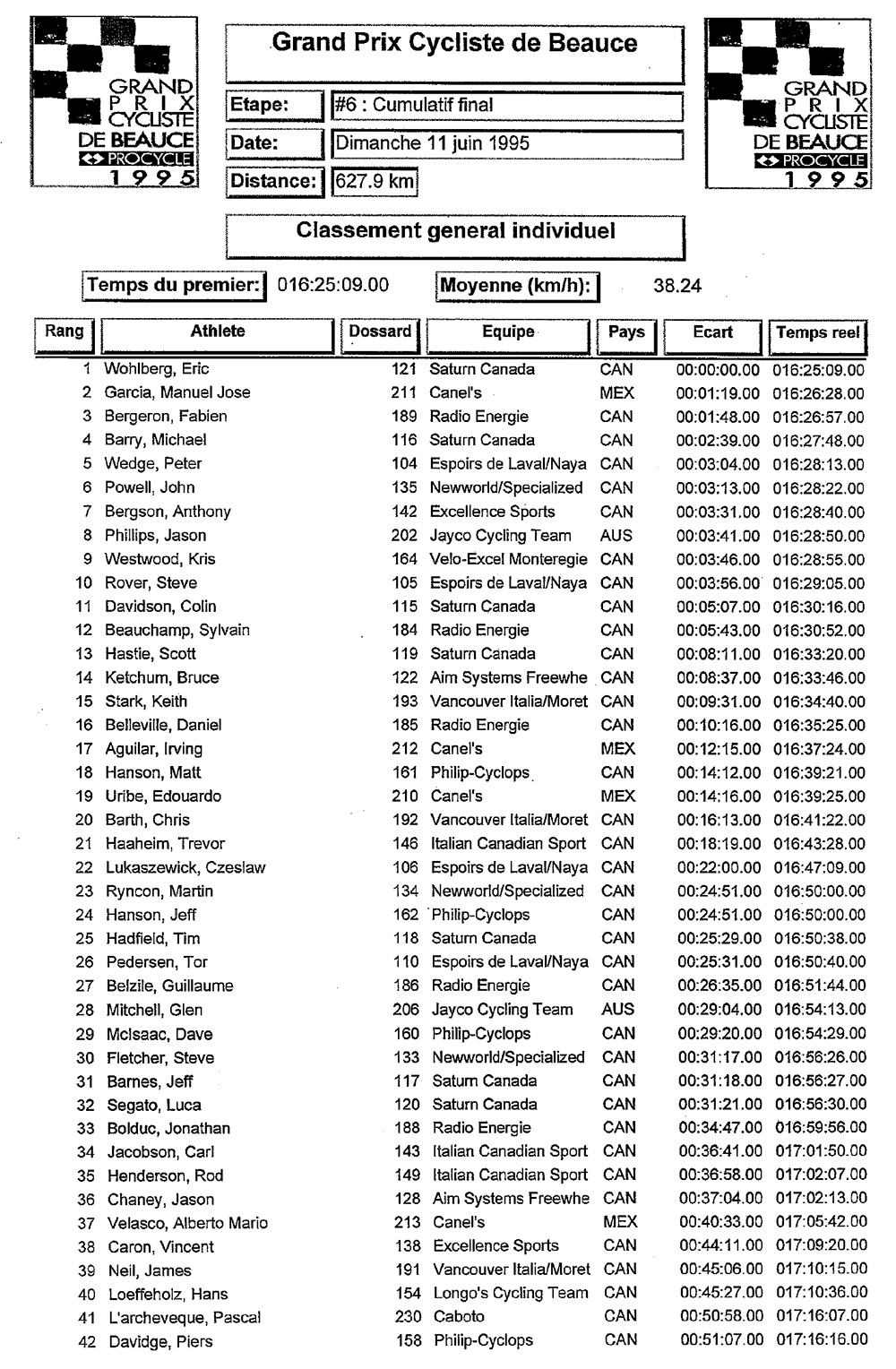 Previous Race revisits
Race Revisit - 1994 Tour de Beauce with Jacques Landry
Race Revisit - 1987 Tour de Beauce with Ivan Waddell
Race Revisit - 2012 Chrono Gatineau with Clara Hughes
Race Revisit - 2019 Baie-Saint-Paul Canada Cup with Leandre Bouchard
Race Revisit - 2019 Nove Mesto MTB World Cup with Haley Smith
Race Revisit - 2014 Giro d'Italia with Svein Tuft
Race Revisit - 1990 Paris-Roubaix with Steve Bauer