June 25/20 14:05 pm - Race Revisit - 2018 Tour de Beauce with James Piccoli

Posted by Editoress on 06/25/20

Today is the latest in our series - Race Revisit - where we return to a past event that took place on (or around) this date. As well as a recap of the event and links to our original coverage - race reports, results, photos and video interviews - we will also be including comments and in-depth commentary from some of the Canadian athletes who were there.

We are continuing today with our week of coverage for the Tour de Beauce. The Tour de Beauce would have been celebrating its 35th anniversary this year, from its start in 1986. Founded by Jean Lessard, it is a legendary race for Canadian men on the road and the oldest UCI-sanctioned stage race in North America. Beauce is known for the weather - ranging from scorching heat and humidity to snow atop Mont Megantic, as well as pouring rain and hail. The courses are relentless - more than one rider has said to me over the years that there is nowhere to rest or hide at Beauce. And then there are the roads ... rough and potholed; they beat a rider up and invariably result in punctures. First time attendees always say at some point 'The roads...', almost with a sense of awe - and they are a LOT better then 20 years ago!

Canada has had nine winners in the past 34 years of Beauce, with most in the early years before international teams began attending. We are talking with a number of them this week - we began with 1987 winner Ivan Waddell, then 1994 winner Jacques Landry, 1995 winner Eric Wohlberg, 2008 winner Svein Tuft and, today, 2018 winner James Piccoli.

After Svein Tuft's win it took a decade before a Canadian would stand on top of the podium, and it was Montreal native James Piccoli, riding with a national team squad that included Tuft. The rest of the team consisted of Ben Perry, Jordan Cheyne, Michael Foley and Jay Lamoureux.

Pier-André Côté (Silber Pro Cycling) won the opening stage bunch sprint to don the yellow jersey, but lost it the next day to another Canadian - Jack Burke (Jelly Belly p/b Maxxis) on the Mont Megantic stage. Burke moved into the yellow jersey, with Piccoli back in 12th, at 1:47. The time trial saw Piccoli drop to 14th, while Serghei Tvetcov (UnitedHealthcare) moved into yellow. Piccoli won the penultimate stage in Quebec City to jump to eight overall, 1:10 out of the lead, setting up for a showdown on the St-Georges circuit. Pier-André Côté won the final stage, but Piccoli and team mate Cheyne part of the four man break, which propelled Piccoli to the overall win as Tvetcov's team completely collapsed under the pressure of defending. Ben Perry took the Climber's Jersey.


Stage 1 Results
Stage 1 Report
Stage 2 Results
Stage 2 Report
Stage 3 Results
Stage 3 Report
Stage 3b Results
Stage 3b Report
Stage 4 Results
Stage 4 Report
Stage 5 Results
Piccoli, Tuft, Côté, Langlois Interviews
Stage 5 Report

James spoke to us from Montreal, where he is preparing for the start of the season - his first on the WorldTour.

I won the race in a funny way, for sure. In a traditional stage race like Beauce, most of the time is made in something like a hilltop finish and a time trial, because those are where the gaps are most easily made. When we looked at Beauce, it was pretty clear that the last stage in St-Georges is so hard and selective that it is possible to make big time gains there.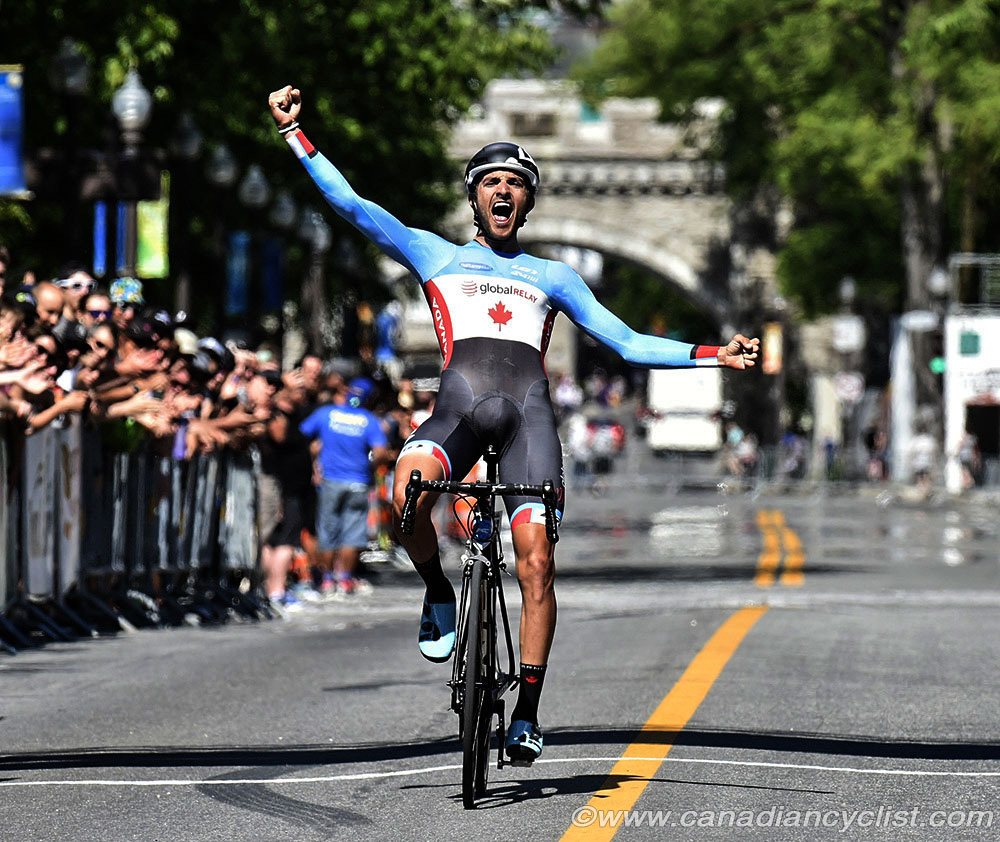 Quebec City win
I remember that that year I had some bad luck on Megantic, and lost a bit of time on some mechanical issues. I was pretty far from GC contention, but then I just so happened to win the criterium in Quebec City solo and claw back a bit of time. So heading into the last day, I remember the team plan being, 'you're probably still far [from the lead], but if you get into a breakaway, you never know'.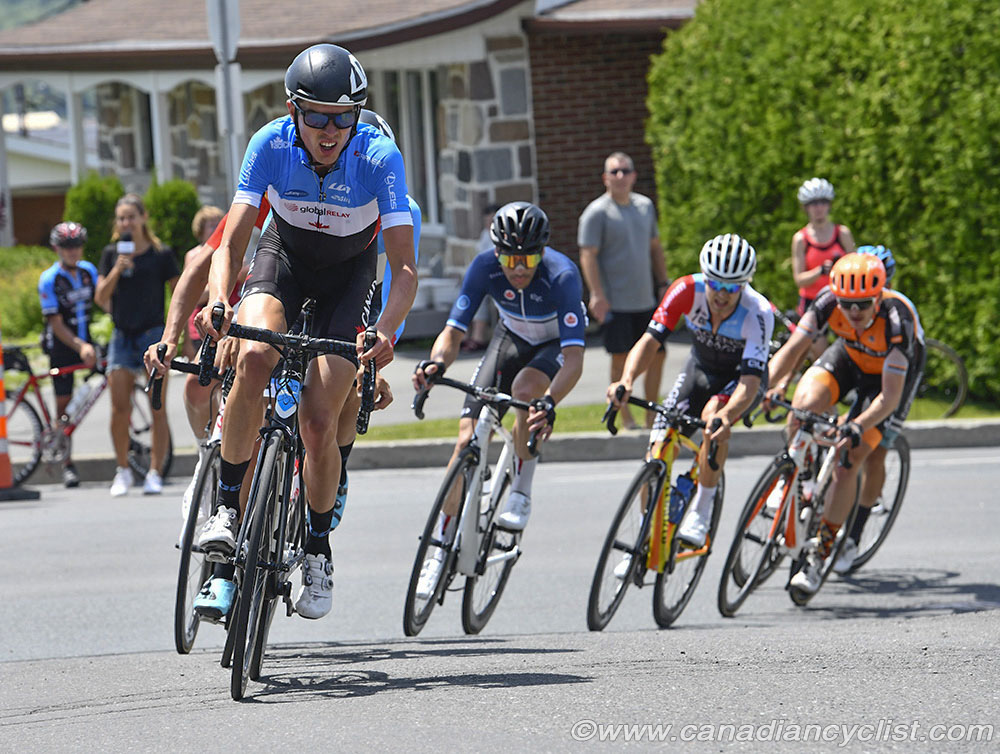 Jordan Cheyne leading the break on Stage 5
I ended up getting into the breakaway with Jordan Cheyne, a team mate of mine on Elevate [U.S. continental team] and also a national team team mate at Beauce, and Jordan totally started to ride for me. He just totally sacrificed his own chances. That was one of the hardest days in recent memory on my bike, but we ended up getting enough time to win.

It was a really cool way of doing it, because it was a last minute, exciting surprise ... we kind of stole the Tour de Beauce that day. That made it all the cooler to celebrate with the guys afterwards. It was pretty special.

That course is quite hard to control, just because it's such a tough, technical city circuit. So, a small group really has a good chance there, whereas, if you have a big, flat long road stage, a small breakaway doesn't normally have a chance against a well controlled peloton. But that day is really tough; I think it is underrated in terms of how difficult and technical it is. It's really a day where it is possible to do a coup like that.

So, that was the plan, but even though it's the plan, it doesn't mean it is going to work ... but Jordan really helped me that day. Jordan Cheyne really won me the Tour de Beauce that year because of all his hard work in the breakaway. I definitely wouldn't have been able to do it alone, and without him, A - pulling, and B - motivating our break mates, I definitely wouldn't have won. So, my thanks go out him for that day.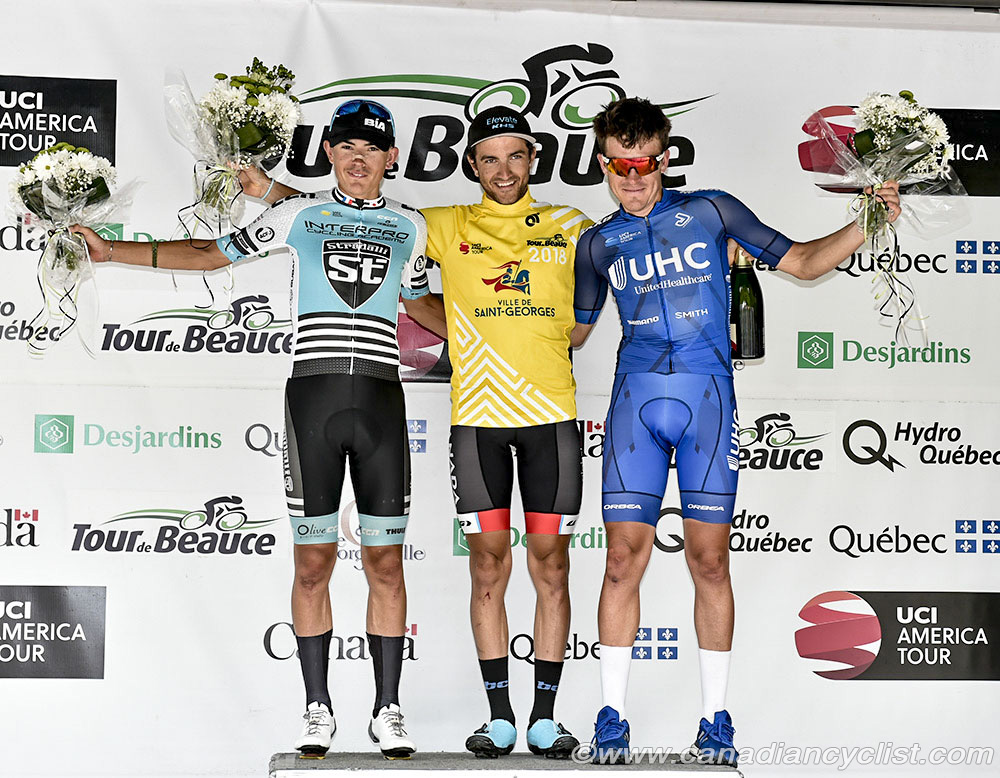 Final podium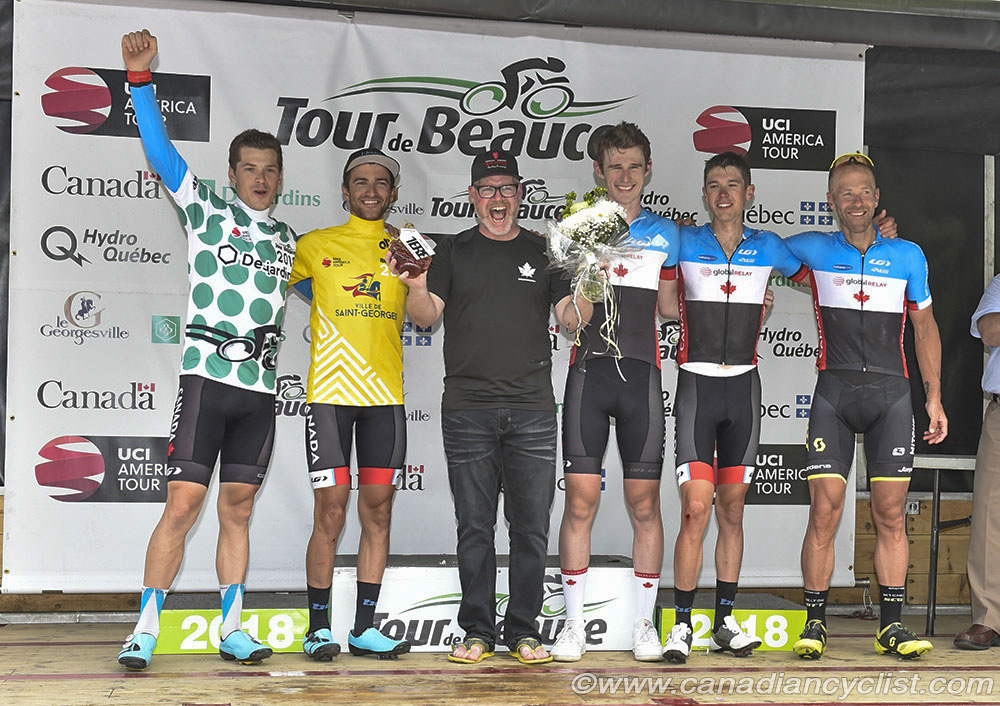 Team Canada

What was it like to have Svein there riding with you?

Having Svein there was a huge confidence boost; having a guy there with so much experience, and he's such a legend in Canadian cycling. After I won the criterium, he was one of the voices that said 'don't give up, you can win this tomorrow'.

He had seen how I was riding, and said this last stage was possible. He was definitely one of the guys who made me believe it could be done and was vital in the team's success.

Then last year - 2019 - you went back and won Megantic, the Queen stage, and finished second overall.

Yes. Megantic was always one I wanted. I've always liked climbing and that stage, it was like my yardstick for professional cyclists who were climbers. So it was really, really cool to win that solo. I went from the bottom. Despite not being able to win overall, that was a super cool day.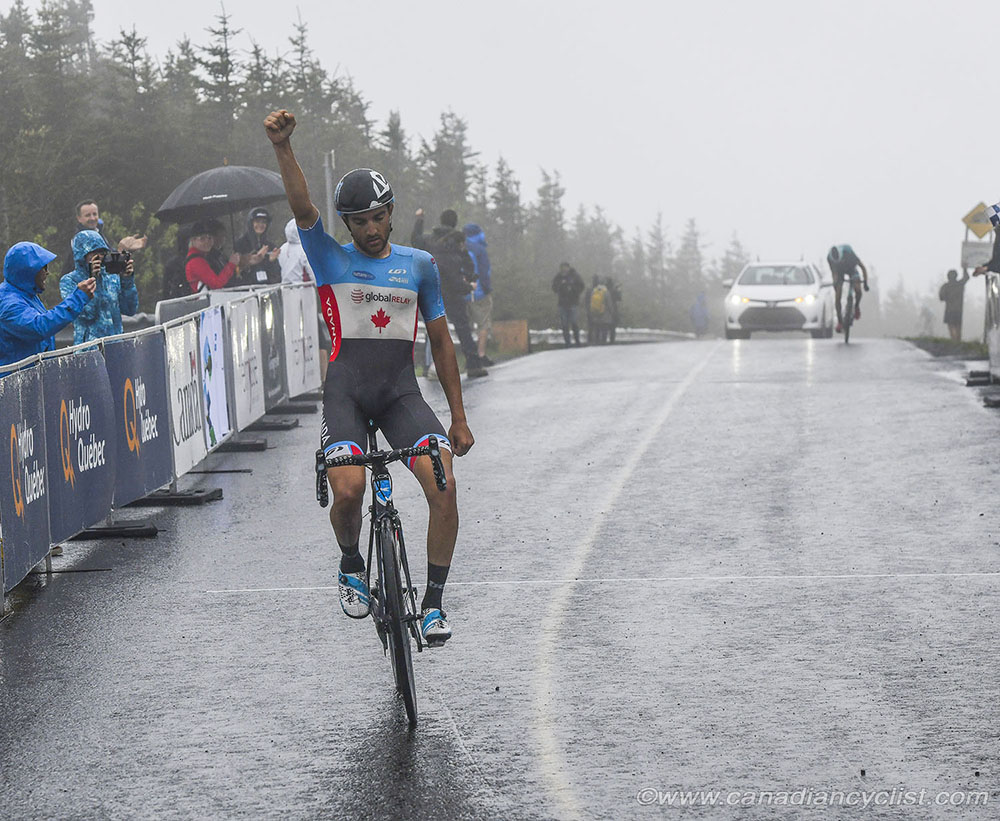 Megantic win 2019
How is important is a Beauce win?

To win Beauce is a big deal, but I think people don't appreciate how big of a deal Beauce is for Canadian cyclists. It's really the first platform to be able to race against big pros, and it's the first platform to do a really professional stage race.

It was my first ever UCI race [in 2013], and it's the only one that's accessible, because anything else ... Saguenay got cancelled and it was a Nations Cup [for U23 riders], and you couldn't do WorldTour races, and even the Tour of Alberta was inaccessible [to younger/newer riders], because it was far away and you needed to be on a higher level team.

So, Beauce is really the stepping stone in Canadian cycling, and I don't think people value that for what it is. It's really the shot that Canadian cyclists have to start to make it. To get noticed, or just to see the level to aim for. It was definitely that for me.

It was kind of a full circle moment to win the whole race, because it was my first ever UCI race and I finished last! So, it was definitely a full circle moment. So, my thanks go out to the entire Tour de Beauce organization because they gave me and they continue to give all Canadian cyclists a path.

Race organizers are under appreciated, and without this race being organized there'd be much less of a path for Canadian cyclists. You'd probably have to go to Europe straight away. So, huge thanks go out to them for their 34 years of continued work. They really do develop Canadian cyclists.

I also asked James about his schedule, now that a race calendar has been released for the late summer and Fall.

Just like all plans, it's presumptive that everything goes, be should there be no more problems, I will start with Tour of Poland at the beginning of August, and then come back for Quebec and Montreal. I will then do the Ardennes Classics - Liege-Bastogne-Liege, Amstel Gold, Fleche Wallonne - and then the Vuelta. So a lot of quality racing in the span of two months, but really a very nice calendar and one that I am excited for.

Note: Plus Worlds if selected.
Previous Race revisits
Race Revisit - 2008 Tour de Beauce with Svein Tuft
Race Revisit - 1995 Tour de Beauce with Eric Wohlberg
Race Revisit - 1994 Tour de Beauce with Jacques Landry
Race Revisit - 1987 Tour de Beauce with Ivan Waddell
Race Revisit - 2012 Chrono Gatineau with Clara Hughes
Race Revisit - 2019 Baie-Saint-Paul Canada Cup with Leandre Bouchard
Race Revisit - 2019 Nove Mesto MTB World Cup with Haley Smith
Race Revisit - 2014 Giro d'Italia with Svein Tuft
Race Revisit - 1990 Paris-Roubaix with Steve Bauer