June 29/20 19:31 pm - Race Revisit - 2016 Road Nationals with Annie Foreman-Mackey

Posted by Editoress on 06/29/20

Today is the latest in our series - Race Revisit - where we return to a past event that took place on (or around) this date. As well as a recap of the event and links to our original coverage - race reports, results, photos and video interviews - we will also be including comments and in-depth commentary from some of the Canadian athletes who were there.

Traditionally, the Road National Championships have taken place around the last week of June, so we are going to look at some of those over the next few days. To be a national champion in cycling is rather unique in the sports world, because it gets recognized every time a rider races over the next 12 months. Everywhere a rider competes in the world they have the right to wear the maple leaf identifying them as the Canadian champion, and race organizers usually recognize national champions in the call up to the start line. If the rider is on a pro team, their team usually has a special design ready to go quickly.

We began with Gord Fraser, and today it is Annie Foreman-Mackey - Elite women's road champion in 2016, in Ottawa.

Annie Foreman-Mackey was more known as a track rider when she won the national road title, and had been named as the alternate to the Rio Olympic squad for the Team Pursuit. Prior to her Road Nationals win, Annie was a member of the Pan Am Championships silver medal Team Pursuit squad, as well as winning a bronze medal in the Individual Pursuit that year at both the world championships and Pan Am Championships.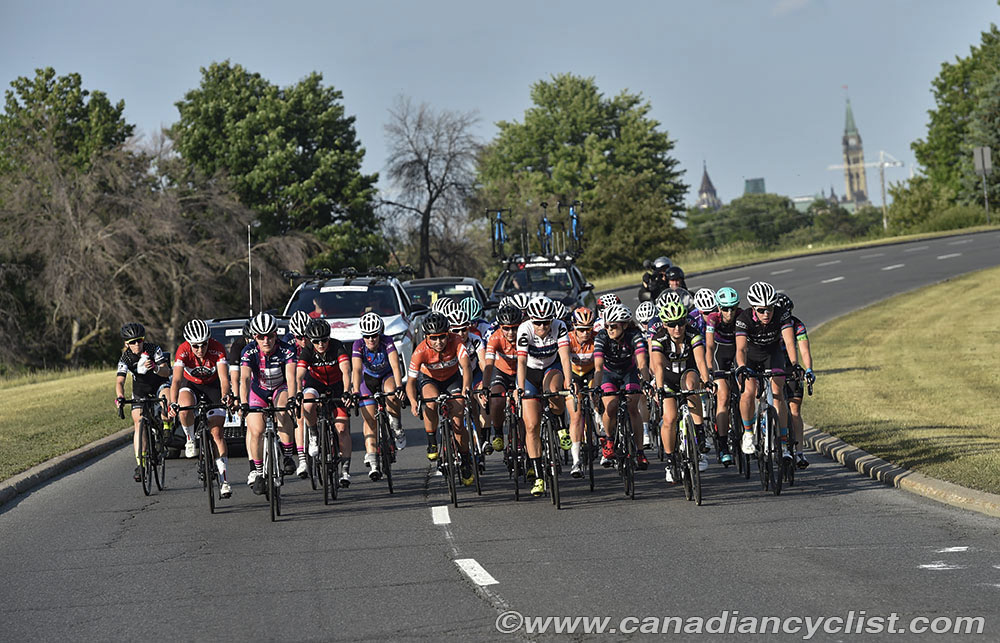 The Ottawa course, with the skyline of Canada's capital in the background, was quite different from usual. The urban ten kilometre circuit was mostly flat, however, headwinds were significant on some sections, as was the heat. Jamie Gilgen (Visit Dallas DNA) started the break on the first lap of the 11 lap race, and was joined on the fourth lap by Gillian Ellsay (Trek Red Truck), Alizee Brien (Tibco-SVB) and Foreman-Mackey, riding for the locally-based The Cyclery-Opus squad. The break never gained more than 2:20 on the peloton, but persisted at the front of the field, as the top European and U.S.-based pros could not put together a consistent chase.

With less than five laps to go, Foreman-Mackey and Brien attacked, and only Gilgen was able to come across. As the race went under 40 kilometres to go, Gilgen was the next to get dropped from the leaders, but the gap had grown to over two minutes. Foreman-Mackey was doing much of the work, with Brien struggling to hold on and, with a lap and a half to go, the Tibco rider finally cracked, leaving Foreman-Mackey alone at the front.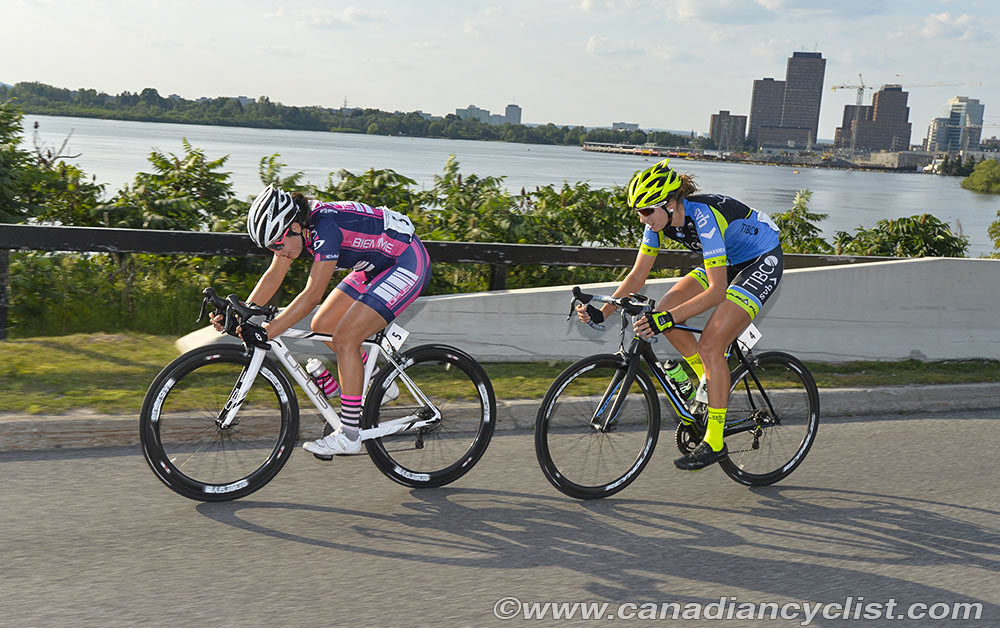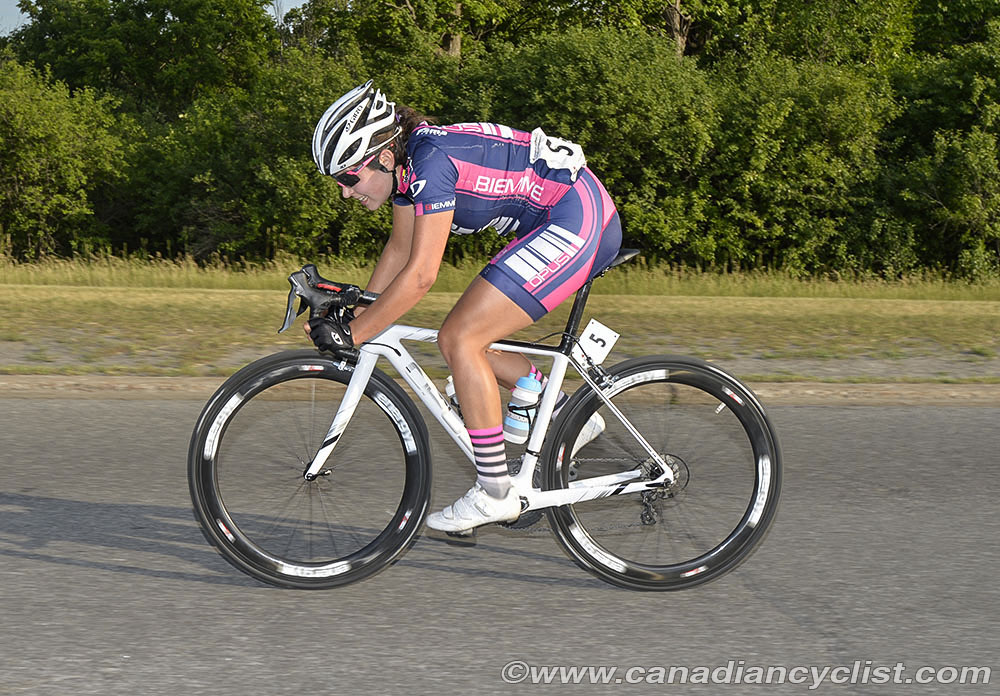 The chase seemed to get briefly organized, with the split dipping below 90 seconds, but Foreman-Mackey looked strong, and kept ticking over the pedals. The reduced peloton finally gave up as the race entered the last lap, and started preparing for a sprint for second, allowing Foreman-Mackey to cruise to victory, before collapsing at the side of the course, after spending nearly 70 kilometres at the front.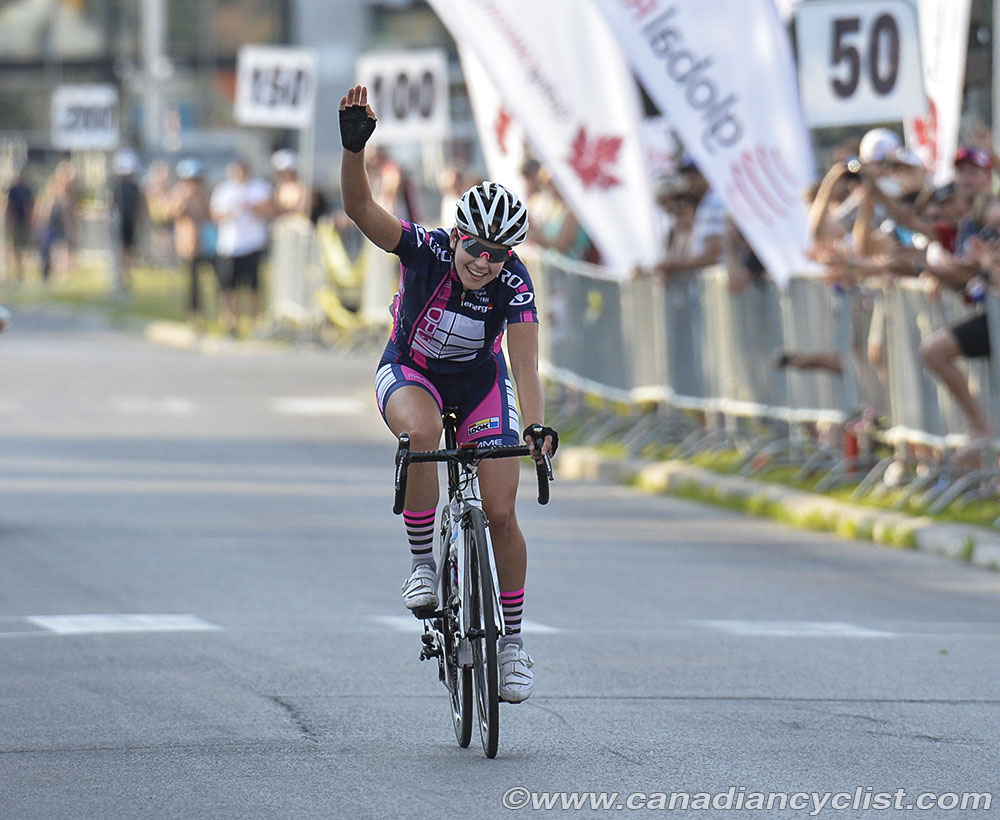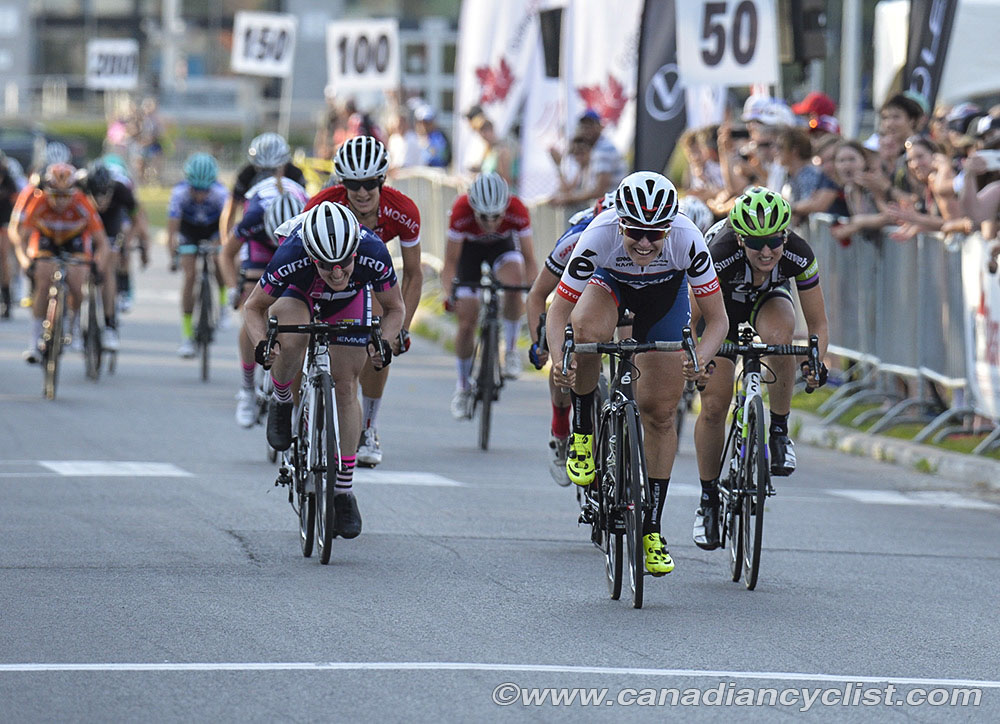 Joelle Numainville (Cervelo Bigla), the defending champion, was first out of the final corner with just under 300 metres to go, holding off Leah Kirchmann (Liv-Palntur) and Tara Whitten (The Cyclery-Opus) to take second.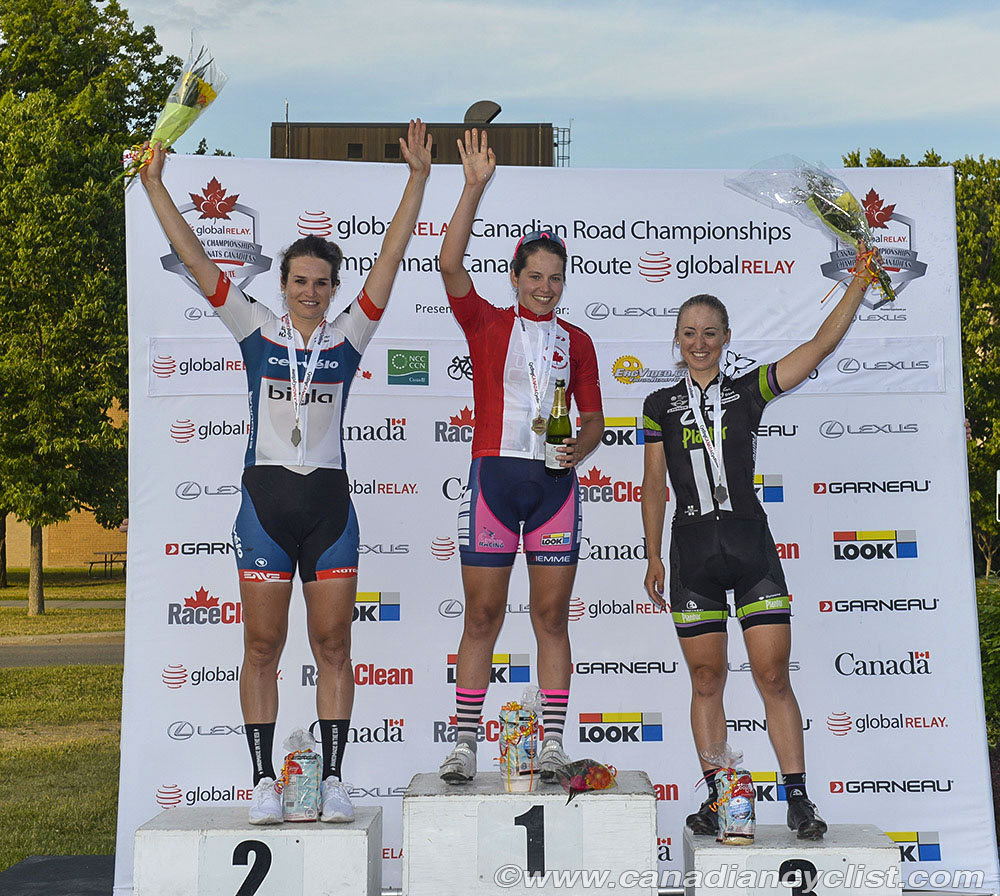 Results
Report & Video Interview
Photos

Annie spoke to us from her family home in Kingston, Ontario, where she is making preparations to drive out to Vancouver to start medical school at the University of British Columbia this Fall.

I was thinking, 'that was a while ago', and it was really wonderful to sit back and revisit that day. There were a few general themes to that day, and one of them is the context of racing a national championships in Ottawa, which for me was really special because that's kind of the closest I've gotten to racing at home ... growing up in Kingston, [Ottawa] is just two hours away, so it was pretty special.

On top of that, was the fact that at that time I was racing for The Cyclery racing team, which is based in Ottawa. Vince Caceres runs the team [owner of The Cyclery bike shop], Jenny [Trew, now national NextGen women's track coach] and Chris [Reid, now head of Milton cycling academy] were leading the charge on keeping the team moving forward. So we had the entire Ottawa cycling community out cheering, helping with feeds, helping with bikes. It was really this big community event for us, which was super special. That set the stage for a really special moment for us.

And on top of that, in the 2016 year and at Nationals we had a really incredible group of women. On the line it was me, Justine [Clift], Ellen [Watters], Emily [Flynn], Tara [Whitten], Ariane [Bonhomme], Amelie [Bruneau], Miriam [Brouwer]and Carrie [Cartmill]. For me, that was important and special because those people continue to be key people in my life. It was a positive and very team-focussed group of women - especially that year - and I think that is what created the results that we had.

I think also of note is that it was one of the last races I did with Ellen before her death [after being hit by a car while training]. So, looking back at it now, I think that makes it even more special.

We came into the race with a big team of riders, so we knew that we had the numbers, but we were still a little bit of underdogs. Two days before the race we sat down and we made the commitment to each other that our goal was to win the race, and it didn't matter who the one on the podium was. That was our goal and we were going to get behind whatever strategy was going to bring about that result.

Everyone had a specific role going into the race, and mine happened to be covering the early breakaways, and that is what I did. I believe it was on Lap 4 that the breakaway was established, so quite early in the race. I didn't totally think that it was going to stay away, given that it was a hot race, it was flat, and it was pretty far to the finish.

For me, it was kind of the best scenario; I could commit fully to the breakaway, knowing that I had the numbers behind me and I had team mates who were 100% committed to a team performance. So I knew that even if I committed now and blew up, that I would have team mates who were ready to attack and follow up. That created the conditions where I could just ride my heart out.

As the race progressed, it was a little bit of a race of attrition. It started with the four of us, then reduced down to three and then just Alizee and I for quite a while. I think we were together until maybe a lap and a half to go, and that was a little bit of a risky move on my part [to go solo], because it was still 15K to go alone. So it was pretty lucky that it stayed away.

I've seen some awesome photos somewhere, where Vince is just yelling his heart out in the middle of the race. On that course there were lots of opportunities for spectators to see the racing.

Pretty much every lap I was taking an ice sock and a bottle, and getting motivation and cheers from the entire Ottawa cycling community that came out to support the event and support our team. That made it really special; I derive a lot of my strength and motivation from the people around me, so I think that was a key factor.

It was an interesting course, and different from most of the other years of Nationals I have done, which have been in Quebec and generally have some significant amount of climbing. So this was definitely a bit different from that. For me, it was well suited to the fact that during that period of time I was in the midst of track training. I was an alternate for Rio and we had been in a track camp all of June in Milton.

I think I flew last minute into Ottawa for the race; the rest of the team was still training in Milton, but because I was an alternate, I had a little bit of flexibility. I did all the training with the team, but they would let me go and do a few road races here and there. It's kind of a hard role as alternate; knowing that you won't be racing [at the Games], so I got the freedom to come and do Nationals. Maybe that was a helpful factor - where I came in without a huge amount of pressure. I remember being so exhausted when I landed, and I tried to sleep for the two or three days before racing; I barely rode my bike. I think with all of that track training I had the strength and I was used to kicking over the pedals, and maybe coming in without as much expectations was helpful for me.

When Annie went away solo, it was a calculated risk

I had been pulling the majority of the time at that point, and I am not known for my sprint! So, I knew for me that the best case scenario would be coming in solo. There was some calculation ... I didn't want to come to line with Alizee if I didn't have to. That being said, we had been out front for a long time together, and definitely we needed to be working together. Maybe I could have left it a bit longer; I did start putting a bit of pressure on her in that [second last] lap, and that's where we separated. So there was some thought behind it, but I also needed to keep the pressure on - I think the gap came down somewhat significantly in the last few laps and for me ... you can't ever really let up off the pedals because you never know what what will happen if people [chasing] get motivated, especially on a flat, open course like that. The pack can get back a lot of time if they organized, so I knew that it wasn't secure until I crossed the line.

After the rest of the field crossed the line, the team descended on Annie.

Yes, it was so wonderful and that is such a special moment in my memory. I remember that I was completely exhausted; I fell off my bike into the field and the entire team came over and it was just a celebration for the win, and also a celebration for Ariane winning the Under-23. So it was kind of a dream day for everyone. Every single member of the team played a really important role in getting us there ... it was a pretty awesome, amazing time to be able to celebrate it with everyone.

Did this shift her focus from the track to the road as well?

It's interesting ... right now, I would consider myself more of a track specialist. But I've gone back and forth throughout my career. I started out in road and mountain, and came to track. I love being able to do both disciplines; for me right now the track is my focus, but in 2016 that was an exciting moment in my road racing career. The next season was pretty hard for me, given a lot of injuries and recovering from being hit by a car. That was a tough season [2017], and played a bit of a role in me moving back to a track focus. But I still consider myself a racer in both disciplines and have been pretty lucky to have so many opportunities for both throughout my career.

Despite winning medals at the world championships and World Cups on the track, Annie still considers the national road title as one of her significant results.

This one definitely is up there with all of my special moments. In terms of my road racing career, this is definitely the highlight. I look at my track medals and I'm lucky that pretty much all of them are with a team. For me, the team aspect of racing is what keeps me going and what I love the most. So being able to win a race as a group of athletes is kind of the best feeling you can ever have.

So when I look back at my cycling career, this is one of the most special moments. That race was held the day before my 25th birthday ... Nationals always falls around my birthday. This year does not have that ... but I remember the day after that race [2016], we did a birthday ride with a bunch of Ontario locals, and Erin Attwell, who had just won the Junior title, and Ariane, who had won the Under-23, and me, who won the Senior ... we all wore our national champion's jerseys and we went on this birthday ride with people from around Ottawa. I was thinking of this, this morning, and it's pretty cool looking back at that now ... if you look at Erin, Ariane and I; all of us are making strides on the track and all of us are key members of the [national] team. That was four years ago, and in those four years I've moved into a much more senior role on the team pursuit team, Ariane has progressed onto the Elite team and is incredibly strong, and Erin is a key member of the NextGen team. It's kind of cool to see the three of us come through that race and keep going.

As I said earlier, it's especially special given the group of women we had on the team that year, many of whom continue to be my best friends.
Previous Race revisits
Race Revisit - 2004 Road Nationals with Gord Fraser
Race Revisit - 2018 Tour de Beauce with James Piccoli
Race Revisit - 2008 Tour de Beauce with Svein Tuft
Race Revisit - 1995 Tour de Beauce with Eric Wohlberg
Race Revisit - 1994 Tour de Beauce with Jacques Landry
Race Revisit - 1987 Tour de Beauce with Ivan Waddell
Race Revisit - 2012 Chrono Gatineau with Clara Hughes
Race Revisit - 2019 Baie-Saint-Paul Canada Cup with Leandre Bouchard
Race Revisit - 2019 Nove Mesto MTB World Cup with Haley Smith
Race Revisit - 2014 Giro d'Italia with Svein Tuft
Race Revisit - 1990 Paris-Roubaix with Steve Bauer