July 3/20 12:40 pm - Race Revisit - 2012/2016/2019 Road Nationals with Ryan Roth

Posted by Editoress on 07/3/20

Today is the latest in our series - Race Revisit - where we return to a past event that took place on (or around) this date. As well as a recap of the event and links to our original coverage - race reports, results, photos and video interviews - we will also be including comments and in-depth commentary from some of the Canadian athletes who were there.

Traditionally, the Road National Championships have taken place around the last week of June, so we are going to look at some of those over the next few days. To be a national champion in cycling is rather unique in the sports world, because it gets recognized every time a rider races over the next 12 months. Everywhere a rider competes in the world they have the right to wear the maple leaf identifying them as the Canadian champion, and race organizers usually recognize national champions in the call up to the start line. If the rider is on a pro team, their team usually has a special design ready to go quickly.

We began with Gord Fraser and then Annie Foreman-Mackey. Today, it is Ryan Roth that we are talking with. Ryan won the Elite men's Road Race title in 2012, the Time Trial title in 2016 and is the reigning Criterium Champion - one of only a few riders to have won all three Elite titles.

Ryan retired from professional competition at the end of last season. At various times he rode for a number of the top Canadian men's teams - Silber, Spidertech and X-Speed United, which was his final team.

2012 - Lac Megantic, Quebec

The men's field for the road race at the elite national championships was probably the strongest assembled since the 2003 version on the Hamilton Road Worlds course. In addition to 11 entrants on Canada's only professional continental squad - SpiderTech p/b C10 - there were five of Canada's six European-based pros: Michael Barry (Sky), Svein Tuft and Christian Meier (Orica-GreenEdge), David Veilleux (Team Europcar) and Dom Rollin (FDJ-Big Mat). It was Team WorldTour versus Team SpiderTech. In the end, SpiderTech prevailed, with Ryan Roth winning a sprint finish against Michael Barry, the most dominant rider in the 180 kilometre race. Coming into the finish was a tricky chicane turn 300 metres from the line, and Roth was able to get in front for that, holding off Barry in second. Marsh Cooper (Optum p/b Kelly Benefit Strategies) took third and Antoine Duschesne (Garneau- Quebecor-Norton Rose) led in a small group to take fourth and the Under-23 title.

Report
Results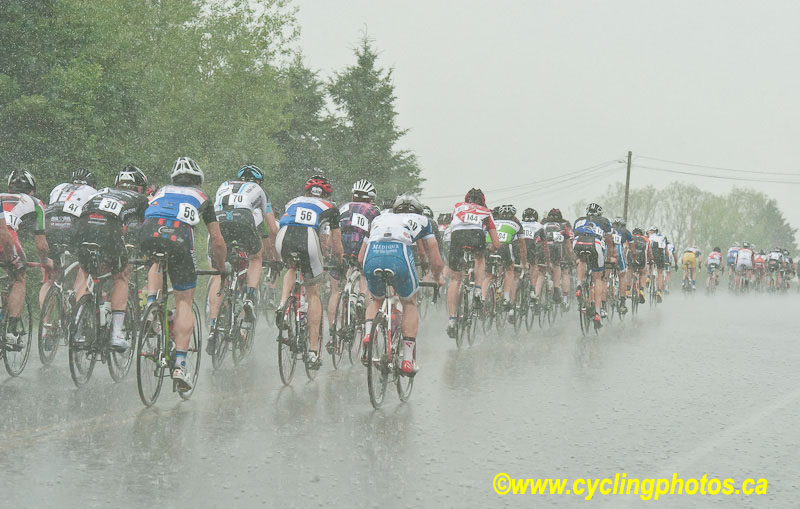 The start saw heavy rain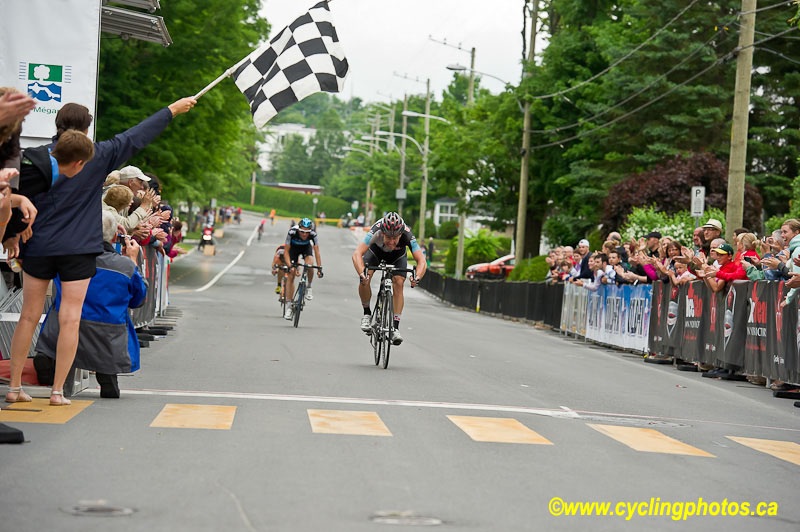 Roth takes the win ahead of Barry and Cooper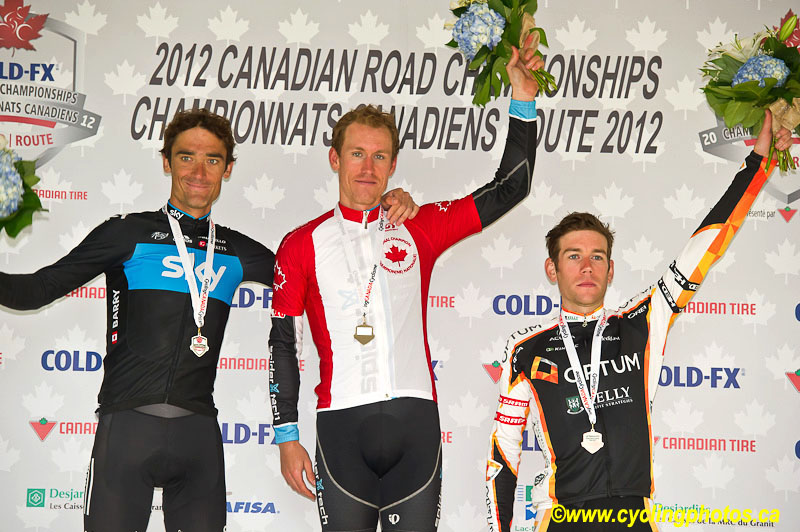 2012 podium: Barry, Roth, Cooper
2016 - Ottawa / Gatineau

The out-and-back course took the riders through the Gatineau national park outside of Ottawa, opening with a long rolling climb to the turnaround point and then a fast descent back to the finish. The women rode 26 kilometres and the men 36 kilometres. In the men's race, it was expected to be a battle between nine-time champion Svein Tuft (Orica-GreenEdge) and defending champion Hugo Houle (AG2R la mondiale). Tuft did set the first sub-50 minute time, at 48:35.92, a time that held up until Roth's team mate, Alex Cataford, the 2015 U23 champion, knocked 0.46 seconds off with five riders to go. Roth was the second last rider to go, and smashed the leading time by nearly 20 seconds, and Houle could only manage fourth, 47.61 seconds down.

Report
Results
Photos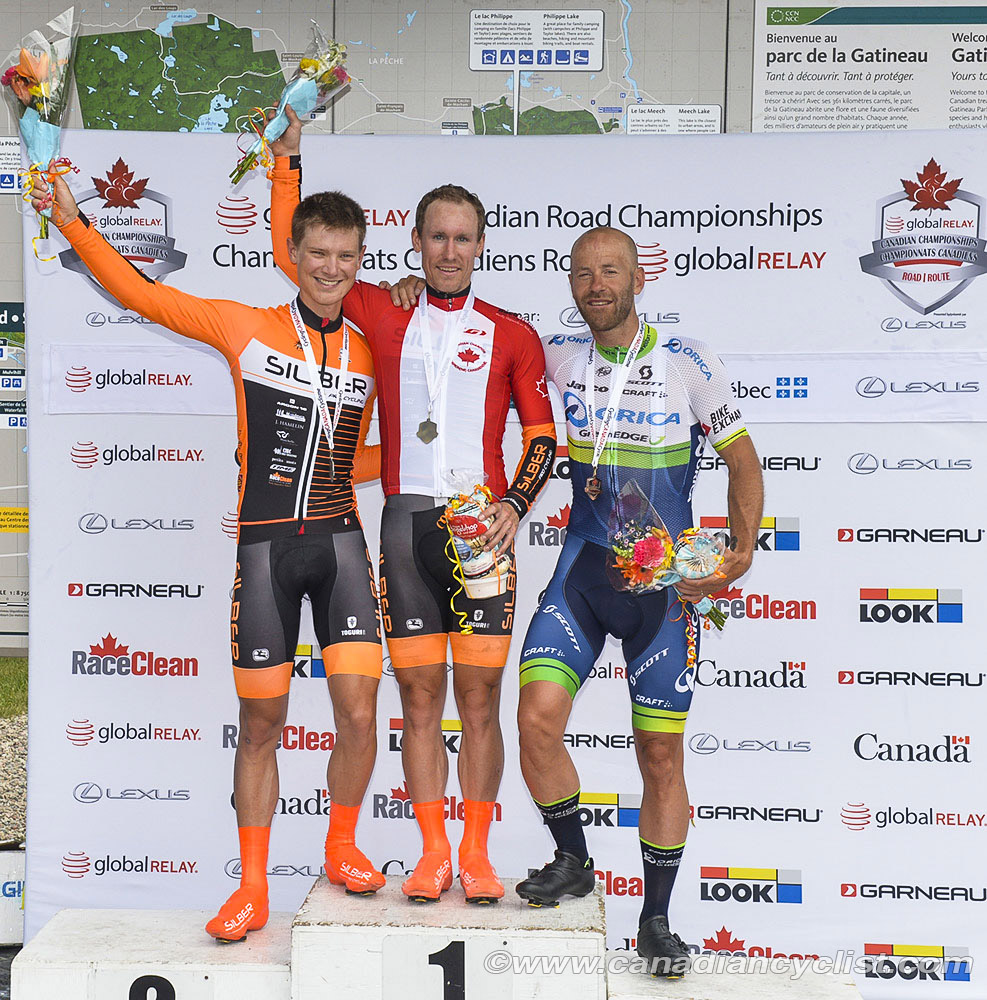 2016 Men's ITT podium: Cataford, Roth, Tuft
2019 - St-Georges de Beauce, Quebec

The 1.3 kilometre circuit was a four left turn rectangle, with the most prominent feature the final 200 metre climb to the finish line. Constant attacks in the opening laps of the men's race quickly whittled the field down, with only 25 of 119 starters finishing after 60 minutes (plus three laps) of racing. Evan Burtnik (X-Speed United) and Robin Plamondon (Floyd's Pro Cycling) were the first to make a break stick at the halfway point in the race, and they were joined by Charles Etienne Chretien (Equipe du Quebec) and Derek Gee (Toronto Velodrome Club). Finally, Roth, Pierre Andre Cote (Rally UHC) and Alex Cowan (Floyd's Pro Cycling) jumped across to make up the rest of the group. Roth bided his time in the last ten laps as others made break attempts, before launching a powerful move with a lap to go, and hanging on to win the title for his new Continental team. Plamondon got a slight gap on the others to win silver, with Cote taking the final podium spot.

Report
Results
Photos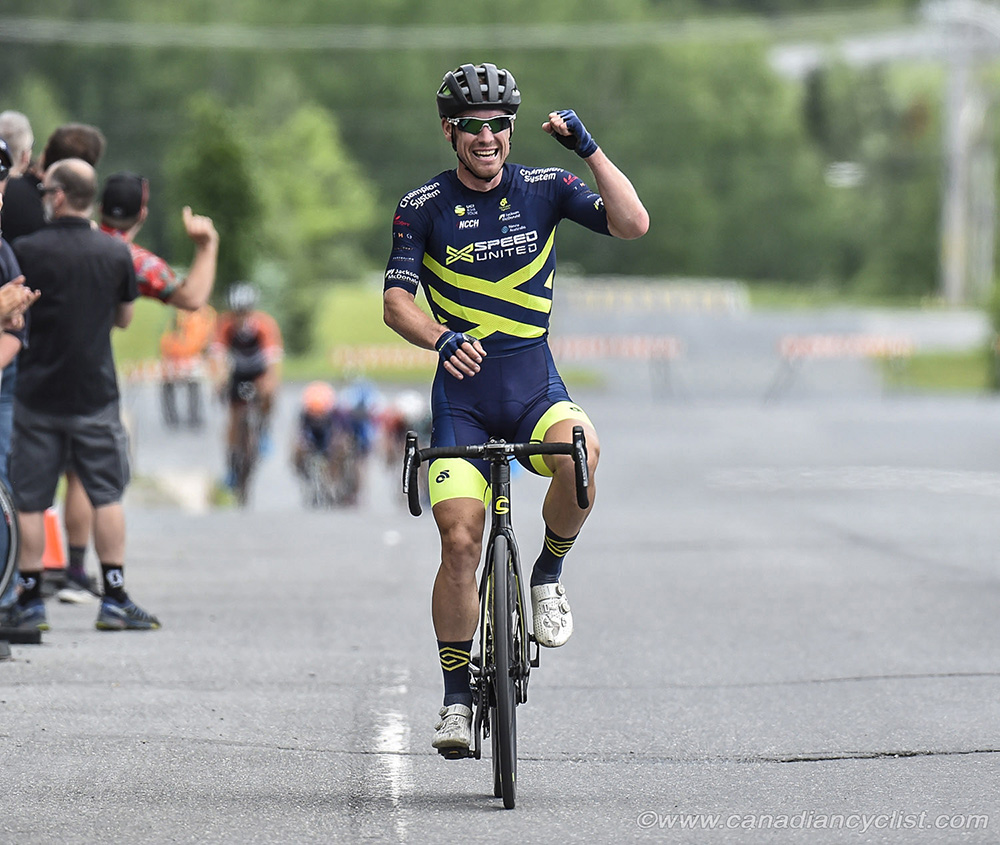 2019 Criterium win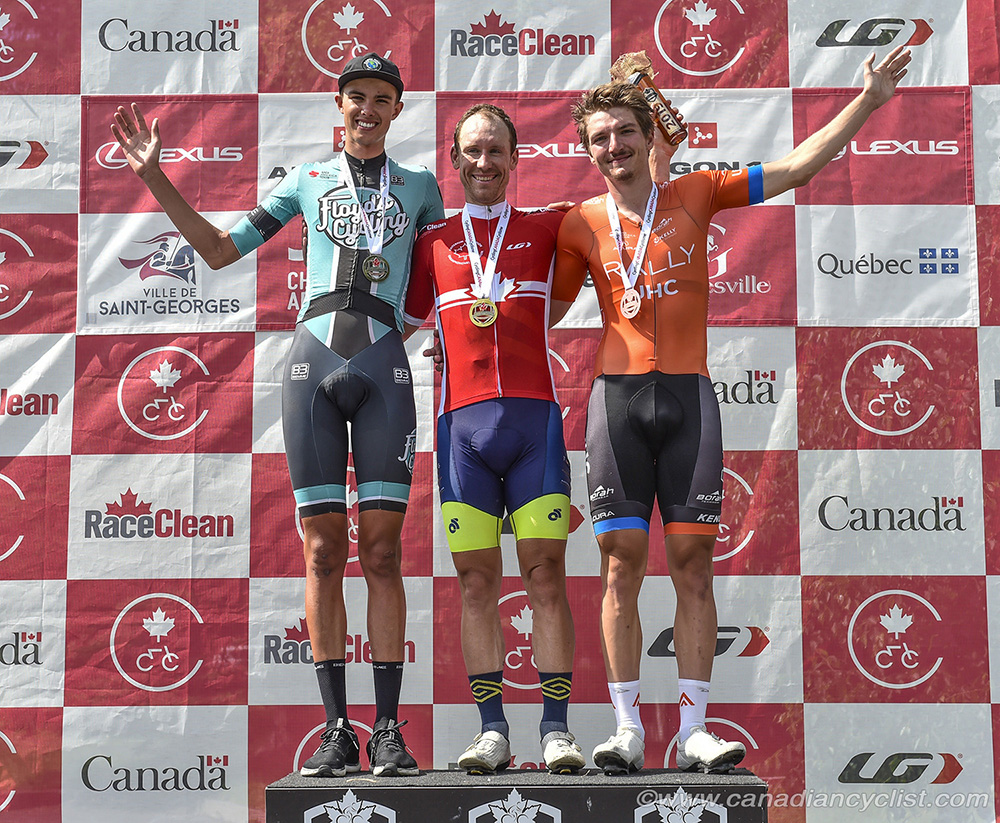 podium: l to r - Robin Plamondon, Ryan Roth, Pierre Andre Cote
Ryan spoke to us from his home in Guelph.


The last few years of Beauce they have done a stage with Mont Morne [the climb at the 2012 Nationals] and it's a really, really hard course. What stands out is - that was the last year of Spidertech and we had a lot of numbers and strong guys. So we were big favourites to win. It was definitely a team win, because we stacked the early break and I was able to sit in the field while all the WorldTour guys had to chase. Even the last time up the climb when Barry really exploded what was left of the field, I was able to sit on because we still had guys up front. Just being able to benefit from having a strong team was the biggest factor I think in winning that race.

It certainly was a strong field, from my experience. Barry wasn't there very often, so it wasn't normal to have him show up. For us it was a big internal focus to win that race with anybody from the team. The plan wasn't for me exclusively [to sit in]; we still had Francois [Parisien] and Zach Bell and others in the field with me. It just happened that I had good legs that day and I was able to stay with Mike for the later moves. When he bridged up to the breakaway, I was the only guy on our team able to go with that.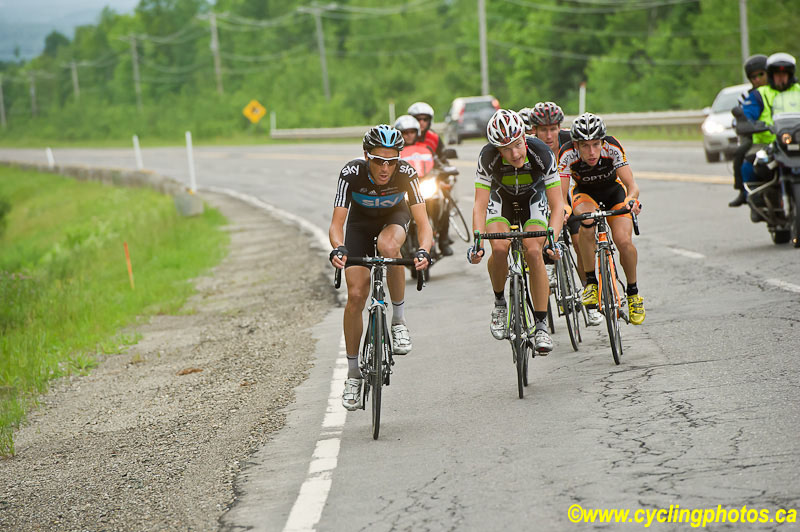 Barry at the front, Roth can be seen between Britton and Cooper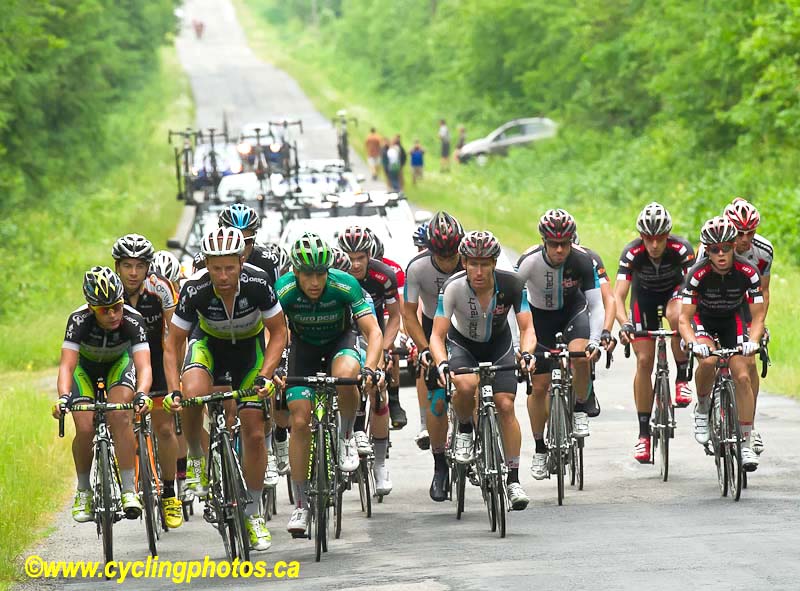 L to r: Meier, Tuft, Veillieux, Roth

I wasn't uncomfortable waiting for the sprint - Michael had done a lot of work, and Marsh [Cooper] was the last guy remaining from the early break, so he had done a lot of work. I didn't do any attacking, Michael was pretty aggressive and Marsh had a few digs, which they probably figured were their best chances - everyone just played their best cards. Neither of those guys were fast on paper, so I was comfortable with [it coming to a sprint]. I was still nervous, because you never know ... your legs could just fail you at the last minute. There were the last two corners before the finish and I just went off instinct with the timing.

The road title is definitely more visible [than the time trial] because you get to use that jersey more. It seems to be the main event between the disciplines. I don't really know why, but I guess people just think about road races more. And, there's more variability in the winner - you see in a country like Canada, without a lot of depth, the same faces on the podium for the time trial, whereas in the road race there can be a lot of different outcomes.

At the 2016 Nationals - you have always been known as a good time trialer, but you were going up against Svein Tuft, who had already won it nine times, and another WorldTour time trialer, Hugo Houle. And it wasn't a close race - you won by over 20 seconds.

Yes, and that was over Alex Cataford in second, neither one of those guys [Svein or Hugo] were there (in contention). I definitely wouldn't say I was expecting to win. It was almost the situation where I had done it so many times ... I'd been on the podium maybe three times before that I wasn't interested in it so much. I was more interested in the road race, which had already happened [he did not finish]. The road race didn't go well, but I still had good legs, so I took a more relaxed approach to it [the time trial] ... I was pretty chill about it. I just had really good form at that point - I had done Saguenay and Beauce and then recovered really well, so my form was super super good.

When I started, I was thinking 'hopefully my power meter isn't reading high'. I had never had power numbers like that in a time trial before, and I think it was just a really good day for me and, combined with a course that maybe wasn't as great for Svein, or he was a little off. I think we also did more work getting set up on the bikes that year - in the winter we had done aero testing, which was the first and only time I had done that. So it was a bunch of things that came together on that day that helped me win the race.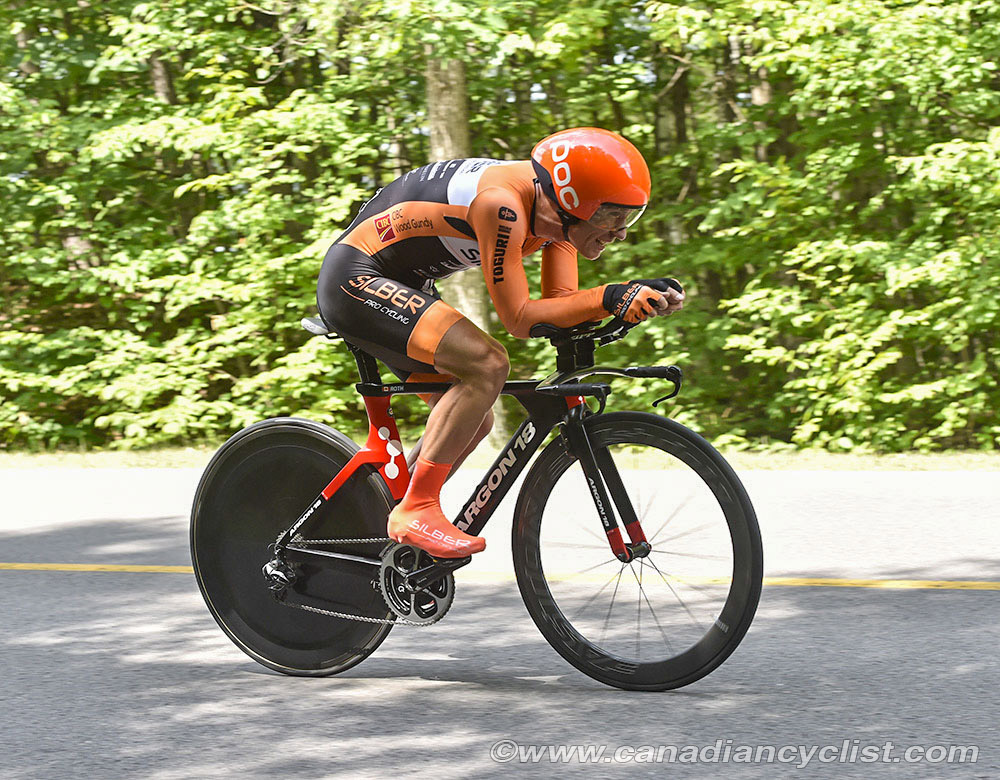 If you contrast the two ... winning the road race was almost a relief because we had so much pressure to win, and the time trial win was almost a surprise. I was riding good, but I knew it was always going to be hard to beat Svein. So I just did my own race and it worked out.

The course might have had a bit to do with it, but with a guy like Svein ... who's going to go downhill faster then anybody on the way back, maybe it worked out that I was able to get enough time on the way out that it was too much for him to overcome on the way back.

When I talked with Gord Fraser about his Nationals win, he pointed out that he was the team manager for Silber when Ryan won his TT title, and was in the car behind Ryan during his ride.

It was one of those days ... with Ryan I could tell whether he was on a good TT or not just by his cadence. When he's snappy and pushes a high cadence I know he is on a better ride then when he starts to bog down and reach for it. He went went up the first few climbs - and I know the Gatineau Parc like the back of my hand - I went 'huh, that's a good sign'. I was tailing off in the car because Hugo Houle started a minute behind, so I was able to take a split. Right away, Ryan was up 10-15 seconds on Hugo after 4-5 K.So he was definitely on a good ride. He caught Jordan Cheyne at the bottom of Black Lake and put a minute on him, so I knew this was something. He was on the power pretty much the whole time, shifting perfectly ... it was a perfectly executed ride, and it's a tough course to do that on. I knew he was ahead of Hugo because I was tracking the splits, but when he came in [to the finish] and they said he had beaten Svein, that was just unreal. And Cataford was second, so we had a 1-2 that day, beating Svein, who hadn't been beaten in a decade, so that was one of the biggest highlights for Silber in the five years of the team. It was a really good day.

In 2016, Ryan also finished 15th in the Road Race at the world championships, with the lead group.

Even after Nationals, we went to B.C. and I won two road races [at BC Superweek] solo. So it was a good year, but it was also that my form came at the right times, which is also tricky.

The Nationals wins are important, because I was never really a stage racer; I really liked one day races and, especially in North America, there are not a lot of them. I always looked forward to Nationals as the one day races you could count on happening every year. If you think of yourself as a stage racer you want to win stage races, and if you think of yourself as a one day guy, that's what you want to win. So I'm glad that I could get to do it [win the road race] at least once and wear the jersey. For the time trial, it was really cool that it all worked out one day for me. I knew it could happen, but you might just have that day and it would be a training day, so it was cool that everything lined up. That's the difference between training and racing - when everything comes together and it all works out, it's a satisfying and fulfilling thing.

Then he completed the hat trick with the Criterium title last year.

That [the criterium] was different again. There's always an element of luck. It just happened that it was a really hard course ... I'm not a major crit racer, but on a really hard course and I had good legs, and the race being aggressive, and tactical at the end ... it all suited me really well. I didn't do the time trial and I didn't finish the road race, so It was all I had left. So that year the crit probably carried a bit more weight for me. I remember it was really hard and really hard fought, and I think anybody in that group could have won.
Previous Race revisits

Race Revisit - 2016 Road Nationals with Annie Foreman-Mackey
Race Revisit - 2004 Road Nationals with Gord Fraser
Race Revisit - 2018 Tour de Beauce with James Piccoli
Race Revisit - 2008 Tour de Beauce with Svein Tuft
Race Revisit - 1995 Tour de Beauce with Eric Wohlberg
Race Revisit - 1994 Tour de Beauce with Jacques Landry
Race Revisit - 1987 Tour de Beauce with Ivan Waddell
Race Revisit - 2012 Chrono Gatineau with Clara Hughes
Race Revisit - 2019 Baie-Saint-Paul Canada Cup with Leandre Bouchard
Race Revisit - 2019 Nove Mesto MTB World Cup with Haley Smith
Race Revisit - 2014 Giro d'Italia with Svein Tuft
Race Revisit - 1990 Paris-Roubaix with Steve Bauer