July 6/20 10:53 am - Race Revisit - 2014 Road Nationals with Leah Kirchman

Posted by Editoress on 07/6/20

Today is the latest in our series - Race Revisit - where we return to a past event that took place on (or around) this date. As well as a recap of the event and links to our original coverage - race reports, results, photos and video interviews - we will also be including comments and in-depth commentary from some of the Canadian athletes who were there.

Traditionally, the Road National Championships have taken place around the last week of June, so we are going to look at some of those over the next few days. To be a national champion in cycling is rather unique in the sports world, because it gets recognized every time a rider races over the next 12 months. Everywhere a rider competes in the world they have the right to wear the maple leaf identifying them as the Canadian champion, and race organizers usually recognize national champions in the call up to the start line. If the rider is on a pro team, their team usually has a special design ready to go quickly.

We began with Gord Fraser, then Annie Foreman-Mackey, followed by Ryan Roth. Today, we are talking with Leah Kirchmann, who is the only rider, man or woman, to win all three Elite national titles - time trial, road race and criterium - in the same year, which Leah did in 2014 (we should note that Magdelaine Valliere-Mill did the same thing in Junior women last year). It was a year when she also finished third at La course by Le Tour de France, won the UCI Delta road race, was sixth overall at BeNe Ladies Tour and eighth at the Commonwealth Games road race.

The 2014 Nationals took place in and around the Lac Megantic region. The time trial took place on a difficult hilly out-and-back course starting in Val Racine, near the base of the Mont Megantic climb. The women covered 28.8 kilometres over two laps. Kirchmann (Optum p/b Kelly Benefit Strategies) won the race with a time of 43:30, less than three seconds ahead of Jasmin Glaesser (Tibco-To-The-Top), while Anika Todd (TIBCO-To-The-Top) finished in third place. Glaesser (now Duehring) took the Under-23 title.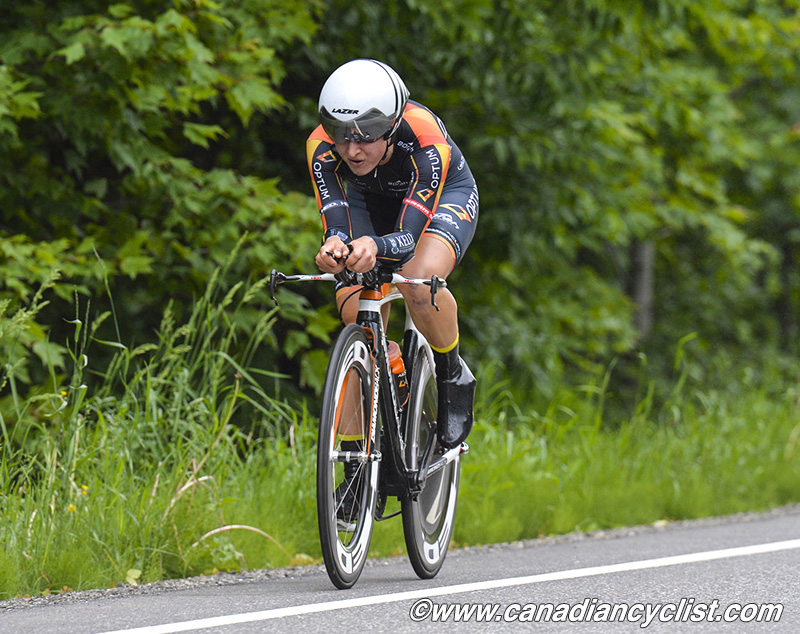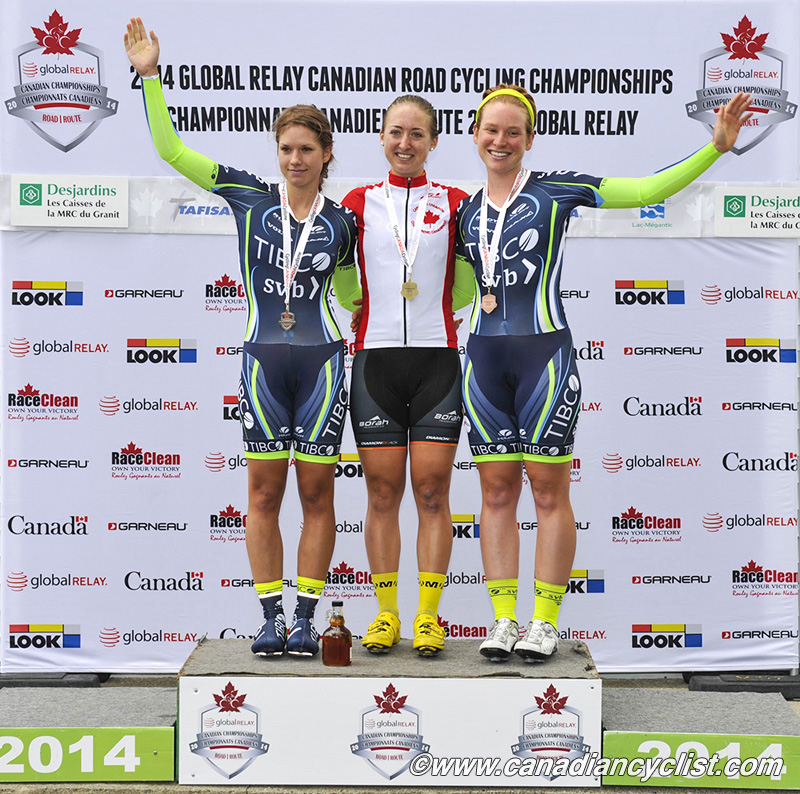 Jasmin Glaesser, Leah Kirchmann, Anika Todd
ITT Report
ITT Results
ITT Photos

Kirchmann accomplished a rare double when she took the Canadian national road title to go along with the time trial title she had won a day earlier. Kirchmann was joined on the podium by Optum-Kelly Benefit Strategies team mate, and 2012 champion, Denise Ramsden in second, with Leah Guloien (Trek Red Truck) in third.

The peloton of 57 women started the 119 kilometre road race in downtown Lac Mégantic, then rode just over 20 kilometres to the 15 kilometre Mont Morne circuit. Racers had to cover five laps of the loop prior to returning to Lac Mégantic. Mechanical problems for Kirchmann and her team mate Annie Ewart, plus a crash by Glaesser, meant the big teams left a break dangling off the front longer than anticipated, and aggression on the Mont Morne climb was muted. Nothing was allowed to break clear on the 20 kilometre run back into Lac Megantic. The group remained together until the final corner, leading into an uphill finish with 500 metres to go. Optum had planned for this eventuality, according to Kirchmann, with Ewart leading both her team mates Ramsden and Kirchmann out of that corner, allowing Kirchmann to launch off Ramsden's wheel in the final 500 metres.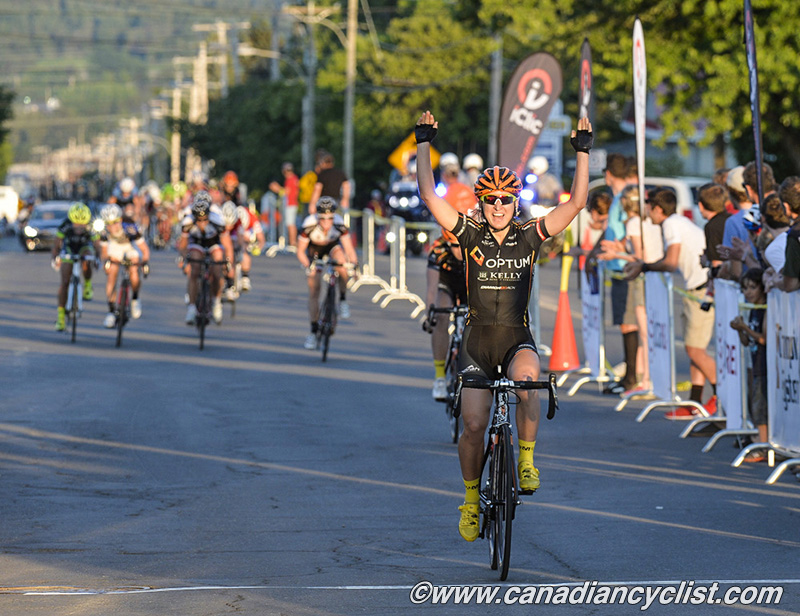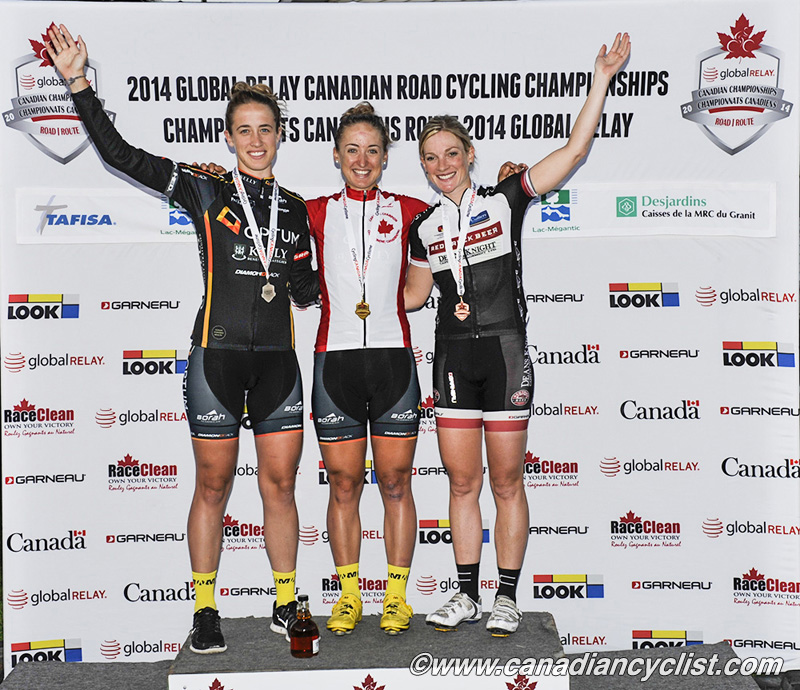 Denise Ramsden, Leah Kirchmann, Leah Guloien
RR Report
RR Results
RR Photos

In the women's Criterium, the three riders of Optum-Kelly Benefits dominated, at one point going off on a time time trial-like break that TIBCO's Anika Todd joined. However, the peloton reacted strongly, bringing them back. For the sprint, Optum lined up in the final lap to deliver Kirchmann to the front for the final uphill sprint to the line, to complete the hat trick. Joanie Caron (Garneau-Factory) and Jamie Gilgen (RealDeal-Gears) took the remaining podium spots. It was her third consecutive criterium title.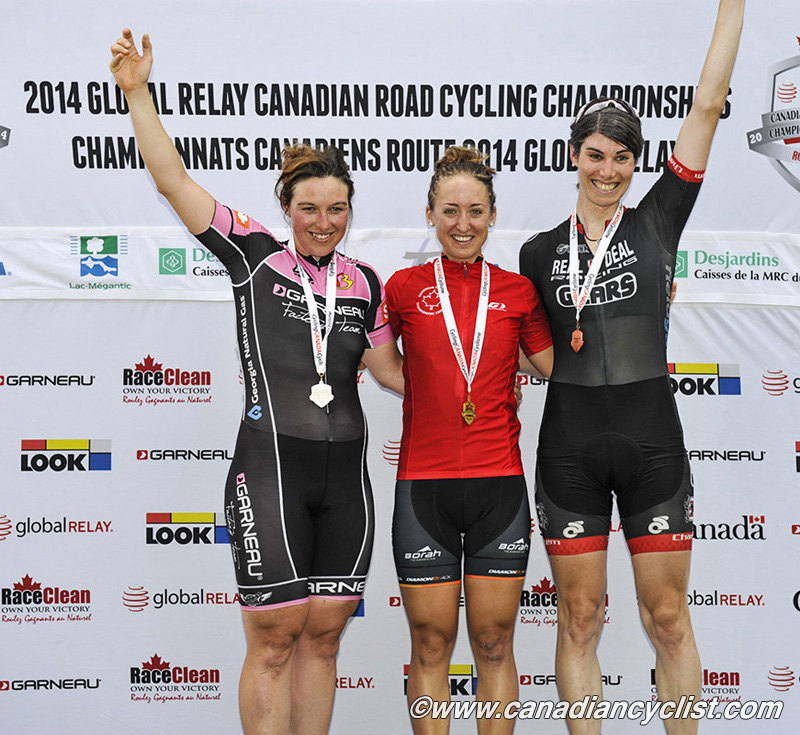 Joanie Caron, Leah Kirchmann, Jamie Gilgen
Crit Report
Crit Results
Crit Photos

Leah currently races for the Team Sunweb Women's WorldTour squad and, in this abbreviated season, has won the Points Jersey at the Santos Women's Tour Down Under and fifth in the Cadel Evans Great Ocean Road Race.

She spoke to us from her home in Dundas, Ontario, where she is preparing for the rescheduled European season later this year.

Yes, I believe I am the only rider that has achieved all three Elite titles in the same year. I do remember that the 2014 season was a breakthrough season for me, when I experienced that transformation away from just being a sprinter, developing those time trialling abilities and becoming more of a GC rider. So that first time trial title was really special for me. I was starting to get better TT results that year and I had trained so hard to improve that, because it was what I felt was my biggest weakness as a rider up to that achievement. So, to go up against riders like Jasmin who were super strong in the time trial and to win the race was confirmation of my progress.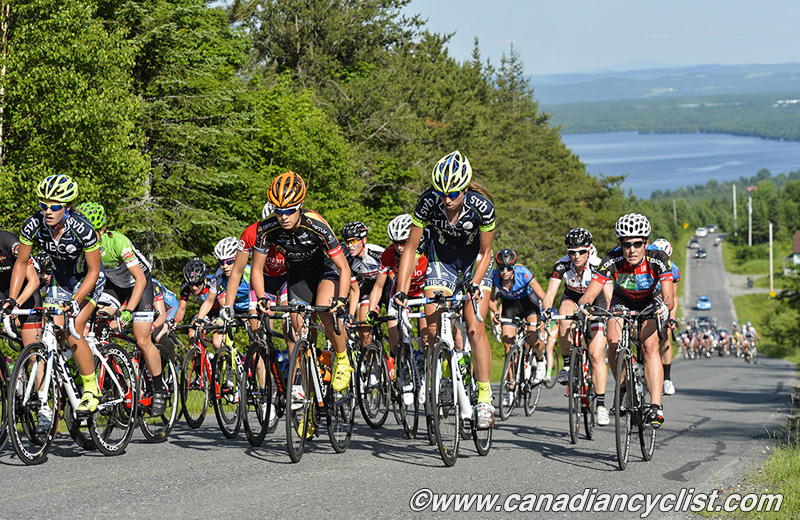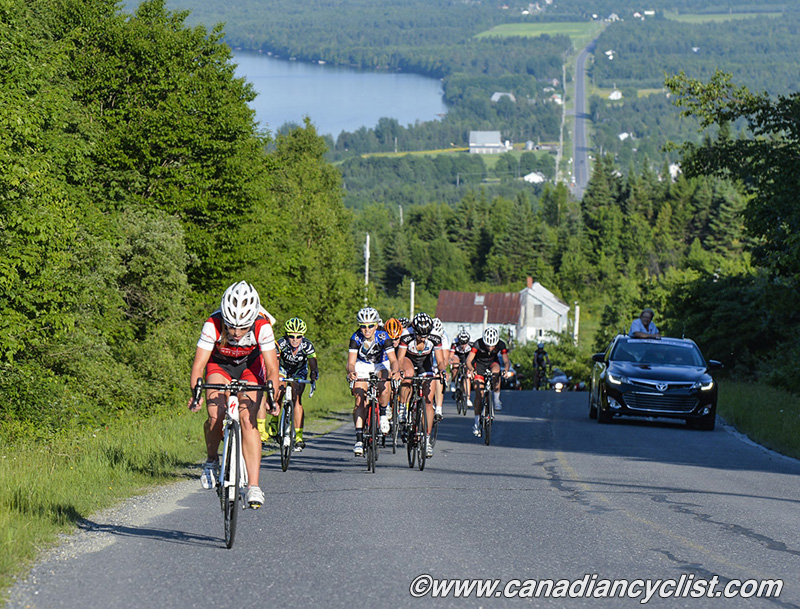 Peloton climbs
I remember the road race was quite a challenging course, quite hilly. It felt like a big battle between Optum and Tibco, as we were the two strongest teams there. I had some really strong team mates in Denise Ramsden and Annie Ewart to back me up. We worked really well together, and they worked to control the race. We wanted to make the race hard using the course, but we had a few mechanicals that caused us to change our plans. Annie had a flat tire right before one lap of the climb, so we couldn't attack on that lap, and I also had a mechanical and had to do a bike change. So we had to adjust during the race. But in the end, Denise and Annie gave me the perfect leadout; we were able to go top-3 through the last corner and I was able to win the sprint, with Denise second.

I was really excited for the crit; we had so much momentum going from already taking two titles. I believed it was possible to win that third title as well. I still love crit racing, so to win that title - even if it is more of a North American thing - was really special for me. I remember the race clearly; we rode aggressively and at one point we were trying to see if we could all of us get in a breakaway and really put the pressure on. In the end, it also came to a sprint, and Denise and Annie set me up perfectly again to win.

I had quite successful Superweek that year afterwards; I won Gastown and Delta; it was just a lot of positive momentum. From Superweek I went to Europe and got a podium at La course, so it was a lot of positive moments that came off those wins at Nationals.

I remember it was so special to be wearing the maple leaf over in Europe, especially that year, which was the first year they brought back La course - I was lined up on the front row on the Champs Elysees. And to stand on the podium with the maple leaf on ... that was really amazing.

A national championship title holds a lot of prestige [in Europe]. I think it's a huge honour to win it, and you get to represent the flag wherever you go in the world. I love racing for the national team because I get to wear that national kit and represent the country, but when you are with your pro team ... I love representing them, but it is extra special when you can combine representing your country with a national title.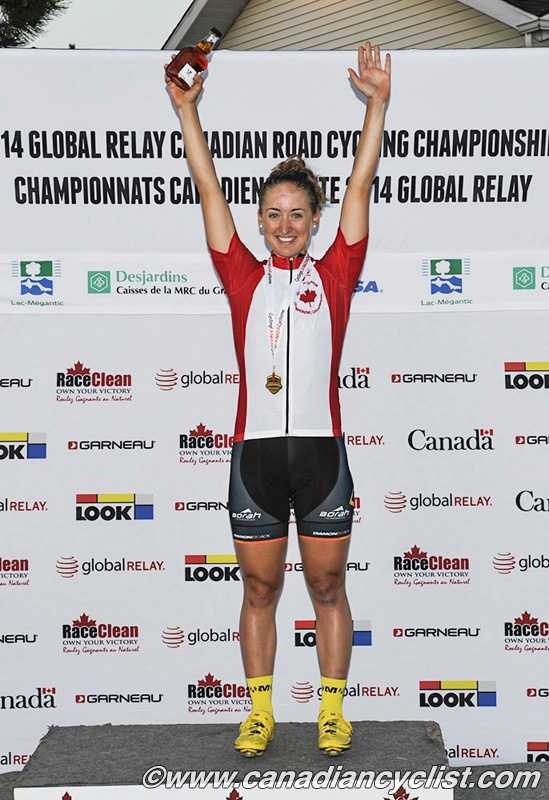 Previous Race revisits
Race Revisit - 2012/2016/2019 Road Nationals with Ryan Roth
Race Revisit - 2016 Road Nationals with Annie Foreman-Mackey
Race Revisit - 2004 Road Nationals with Gord Fraser
Race Revisit - 2018 Tour de Beauce with James Piccoli
Race Revisit - 2008 Tour de Beauce with Svein Tuft
Race Revisit - 1995 Tour de Beauce with Eric Wohlberg
Race Revisit - 1994 Tour de Beauce with Jacques Landry
Race Revisit - 1987 Tour de Beauce with Ivan Waddell
Race Revisit - 2012 Chrono Gatineau with Clara Hughes
Race Revisit - 2019 Baie-Saint-Paul Canada Cup with Leandre Bouchard
Race Revisit - 2019 Nove Mesto MTB World Cup with Haley Smith
Race Revisit - 2014 Giro d'Italia with Svein Tuft
Race Revisit - 1990 Paris-Roubaix with Steve Bauer