July 18/20 15:32 pm - Race Revisit - 2015 Pan Am Games with Hugo Barrette

Posted by Editoress on 07/18/20

Today is the latest in our series - Race Revisit - where we return to a past event that took place on (or around) this date. As well as a recap of the event and links to our original coverage - race reports, results, photos and video interviews - we will also be including comments and in-depth commentary from some of the Canadian athletes who were there.

The Pan American Games are not usually a major focus for the Canadian high performance program, since the cycling events do not offer much in the way of UCI points - unlike the annual Pan Am Continental Championships in each discipline. However, the 2015 edition took place in the GTA, the Greater Toronto Area, and included the use of the newly built international level velodrome in Milton, as well as an international level BMX track in Etobicoke and a new track north of Barrie at Hardwood Ski and Bike. In addition to allowing Canadian cyclists a rare opportunity to shine at home, it also gave the high performance cycling program a chance for a dry run at the processes and protocols to be used the following year at the Olympic Games in Rio.

Canadian cyclists had a remarkable Pan Am Games, winning a total of 20 medals, including 11 gold, 4 silver and 5 bronze. Canada won at least one medal in every single event except two. It is an impressive collection of hardware.

We started our Pan Am Games coverage with Raphael Gagne's gold medal in the men's mountain bike, followed by Jasmin Duehring [Jasmin Glaesser at the time], who won gold medals in the Team Pursuit and Road Race, and silver medals in the Omnium and Time Trial. Today, we talk with Hugo Barrette, who dominated the men's sprint events at the Games, winning both the Team Sprint and Sprint, and taking a bronze medal in the Keirin.

Hugo Barrette and team mates Joe Veloce and Evan Carey took the first track gold medal at the new velodrome with their win in the Team Sprint. The Canadians qualified first with a time of 44.242 seconds, nearly half a second ahead of second place Venezuela. In the Final, Canada went a one-thousandth of a second faster, while Venezuela were slower than their qualifying time.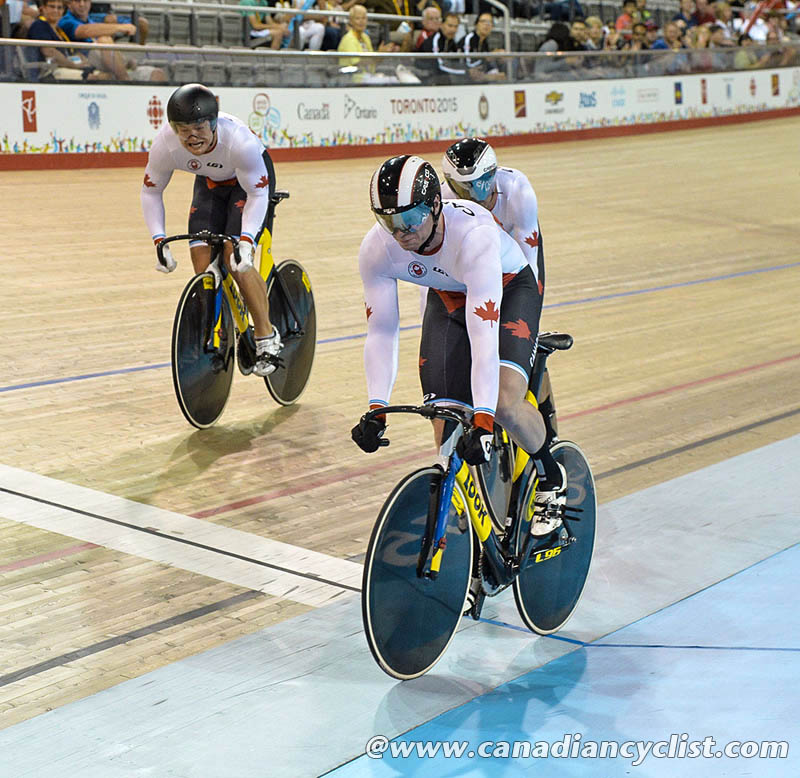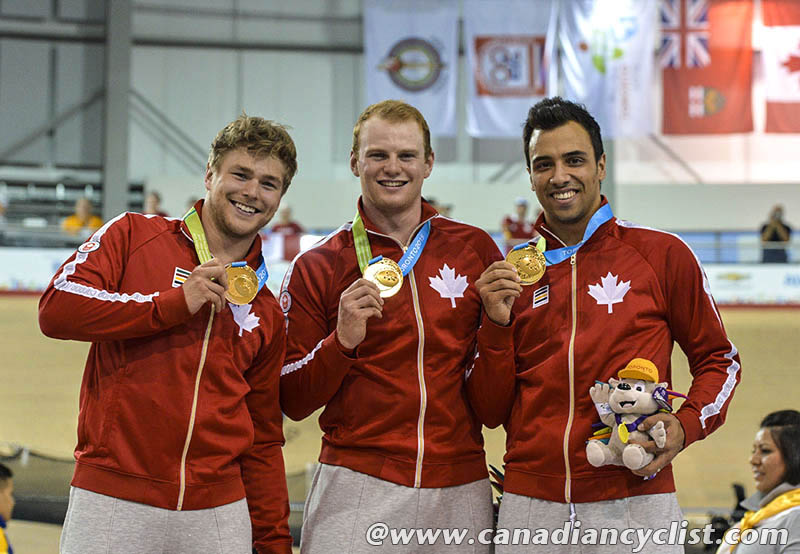 Team Sprint Results
Team Sprint Report
Team Sprint Interview

Hugo had a very good start to the Sprint competition, qualifying first with a time of 9.78 seconds, only one-thousandth of a second of the Pan Am Games record. However, his competition was almost over in his first race, when he was relegated in the 1/8 Final, forcing him to go through the Repechage before he could move on to the 1/4 Finals. Hugo then went up against the number one ranked rider - Fabian Puerto Zapata of Colombia - winning the first race, losing second, and then taking the decider to move on to the semifinal round. After his 1/4 final win, Hugo swept through the remaining races, beating Hersony Canelon (Venezuela) in the semifinals in two straight, and his regular training partner Njisane Philip (Trinidad & Tobago) in the same fashion for the gold medal. Hugo's win was the first in the Men's Sprint at the Games since Gordon Singleton did it in 1979. Singleton was on hand to congratulate Hugo after his win.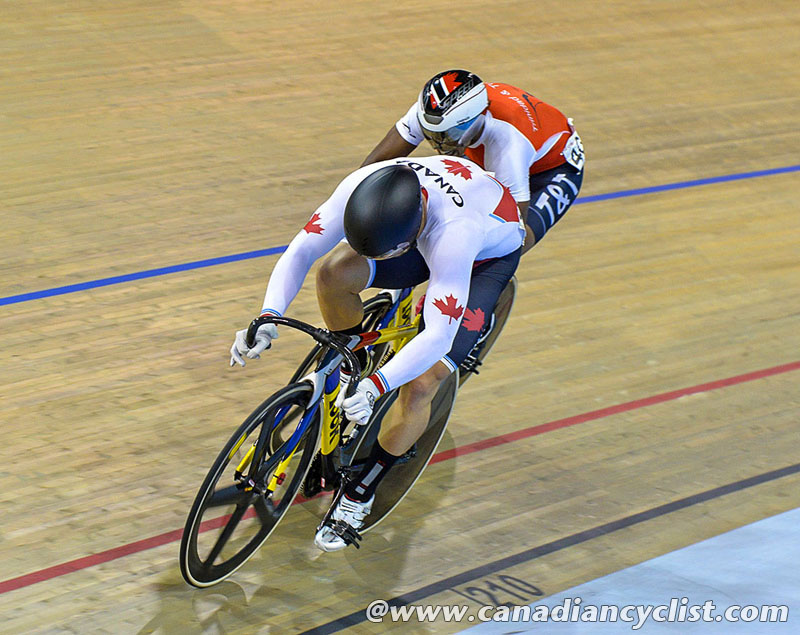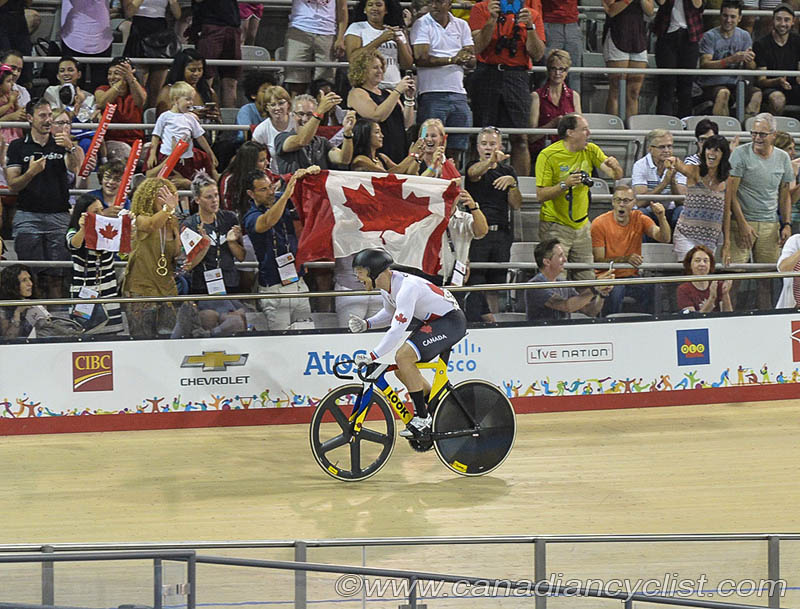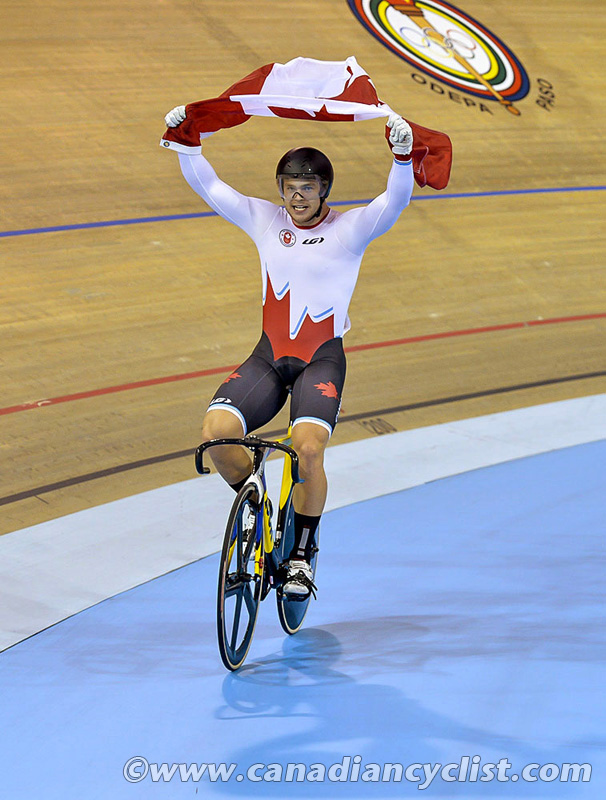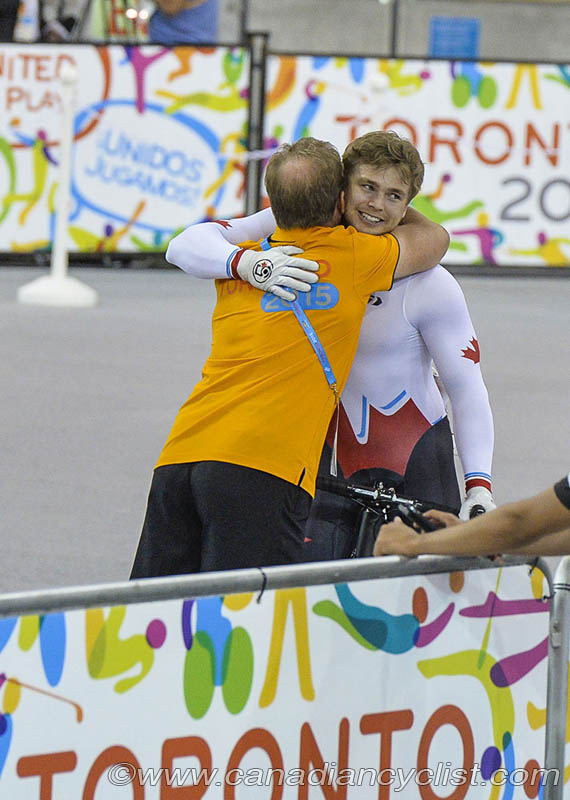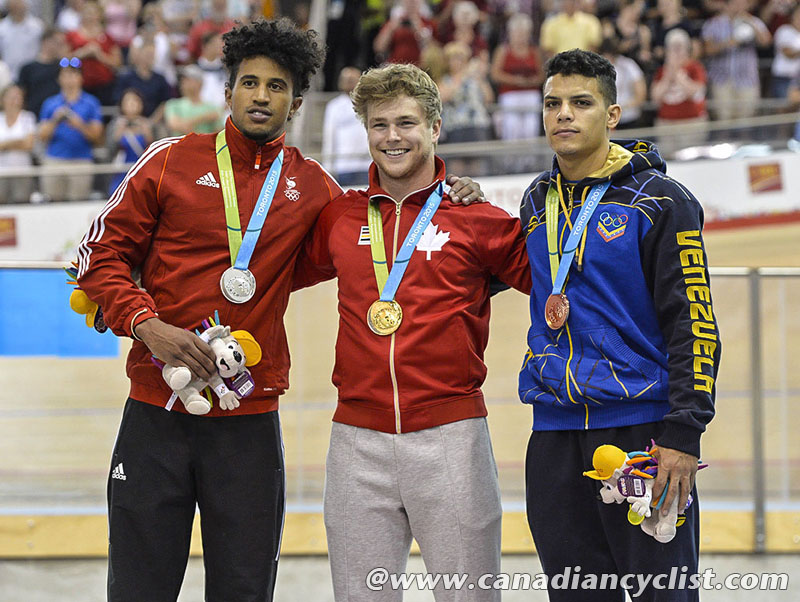 Sprint Results Day 1
Sprint Report Day 1
Sprint Results Day 2
Sprint Report Day 2
Sprint Interview

In the final sprint event, the Keirin, Hugo won his first round heat to move directly to the medal final. However, he got boxed in when American Matt Baranoski jumped over the top followed by other riders and only managed to recover to third by the finish line. Fabian Puerta Zapata (Colombia) took gold ahead of Hersony Canelon (Venezuela).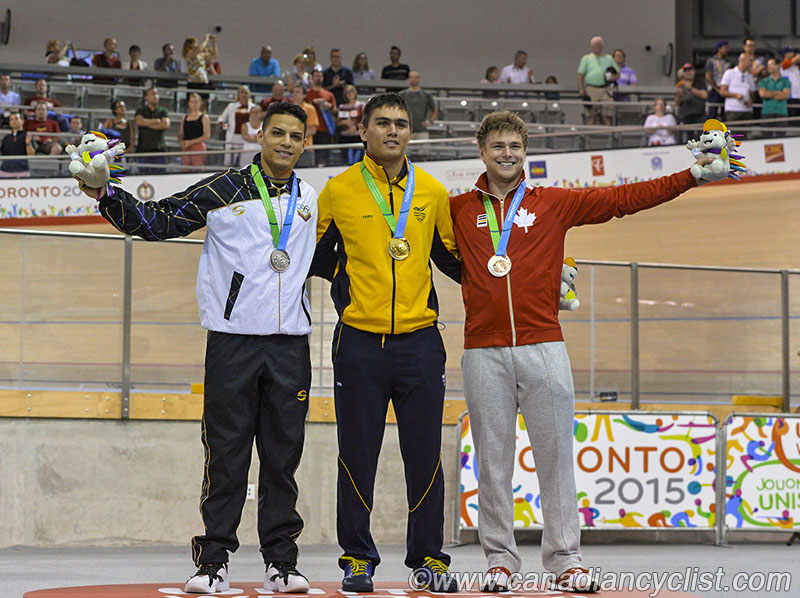 Keirin Results
Keirin Report

Hugo spoke to us from Milton, where he is participating in a training camp with the rest of the sprint squad.

It was the first time I got to race at home, when they built the velodrome for the Games. So it was the first time I raced a big international race in front of everyone I know; my family, my friends, and everyone who ever supported me. That was really exciting and thrilling to do. It was an at-home feeling that I have never had at an international race. I was looking forward to it, and it definitely helped me so much.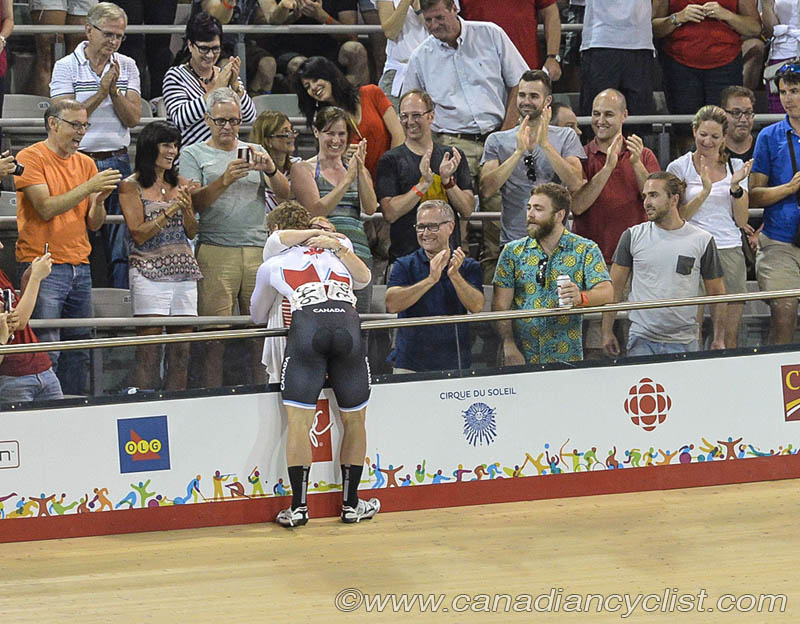 To come back to Canada after six years in Los Angeles [where the national team had trained prior to the Milton velodrome opening], and the big come back was at the Pan Am Games. Toronto made such a big deal about it and organized it so well. It was such a big opportunity for the track program, especially with a new velodrome to show what we've got. And we did.

I mentioned to Hugo that Jasmin Duehring said that she thought the Games were the first chance that the sprint program had to show that it was becoming a world class program.

That's nice of her! I think so too. To remind everyone - we had Gordon Singleton from Ontario there and he had been a world champion [Keirin, 1983], and Curt Harnett was there as Chef de Mission, so there have been some good riders before.

But for me, everything was aligned - especially in the Sprint - to win gold. Gordon had won it in 1979, so it was well overdue for us to win it. We were a program that was still in development at the time and we showed that we had what it takes to compete against pretty much anyone in the world. The depth and number of athletes that were world class at those Pan Am Games ... there was quite a bit that year. We had guys like Njisane Phillip and Puerto Zapata, a world champion. So it was a big statement that Canada was ready to beat anyone in the world.

It was an amazing feeling with Joe Veloce and Evan Carey to win the Team Sprint. Before that, at Pan Am Championships, I think I had five silver medals [three in Team Sprint and one in Keirin, plus a bronze in the Sprint, actually]. I had never won the Team Sprint in the Americas, so it was good. And we won by close to a second, so it was a dominant performance for our team. And on the other side, Kate and Monique won [the women's Team Sprint] so that first day was amazing. And then our Team Pursuit teams - the women won gold against a big team like the USA and the cherry on top was the guys [in the Team Pursuit], who weren't expected to win anything, won the bronze medal. As a team, that was a good feeling, and it was quite and achievement that every single rider on the team got a medal.

The Sprint got a little crazy, I fell and ... it made a good story ... I fell and got relegated. So all of a sudden I'm first seed but I had to ride the Repechage against Jair Tjon En Fa (Surinam), who was one of the best riders in the world. It was a tough break, but I came in with the idea that I was there to win. So, no matter who you put in front of me, I had to win. Because, at the end of the day, I would have to beat them at some point or other.

And the quarterfinal was already the Final, against Puerto Zapata. So in the quarterfinals, I knew this was it, if I win this one ... he was unbeatable for about six years prior in Pan Am Champs and Pan Am Games. I set my mind that this was it - this was my Final. I beat him, but it was a very tough race. As soon as I beat him, I knew I had gold. You need to, of course, stay focussed and execute, but as far as confidence goes, I knew that I had it in the bag. But going against Puerta was definitely stressful! It was tough, because whoever lost wasn't going to get a medal.

The next day, in the semifinal, I was up against Canelon of Venezuela, a great rider, a very good technical rider. But at that point in time I was so confident that nothing could touch me. And then another cherry on top, I was up against my friend Njisane Phillip in the Final. I won against him but I also got to celebrate with him. It was one of the greatest moments in my career ... to win Pan Am Games is definitely an unforgettable moment and to do it against Njisane - we started at the same time, we trained together in Los Angeles for so long, and then he always beat me from the get-go; he was fourth at the Olympics [in 2012] and such a talent. Little by little, I caught back up, I caught back up ... until this moment when I won. I won in front of family and in front of a home crowd. In front of Curt Harnett and Gordon Singleton, and in the Sprint, which they call the Queen event. So it's a moment I cherish and will never forget, no matter what else I win, it will always hold a special place in my heart because it was in front of a home crowd. There was one opportunity to do it, and this was it.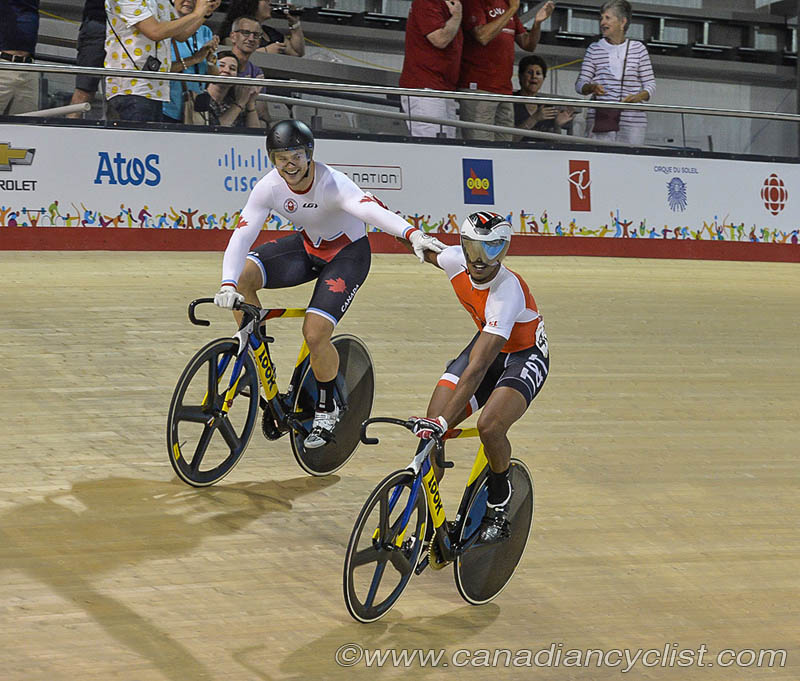 By the Keirin, I think I was on a cloud; the Sprint was really the focus back then and I was a little less confident at that point in the Keirin. In retrospect, I should have just taken the front and led the race and probably would have gotten a better result. But you also had a guy like Puerto, who was there for blood! They value Pan Am Games so much and he lost to me in quarterfinals in the Sprint and had no medal. So he was in the Keirin to win.

I came from the back ... looking at the video, it was quite an effort - I came from really far in the final stretch and still made it. I threw my bike and I think that 1-2-3 were maybe only ten inches apart. But my main goal had been the Sprint, and then we won gold with the team in the Team Sprint, so I didn't dwell on the bronze medal. It was a good ending to the event. I really felt proud of what I accomplished and proud of being on that team. I think the team as a whole ... of course, the women's Team Pursuit were already there ... but I call it the rise of Cycling Canada on the track. We were really able to show that we can hold our own against anyone.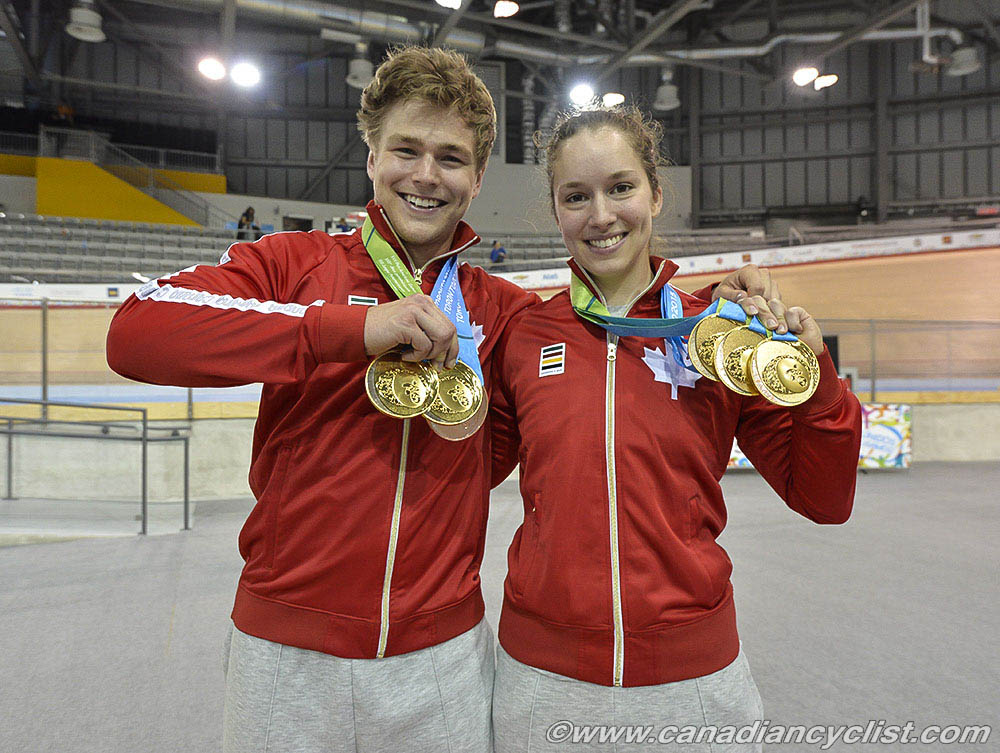 Previous Race revisits

Race Revisit - 2015 Pan Am Games with Jasmin Duehring
Race Revisit - 2015 Pan Am Games with Raphael Gagne
Race Revisit - 2014 Road Nationals with Leah Kirchman
Race Revisit - 2012/2016/2019 Road Nationals with Ryan Roth
Race Revisit - 2016 Road Nationals with Annie Foreman-Mackey
Race Revisit - 2004 Road Nationals with Gord Fraser
Race Revisit - 2018 Tour de Beauce with James Piccoli
Race Revisit - 2008 Tour de Beauce with Svein Tuft
Race Revisit - 1995 Tour de Beauce with Eric Wohlberg
Race Revisit - 1994 Tour de Beauce with Jacques Landry
Race Revisit - 1987 Tour de Beauce with Ivan Waddell
Race Revisit - 2012 Chrono Gatineau with Clara Hughes
Race Revisit - 2019 Baie-Saint-Paul Canada Cup with Leandre Bouchard
Race Revisit - 2019 Nove Mesto MTB World Cup with Haley Smith
Race Revisit - 2014 Giro d'Italia with Svein Tuft
Race Revisit - 1990 Paris-Roubaix with Steve Bauer