July 22/20 15:32 pm - Update on Olympic MTB Qualification & MTB World Cup Situation

Posted by Editoress on 07/22/20

In this constantly evolving pandemic season, we have seen the Mountain Bike World Cup and XCO Worlds revised to take place in the Fall, only to have multiple rounds cancelled again in September. Currently, the schedule has a double XCO round in Nove Mesto (Czech Republic) at the end of September, followed by XCO and DH Worlds in Leogang, Austria, and then two double DH rounds in Maribor (Slovenia) and Lousa (Portugal). However, even that is potentially subject to change as countries are impacted with outbreaks and 'hotspots'.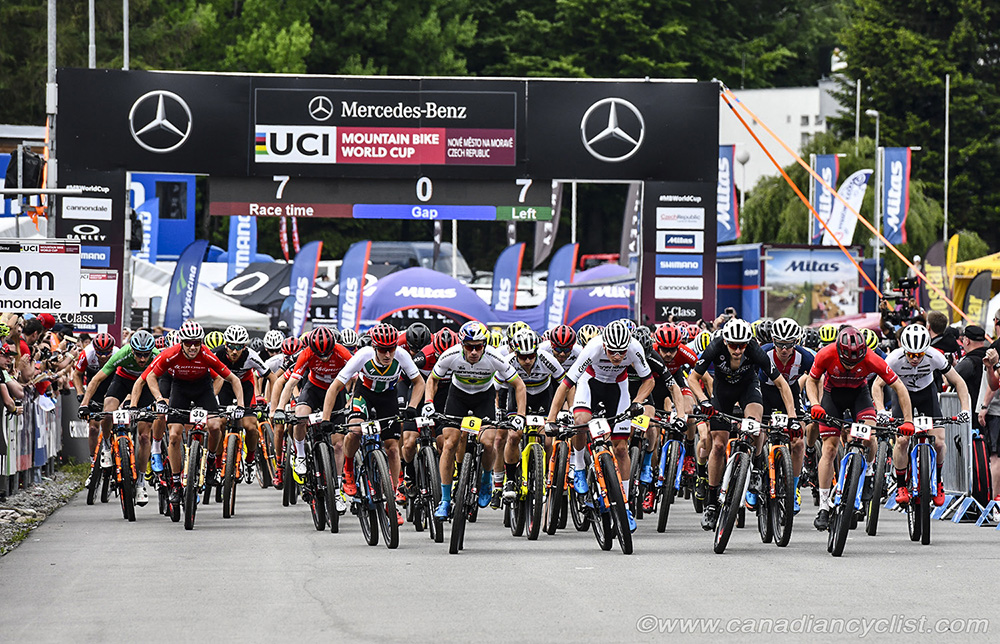 Other national level mountain bike events are starting to take place - including national championships - in different countries, depending on government regulations on reopening. However, many countries, including Canada and the USA have cancelled national championships and other UCI sanctioned events for the rest of the year.

A big question is how the differing pandemic protocols will affect the UCI world ranking and the Olympic qualification process. The UCI and the IOC said that they have frozen the Olympic nation ranking - which determines the number of spots a nation gets - as of March 3rd and will add two World Cup events early next season to the final qualification [note: they will take place before the end of May, however, the calendar has not been finalized; that is expected to happen sometime in August]. That is all well and good, but the issue will be how the lack of UCI points for some riders for the remainder of this year will impact their world ranking and, thus, their position on the start line for the final qualification events next year?

If a rider like, say, Kate Courtney (USA) or Catharine Pendrel (Canada) or Rebecca McConnell (Australia) cannot get any world ranking points leading into the qualification events, they could conceivably start well back in the field, seriously affecting their ability to gain points for their nation. It's an issue being discussed by riders and national federations, so we contacted Simon Burney, Offroad Manager for the UCI, who is in Aigle, Switzerland, the headquarters of the UCI [although, mostly working remotely these days]. He stated to us that the UCI is working on a plan that will not negatively impact athletes who cannot attend events this year [ie, World Cups and Worlds].

"I have heard all of these concerns; I've heard it from the riders, the rider reps and the federations. The situation is that the calendar is open again, and any events that are happening ... the ranking is going live August 4th for races from the July 3-4 weekend on.

"But as far as next year goes, we will find a solution for call up and anything that requires the UCI rankings, such as number of UCI entry points for World Cups. The most likely situation at the moment is that we will use the ranking from March 3, 2020, for the World Cups and Olympics; anything for those events that use the UCI rankings, we will use the March 3rd, 2020, ranking. That's the last one that won't have been affected.

"We're still not sure how people's situations will be affected early next year - for example, if the Americans can't get to those races. We absolutely understand that it needs to be a completely level and fair playing field next year [for the final qualifying events], and right now the fairest way to do that is to use the last ranking that was never affected [March 3, 2020]. Anything else that we try to do isn't going to be as fair as that. And the IOC [International Olympic Committee], for sure, wouldn't let us go into Olympic qualification races that have been affected by the situation now.

"I don't want a situation where, say, Kate Courtney and Henrique Avancini [Brazil] don't have a national championships, continental championships, world championships points, because that could be [as much as] 800 points that they could lose. So, we can't have the situation where they show up for the first World Cup next year and they are not in the top-40 UCI rankings and can't do the Short Track. They are then automatically on the back foot for the cross-country and, whether it's them or not, those races count for Olympic points to the nation. We completely get it, and that situation won't happen.

"With a lot of these things right now, it's about being patient and not making decisions too early. I understand that there are riders who are quite stressed about knowing what's going to happen next year, but also, in the next three months we will still only be in September and at that time will hopefully have a clearer vision of how it's looking and which nations will be able to travel or where it's getting worse.

"Nothing is going to get affected for the UCI ranking in 2020 because we are going to use the March 3rd ranking, and for 2021 it's very likely to be the same, but it's not confirmed yet because it's just too early to make a confirmation. The important thing to understand is that we [the UCI] understand the situation and we have to make it fair. So, right now, with the options we've got available, the most likely outcome is that we use the March 3rd, 2020, ranking for the World Cups and Olympics in 2021."

We also asked Simon about the situation for the remainder of this year - with only two XCO World Cups, will an overall title be awarded, for example?

"Again, it is a little bit too early [for definitive answers], because I still think some things could change between now and the middle of August. I think it will depend on how many races we are left with. I think the likelihood is that if we have only two XCO races, both in Nove Mesto, is it worth having an overall classification? I would honestly doubt it, but with Downhill it's a bit different - we are also working on an additional Downhill because right now Downhillers don't have a World Cup before Worlds, which I don't want. So we are working hard to find a Downhill World Cup [venue] before the world championships. If that's confirmed and [a double], then we could potentially see six rounds in a Downhill World Cup, and I think with six rounds then we can have a series and award a jersey and have the prize money. But I don't want to make decisions about these things too soon, because I don't want to make a definitive statement about something that might change in the next few weeks.

"In Lousa right now they have more cases and are clamping down. In Maribor, there is a concern about the number of people allowed to be present at the event ... even without spectators, if that number is too high - teams and riders and marshals - like Lenzerheide [Switzerland, which was recently cancelled because the number of people together would have been beyond permissible limits even without spectators].

"If it makes sense, we will make a World Cup series, but if there are only one or two races, the likelihood is that we will still call it a World Cup, but there might not be an overall classification."