July 23/20 12:36 pm - Race Revisit - 2015 Pan Am Games with Monique Sullivan

Posted by Editoress on 07/23/20

Today is the latest in our series - Race Revisit - where we return to a past event that took place on (or around) this date. As well as a recap of the event and links to our original coverage - race reports, results, photos and video interviews - we will also be including comments and in-depth commentary from some of the Canadian athletes who were there.

The Pan American Games are not usually a major focus for the Canadian high performance program, since the cycling events do not offer much in the way of UCI points - unlike the annual Pan Am Continental Championships in each discipline. However, the 2015 edition took place in the GTA, the Greater Toronto Area, and included the use of the newly built international level velodrome in Milton, as well as an international level BMX track in Etobicoke and a new track north of Barrie at Hardwood Ski and Bike. In addition to allowing Canadian cyclists a rare opportunity to shine at home, it also gave the high performance cycling program a chance for a dry run at the processes and protocols to be used the following year at the Olympic Games in Rio.

Canadian cyclists had a remarkable Pan Am Games, winning a total of 20 medals, including 11 gold, 4 silver and 5 bronze. Canada won at least one medal in every single event except two. It is an impressive collection of hardware.

We started our Pan Am Games coverage with Raphael Gagne's gold medal in the men's mountain bike, followed by Jasmin Duehring [Jasmin Glaesser at the time], who won gold medals in the Team Pursuit and Road Race, and silver medals in the Omnium and Time Trial. We followed that with Hugo Barrette, who dominated the men's sprint events at the Games, winning both the Team Sprint and Sprint, and taking a bronze medal in the Keirin. Today, we finish our 2015 Pan Am Games with Monique Sullivan, who won gold in all three women's Sprint events - Team Sprint, Sprint and Keirin.

Monique Sullivan and team mate Kate O'Brien won Canada's second gold medal on the track in the women's Team Sprint, shortly after the Canadian men had done the same thing. The women set a Pan Am record of 33.584 seconds in their first ride, to move into the gold medal final against Cuba. In the Final, the Canadians rode 33.959, 0.854 seconds faster than their rivals.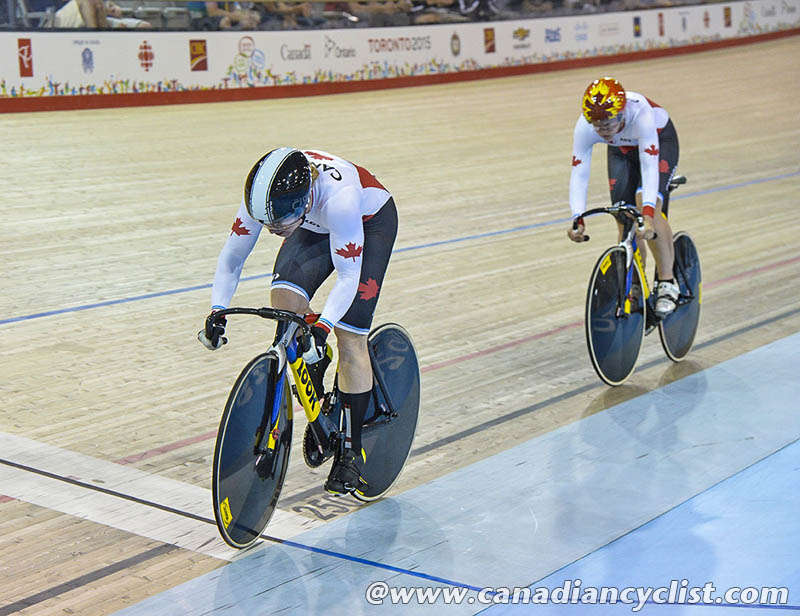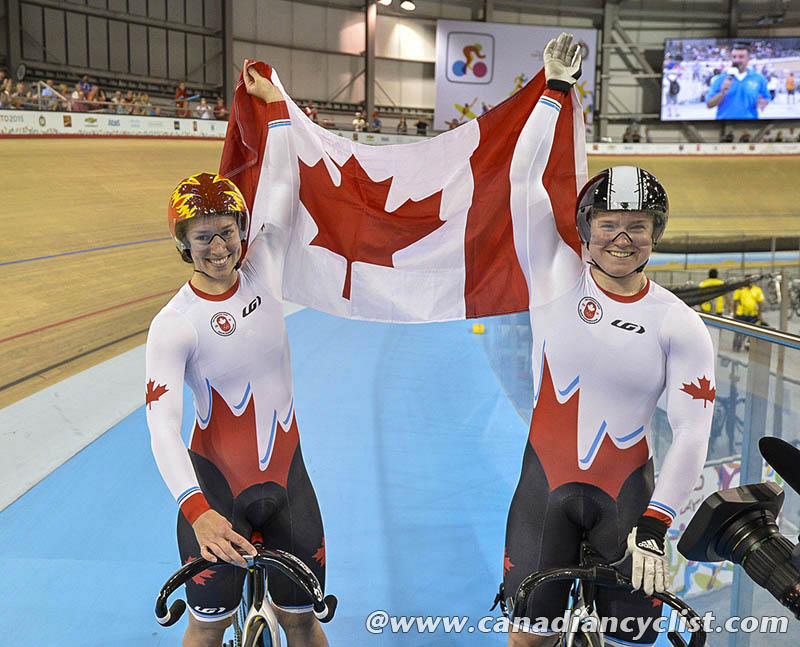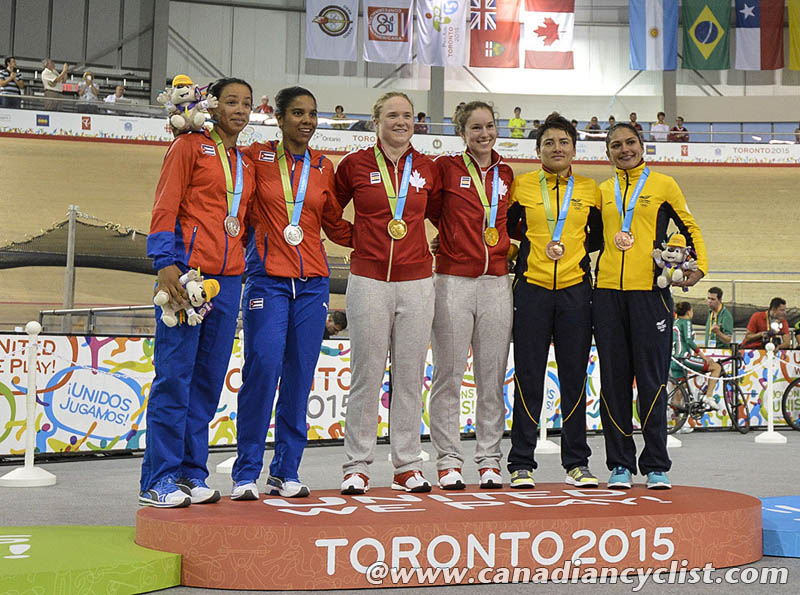 Team Sprint Results
Team Sprint Report
Team Sprint Interview


In the Women's Keirin, Sullivan was the class of the field, although the results were held up when Cuba protested that Sullivan had overlapped the derny bike; an automatic disqualification. She had not done so, and the officials quickly ruled that way.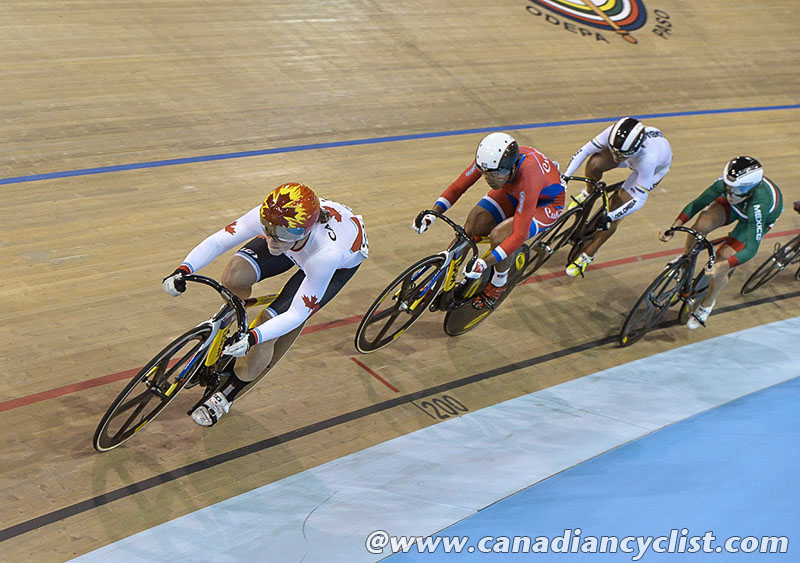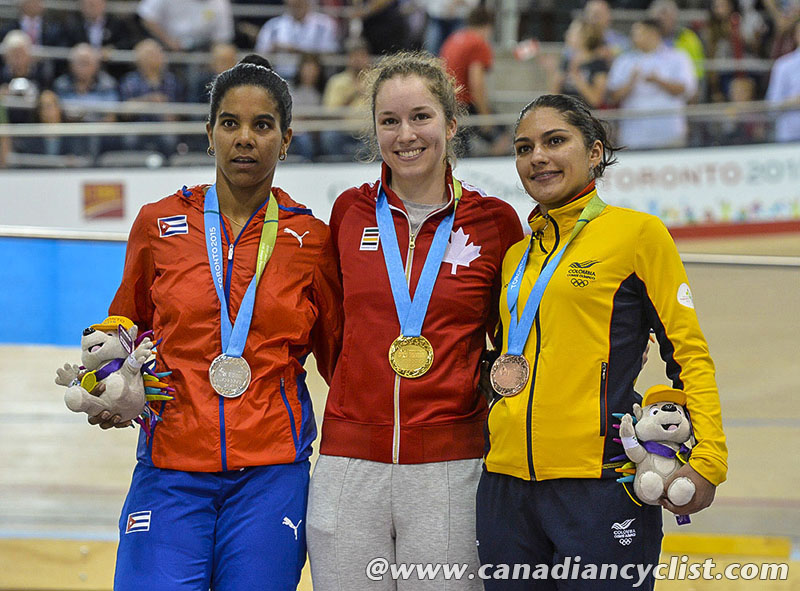 Keirin Results
Keirin Report

Monique Sullivan and Kate O'Brien began the Women's Sprint competition by finishing 1-2 in qualifying, with Sullivan breaking the Pan Am record, with a time of 10.992 seconds. Both easily advanced through the 1/8th and 1/4 final heats, and, on the final day of track competition, won their respective semi-finals to guarantee Canada would win both gold and silver. Sullivan and O'Brien went head-to-head for the Sprint title. O'Brien, who has moved to cycling full time from Bobsleigh, was still clearly learning the tactical side of sprinting, but improving quickly; pushing Sullivan much harder then she did at the Nationals in January, but still losing in two straight rides.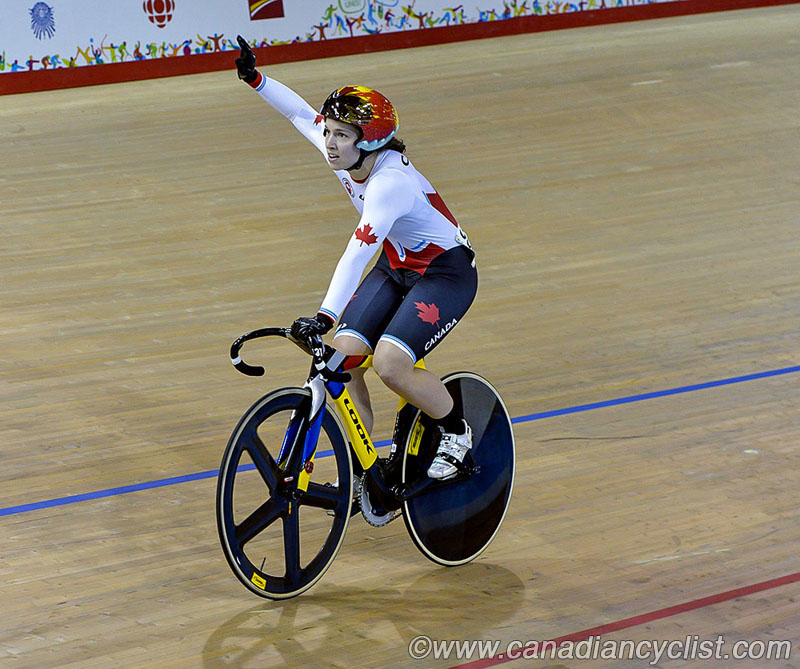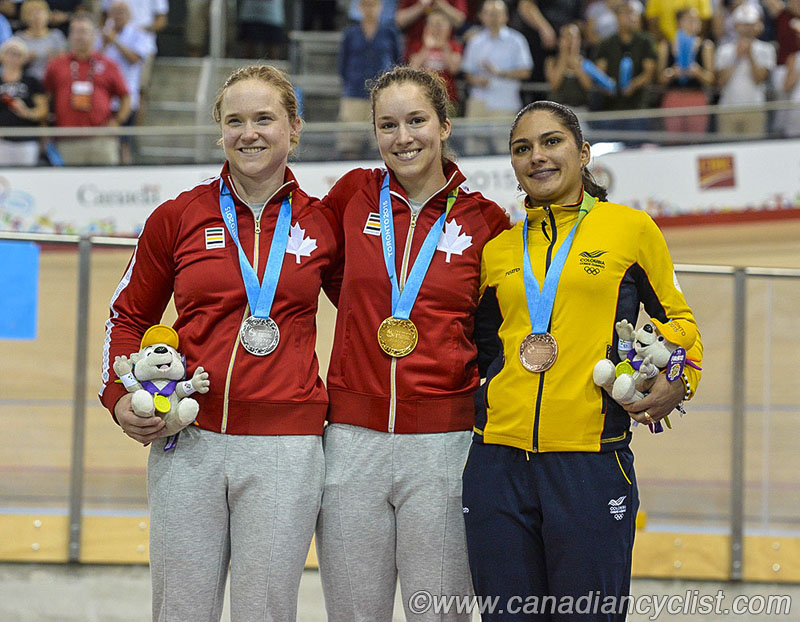 Sprint Results Day 1
Sprint Report Day 1
Sprint Results Day 2
Sprint Report Day 2

Monique spoke to us from Calgary, where she now works as a consultant after retiring following the Rio Olympics in 2016.

The memory of the Pan Am Games is definitely a highlight of my whole career in cycling. I think that there are three main reasons for that. The first is that my family could be there, and that was just such a rare occurrence to have my family at a race and be in front of a home crowd. It was the first time to have a race at that level in Canada, for me. So to be able to share the moment with people that had supported me so much was incredibly special. I almost didn't appreciate it how much my family would enjoy it ... they had a blast watching the racing, and that was such a special thing to create that moment for them.

The second piece was that it just felt like such a turning point for the [Sprint] program. There was so much excitement that we had our own velodrome and that we could control the build up for the Olympics. There was a freedom in knowing that we could do everything that we needed to, to prepare perfectly for the Games. It drove a lot of us.

The third thing was that everyone did so well! Everyone got a medal [on the track] and got to be part of the excitement and success. That really made it special because we all got to share in that success together. That is so rare at a race; normally there are highs and lows within the team, but this time everyone got to have that joy of success.

I told Monique that Jasmin Duehring had said that the Pan Am Games was the time when the Sprint program showed that it could compete at the world level.

I agree. It started the momentum for future successes. The girls now are incredible, so it was special to be part of that turning point. It was like, 'Okay, we can get medals too'. And the next few World Cups after that went pretty well, so I agree with Jasmin that it started the momentum where the whole team felt like, 'we can all have success'.

It was still pretty new for us to be doing Team Sprint; I can't remember how many we had done before that, but it was special to be doing a team event on the Sprint side, because it was something we hadn't been able to do [in the women's sprint program]. I don't think we knew exactly how it would go, or how what the result would be; we didn't know ahead of time that 'Oh, for sure we will win'. Since it was an unknown, we had to do our very best to make it happen - I think I even got dropped in the final ride pretty bad! So it was pretty fun to succeed as a team.

I don't remember much about the Keirin at all ... it was pretty close at the finish I think. That's an event where there are never any guarantees; the race unfolds so differently each time. One of the things I learned from Erin [Hartwell, national sprint coach at the Games] was to have a plan no matter where you are in the race. He was able to really simplify the tactics, which made a big difference in those events. I always really appreciated his advice.

The Sprint Final was interesting; it was the best possible outcome for the team - we had secured gold and silver. For me personally it was tricky, because Kate was still quite new at the tactics, so I had no idea what she would do! She was also improving so quickly that I didn't know how fast she would be. Even thought we trained together each day and sparred against each other, her improvement was so fast that you never knew when she would pull out these crazy rides that were super impressive. So I was really nervous for those rides. I think my experience in sprinting was the difference there, because her speed at that point was already coming so quickly.

At the end of the day, we are always gunning for the Olympics, that's the Number One goal, and these races didn't count towards qualifying for that. But I would say that almost freed us up to enjoy the moment for what it was, and it was a moment to share what we do with our family and friends, to celebrate having a world-class facility in Canada and the difference that would make for the team. So I think it freed up the chance to be in the moment, to embrace the moment, to enjoy it. And that was really special, because every race we did after that was to qualify for the [Olympic] Games, and that has a whole bunch of stress and is building to the next thing. So it was nice to have that break and just enjoy the race for what it was.

When I look back at the moments that were special in my cycling career, this one is right up there. When I look back at the videos, the form I had at those races was some of the best form I ever had. And regardless of who else we were competing against, that's some of the fastest racing I ever did. So it is a great moment in my career, when everything came together for so many people on the team. It was fun and exciting, and it brought out the best in all of us.

The Olympics are awesome as well, but it's a whole other level of pressure ... at the Olympics, it's like 'we've worked four years for this, it's do or die in this moment and everything is on the line'. That's special in its own way, don't get me wrong, but [at Pan Am Games] we got to enjoy all of the fun parts of being on a team together with a little less pressure.