August 2/20 15:21 pm - Race Revisit - MTB Nationals with Peter Disera

Posted by Editoress on 08/2/20

Today is the latest in our series - Race Revisit with a Canadian cyclist - where we return to a past event that took place on (or around) this date. As well as a recap of the event and links to our original coverage - race reports, results, photos and video interviews - we will also be including comments and in-depth commentary from some of the Canadian athletes who were there.

Traditionally, the Canadian Mountain Bike National Championships have taken place around the middle of July, so we are going to look at some of those over the next few days. To be a national champion in cycling is rather unique in the sports world, because it gets recognized every time a rider races over the next 12 months. Everywhere a rider competes in the world they have the right to wear the maple leaf identifying them as the Canadian champion, and race organizers usually recognize national champions in the call up to the start line. If the rider is on a pro team, their team usually has a special design ready to go quickly.

We began our Cross-country Mountain Bike Nationals coverage with Raphael Gagne, followed by Catharine Pendrel, who has won the women's title six times (tied with Marie-Hélène Premont), and today we talk with Peter Disera, who has won the last three Elite men's XCO titles (2017-2019).

2017
Interview
Report
Results

2018
Report
Results

2019
Report
Results


Peter spoke to us from B.C., where he now makes his home on Vancouver Island

In 2017, when Peter won his first Elite title, he was actually still an Under-23 aged rider, but rode up a category for the UCI points.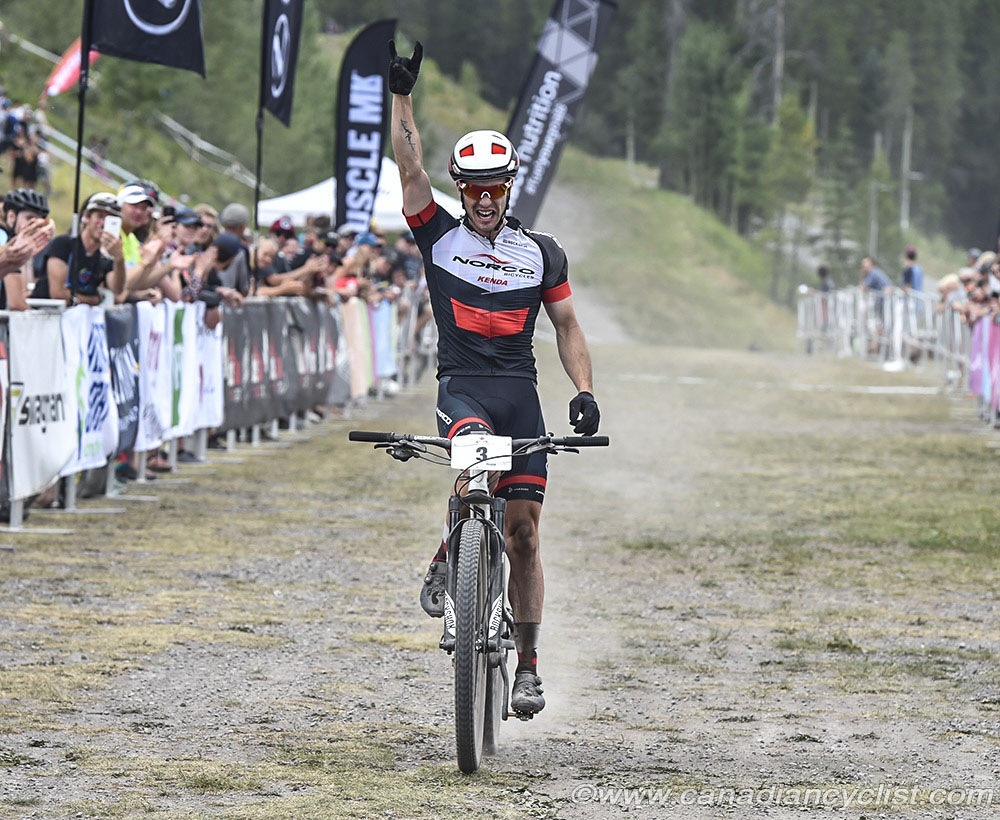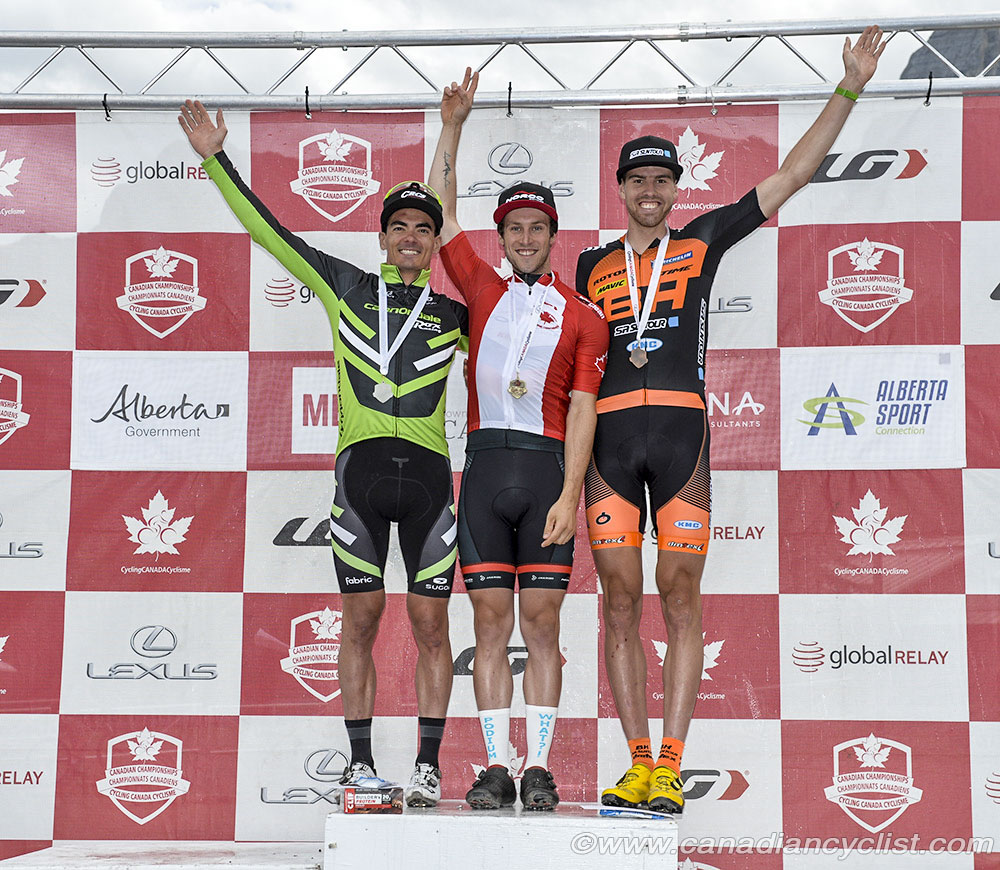 2017 Canmore
I think of all three national championships, 2017 was the most exciting. I had good form - I was ranked top-5 for most of the year in the Under-23 World Cup - so I knew I had a decent stab at it, based on previous Canada Cup performance.

It was Raph Gagne and I all race - back and forth, back and forth. I just tried to take it to him, literally every climb. It wasn't until we were heading out onto the last lap and I started have some doubt as to whether or not I was going to be able to gap him before the finish. But that didn't really faze me; if it came down to a sprint, it just meant it was going to be really, really hard, not just really hard ... but I still thought I could get him in the sprint because it was a long enough sprint in Canmore.

But on the second last descent, a steep and loose dust chute ... I don't know if it was the dust I was kicking up in front of him or a mistake on his part or how much in the red he was, but I came out of it and looked behind me and he wasn't there [Gagne crashed]. So, I was like, 'okay, don't flat in the next section and I think I've got it'.

It was exciting pretty much up to the line in that race, it was one hell of a race for sure. When I think back to it, everything went well all day - my head was on point, my body was willing to respond to anything I asked it to do. I was throughly messed up for a few weeks after that race; I fully tore myself up on that one.

The reason I rode up [in Elite] was two-sided. I think it would have been cool - considering I was last year U23 - that [if I won] the Elite jersey, I could start wearing the Elite jersey at the beginning of 2018, my first year as an Elite. The team was happy with that potential and I was happy to try and do something that doesn't happen very often. So I wanted to take a real crack at it, and I'm happy I did. It was one heck of a race and definitely a day to remember.

In 2018 we were back in Canmore and I felt a boatload of pressure. I was first year Elite, I'd had some reasonable World Cup results and some terrible ones, I'd had some reasonable Canada Cup results and some mediocre ones. I was coming in as the defending champion and wasn't sure how things were going to go. My form was a bit of a mismatch, my head wasn't super confident.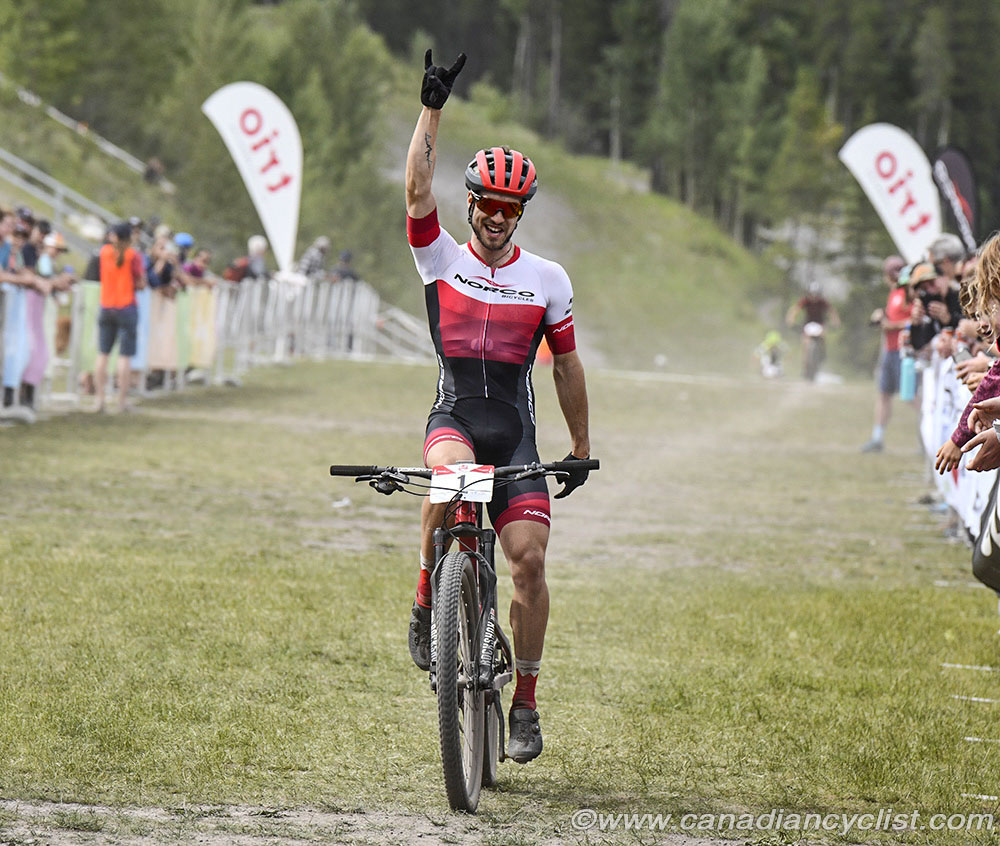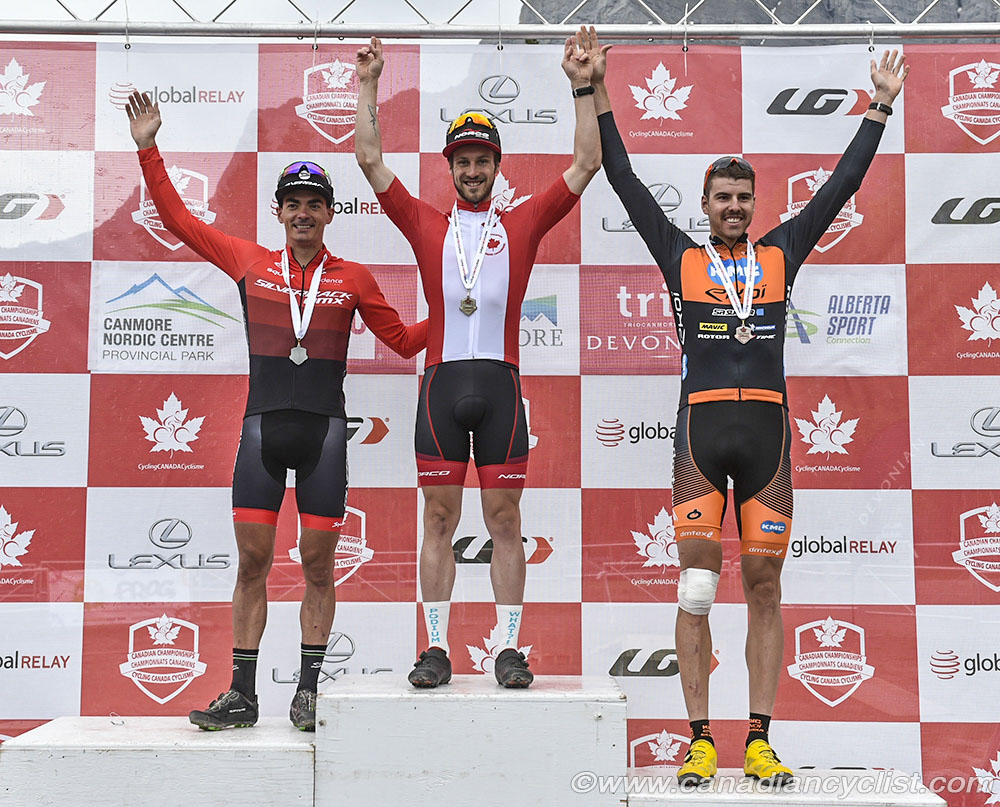 2018 Canmore
Early in the race I think Raph Gagne decided to flip the tactics on me from 2017 and he took charge. He put in an attack on the second half of the first lap and it was weird ... I reflect on it now and I just kind of sat there ... why didn't I follow that? I don't know if it was just a little too far or too much for me at the time?

In hindsight, it was the biggest mistake I could have made that day. I rode well after that and nobody else was really pressuring the two of us, and he just sat in front of me for four laps. On the second last lap he flatted - unfortunate for Raph ... he said post-race 'it's racing, it happens'. It could of been the other way around and I flatted ... you just take advantage of the opportunities you are given. His wheel change took a long time and I was able to get a head start heading into the last lap, and I just had enough juice in me to roll around that last lap and pull it off. That was a bit different of a win; 2017 is one that I will remember forever and will cherish and hold high on a pedestal of performance, and 2018 felt like ... Raph flatted and I was able to get it.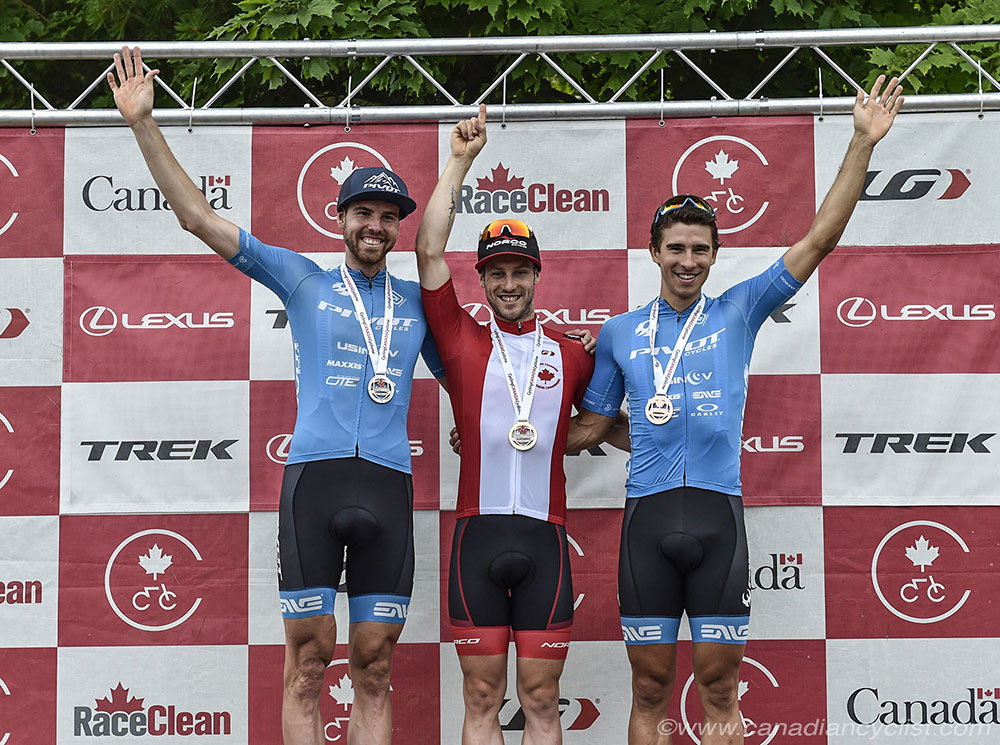 2019 Hardwood
Last year was back at Hardwood and things were pretty good; we had had a busy season to that point. I hadn't had a ton of time on the course, but I've always ridden there [Peter grew up 15 minutes from Hardwood]. I went into that one a little more relaxed than 2018, with a bit more confidence.

I knew it would be a fight; Hardwood is like 'a death of a thousand cuts' style course. You have to stay 'on' for lots of little efforts and attacks that wear everybody down; unlike Canmore, where it's a long enough climb that you can put in a big effort and start to open up gaps. Andrew L'Esperance [Peter's Norco team mate] and Leandre Bouchard were the ones who could really stick it to me in 2019; they put in a good fight. L'Espy was there for a few laps and taking charge, throwing down some attacks ... it was cool to see and to be in such a dynamic race, but unfortunately he had a few punctures and had to settle back further.

Dre didn't ever really attack me, but I couldn't shake him. It wasn't until the second last lap on the climb out of Boneshaker [rock descent] that I started to see some gaps open. But it took me another 5-10 minutes of getting it pinned ... I was super tired and shelled at that point, but I knew I had to open up a gap, and eventually I did and then I had to make sure to bring it home without any punctures or mechanicals.

As a side note: I crashed in the first five minutes on a drop formerly known as 'Disera Drop', I just lost my front end through the rock garden. I was super lucky to land in the only soft spot, not rocks or sticks, just a pile of leaves.

I asked Peter how important Nationals is, in the scheme of things?

I don't know, it's an interesting question, because my knee jerk reaction is, obviously, it's important. You want to show that you are the best in country. I think it is important for the team and from the World Cup display aspect; you are the one with the national champion's jersey, you are pegged as that rider. With that comes some responsibility - if you are not the best Canadian out there, then why do you have the jersey? But, on the flip side, I'd argue that World Cup results are World Cup results, whether you have that jersey on your back or not.

I'm really enjoying and quite proud to be the national champion for the last years, and wear it with pride, and take responsibility when I'm on a World Cup course to try to do my absolute best each time. But, if there happened to be a mishap in a race in future years, or when our superfast Under-23 boys start to graduate into Elite, and I don't get it one year ... it won't be the end of the world, and I will be proud for the Canadian who is able to take the title from me. I think as long as people understand the responsibility and the image you display when you are the national champion on the World Cup line, then it's cool.
Previous Race revisits

Race Revisit - MTB Nationals with Catharine Pendrel
Race Revisit - 2015 MTB Nationals with Raphael Gagne
Race Revisit - 2015 Pan Am Games with Monique Sullivan
Race Revisit - 2015 Pan Am Games with Jasmin Duehring
Race Revisit - 2015 Pan Am Games with Raphael Gagne
Race Revisit - 2014 Road Nationals with Leah Kirchman
Race Revisit - 2012/2016/2019 Road Nationals with Ryan Roth
Race Revisit - 2016 Road Nationals with Annie Foreman-Mackey
Race Revisit - 2004 Road Nationals with Gord Fraser
Race Revisit - 2018 Tour de Beauce with James Piccoli
Race Revisit - 2008 Tour de Beauce with Svein Tuft
Race Revisit - 1995 Tour de Beauce with Eric Wohlberg
Race Revisit - 1994 Tour de Beauce with Jacques Landry
Race Revisit - 1987 Tour de Beauce with Ivan Waddell
Race Revisit - 2012 Chrono Gatineau with Clara Hughes
Race Revisit - 2019 Baie-Saint-Paul Canada Cup with Leandre Bouchard
Race Revisit - 2019 Nove Mesto MTB World Cup with Haley Smith
Race Revisit - 2014 Giro d'Italia with Svein Tuft
Race Revisit - 1990 Paris-Roubaix with Steve Bauer