August 9/20 16:38 pm - Race Revisit - MTB Nationals with Alison Sydor

Posted by Editoress on 08/9/20

Today is the latest in our series - Race Revisit - where we return to a past event that took place on (or around) this date. As well as a recap of the event and links to our original coverage - race reports, results, photos and video interviews - we will also be including comments and in-depth commentary from some of the Canadian athletes who were there.

Traditionally, the Mountain Bike National Championships have taken place around the middle of July [although in the 1990s, they shifted around a lot], so we are returning to some of those. To be a national champion in cycling is rather unique in the sports world, because it gets recognized every time a rider races over the next 12 months. Everywhere a rider competes in the world they have the right to wear the maple leaf identifying them as the Canadian champion, and race organizers usually recognize national champions in the call up to the start line. If the rider is on a pro team, their team usually has a special design ready to go quickly.

We began our Cross-country Mountain Bike Nationals coverage with Raphael Gagne, followed by Catharine Pendrel, who has won the women's title six times (tied with Marie-Hélène Premont), and then Peter Disera, who has won the last three Elite men's XCO titles (2017-2019). Today, we talk with Alison Sydor, one of the greatest mountain bikers in the history of the sport, with three world titles, 17 World Cup wins and an Olympic silver medal. However, Alison also won a record eight Elite women's XCO titles, so far as we can tell - some older records aren't complete and Alison doesn't recall them all herself... This, of course, is in addition to her Road and Cyclo-cross titles. Alison was the Canadian XCO champion in 1994-99 and 2001-2002.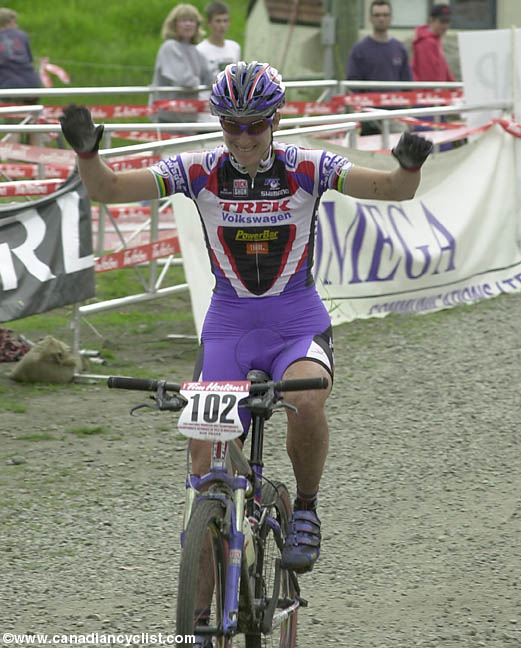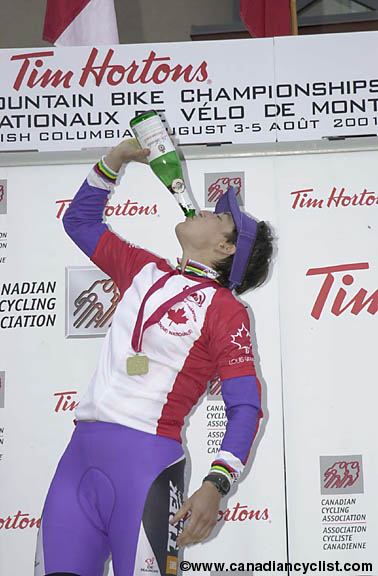 2001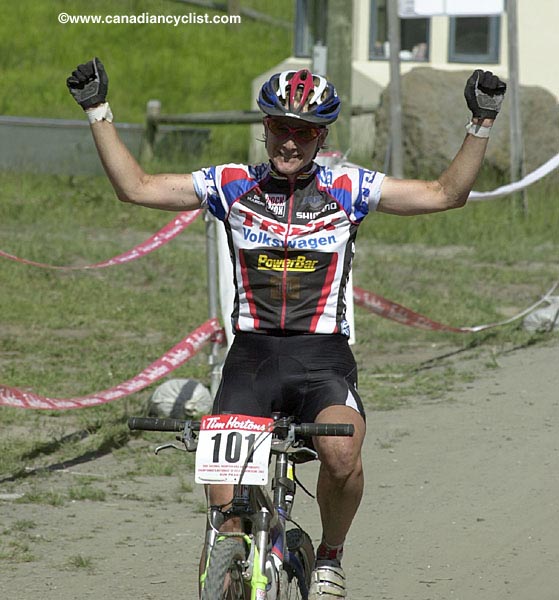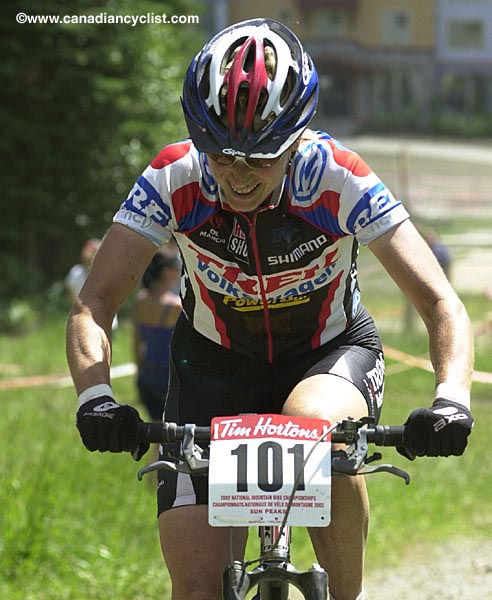 2002
Most of Alison's national championship wins were in the pre-internet and early internet days - as well as pre-digital camera - so there is not as much available online in the way of photos, results or interviews. However, we do have a cover shot [yes, from the days when we were in print] of Alison winning the 1996 national title in Whistler, BC, while in the world champion's jersey. It is the only time in our print history that we put a racer on our cover.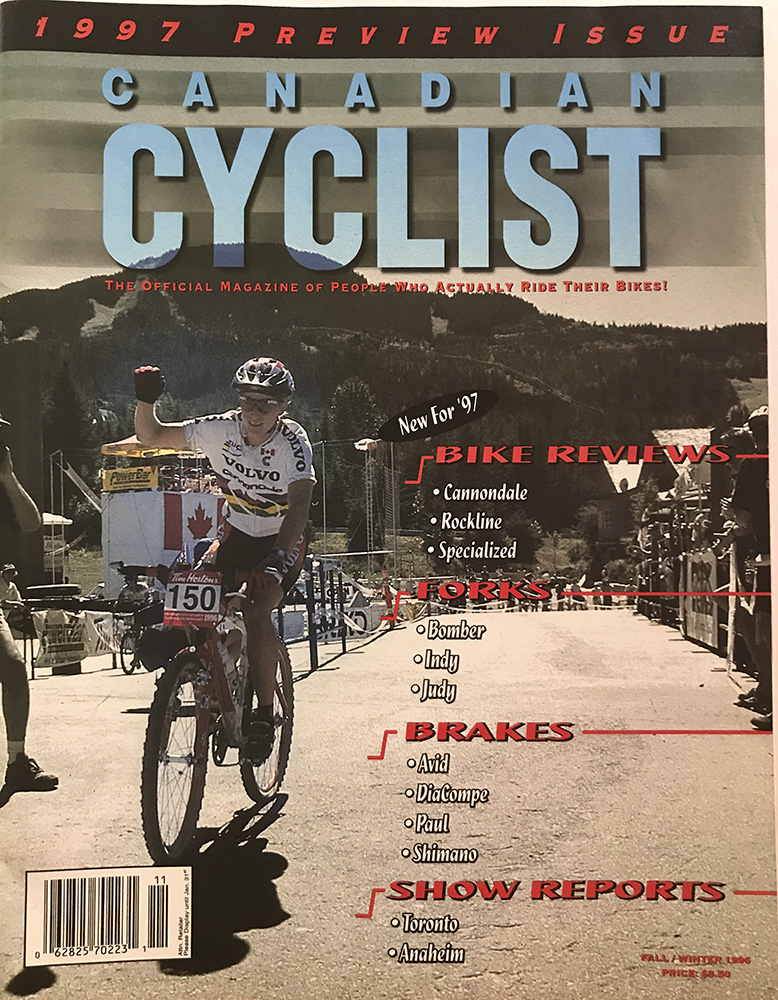 Alison spoke to us from her home in North Vancouver.

2001
Report
Photos

2002
Report
Results
Photos: Part 1, Part 2, Part 3
The first thing I asked Alison was, after having won so many international races, how important is nationals in the overall scheme of things?

Well, for sure, compared to a World Cup/world championship event, it doesn't have that level of competition. So, from that perspective it is quite different. It wasn't important to sponsors of the big teams in those days; in fact, some of the teams in the past didn't want their athletes to win, because they didn't want their athletes in the national champion's jersey, they wanted in the team jersey.

But, as far as me personally, I always treated Nationals as very important. Sometimes it was a selection race [for Worlds], but I felt it was important for every athlete personally, because it is an important part of the structure of the sport.

One of the unique features, as a Canadian athlete often times racing for pro teams not from Canada, it was a situation where this time - as compared to the World Cups, where you had a full team support behind you and the domestic [Canadian] teams were on a shoestring, this time that had one over on the athletes who were on professional teams. You would often just show up by yourself; the one time of the year where you are your own mechanic and your own support staff. I enjoyed that sort of challenge and, fair game, this is the time the domestic athletes get the support.

But each time, I felt that I wanted to ride to my world ranking [usually top-3] and try to win every single race. I always treated it as an important event on my calendar, but we saw through the years that some athletes would come and get on the start line and not treat it as important as a World Cup or other event in their season. But for me it always was and the pressures seemed to be almost greater, because the expectations were that [I] was going to win.

Alison pointed out that, in those days, in mountain biking, getting the national champion's jersey to wear for the year didn't always have the same caché as it does now (and always has on the Road).

Well there's the athlete personally ... I have pride as an athlete and wanted to win, and there is something quite cool about our sport of cycling and all the champion jerseys; it's pretty unique to this sport. You never know at the end of the year if you are still going to have that jersey. I liked the whole aspect of the national champion having a unique jersey in the peloton. I could think, 'well, if I'm not defending the rainbow jersey, I can wear my Canadian jersey'.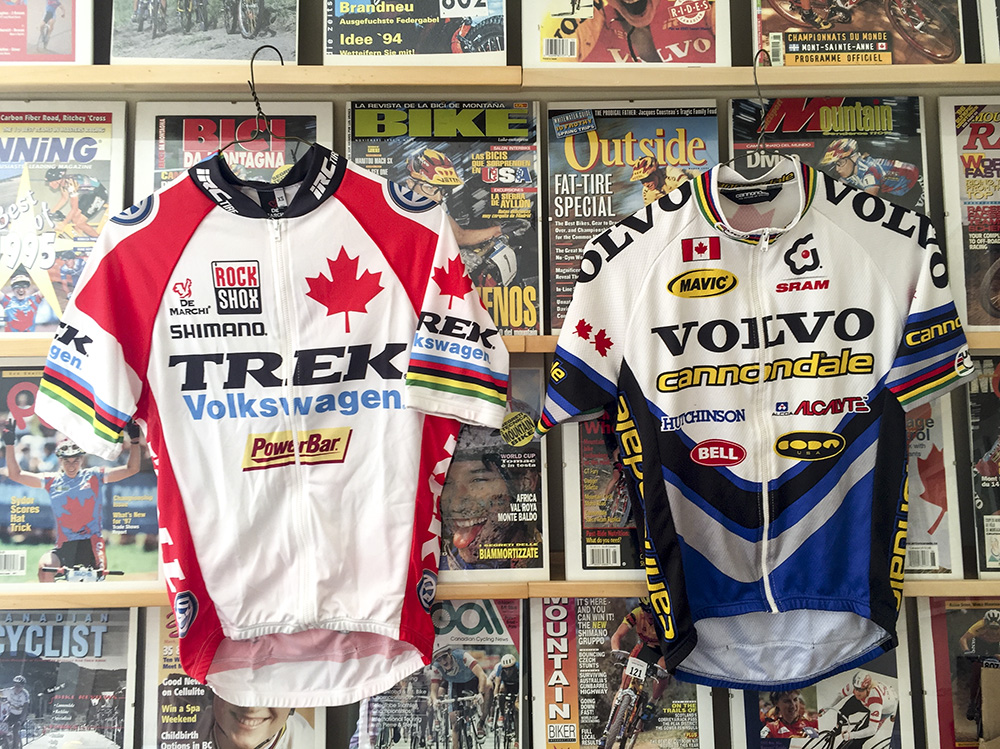 But one year, winning it with Volvo Cannondale, they weren't very keen on it; they wanted everybody in the team colours. So the national champion's jersey [that year] was basically the team jersey with a tiny little flag in the corner. So, like I said, there's the athlete and the way the athlete thought about it, but some athletes had pressure from team managers to not win, because they didn't want the athlete not in the team jersey. Those discussions were had at the trade team level.

For me personally, how my team dealt with it is how they dealt with it ... like I said, Volvo Cannondale had a tiny flag, but with Trek VW, I had the full-on red and white national champion's jersey. I really enjoyed the year wearing that jersey; I think it's a pretty beautiful jersey.

I remember the first time I picked up Winning magazine [a defunct racing magazine from the 1980's and 90's - I have the entire collection...], as a brand new racing cyclist and seeing that rainbow jersey and seeing the national champion jerseys in the pictures of professional racing, and I always thought it was a really cool thing, unique to the sport of cycling.

The special jerseys have always had a fascination for me. So, to me winning one was personally important.

Did any national championships in particular stand out?

I enjoyed going to the ones close to home [Vancouver]; as an international athlete, you rarely get the chance to throw your bike in a car and drive to a race! When they were in Whistler, I could just go up for the day.

Probably one of the stronger memories I have is the first Nationals I did, when the sport was brand new, in Rossland [B.C., 1994]. It was my first trip into the interior, first big event in this new sport, awesome course. The atmosphere in mountain biking at the time was just so much different from Road; so friendly and really about fun, even though it was a championship event. People wanted to win and the win had a lot of meaning and meant selection opportunities. So I still remember that ... if you asked, 'what's your favourite national championship memory?', it's that road trip, that event, entering that sport formally; it was a lot of fun.
Previous Race revisits
Race Revisit - MTB Nationals with Peter Disera
Race Revisit - MTB Nationals with Catharine Pendrel
Race Revisit - 2015 MTB Nationals with Raphael Gagne
Race Revisit - 2015 Pan Am Games with Monique Sullivan
Race Revisit - 2015 Pan Am Games with Jasmin Duehring
Race Revisit - 2015 Pan Am Games with Raphael Gagne
Race Revisit - 2014 Road Nationals with Leah Kirchman
Race Revisit - 2012/2016/2019 Road Nationals with Ryan Roth
Race Revisit - 2016 Road Nationals with Annie Foreman-Mackey
Race Revisit - 2004 Road Nationals with Gord Fraser
Race Revisit - 2018 Tour de Beauce with James Piccoli
Race Revisit - 2008 Tour de Beauce with Svein Tuft
Race Revisit - 1995 Tour de Beauce with Eric Wohlberg
Race Revisit - 1994 Tour de Beauce with Jacques Landry
Race Revisit - 1987 Tour de Beauce with Ivan Waddell
Race Revisit - 2012 Chrono Gatineau with Clara Hughes
Race Revisit - 2019 Baie-Saint-Paul Canada Cup with Leandre Bouchard
Race Revisit - 2019 Nove Mesto MTB World Cup with Haley Smith
Race Revisit - 2014 Giro d'Italia with Svein Tuft
Race Revisit - 1990 Paris-Roubaix with Steve Bauer