August 10/20 15:45 pm - Race Revisit - 1976 Tour de l'Abitibi with Steve Bauer

Posted by Editoress on 08/10/20

Today is the latest in our series - Race Revisit - where we return to a past event that took place on (or around) this date. As well as a recap of the event and links to our original coverage - race reports, results, photos and video interviews - we will also be including comments and in-depth commentary from some of the Canadian athletes who were there.

This year would have been the 52nd edition of the Tour de l'Abitibi, the most prestigious Junior men's stage race in North America. Held in the northern Quebec Rouyn-Noranda region, this week-long race brings in riders from around the world and, for many, is their first exposure to the full professional stage race experience. Some legendary riders have participated over the years, before going on to professional careers that have reached the heights of men's road racing.

We begin our Revisit of Abitibi with the 1976 edition and Steve Bauer; one of the greatest cyclists in Canadian history, who had his first exposure to stage racing that year. Bauer was riding for his local St-Catherines team as a first year Junior. He finished 32nd overall and eighth in the Points competition, even wearing the Maillot Orange [Points Jersey] for a while. That was a year with a number of big Canadian names in attendance, including Louis Garneau, Pierre Harvey (who won two stages), Gary Trevisiol (4th overall) and Rob Velland (who also won a stage). American rider Steve Pyle won the overall title.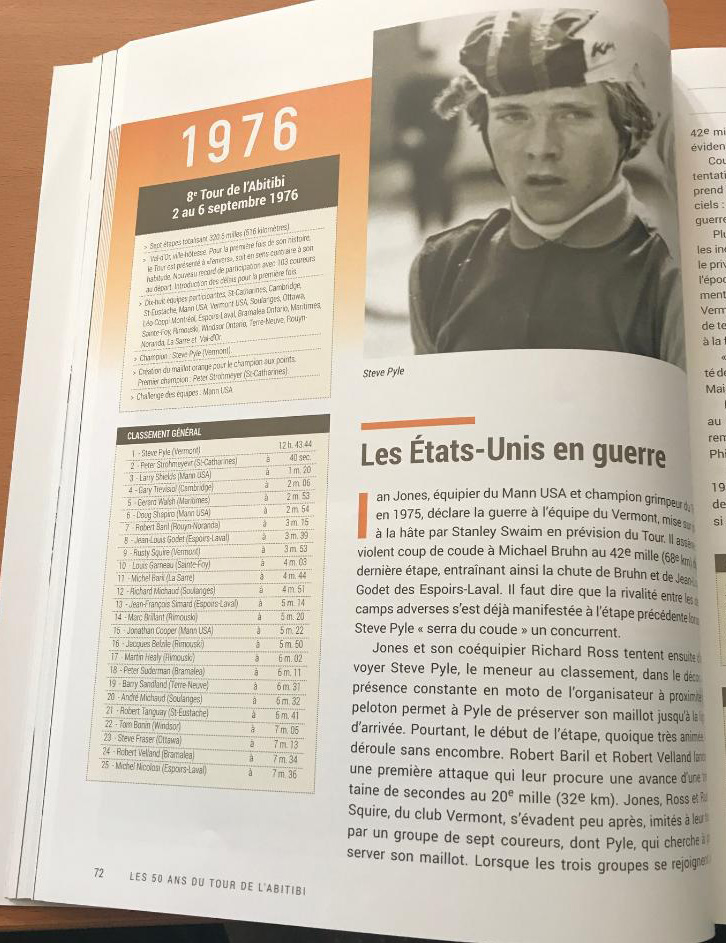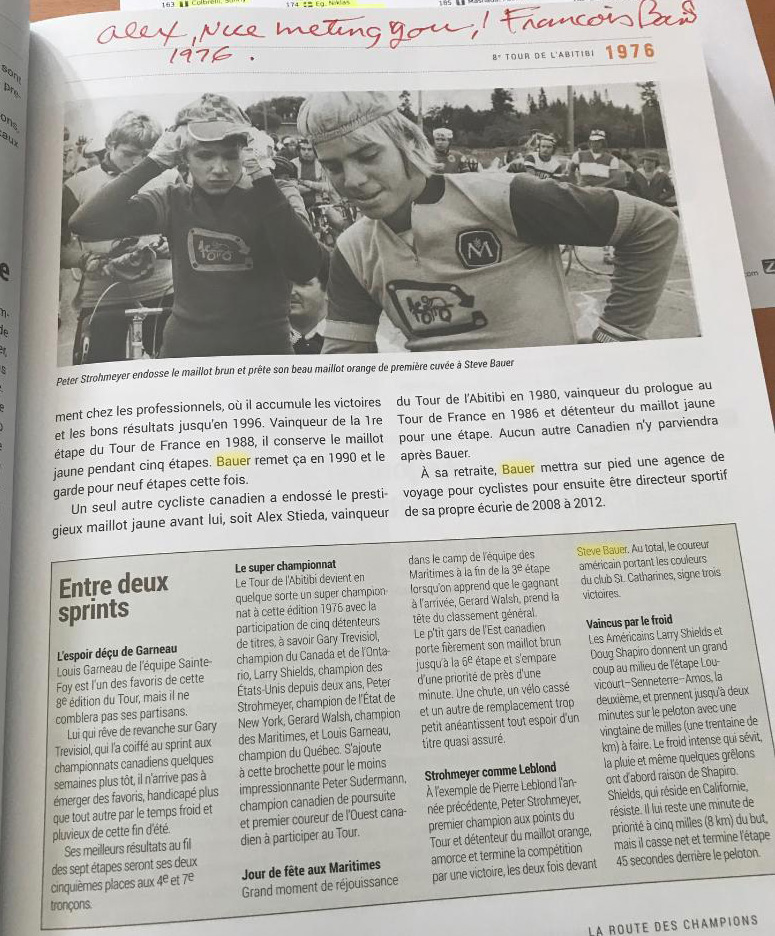 Above pages from the Tour de l'Abitibi 50th Anniversary book - Courtesy Alex Stieda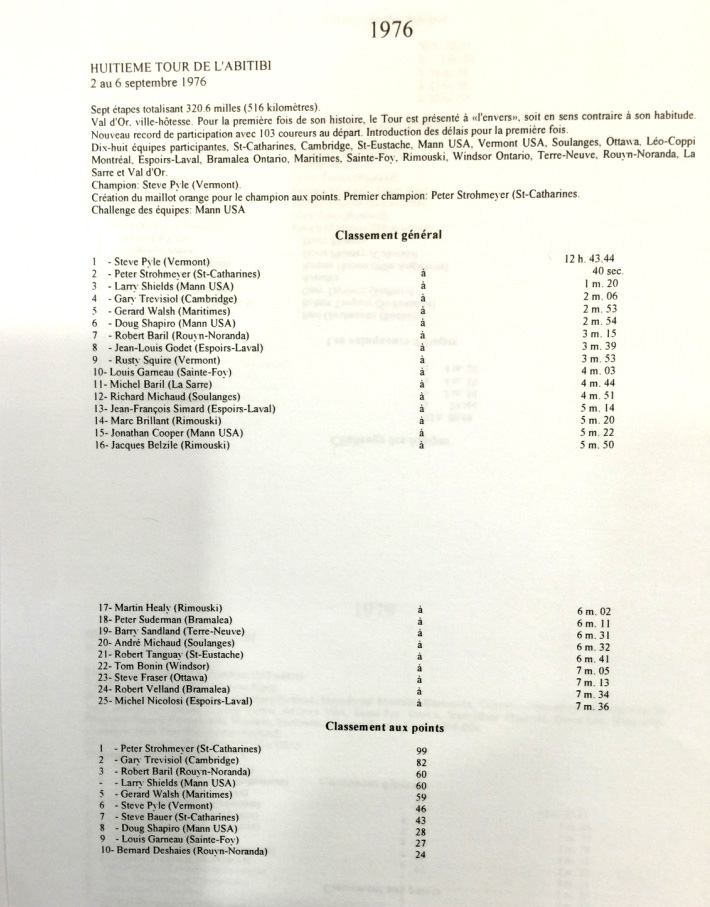 Steve admits that his memories are hazy from that long ago, when he spoke to us from Belgium, where he is sports director for the CCC WorldTour team.

It was '75 or '76, only the history books can tell for sure. I did wear the Points Jersey, I remember. We recruited Peter Strohmeyer from the U.S. to race with us [on the St-Catherines team; Strohmeyer finished second overall]. It was a pretty cool race as a Junior, to have that high level competition. Pretty exciting and challenging, and unique.

As I recall, there was a time trial and some road races with circuit races at the end that were pretty fast. Wool jerseys, I remember those!

It absolutely contributed to my development; first of all, it's a stage race, and it's rare to have the opportunity [as a Junior] to have any stage racing or back-to-back racing, with [cumulative] times or points protocols. In itself, that is a nice experience, and having the experience of being on a collaborative team that races together ... definitely it was a valuable experience. Any Junior having that opportunity ... certainly it's fantastic that it has been able to sustain its legacy as an event. Quite fantastic and rare.
Previous Race revisits
Race Revisit - MTB Nationals with Alison Sydor
Race Revisit - MTB Nationals with Peter Disera
Race Revisit - MTB Nationals with Catharine Pendrel
Race Revisit - 2015 MTB Nationals with Raphael Gagne
Race Revisit - 2015 Pan Am Games with Monique Sullivan
Race Revisit - 2015 Pan Am Games with Jasmin Duehring
Race Revisit - 2015 Pan Am Games with Raphael Gagne
Race Revisit - 2014 Road Nationals with Leah Kirchman
Race Revisit - 2012/2016/2019 Road Nationals with Ryan Roth
Race Revisit - 2016 Road Nationals with Annie Foreman-Mackey
Race Revisit - 2004 Road Nationals with Gord Fraser
Race Revisit - 2018 Tour de Beauce with James Piccoli
Race Revisit - 2008 Tour de Beauce with Svein Tuft
Race Revisit - 1995 Tour de Beauce with Eric Wohlberg
Race Revisit - 1994 Tour de Beauce with Jacques Landry
Race Revisit - 1987 Tour de Beauce with Ivan Waddell
Race Revisit - 2012 Chrono Gatineau with Clara Hughes
Race Revisit - 2019 Baie-Saint-Paul Canada Cup with Leandre Bouchard
Race Revisit - 2019 Nove Mesto MTB World Cup with Haley Smith
Race Revisit - 2014 Giro d'Italia with Svein Tuft
Race Revisit - 1990 Paris-Roubaix with Steve Bauer