August 11/20 16:46 pm - Race Revisit - 1980 Tour de l'Abitibi with Alex Stieda

Posted by Editoress on 08/11/20

Today is the latest in our series - Race Revisit - where we return to a past event that took place on (or around) this date. As well as a recap of the event and links to our original coverage - race reports, results, photos and video interviews - we will also be including comments and in-depth commentary from some of the Canadian athletes who were there.

This year would have been the 52nd edition of the Tour de l'Abitibi, the most prestigious Junior men's stage race in North America [see our 50th anniversary story Here;]. Held in the northern Quebec Rouyn-Noranda region, this week-long race brings in riders from around the world and, for many, is their first exposure to the full professional stage race experience. Some legendary riders have participated over the years, before going on to professional careers that have reached the heights of men's road racing.

We began our Revisit of Abitibi with the 1976 edition and Steve Bauer, and we are continuing today with Alex Stieda in the 1980 edition. Like so many riders, Abitibi was Alex's first introduction to international stage racing. Six years later, he became the first North American in history to don the Yellow Jersey as the leader of the Tour de France.

His future professional results were foreshadowed at the 1980 Tour de l'Abitibi - riding for Team B.C., he won the overall classification, and is the only rider to have ever worn the Brown Jersey as race leader for the entire race - eight stages in all (including a Team Time Trial, which his team won). He also easily won the Points Jersey and the Climber's competition. Other names that stand out from that year are Ross Chafe (2nd overall), Bruce Spicer (4th), Future Giro d'Italia winner Andy Hampsten (7th), John Large (22nd and winner of the final stage) and current New Zealand HP Director Martin Barras (24th). Alex also rode Abitibi in 1979, winning the 4th stage. In 2019, Alex was inducted into the Tour de l'Abitibi Hall of Fame.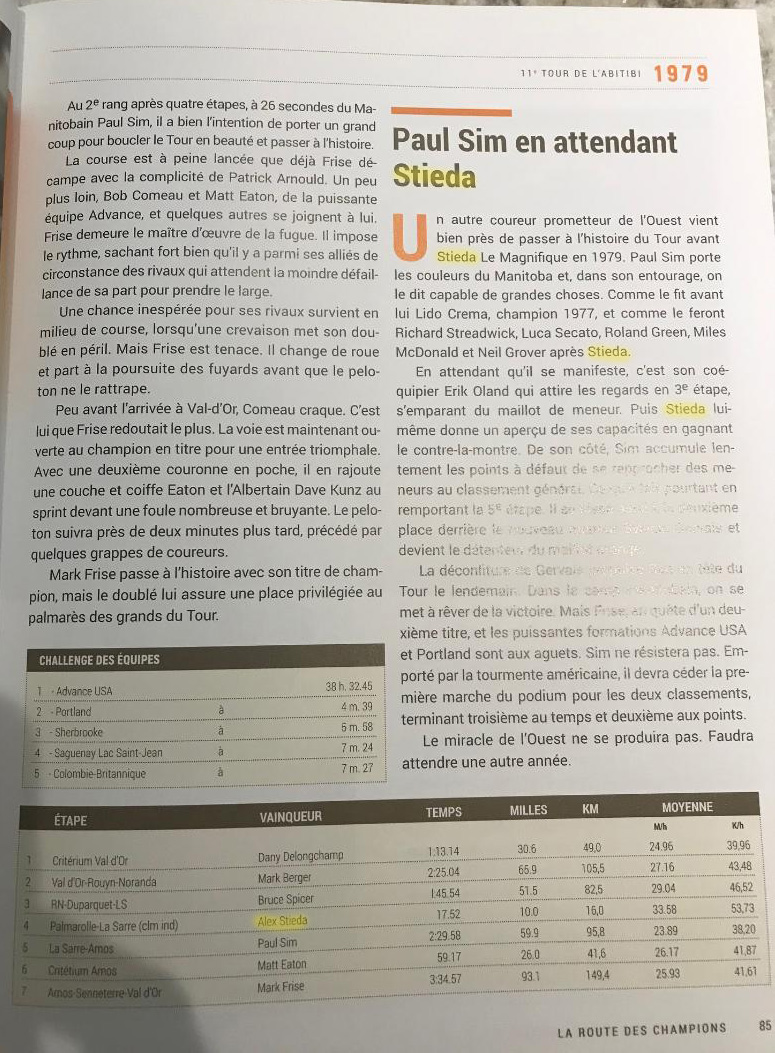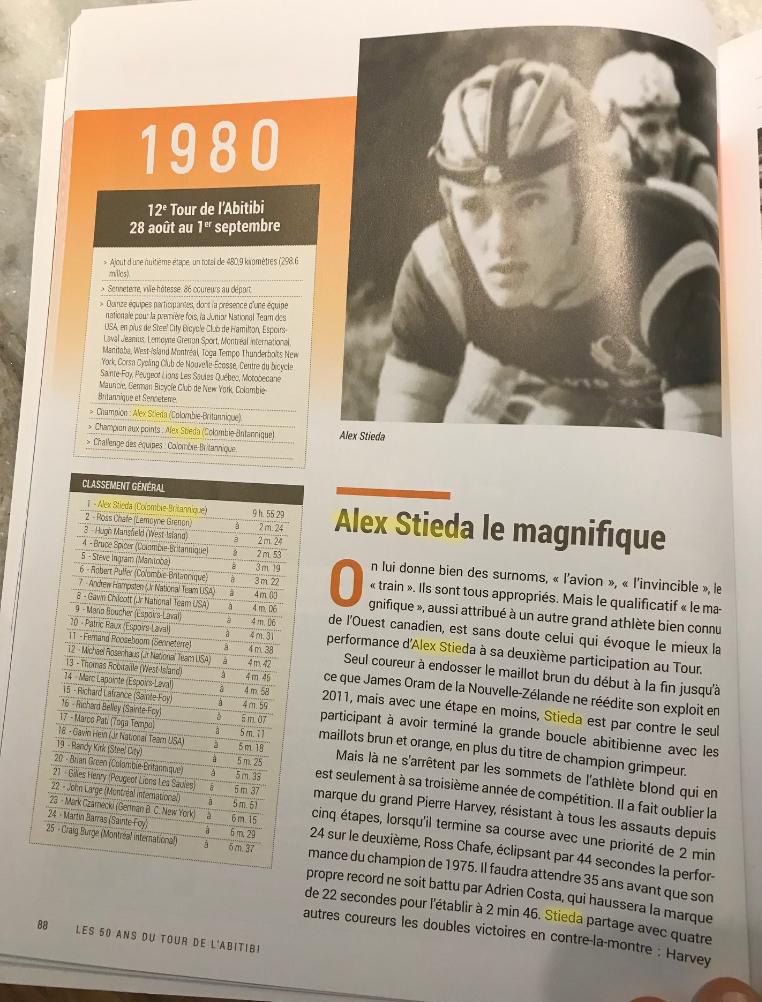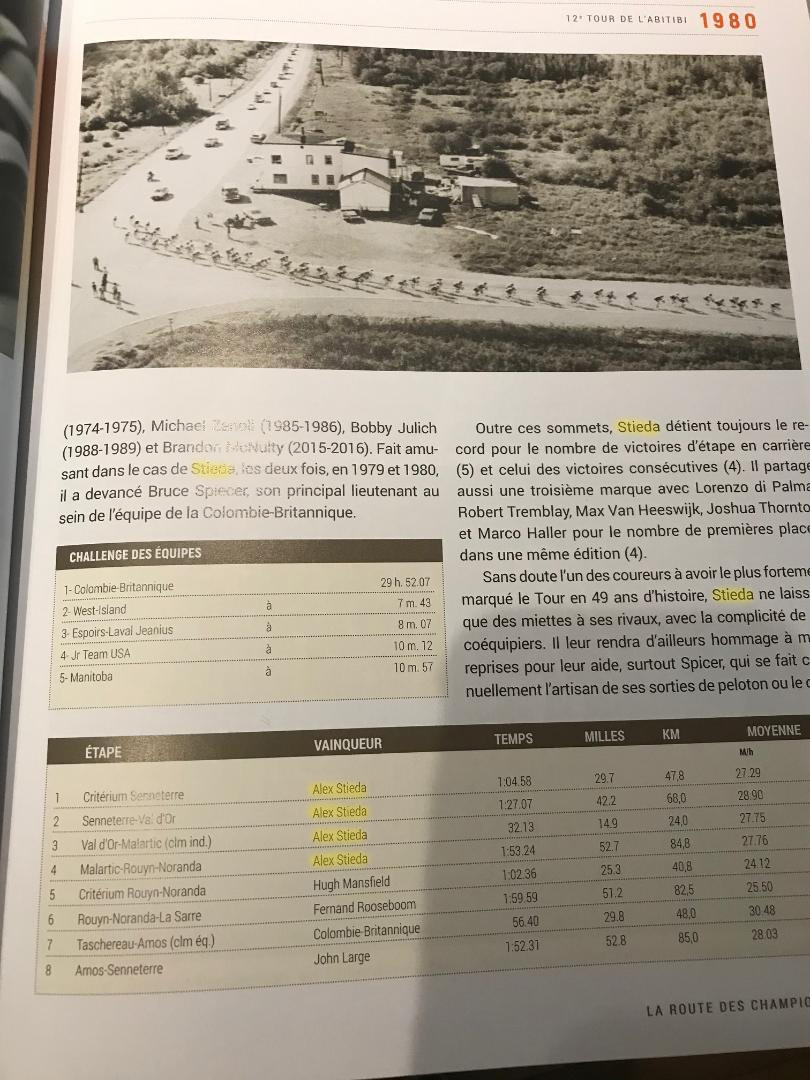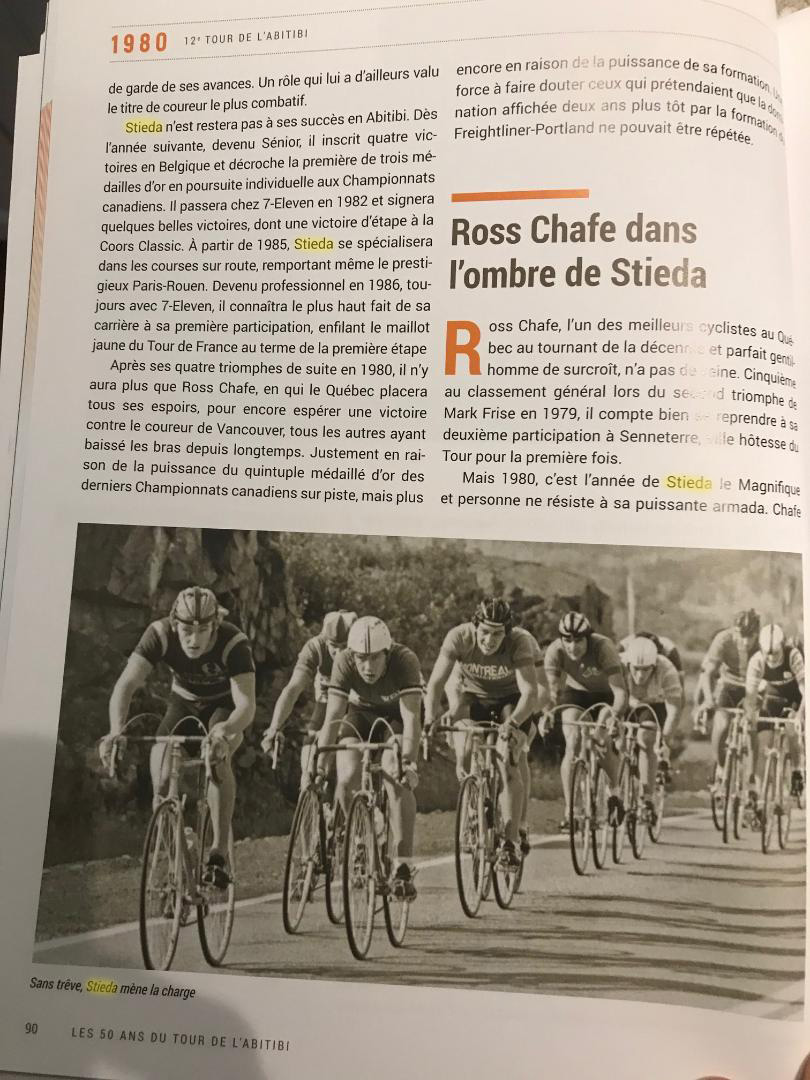 Stieda (far left) at the front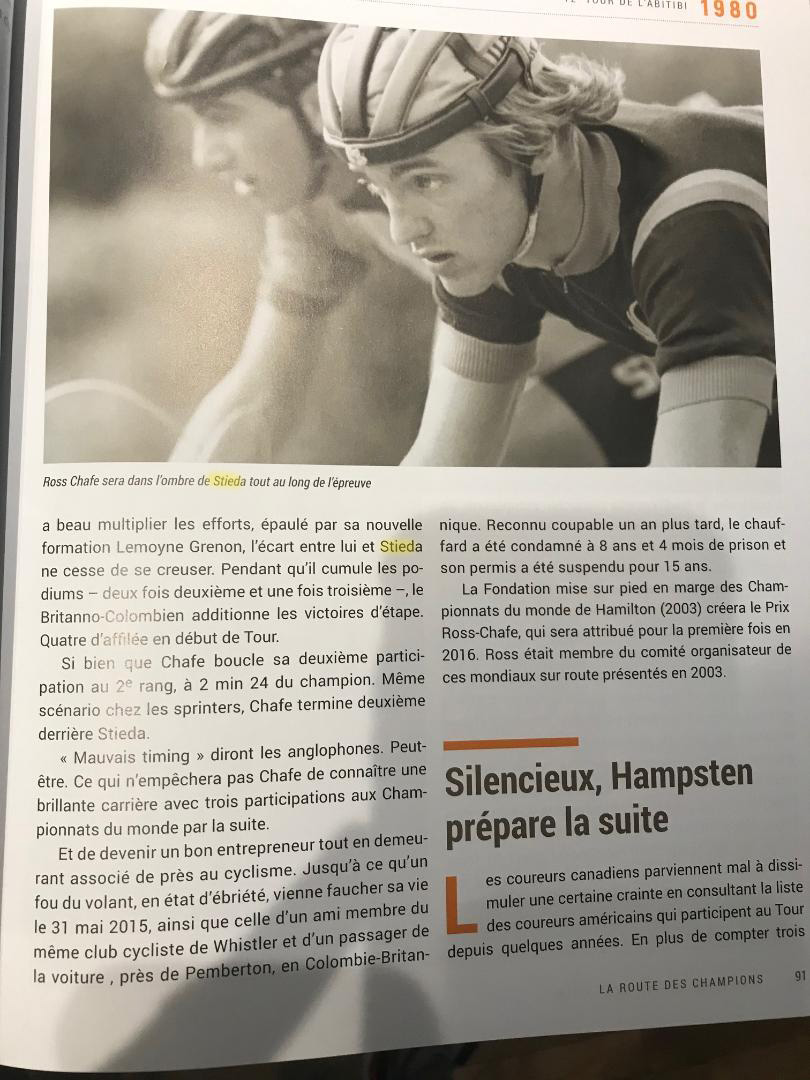 Alex spoke to us from his home in Edmonton.

It was very nice for the Tour to induct me into the Hall of Fame and bring me to the race last year, and to see that the race is still going so well.

I first raced it in '79 and it was eye-opening. It was my first big stage race away from BC, where I grew up racing in Vancouver and the Lower Mainland. We would go down to the Pacific Northwest and Seattle and there were some races we did there, but meeting other Juniors from outside of the Pacific Northwest was eye-opening and was intimidating, to be honest, at first. But I did win a stage in '79, the time trial. We were gear restricted to 50x15, which was very small. I had been training on the track at China Creek in Vancouver and spinning like crazy, and that helped me gain a lot of power at high RPMs.

That was with the B.C. team and we had a great crew. Larry Ruble from Maple Ridge Cycle was our mechanic; it was the first bike shop that I ever worked at and Larry was the owner, so it was comforting to have him as the mechanic. Tom Morris [1972 Canadian Olympic team] was our director, and it was a fun to be with group of Juniors. I think it was a lot more open and free then it is now. Nowadays it's much more serious, from what I saw last year - the guys are in their dorms, they're sleeping or getting a massage and acting very professional. We were definitely not like that! We were serious about racing, but we also had some fun.

The next year, 1980, it was a bit more serious. Now, we were going there with an opportunity to win some stages and maybe win the race. We were way mored prepared, we understood the courses better and the terrain. It suited me because there wasn't lots of climbing, more rolling hills, and some crits and a time trial. That really played in my favour and I ended up winning the overall. Looking back, I still kind of raise my eyes in amazement that I was able to do that. Three years before I had been a hockey player.

Before we went [in 1979], I didn't know anything about Abitibi, didn't even know where it was. It was remote and not very many people spoke English, especially back then. So, it really felt like we were in a different country, to be honest, it was just amazing. But Marc Lemay, who was the organizer of the race back then, was so welcoming. He made his presence felt. He went out of his way to greet us and make sure we were comfortable.

During the race he was on the motorbike following the break, yelling, 'Come on Alex, come on, allez!'.

I asked Alex how important it was for Canada to have a race like Abitibi.

If you want to be a bike racer, you need to race more. And that's becoming harder and harder to come by for Juniors, especially to race against their peers. That's why I really applaud what Ron Hayman is doing with the Hayman Classic [in Penticton]; I really hope he can keep it going and grow it, and become the Abitibi of the West.

Having opportunities for Juniors to race against their peers from around the world, I think it's fantastic. That's what i said to the organizers last year at my induction: 'Don't underestimate what you are doing here. This race is super, super important for so many racers'. The events that Quebec people put on year after year after year ... there's always something going on.

The people there [at Abitibi] are just amazing, they are so supportive of the race and proud of their communities - Val d'Or, Rouyn-Noranda and all the other communities. They do the best job that they can with a small budget. It's the culture of the race that stays with me ... I've done lots of races in my life, but that one is near and dear to my heart. Many of us still have friendships from that time that continue.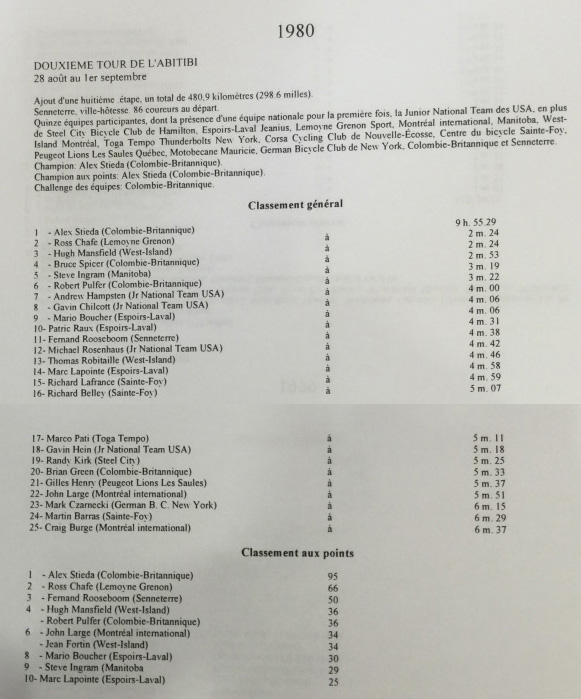 Previous Race revisits

Race Revisit - 1976 Tour de l'Abitibi with Steve Bauer
Race Revisit - MTB Nationals with Alison Sydor
Race Revisit - MTB Nationals with Peter Disera
Race Revisit - MTB Nationals with Catharine Pendrel
Race Revisit - 2015 MTB Nationals with Raphael Gagne
Race Revisit - 2015 Pan Am Games with Monique Sullivan
Race Revisit - 2015 Pan Am Games with Jasmin Duehring
Race Revisit - 2015 Pan Am Games with Raphael Gagne
Race Revisit - 2014 Road Nationals with Leah Kirchman
Race Revisit - 2012/2016/2019 Road Nationals with Ryan Roth
Race Revisit - 2016 Road Nationals with Annie Foreman-Mackey
Race Revisit - 2004 Road Nationals with Gord Fraser
Race Revisit - 2018 Tour de Beauce with James Piccoli
Race Revisit - 2008 Tour de Beauce with Svein Tuft
Race Revisit - 1995 Tour de Beauce with Eric Wohlberg
Race Revisit - 1994 Tour de Beauce with Jacques Landry
Race Revisit - 1987 Tour de Beauce with Ivan Waddell
Race Revisit - 2012 Chrono Gatineau with Clara Hughes
Race Revisit - 2019 Baie-Saint-Paul Canada Cup with Leandre Bouchard
Race Revisit - 2019 Nove Mesto MTB World Cup with Haley Smith
Race Revisit - 2014 Giro d'Italia with Svein Tuft
Race Revisit - 1990 Paris-Roubaix with Steve Bauer