August 12/20 15:02 pm - Race Revisit - 1988 Tour de l'Abitibi with Kris Westwood

Posted by Editoress on 08/12/20

Today is the latest in our series - Race Revisit - where we return to a past event that took place on (or around) this date. As well as a recap of the event and links to our original coverage - race reports, results, photos and video interviews - we will also be including comments and in-depth commentary from some of the Canadian athletes who were there.

This year would have been the 52nd edition of the Tour de l'Abitibi, the most prestigious Junior men's stage race in North America [see our 50th anniversary story Here;]. Held in the northern Quebec Rouyn-Noranda region, this week-long race brings in riders from around the world and, for many, is their first exposure to the full professional stage race experience. Some legendary riders have participated over the years, before going on to professional careers that have reached the heights of men's road racing.

We began our Revisit of Abitibi with the 1976 edition and Steve Bauer, and continued with Alex Stieda in the 1980 edition. Today, we talk with Kris Westwood about the 1988 edition. Kris won a stage of the 1988 race riding for Team Ontario, finishing 11th overall. He was tenth overall in the Points competition. The race that year was won by American Bobby Julich (7-Eleven), with Dutch rider Erik Dekker second and Julich's team mate Jonas Carney third. Kris is now the Head of Performance Operations at Cycling Canada.

Kris spoke to us from his home in Ottawa, where he is working remotely for Cycling Canada.

In 1988 I was a second year Junior, and I had had the opportunity to race it the year before with the Ottawa Bicycle Club, but we had a family holiday, which took priority! So, in '88 I didn't get selected to the Canadian team, which I was really disappointed about, but I was selected for the Ontario team. So I went to the race wanting to show up the Canadian team a little bit!

It worked out in the end because I won the last stage and came 11th overall. It was a pretty crazy race and my first experience racing at that level. We had teams from Czechoslovakia, as it was called at the time, the Dutch team, the French, couple of big U.S. squads - Plymouth-Reebok and 7-Eleven were there. Bobby Julich was the overall winner and Jonas Carney won the Points competition. It was a pretty tough race.

It was definitely eye-opening, especially back then. We couldn't just watch races online from Europe, so we really had no idea what it was really like, beyond seeing pictures in Winning magazine or the highlight packages that CBS put together for the Tour de France. So we had never seen racing at that level properly. It wasn't the same thing as being in a European race, but it still gave you a taste.

To give you an idea, the gear restrictions were smaller then they are now, a 50x14 top gear, 96 inches, and we still had one stage that was 48 kilometres an hour average over 120 K. Spinning like hamsters, and that was eye-opening too; six days of road racing like that and you really learn how you recover, how your body reacts to that kind of speed.

There were so many crashes; on one day I counted 20 crashes in the final finishing circuit. I was lucky that I had only one crash, and it was on the last day, on the stage that I won. So, I picked myself up, dusted myself off and got back in, and broke away in Val d'Or on the crit circuit. It was pretty cool. By the end of those six days, you feel like a real bike racer. That's huge for a 17-18 year old.

Kris also spoke about Abitibi from the perspective of being in charge of the high performance program at Cycling Canada.

Abitibi has been such an anchor for our developing male road athletes since the '70s. You see the list of names that have had success there, people like Alex Stieda and Steve Bauer ... all the way up to the Riley Pickrells of the world. It's fantastic for that legacy to continue, and obviously this year it is not happening, but I really hope that the legacy will continue for the foreseeable future. It's just been such an amazing asset to Canadian cycling, and the only thing I wish is that we have something equivalent for women.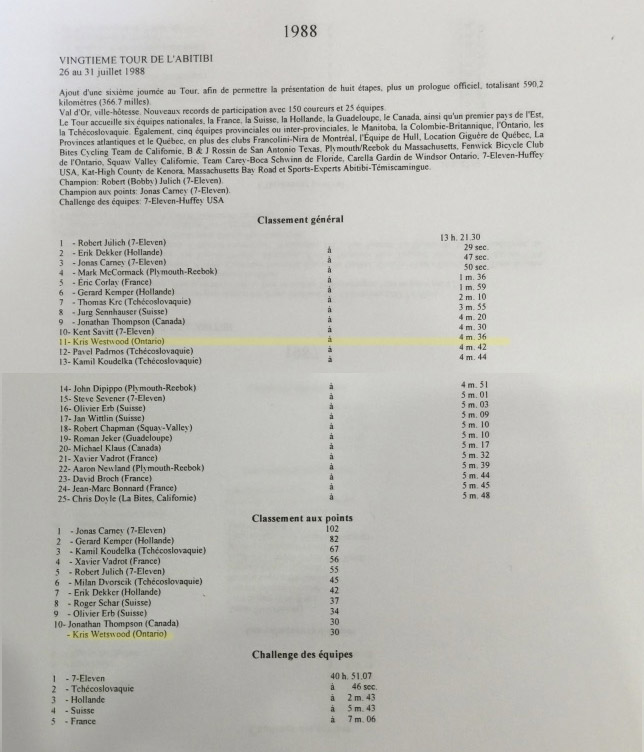 Previous Race revisits
Race Revisit - 1980 Tour de l'Abitibi with Alex Stieda
Race Revisit - 1976 Tour de l'Abitibi with Steve Bauer
Race Revisit - MTB Nationals with Alison Sydor
Race Revisit - MTB Nationals with Peter Disera
Race Revisit - MTB Nationals with Catharine Pendrel
Race Revisit - 2015 MTB Nationals with Raphael Gagne
Race Revisit - 2015 Pan Am Games with Monique Sullivan
Race Revisit - 2015 Pan Am Games with Jasmin Duehring
Race Revisit - 2015 Pan Am Games with Raphael Gagne
Race Revisit - 2014 Road Nationals with Leah Kirchman
Race Revisit - 2012/2016/2019 Road Nationals with Ryan Roth
Race Revisit - 2016 Road Nationals with Annie Foreman-Mackey
Race Revisit - 2004 Road Nationals with Gord Fraser
Race Revisit - 2018 Tour de Beauce with James Piccoli
Race Revisit - 2008 Tour de Beauce with Svein Tuft
Race Revisit - 1995 Tour de Beauce with Eric Wohlberg
Race Revisit - 1994 Tour de Beauce with Jacques Landry
Race Revisit - 1987 Tour de Beauce with Ivan Waddell
Race Revisit - 2012 Chrono Gatineau with Clara Hughes
Race Revisit - 2019 Baie-Saint-Paul Canada Cup with Leandre Bouchard
Race Revisit - 2019 Nove Mesto MTB World Cup with Haley Smith
Race Revisit - 2014 Giro d'Italia with Svein Tuft
Race Revisit - 1990 Paris-Roubaix with Steve Bauer