August 13/20 14:09 pm - Race Revisit - 2018-19 Tour de l'Abitibi with Riley Pickrell

Posted by Editoress on 08/13/20

Today is the latest in our series - Race Revisit - where we return to a past event that took place on (or around) this date. As well as a recap of the event and links to our original coverage - race reports, results, photos and video interviews - we will also be including comments and in-depth commentary from some of the Canadian athletes who were there.

This year would have been the 52nd edition of the Tour de l'Abitibi, the most prestigious Junior men's stage race in North America [see our 50th anniversary story Here;]. Held in the northern Quebec Rouyn-Noranda region, this week-long race brings in riders from around the world and, for many, is their first exposure to the full professional stage race experience. Some legendary riders have participated over the years, before going on to professional careers that have reached the heights of men's road racing.

We began our Revisit of Abitibi with the 1976 edition and Steve Bauer, and continued with Alex Stieda in the 1980 edition and Kris Westwood from 1988. Today, we talk with Riley Pickrell, who raced in the past two editions, winning three stages and the Points competition in 2018, and in 2019 won one stage, had two seconds and finished third in the Points competition.
2018 Winning Stage 1
2018
Stage 7 Photos, Report & Results - with links to all stages

2019
Stage 7 Report & Results
Stage 6 Photos & Results
Stage 4 Report, Photos & Results

Riley spoke to us from Aigle, Switzerland, where he is training at the World Cycling Centre, and was scheduled to race in the Tour de l'Avenir, beginning August 14th, before it was cancelled due to the pandemic on July 31st.


I think there are three things that stand out for me. The first two big ones, in terms of my cycling career, is race experience, because in North America we don't get that kind of race experience, plus the stage race lifestyle. We stay in one place [at Abitibi], but we travel around for each stage, so we still get the feel of that day after day, not sleeping in ideal conditions, environment. I think that is very important, so far as the race goes.

Plus, the social side of it stands out a lot. You have 150 Juniors who are all shooting for glory and their survival instincts don't kick in ... so, there are some pretty crazy events that go on!

I'd done a couple of smaller Pacific Northwest races, but [Abitibi] was the biggest stage race I had done in both 2018 and 2019. I was focussing more on the track [Riley is a member of the national track team, and was preparing for Junior Track Worlds in 2019]. In 2018 it was the only stage race I did, and in 2019 Abitibi was a massive speed block for the Track Worlds.

2018, was for sure a big shock. I won Stage 1, 5 and 7 ... I didn't come into it thinking that was how I would do. Winning the first stage was a pretty eye-opening experience. Team Canada raced well together as a team, and it was pretty fun.

I think early 2018 I was still of the mentality of going as a full track sprinter for the rest of my career. We just thought Abitibi would be a good experience for me to try out road racing at that level, see if I enjoyed it and just have some fun. Because if I did go full on as a track sprinter I wouldn't be able to do any longer road races anymore. It was just an opportunity to give it a go. But, during that race and afterwards through the season ... we clued into that I might actually be able to do this road racing thing.

I saw some big improvements in my aerobic power, and thought 'hey, this might actually be a possibility'. So for 2019 I started to look more towards track endurance and road.

2019 was a completely different race. Breakaways were a lot more predominant; the only stage that came back together was the fourth stage, which I won. All the other five stages - ignoring the time trial - were all breakaways. In the two stages where a solo rider won, I got second, winning the bunch sprint.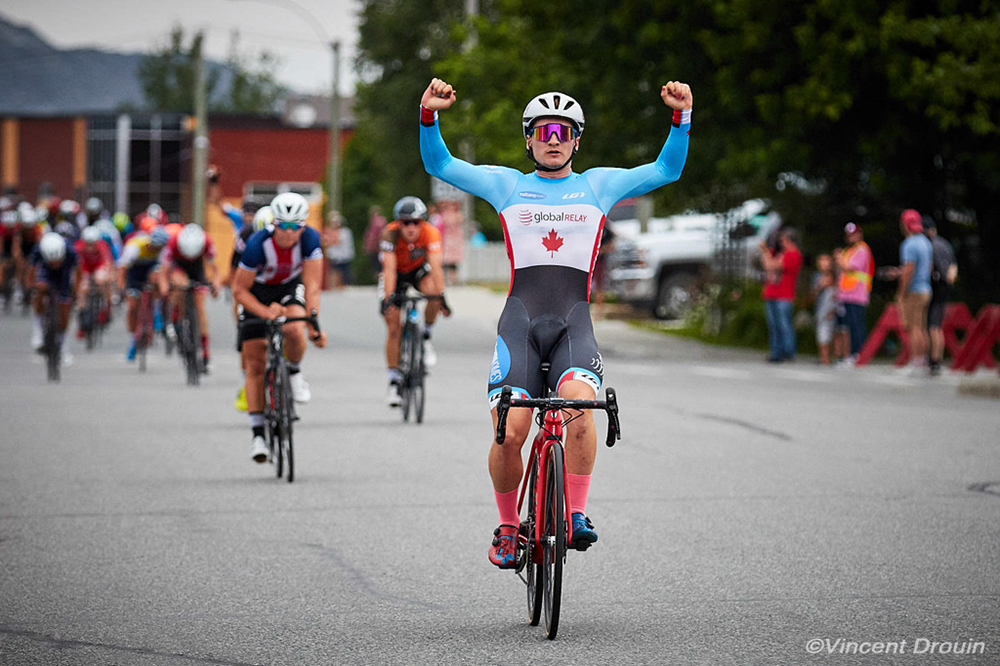 2019 Stage 4 win
Riley continues to explore options for both road and track.

With the current delay of the Tokyo Olympics to 2021. road is a lot more feasible right now for my progression. So, I'm looking more at road right now, but I'm still active on the track scene. This year, at the Milton [Track] World Cup I raced the Madison. The Team Pursuit line up is pretty much set in stone for Tokyo, so I'm taking this opportunity to go as far as I can on the road.

Riley is currently at the World Cycling Centre in Switzerland [since July 10th] as a first year Under-23.

It's a cycling-specific training centre and race team. I came over here in February to compete in some races, hopefully attend l'Avenir [before it was cancelled] and the world championships.

I think Abitibi is important; but it's such a unique course and not a 100% accurate representation of European racing. The roads are a bit too wide and the profiles are too flat, but the speed and the intensity of the racing is definitely equal with what you would expect in Europe. I think it is a good stepping stone for Junior riders going from provincial and national team level North American racing to European and international racing. I think it is a good step to see what the next level is like.