August 19/20 12:54 pm - Race Revisit - Mont-Ste Anne with Alison Sydor

Posted by Editoress on 08/19/20

Today is the latest in our series - Race Revisit - where we return to a past event that took place on (or around) this date. As well as a recap of the event and links to our original coverage - race reports, results, photos and video interviews - we will also be including comments and in-depth commentary from some of the Canadian athletes who were there.

This year would have been the 30th year of mountain bike racing at Mont-Ste-Anne, Quebec. Mont-Ste-Anne - MSA to everyone familiar with it - has been a part of the international mountain bike circuit since the World Cup began in 1991. It has hosted a World Cup every year except for the three times it has hosted the world championships - 1998, 2010 and 2019. This is a unique legacy; no other venue in the world has such a history. MSA is also legendary among riders as one of the few venues that offers truly classic mountain bike courses, making use of natural terrain instead of a bike park. A win at MSA is something every rider wants to have in their palmares.

We begin our Revisit of Mont-Ste Anne with Alison Sydor, one of the greatest mountain bikers in the history of the sport, with three world titles, an Olympic silver medal and 17 World Cup wins, including once at MSA, in 1996. Alison also finished second once (1995) and third twice (1997 and 1998).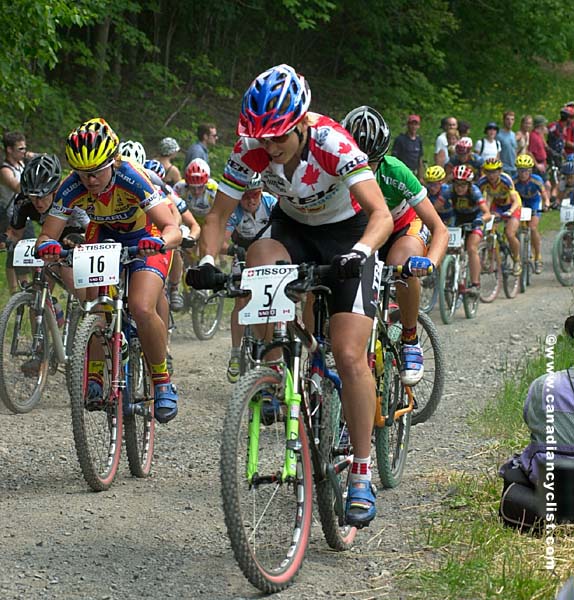 2002




2002 - Those were the days when riders were responsible for their own technical support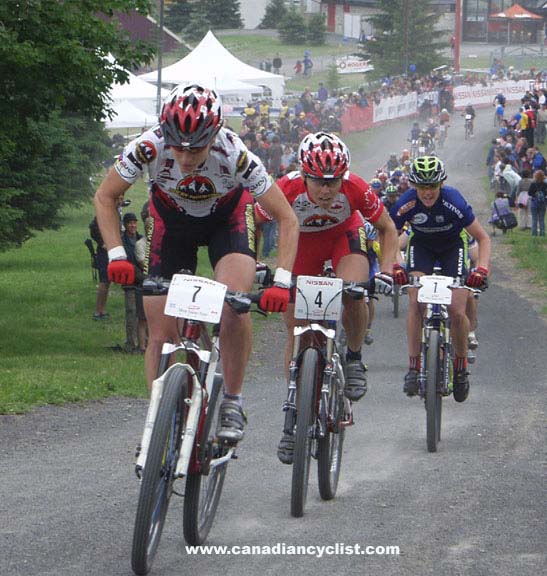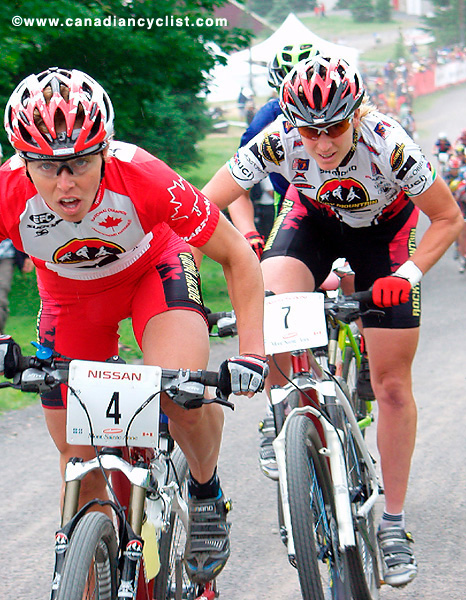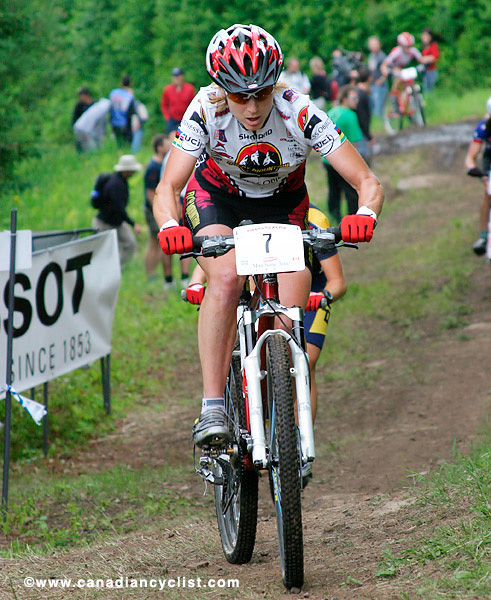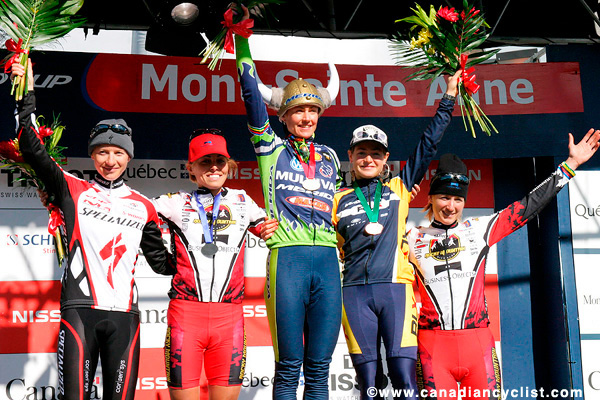 2004


2006
Alison spoke to us from her home in North Vancouver.


That was a really great memory [1991, her first international level mountain bike race at MSA]. It was so funny to be at the beginning ... the early days of a sport. Some of the memories now are funny to think about. I had wanted to get into mountain biking and had gotten a bike from Rocky Mountain, and there was the Grundig Cup happening, and I needed something to do between two [road] events that were happening in Quebec. A local racer billeted me and I got support from the local [Rocky Mountain] distributor.

Being kind of new to mountain biking, they asked what events I wanted to enter. I knew cross-country, but he [the distributor] was like, 'I think you should go in everything', and I was, 'What ... I don't know about that!'. Before I agreed I said he had to take me out on all the courses. So, we did a lap of the cross-country, then rode up to the top [there was an Uphill race in those days], and then we came down the downhill, and I totally crashed my brains out, it was a terrible crash, and I said 'No downhill'. Then he took me to the Dual Slalom course and I crashed there too, so no, I'm not doing the Dual Slalom. So I decided to enter the cross-country and the uphill events. [Alison won the uphill and was fifth in the cross-country]

One thing I do remember ... that was my first big cross-country race; I'd done a couple of local races but nothing like this. So, I didn't really appreciate the demands of cross-country mountain biking and I don't think I took any water, nothing! I was so bonked after ... I'd never experienced fatigue like that.

Mont-Ste-Anne wasn't what it is now, and the only thing I could get [to eat] was a hot dog, so the rep went and got me a hot dog. Powerbars [nutrition bars] were new and he went to the Powerbar rep and got me a box of Powerbars. I'd never had a Powerbar in my life and I ate five of them, and you can imagine ... five Powerbars and a hot dog ...

But it was a Grundig World Cup, the state of the art at the time ... it's hard to believe that that was the precursor to the World Cup experience. The early days was about putting your bike on a train in Europe and travelling to the World Cups with a duffle bag on your handlebars. It's fun to have those memories as well as seeing the sport grow and being a part of that. That was factor in me having such a long career; it was really exciting to be part of something that went from such grassroots to the Olympics. It was exciting to see the sport grow and change in such a short time. It was pretty cool.

Coming from the road sport, you grow up with the term 'Classics', and you have to say that Mont-Ste-Anne, was there from the very beginning, but it's not just the longevity, but also a lot had to do with Patrice [Drouin] and Chantal [Lachance] - founders of Gestev and organizers at MSA. Having some of the very best World Cup organizers from the beginning; they were constantly on the cutting edge, whether it was course design, whether it was amount effort put into the events - the promotion, the peripheral activities - like the non-PC Miss World Cup with the guys as the contestants! They always [Patrice and Chantal], with the atmosphere and the organization, and such a passion for the sport ... they just kept making it better and better, and setting the example for the world. It was a huge contribution to the sport, not just in Canada, but to the World Cup in general.
Previous Race revisits

Race Revisit - 2018-19 Tour de l'Abitibi with Riley Pickrell
Race Revisit - 1980 Tour de l'Abitibi with Alex Stieda
Race Revisit - 1976 Tour de l'Abitibi with Steve Bauer
Race Revisit - MTB Nationals with Alison Sydor
Race Revisit - MTB Nationals with Peter Disera
Race Revisit - MTB Nationals with Catharine Pendrel
Race Revisit - 2015 MTB Nationals with Raphael Gagne
Race Revisit - 2015 Pan Am Games with Monique Sullivan
Race Revisit - 2015 Pan Am Games with Jasmin Duehring
Race Revisit - 2015 Pan Am Games with Raphael Gagne
Race Revisit - 2014 Road Nationals with Leah Kirchman
Race Revisit - 2012/2016/2019 Road Nationals with Ryan Roth
Race Revisit - 2016 Road Nationals with Annie Foreman-Mackey
Race Revisit - 2004 Road Nationals with Gord Fraser
Race Revisit - 2018 Tour de Beauce with James Piccoli
Race Revisit - 2008 Tour de Beauce with Svein Tuft
Race Revisit - 1995 Tour de Beauce with Eric Wohlberg
Race Revisit - 1994 Tour de Beauce with Jacques Landry
Race Revisit - 1987 Tour de Beauce with Ivan Waddell
Race Revisit - 2012 Chrono Gatineau with Clara Hughes
Race Revisit - 2019 Baie-Saint-Paul Canada Cup with Leandre Bouchard
Race Revisit - 2019 Nove Mesto MTB World Cup with Haley Smith
Race Revisit - 2014 Giro d'Italia with Svein Tuft
Race Revisit - 1990 Paris-Roubaix with Steve Bauer