August 25/20 9:24 am - Race Revisit - Mont-Ste Anne with Catharine Pendrel

Posted by Editoress on 08/25/20

Today is the latest in our series - Race Revisit - where we return to a past event that took place on (or around) this date. As well as a recap of the event and links to our original coverage - race reports, results, photos and video interviews - we will also be including comments and in-depth commentary from some of the Canadian athletes who were there.

This year would have been the 30th year of mountain bike racing at Mont-Ste-Anne, Quebec. Mont-Ste-Anne - MSA to everyone familiar with it - has been a part of the international mountain bike circuit since the World Cup began in 1991. It has hosted a World Cup every year except for the three times it has hosted the world championships - 1998, 2010 and 2019. This is a unique legacy; no other venue in the world has such a history. MSA is also legendary among riders as one of the few venues that offers truly classic mountain bike courses, making use of natural terrain instead of a bike park. A win at MSA is something every rider wants to have in their palmares.

We begin our Revisit of Mont-Ste Anne with Alison Sydor, who won at MSA in 1996. Today, we talk with Catharine Pendrel. Catharine is an Olympic bronze medallist, two-time world champion with 11 World Cup victories, including four at MSA (2009, 2011, 2012 and 2016) - a record for Elite women in the cross-country.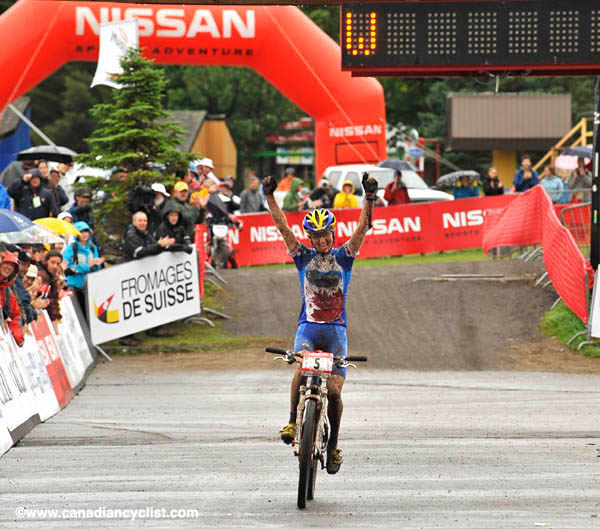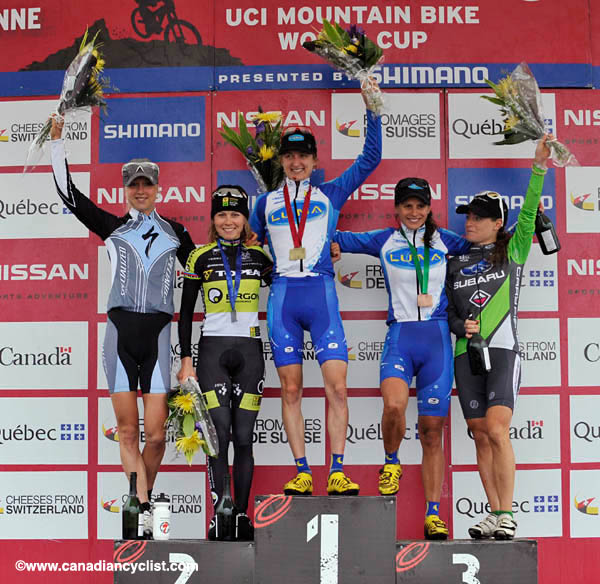 2009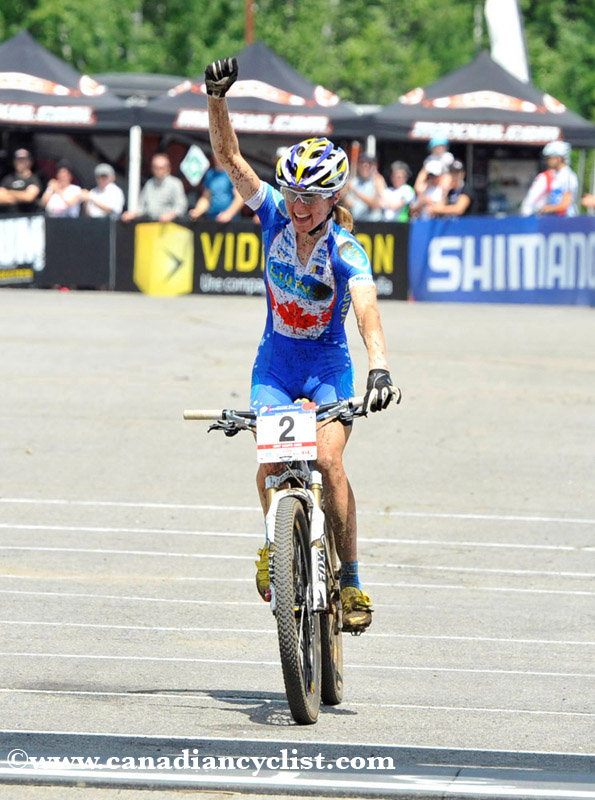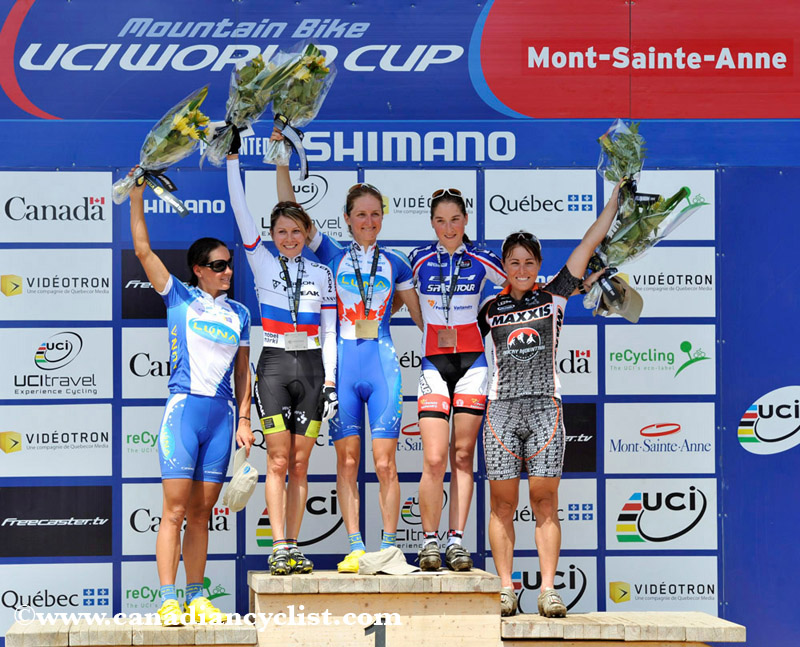 2011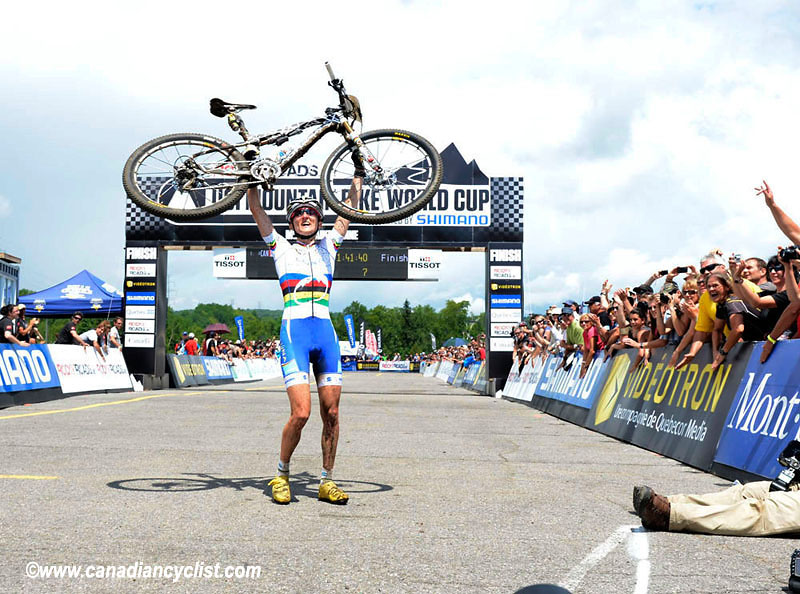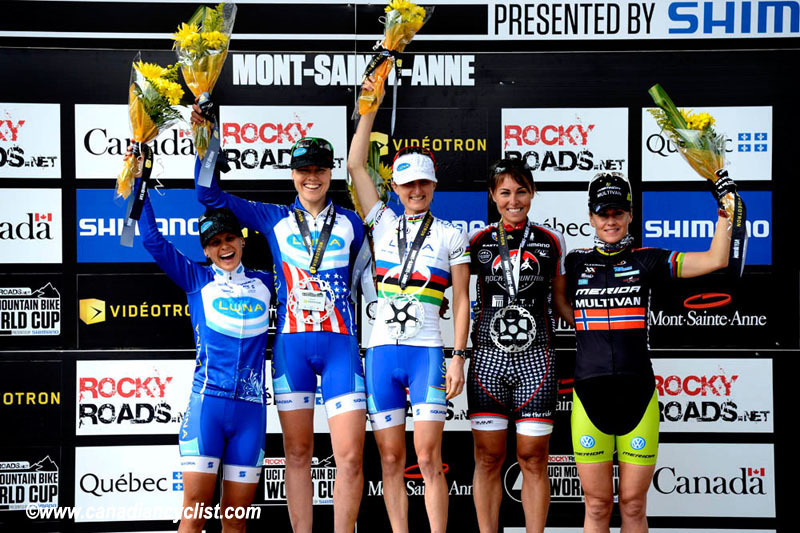 2012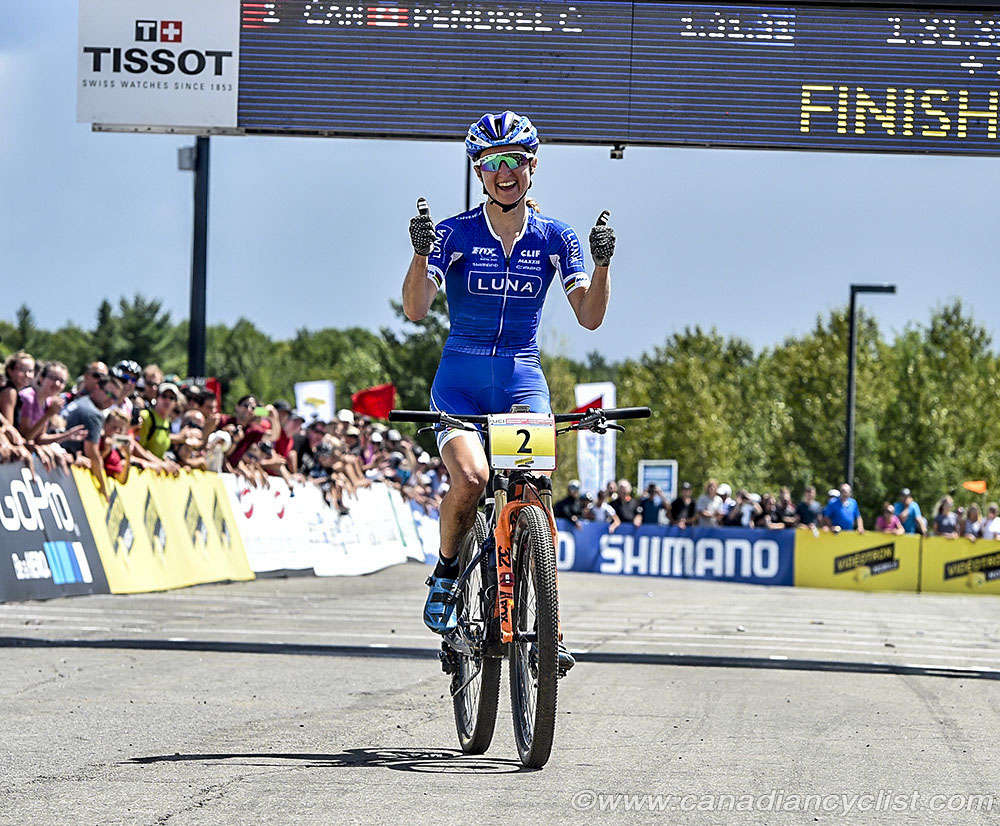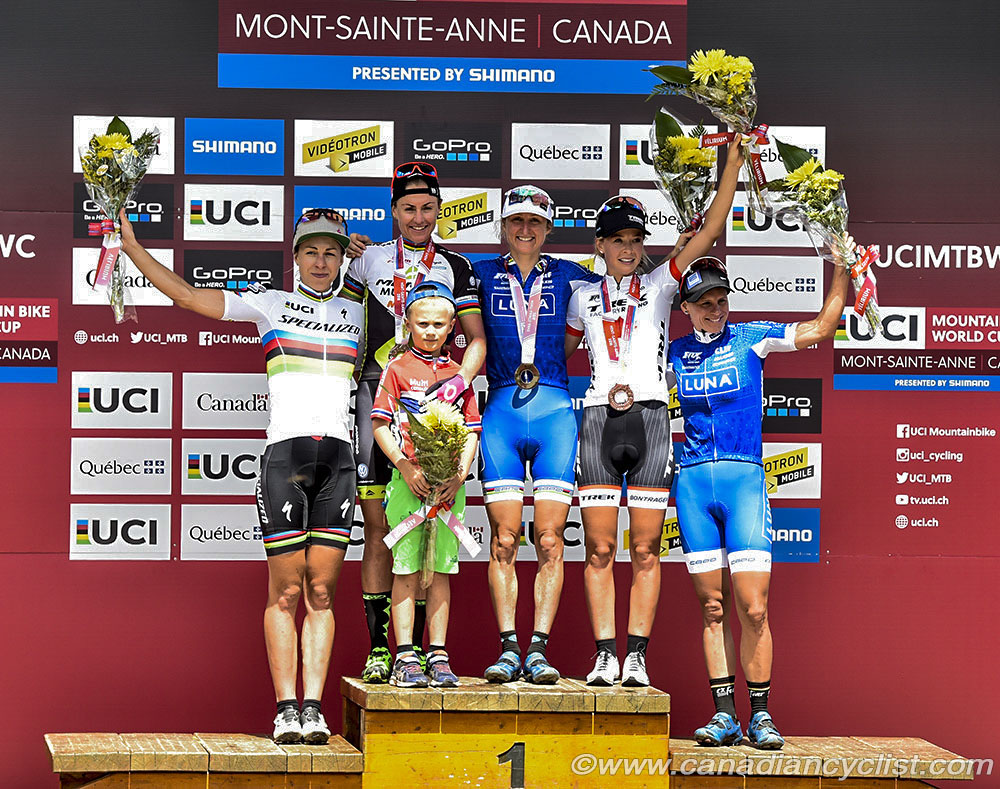 2016
2009
Interview
Report
Photos
Results

2011
Interview
Report
Photos
Results

2012
Interview
Report
Photos
Results

2016
Report & Photos
Results
Photos

Catharine spoke to us from her home in Kamloops, B.C.


I can't do a play-by-play of the races - Keith [husband and coach] remembers them better than I do! But, for me, what I love about Ste-Anne is that it is always extremely difficult; it's not a course that you can hide on. I think it is a really good testament as to who is the complete package. So it holds a lot of value to win for that reason.

As a Canadian, I feel proud that one of the toughest courses on the circuit is in Canada, and it's really special to perform there. When you watch a sporting event, it is so much more exciting when someone you know or can relate to does well. So when we go there and the Canadians are riding well, it just makes it more of a fun experience for the fans, and we get to feed off that energy. It's pretty neat.

One of the things I always remember is how hard it is to keep it together on the last lap, because some of the climbs are so challenging. And I love doing the Beatrice [rock garden descent] fast, because you get that great roar from the crowd when you come down ... which is always twice as loud for Canadians.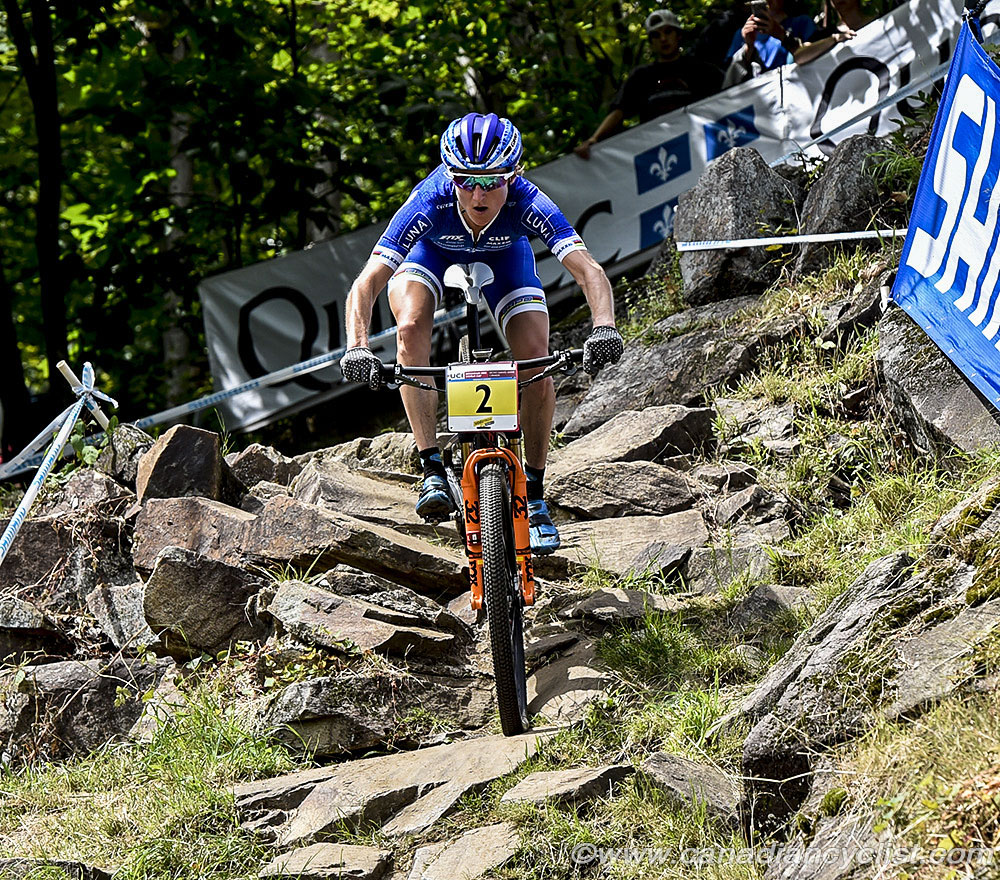 Typically, when I've won there I've been able to get off the front and ride away. I remember getting the time splits when you go through the feed zone, and who is chasing you, and using that as motivation to go faster.

Mont-Ste-Anne favours someone who is not afraid to go out hard and be relentless; that's why [Swiss rider] Jolanda [Neff] has been successful there [winner in 2014, 2015 and 2018]. When you get out in front, you can ride all the technical bits at your own pace, rather than having deal with traffic and getting around people. You need to be not fearful of steep uphills or steep downhills. You can't sit in and recover anywhere, so it does favour someone who is willing to go all in and doesn't play so much cat-and-mouse racing.

I look forward to seeing Ste-Anne back next year!
Previous Race revisits
Race Revisit - Mont-Ste Anne with Alison Sydor
Race Revisit - 2018-19 Tour de l'Abitibi with Riley Pickrell
Race Revisit - 1980 Tour de l'Abitibi with Alex Stieda
Race Revisit - 1976 Tour de l'Abitibi with Steve Bauer
Race Revisit - MTB Nationals with Alison Sydor
Race Revisit - MTB Nationals with Peter Disera
Race Revisit - MTB Nationals with Catharine Pendrel
Race Revisit - 2015 MTB Nationals with Raphael Gagne
Race Revisit - 2015 Pan Am Games with Monique Sullivan
Race Revisit - 2015 Pan Am Games with Jasmin Duehring
Race Revisit - 2015 Pan Am Games with Raphael Gagne
Race Revisit - 2014 Road Nationals with Leah Kirchman
Race Revisit - 2012/2016/2019 Road Nationals with Ryan Roth
Race Revisit - 2016 Road Nationals with Annie Foreman-Mackey
Race Revisit - 2004 Road Nationals with Gord Fraser
Race Revisit - 2018 Tour de Beauce with James Piccoli
Race Revisit - 2008 Tour de Beauce with Svein Tuft
Race Revisit - 1995 Tour de Beauce with Eric Wohlberg
Race Revisit - 1994 Tour de Beauce with Jacques Landry
Race Revisit - 1987 Tour de Beauce with Ivan Waddell
Race Revisit - 2012 Chrono Gatineau with Clara Hughes
Race Revisit - 2019 Baie-Saint-Paul Canada Cup with Leandre Bouchard
Race Revisit - 2019 Nove Mesto MTB World Cup with Haley Smith
Race Revisit - 2014 Giro d'Italia with Svein Tuft
Race Revisit - 1990 Paris-Roubaix with Steve Bauer