August 31/20 9:21 am - Race Revisit - 2009 Mont-Ste Anne & Bromont World Cups with Geoff Kabush

Posted by Editoress on 08/31/20

Today is the latest in our series - Race Revisit - where we return to a past event that took place on (or around) this date. As well as a recap of the event and links to our original coverage - race reports, results, photos and video interviews - we will also be including comments and in-depth commentary from some of the Canadian athletes who were there.

This year would have been the 30th year of mountain bike racing at Mont-Ste-Anne, Quebec. Mont-Ste-Anne - MSA to everyone familiar with it - has been a part of the international mountain bike circuit since the World Cup began in 1991. It has hosted a World Cup every year except for the three times it has hosted the world championships - 1998, 2010 and 2019. This is a unique legacy; no other venue in the world has such a history. MSA is also legendary among riders as one of the few venues that offers truly classic mountain bike courses, making use of natural terrain instead of a bike park. A win at MSA is something every rider wants to have in their palmares.

We began our Revisit of Mont-Ste Anne with Alison Sydor, who won at MSA in 1996. We then talked with Catharine Pendrel, with four World Cup victories at MSA (2009, 2011, 2012 and 2016) - a record for Elite women in the cross-country. Today, we are going to talk with Geoff Kabush about his stellar back-to-back weekends at MSA and Bromont in 2009, when he first finished third at MSA, followed by his World Cup win at Bromont.

Mont-Ste-Anne

Geoff Kabush had a strong run at MSA in the late 2000s, finishing third in 2007, second in 2008 and then third again in 2009. Julien Absalon won all three years, with Jose Hermida taking the other top-3 spots each time (ie, second/third/second).

Interview
Report
Photos
Results

Bromont

One week after Mont-Ste-Anne, the World Cup moved slightly further west to Bromont. Bromont has been the site of many World Cups, plus the world championships in 1992. In 2009, the course was a new one on freshly laid trails and, for the men's race, was hit with torrential rain, making it a slippery, mucky mess and turning some sections into quagmires. Disc brake manufacturers were still developing pads to handle such conditions, and many riders completely lost their brakes to the gritty mud. Absalon and Ralph Näf led the first lap, with Kabush bridging up to Näf on Lap 2 as Absalon suffered a broken chain. Kabush then pulled away to win by 90 seconds over Hermida, with Näf holding on for third.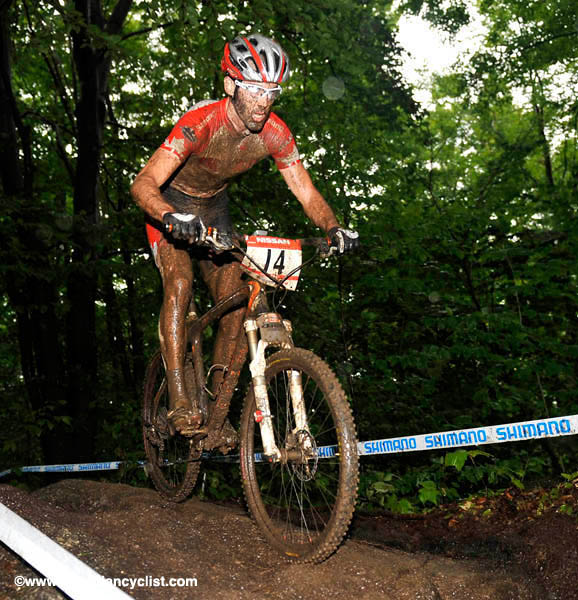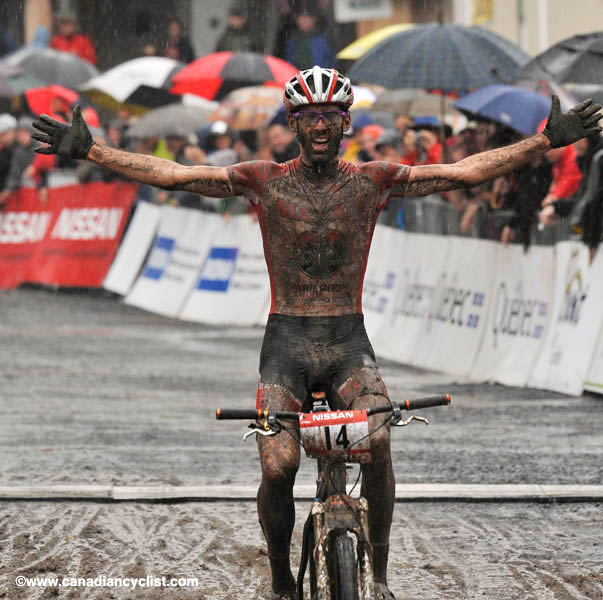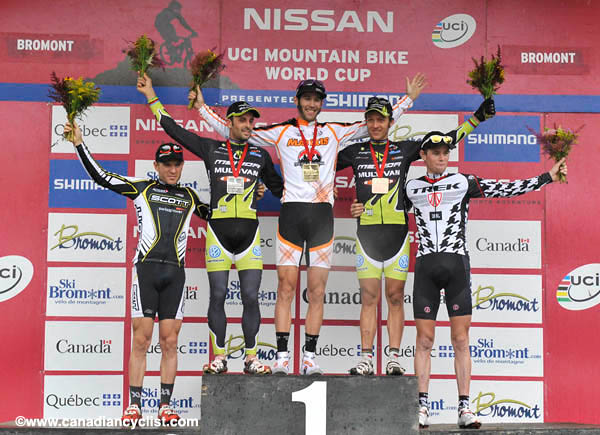 Interview
Report
Photos
Results

Geoff spoke to us from his home in B.C.


It's always super special racing in Canada. World Cups at Grouse [Mountain, Vancouver] were some of my first top results. But, yeah, Mont-Ste-Anne ... it's always tough for North Americans traveling to Europe. I think it was just the familiarity and being at home in Quebec was a big advantage.

I never really figured that the course at MSA was a great course for me, because it was such steep climbing, and being a bigger guy ... so I think my success there was just being comfortable on the technical stuff and able to recover. The races in those years were a bit longer and I would recover and come on stronger at the end of the races.

I think I had five podiums there over my career [top-5] and 2009, that month of August, was pretty special for me. I remember finishing third [at MSA]; the one thing I can remember is I tried out using the single ring [chainring] at Mont-Ste-Anne that year. I think back then we were still on an 11-32 or 11-36 cassette, so I tried a single ring 34 there, which is a pretty tall gear. On the last lap I barely made it up the Marmot climb, my legs were just giving out and I had to walk one of the top switchbacks, but held on and had another podium there. I never won it, but I was second and third several times.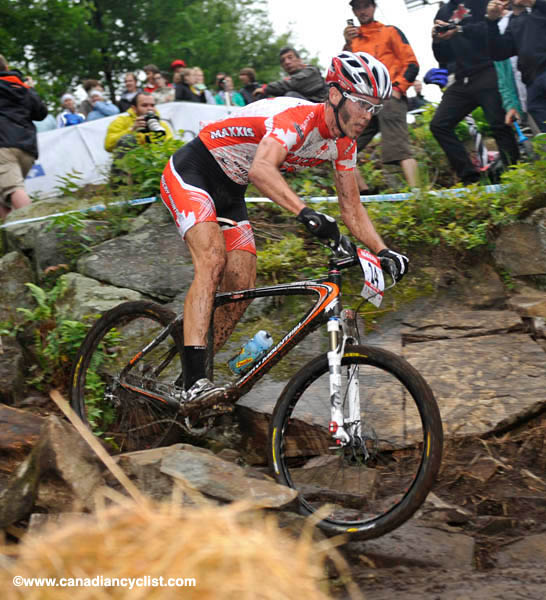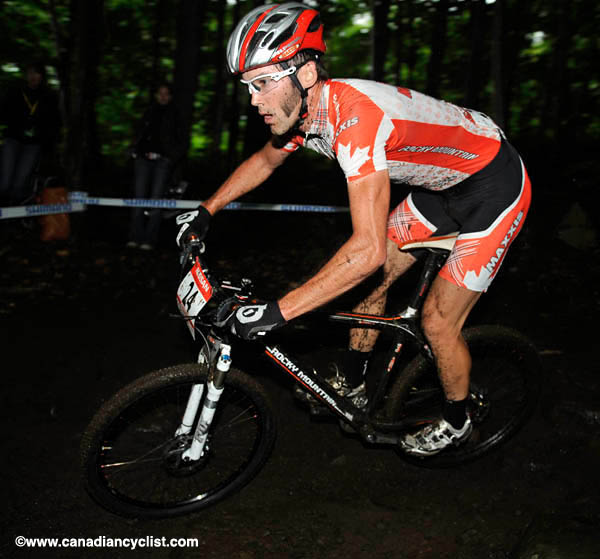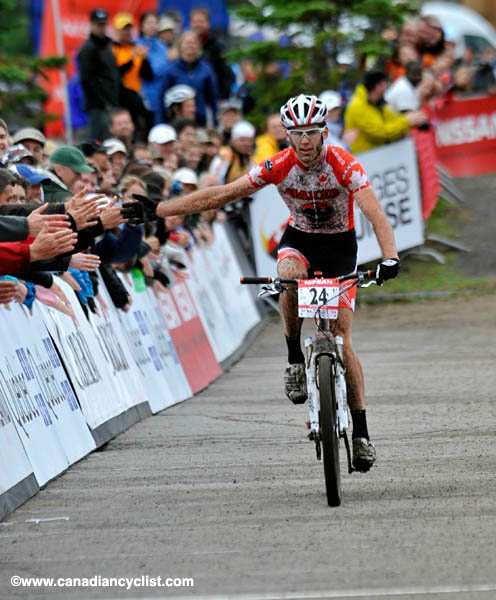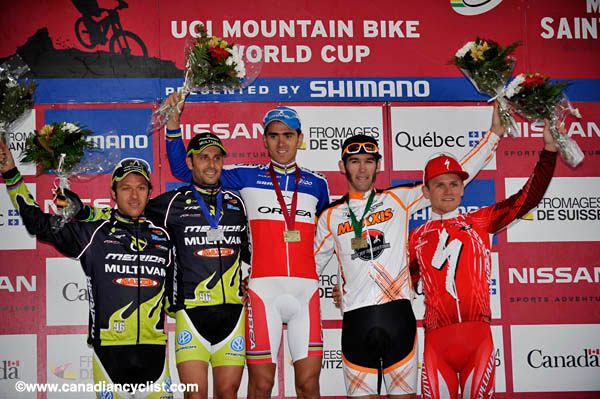 It was super special, especially on that Marmot climb, with the steep switchbacks and near the end of the lap. Always big crowds there, leaning over and chanting my name. The excitement as I would make my move up through the field was special, especially in the Marie-Hélène Premont years ... I remember warming up and feeling goosebumps and chills because you could hear the roar of the crowd traveling around the course for Marie-Hélène, but they were definitely supportive of all Canadians. I have a lot of good memories there.

2009 [at Bromont] is a year I remember well. I remember warming up on a trainer in the tent with an hour to go and it just was apocalyptic thunderstorms. That just put a big smile on my face because I was excited about those conditions because they favoured me.

I remember putting on the mud tires ... man, you don't see that on World Cup course anymore because the courses don't deteriorate. I had the [Maxxis] Medusa mud tires on, which are basically spiked tires, and ran them super low back then; tubeless was just starting to come in. Low back then was 22-23 PSI. I had lots of confidence and a big smile on my face when we lined up.

I found my way to the front on the first climb, felt super comfortable and there was no stress for me in those conditions. I felt like I was floating through that course. Absalon was one of the last guys in front of me and I was catching him just as he was having some chain issues.

The [mud] was a huge factor; it was kind of a sandy soil so people were just destroying their brake pads. Back then, there weren't that many people on Shimano [brakes] and with Shimano being more durable I had a lot less issues. But, even still, I could barely lock up my brakes. When I crossed the finish line, I could hardly stop.

My frame after the race ... there was a quarter-sized hole rubbed through the chainstays from my heels rubbing on the frame. That was the early days of carbon fibre and in super abrasive conditions and my heels rubbed, making a hole, but somehow I made it across the finish line. We cut that frame apart and I still have the headtube, along with the medal and number plate.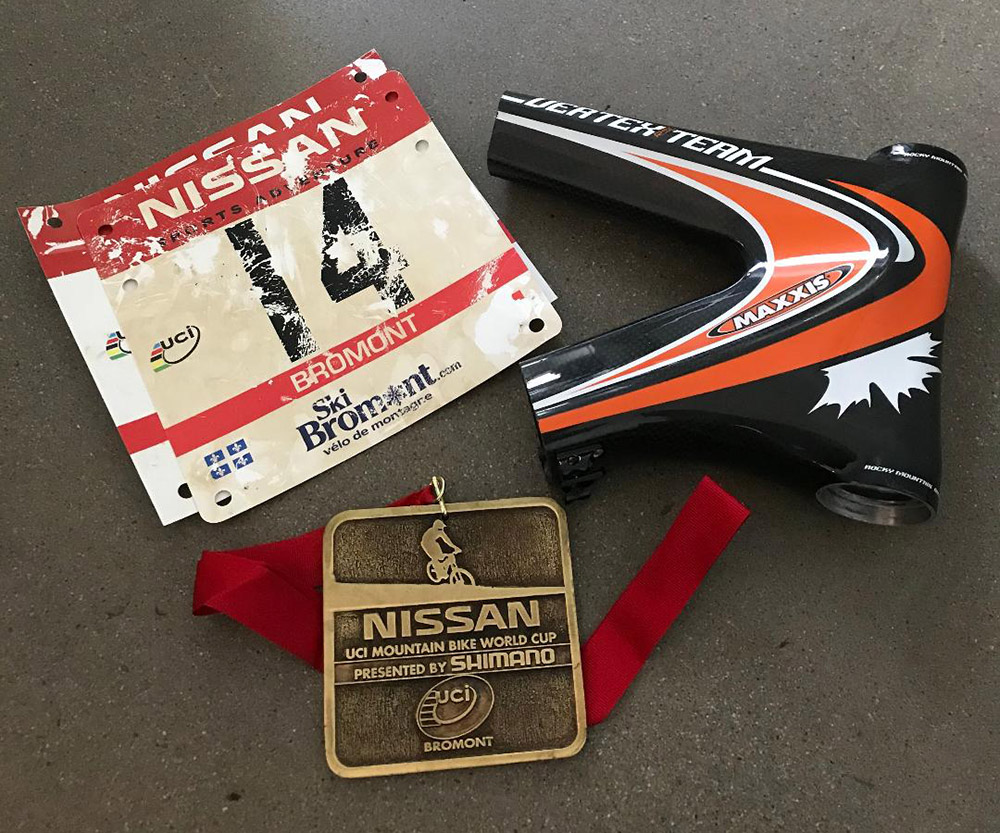 Photo courtesy Geoff Kabush
When you are feeling good ... I opened up over two, two and half minute lead going into the last lap and still just had to keep my focus. On the last traverse, in the last minute or so, I could finally relax and know I had the win. It was a special moment in my memory.

After so many years fighting it out on the World Cup and the problems with doping in the sport, and making the right decision to come through that period [clean] ... and to finally stand on the top step of the podium that one time in my career was the highlight of my career.

It made it all worthwhile. I'm not going to look back and say coulda', shoulda' woulda' ... but, I look back at some of my top-10s on the World Cup around the year 2000 and look at the results list, and the Sydney Olympics [2000] when I was top-10, and I look at the riders in front of me ... I was so dedicated back then, and who knows what kind of results I could have had in my career.

But I wouldn't change anything about the decisions I made [to not dope]. I'm super proud of the decisions I made, and people can relate and value that now. It led to a lot of really good relationships in the bike industry for me, and people really respect what I went through. It has given me a platform to speak out about anti-doping and clean sport, because not many people can challenge my voice and say 'you weren't there, you don't know the decisions I had to make', because I was there and I made those decisions. I proud that the sport has improved a bit - you can never say it is 100% clean. Luckily, with my skillset, I was able to keep going.

Bromont in 2009 was a special course and conditions, and my fitness was on top form and it all came together, and I was able to stand on top of the podium. Being my home country and a lot of my sponsors were around at that time, it was a pretty cool moment.

Previous Race revisits

Race Revisit - Mont-Ste Anne with Catharine Pendrel
Race Revisit - Mont-Ste Anne with Alison Sydor
Race Revisit - 2018-19 Tour de l'Abitibi with Riley Pickrell
Race Revisit - 1980 Tour de l'Abitibi with Alex Stieda
Race Revisit - 1976 Tour de l'Abitibi with Steve Bauer
Race Revisit - MTB Nationals with Alison Sydor
Race Revisit - MTB Nationals with Peter Disera
Race Revisit - MTB Nationals with Catharine Pendrel
Race Revisit - 2015 MTB Nationals with Raphael Gagne
Race Revisit - 2015 Pan Am Games with Monique Sullivan
Race Revisit - 2015 Pan Am Games with Jasmin Duehring
Race Revisit - 2015 Pan Am Games with Raphael Gagne
Race Revisit - 2014 Road Nationals with Leah Kirchman
Race Revisit - 2012/2016/2019 Road Nationals with Ryan Roth
Race Revisit - 2016 Road Nationals with Annie Foreman-Mackey
Race Revisit - 2004 Road Nationals with Gord Fraser
Race Revisit - 2018 Tour de Beauce with James Piccoli
Race Revisit - 2008 Tour de Beauce with Svein Tuft
Race Revisit - 1995 Tour de Beauce with Eric Wohlberg
Race Revisit - 1994 Tour de Beauce with Jacques Landry
Race Revisit - 1987 Tour de Beauce with Ivan Waddell
Race Revisit - 2012 Chrono Gatineau with Clara Hughes
Race Revisit - 2019 Baie-Saint-Paul Canada Cup with Leandre Bouchard
Race Revisit - 2019 Nove Mesto MTB World Cup with Haley Smith
Race Revisit - 2014 Giro d'Italia with Svein Tuft
Race Revisit - 1990 Paris-Roubaix with Steve Bauer