September 27/20 16:38 pm - Woods 12th as Alaphilippe Wins Men's Road Title

Posted by Editoress on 09/27/20

France won its first men's road race world title in over two decades on Sunday, when Julien Alaphilippe made a bold solo attack on the final climb. Wout van Aert (Belgium) won the five-way sprint for silver, after also winning silver in the time trial on Friday. Marc Hirschi (Switzerland) took the bronze medal. Canada's Mike Woods was in the hunt until the final climb, eventually finishing 12th. Hugo Houle was the only other Canadian finisher, in 61st.

Weather reports had been predicting cold weather and rain all week, but on the day the rain held off until the end of the awards ceremony. The men did nine laps of the 28 kilometre circuit through the countryside around Imola; a very tough circuit with three climbs per lap and contucted on narrow, twisting country roads.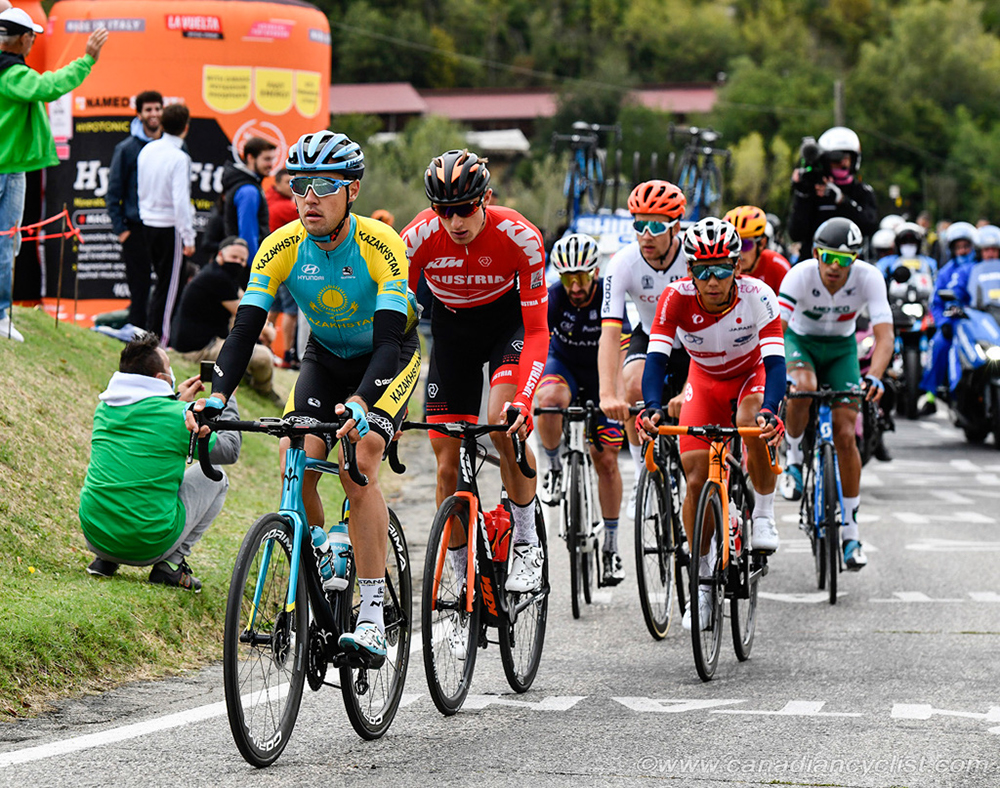 Early break
An early break of seven riders went clear on the first lap, eventually building a lead of over 14 minutes before the Belgians and others began to pull it back to a more manageable six minutes.

The French then went to the front, setting a very hard tempo that began to shrink the peloton quickly, while the leaders dwindled to two, who were scooped up with approximately two and a half laps to go.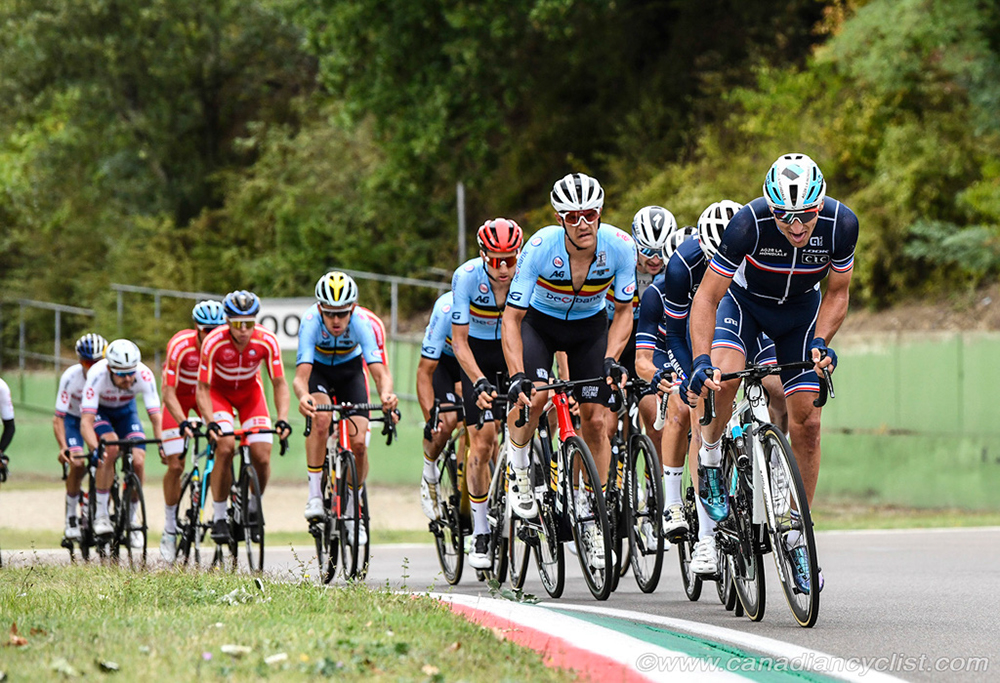 French and Belgians drive the pace in latter laps
Tadej Pogacar
Tour de France champion Tadej Pogacar (Slovenia) then attacked with less than two laps to go, quickly opening a 15 second gap, but the Belgians went to the front. As they started the last lap, Pogacar had amazingly increased his lead to 26 seconds, as the pace behind became frantic. Tom Dumoulin (Netherlands) managed to bridge across, but the duo were finally reeled in.

Attacks began immediately on the first climb of the last lap, with Vincenzo Nibali (Italy) briefly getting away with three others before they were pulled back. The peloton had shattered before a smaller group - including Woods - reformed before the larger of the two climbs.

Hirschi then attacked, setting up what would be the winning move, also containing van Aert, Alaphilippe, Michal Kwiatkowski (Poland), Jakob Fuglsang (Denmark) and Pimoz Roglic (Slovenia) - a world class group. Woods missed this group and rode in the the second group.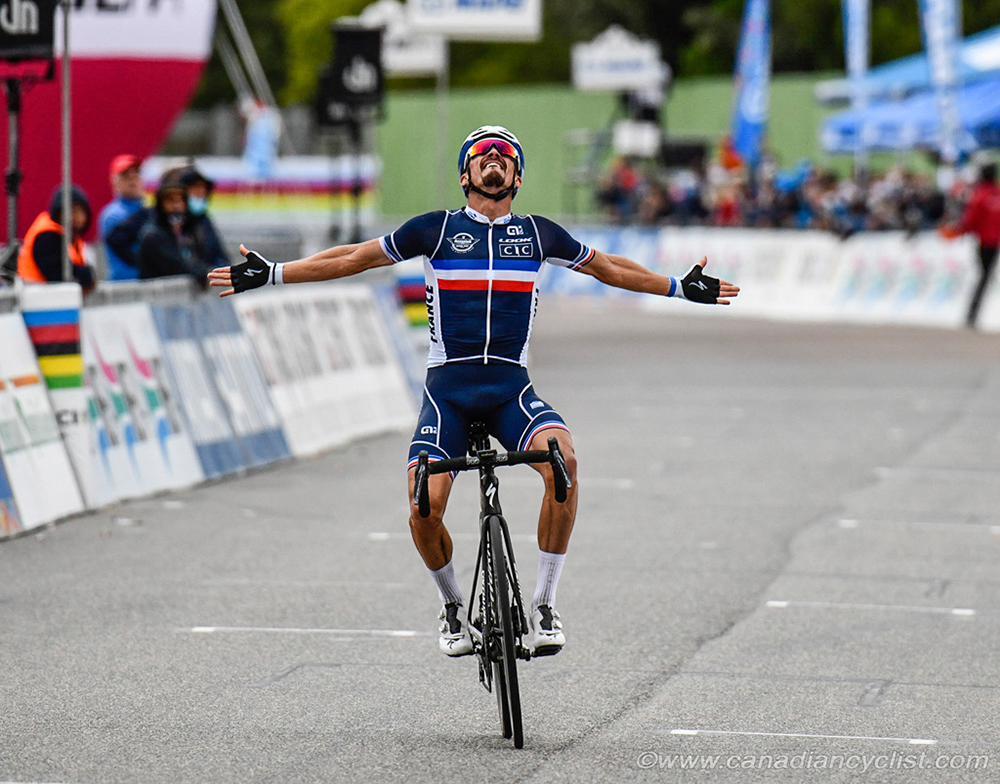 Julien Alaphilippe became the first Frenchman to bring home the rainbow stripes since Laurent Brochard in 1997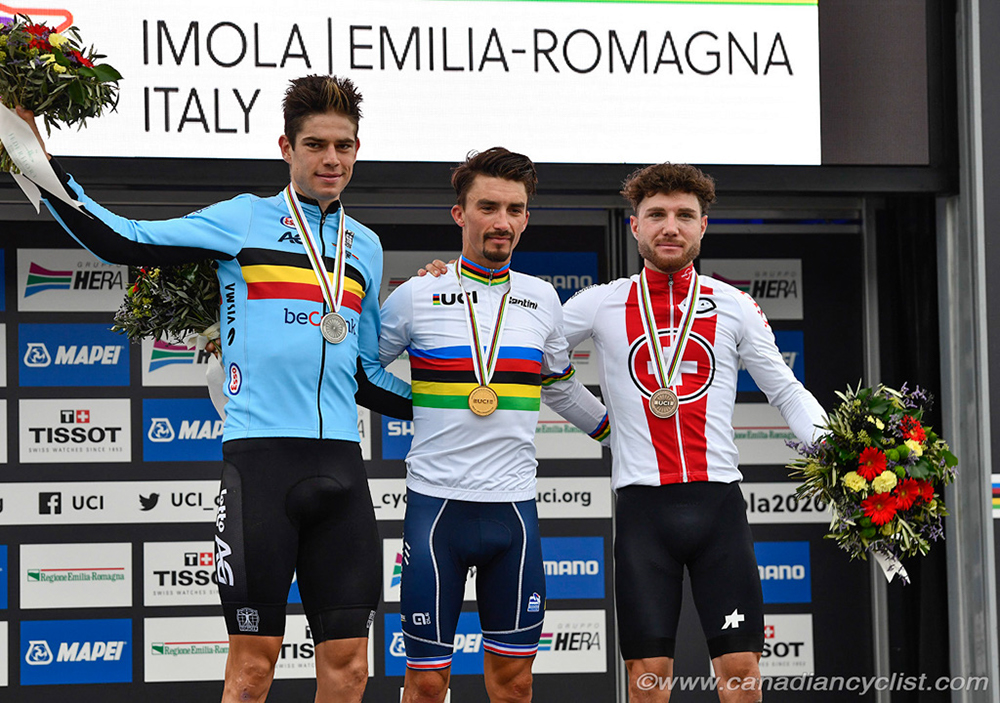 L to r: Wout Van Aert, Julian Alaphilippe, Marc Hirschi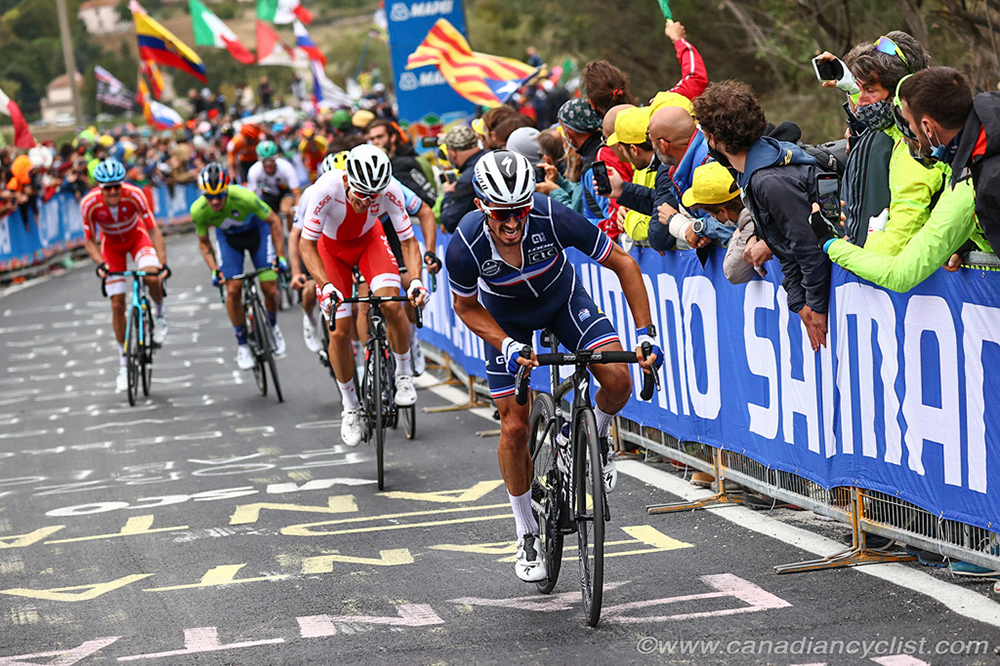 At the front, Alaphilippe launched a massive attack on the steeper parts of the climb, cresting the top 12 seconds clear. The gap would stay the same along the top of the ridge and the initial descent, but then the Frenchman's lead slowly began to grow, as the riders behind stopped contributing and started thinking about the sprint for silver.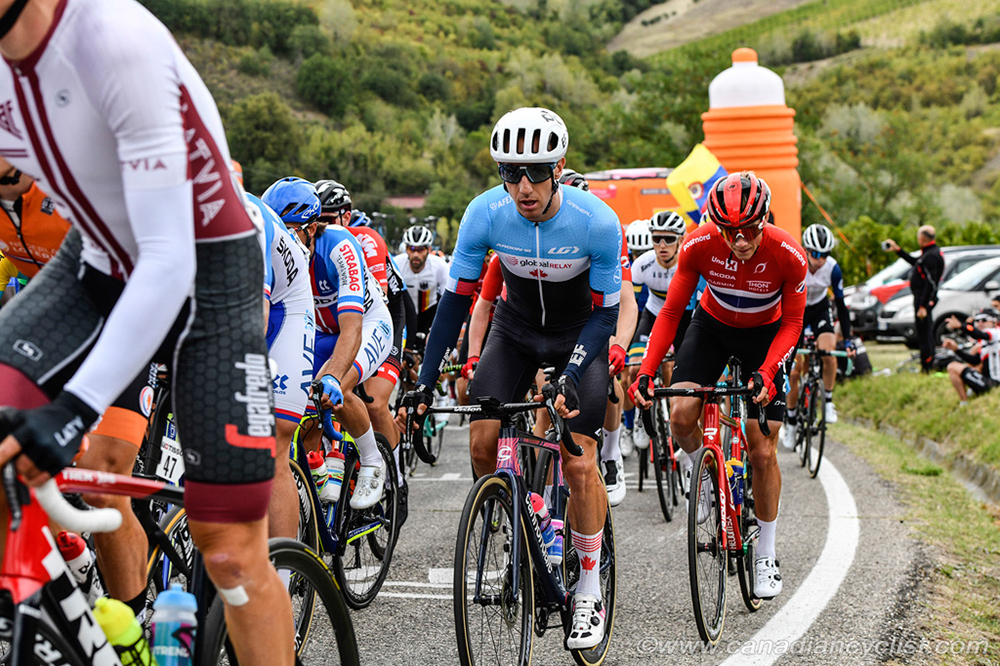 Mike Woods
Woods commented: "The race went okay; the guys did a really good job of helping me out and protecting me throughout the day. It was a really hard course and I had good legs today; felt good throughout the day.

"I was able to move well through the peloton but just wasn't able to execute properly on the final climb. I was too far back when the move went and it cost me; I just didn't have the legs to get across to that group. So I ended up sprinting for seventh and came 12th.

"Not the best day, but not awful, considering where I have come from [broken leg earlier in the year] and where I was at the start of the year."

Photo Gallery
Road World Championships: Men's Road Race results