September 29/20 12:00 pm - MTB World Cup Season Opens in Nove Mesto - UPDATED

Posted by Editoress on 09/29/20

The pandemic-shortened Mountain Bike World Cup opened on Tuesday in Nove Mesto, Czech Republic for a double round of racing, beginning with the first of two Short Tracks. In bitterly cold (9C, but closer to 4C with the wind) and rainy conditions, two first time winners took the top step of the podium, with Evie Richards (Track Factory XC) winning the women's race and Mexican champion Jose Ulloa (A.R. - Efideporte) the men's. Emily Batty (Trek Factory XC) was the top Canadian woman in 17th, and Peter Disera (Norco Factory) the top Canadian man in 28th.

The wet, muddy conditions made the track slow and slippery. Germany's Elizabeth Brandau was the early leader in the women's seven lap race, with world champion Pauline Ferrand Prevot (Canyon Collective) and Richards also spending most of the race near the front. In the end, on the long asphalt finishing straight, it was a drag race between Richards and Ferrand Prevot. Both threw their bikes at the line in a photo finish, with the British rider getting her first World Cup win.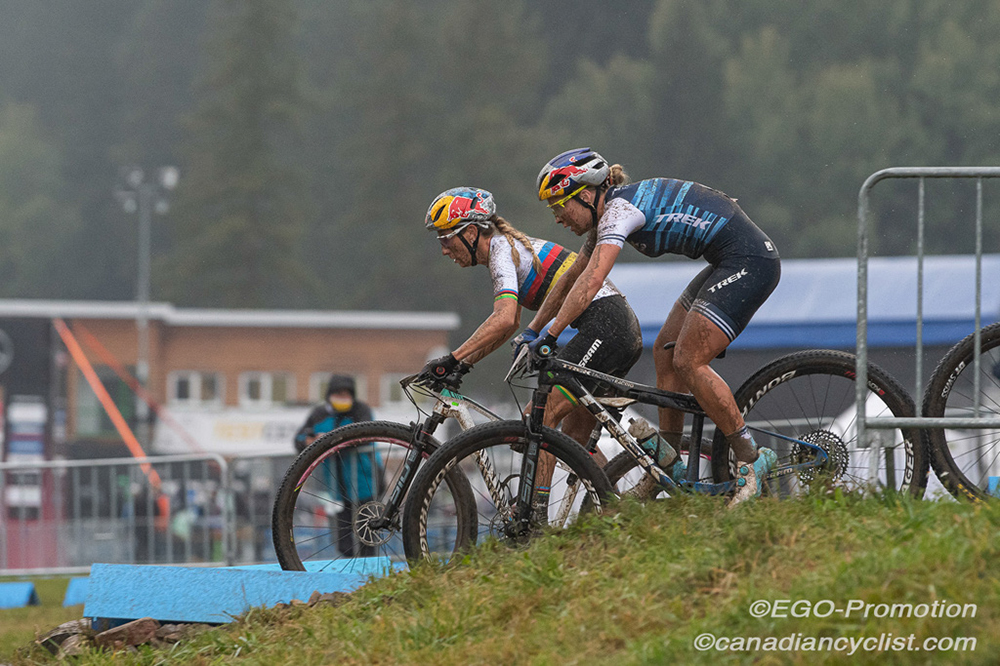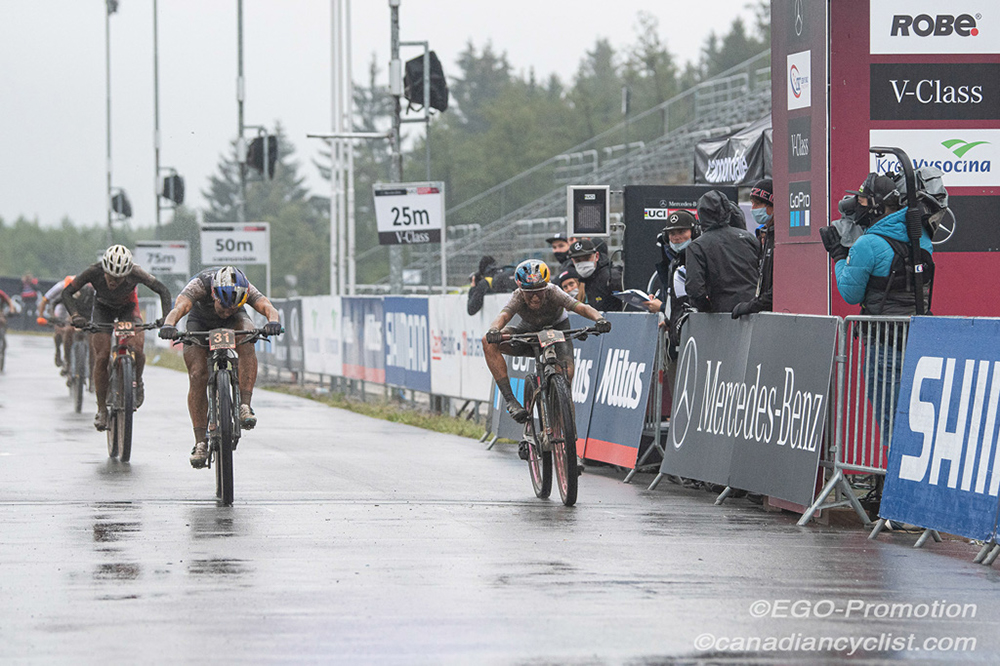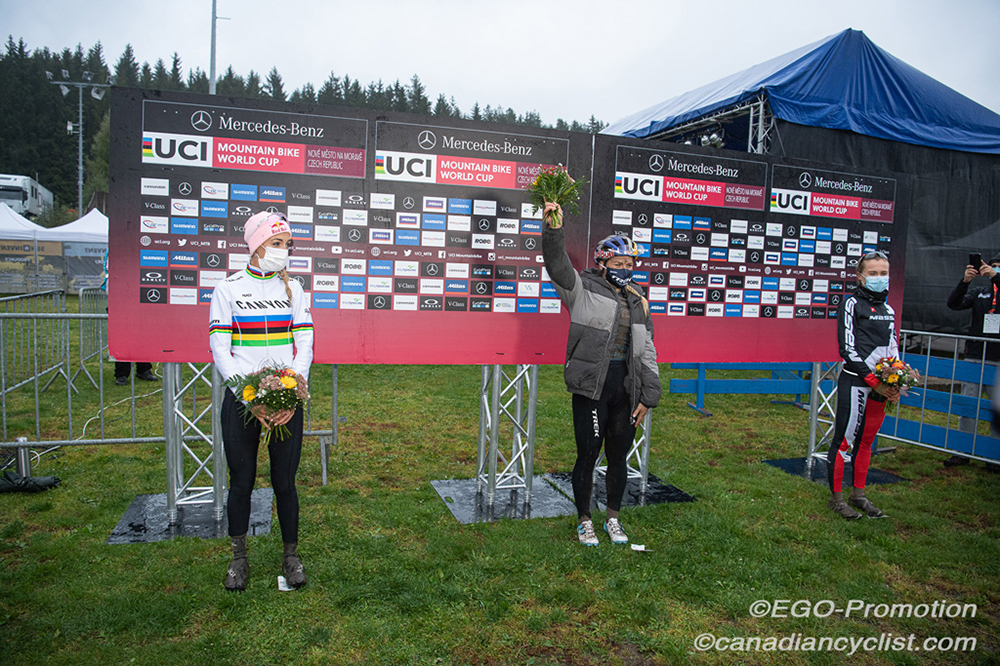 L to r: Ferrand Prevot, Richards, Lecomte
"I didn't think I had won," said a very excited Richards, racing in her first ever Short Track. "I thought Pauline won. I thought finishing top-10 would be amazing, so I shocked and just so happy. It was so muddy I couldn't really think too much; I just wanted to sprint for it, and if someone was going for it, I would just go even faster. I just can't believe I won."

Richards had knee issues over the summer, but noted, "I think being forced to rest over the summer with no racing probably did me good, because otherwise I just tend to overtrain. Maybe having a bad knee actually did help me during the lockdown, because I trained so well off the back of it."

Ferrand Prevot said, "No, I'm not disappointed. I think I did a good race. I tried to stay at the front all the race, and at the end Evie was just stronger. I'm happy with second today.I want to be good for the World Cups and world championships, and I think I am getting better and better. I would like to be on the podium this week. I was a bit nervous, because I didn't know how the others [riders] would be going. So I'm happy to be here and see the progress I have made. I'm looking forward to Thursday's race [XCO]."

Haley Smith was riding mid-pack for the first half of the race before she started to slide back, eventually finishing 32nd. Batty did the opposite, moving up in the final three laps.
"Despite the winter like conditions, I'm feeling very thankful we get to kick off the UCI Mountain Bike World Cup series officially," said Emily. "It was undoubtedly a bit of an unknown coming into Czech with my last race in February, but we're all in the same situation, and the consensus of a condensed race schedule is welcomed with open arms."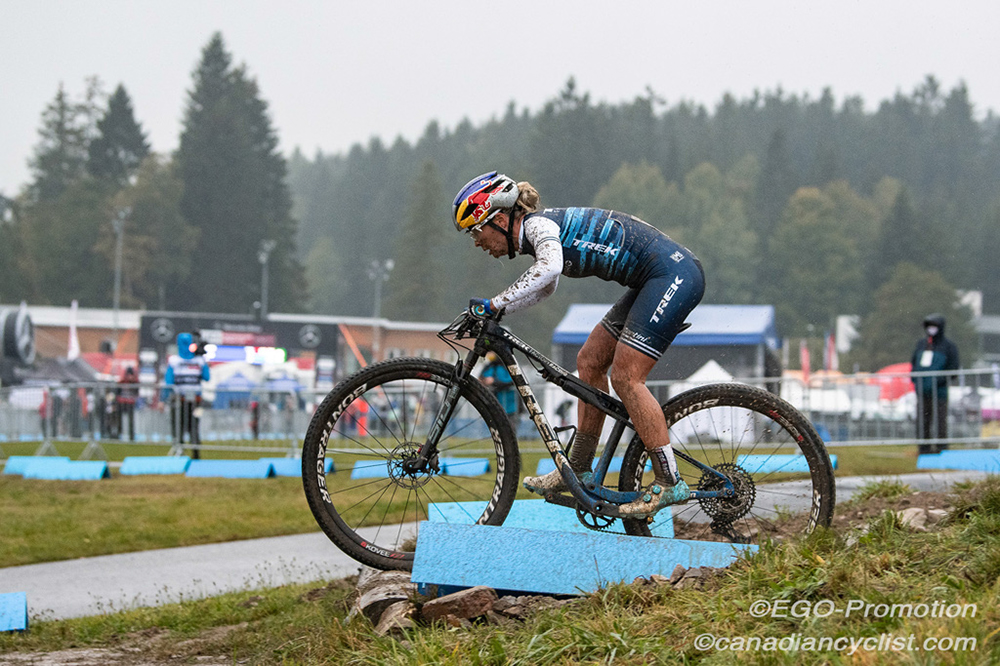 Emily Batty
"I felt great coming into this event. Between bikepacking across Iceland, altitude training in Livigno, and quite a few intervals, I surprised myself with a 17th place finish in the short track. It's an excellent sign for me heading into the longer and more technical XC racing to follow, so hopefully, I'll be higher up the ranking in the coming days."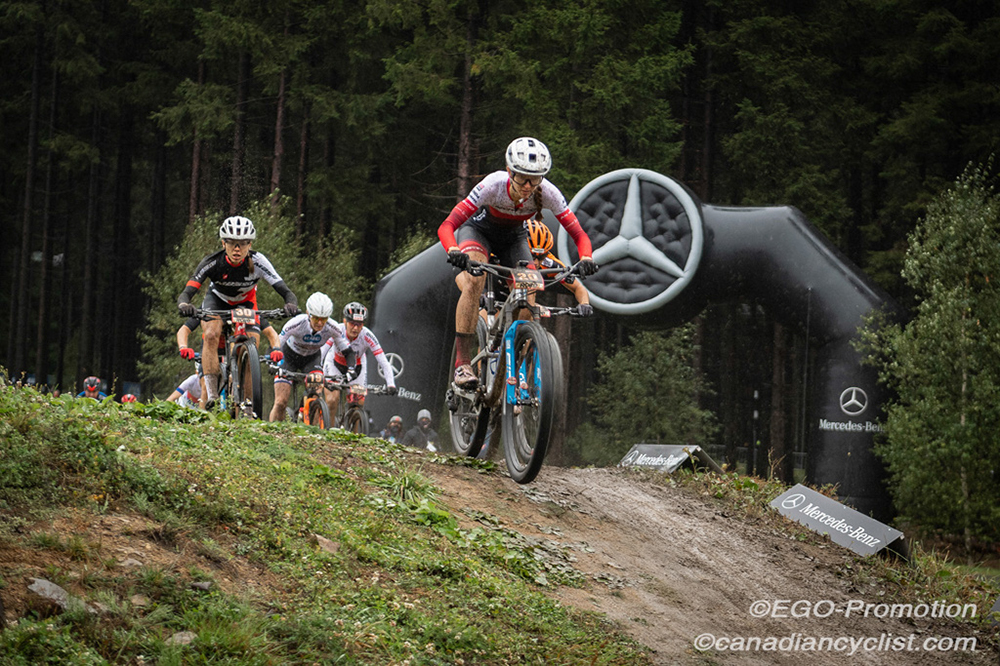 Haley Smith
"It was so nice to be back," said Smith. "I was really scared that I would be mentally flat/rusty, but that went away as soon as we started. I was a little timid in the pack but that's just being unfamiliar with it, I think. I was sitting well for the first half, but then someone slid off their line in the muddy jumps into my bike and I was dropped while dealing with the repercussions of that. Obviously disappointed with the outcome of that, but really happy that we get to race at all this year."

"My fitness is really high right now, but I expect it will take me a few races to translate that to race form. Honestly, any races this year are "bonus", as I've had my eyes set firmly on July 2021 [Olympics] since May of this year. So no idea what will happen in the next two weeks! Just approaching it with an extremely low-pressure attitude and enjoying it."

The men raced one extra lap, for eight total, and, missing at the front for the entire race were a couple of perennial favourites - world champion Nino Shurter (SRAM MTB) and Henrique Avancini (Cannondale Factory). Neither factored in the race, with Avancini finishing 12th and Schurter a distant 29th.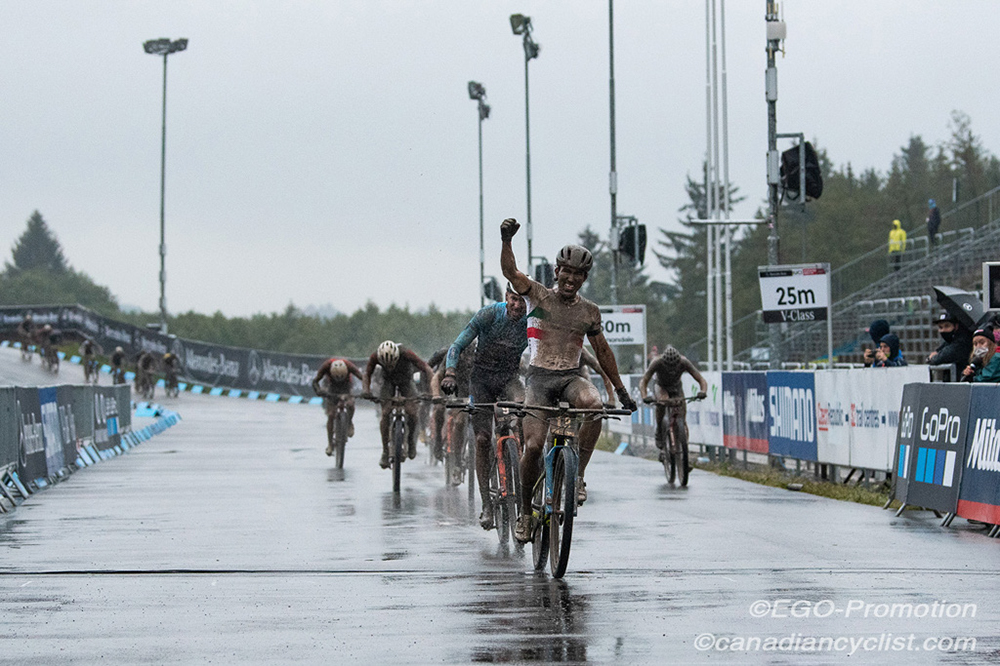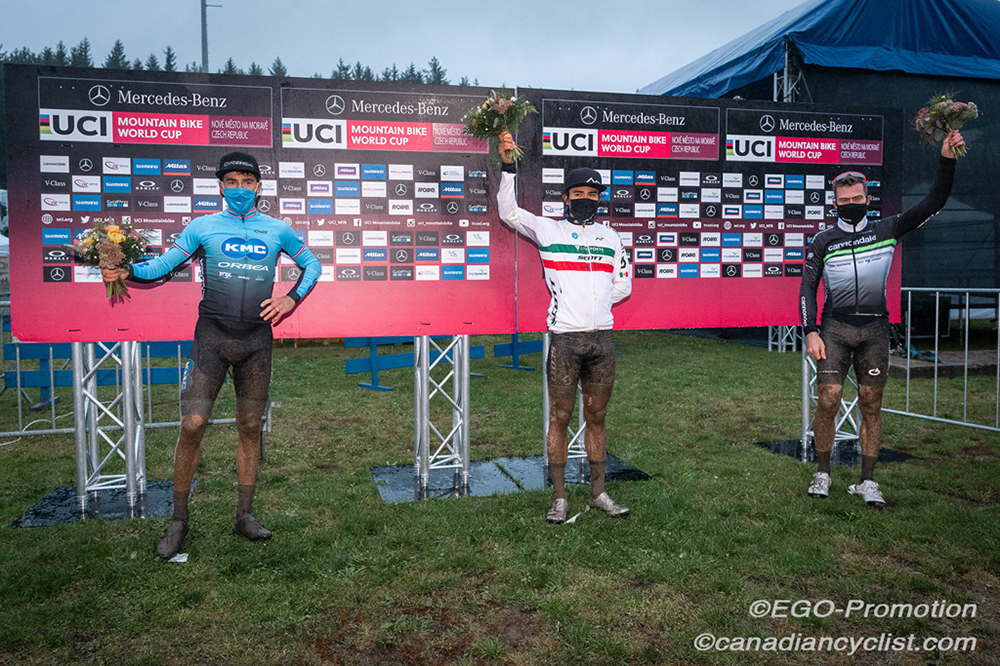 The front of the race was dominated by Victor Koretzky (KMC-Orbea), Maxime Marotte (Cannondale Factory) and Filippo Colomobo (Absolute-Absalon-BMC), with Pan American champion Ulloa always in the top ten. Koretzky led out the final sprint, with Ulloa showing incredible speed in the last 100 metres to come by the Frenchman with enough distance to throw his arms in the air at the finish. Disera dangled at the back of the main group for most of the race, while Leandre Bouchard (Pivot Cycles - OTE) finished just behind them in 34th.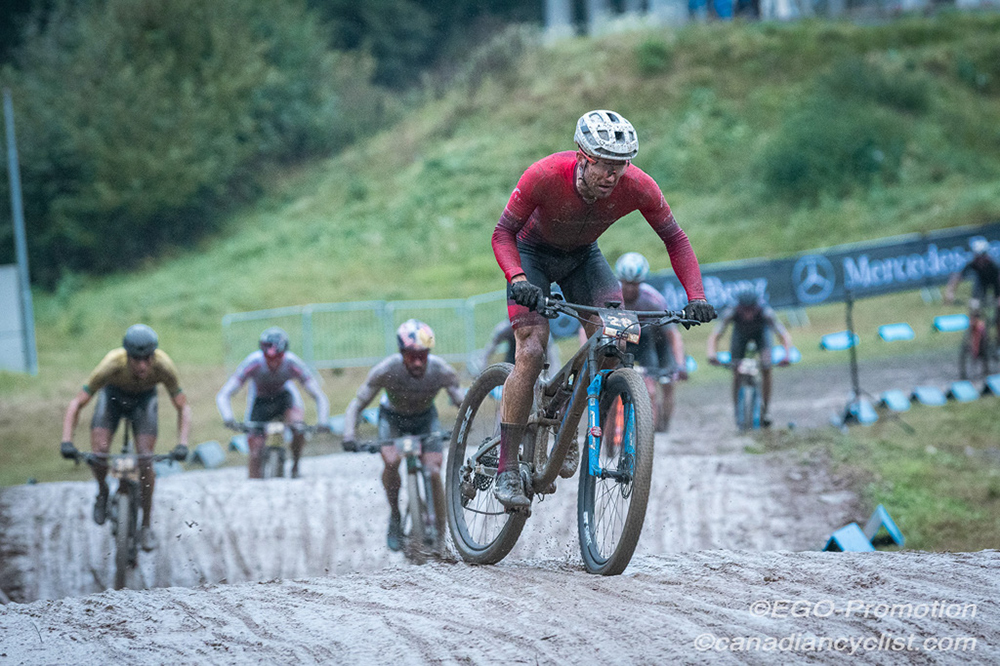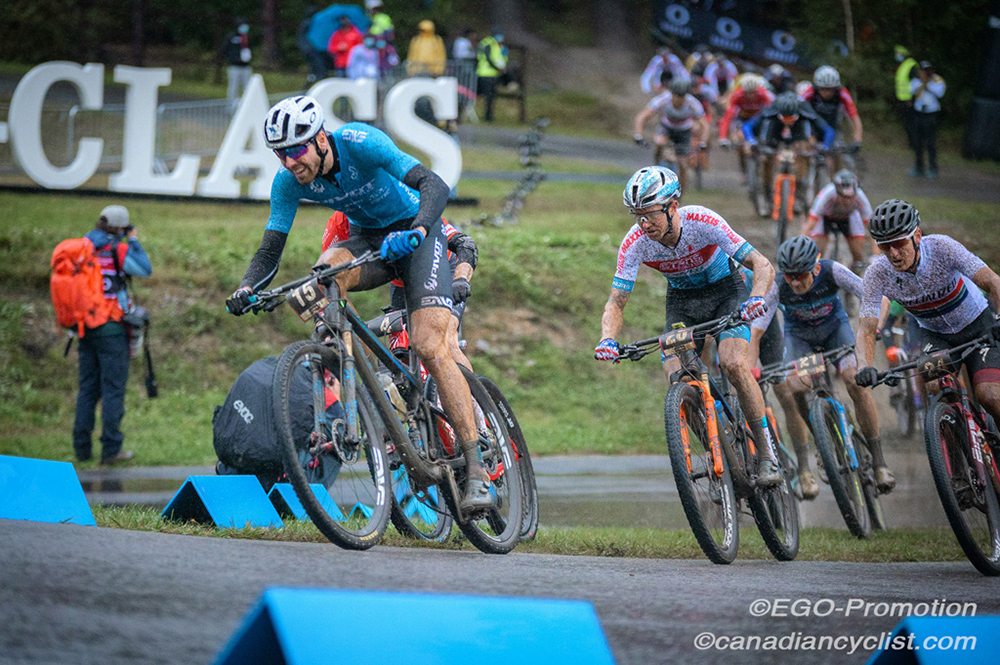 Ulloa, through an interpreter, was very pleased with his win, the first for a Mexican rider in the World Cup. "I've been waiting for this race and preparing myself for a long time, so I'm very happy to win. I think this will make my family and all of Mexico proud, because this is the first time a Mexican wins. But the Short Track is only a warmup [for the XCO] and I have been training and am ready for the cross-country."
Nove Mesto World Cup: Women Short Track results
Nove Mesto World Cup: Men Short Track results