October 1/20 16:40 pm - Fincham Fifth at First XCO World Cup of the Season

Posted by Editoress on 10/1/20

The first of two back-to-back XCO World Cups took place on Thursday in Nove Mesto, Czech Republic; the only two World Cup races to be held this pandemic-shortened year. Befittingly, both the women's and men's races had first time winners, with Loana Lecomte (Massi) of France winning the women's race and Simon Andreassen (Specialized) of Denmark the men's. Sean Fincham (Norco Factory) was the top Canadian rider of the day, finishing fifth in Under-23 men.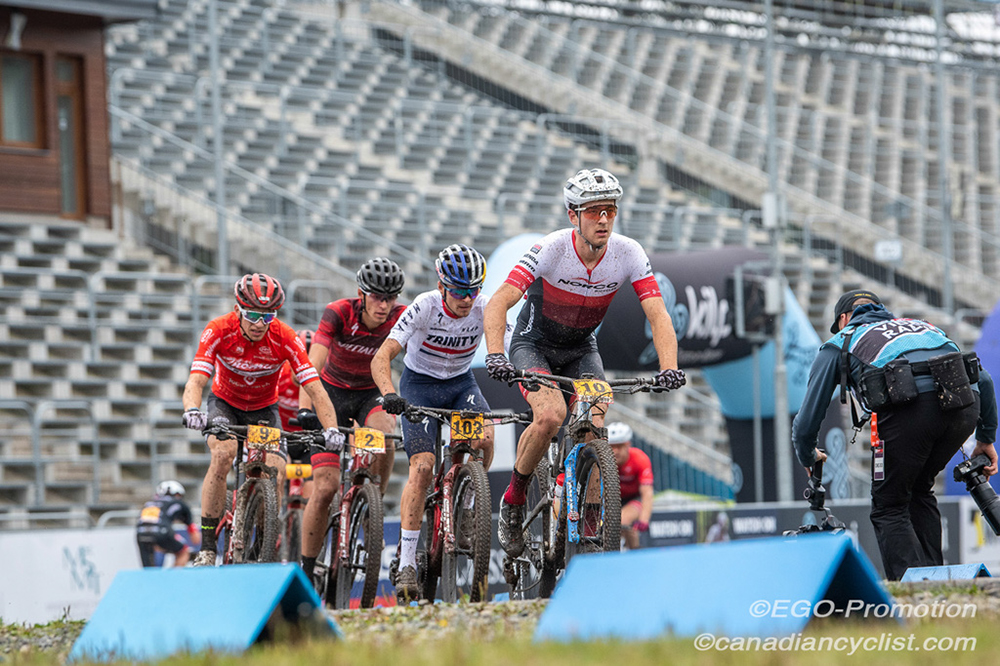 Sean Fincham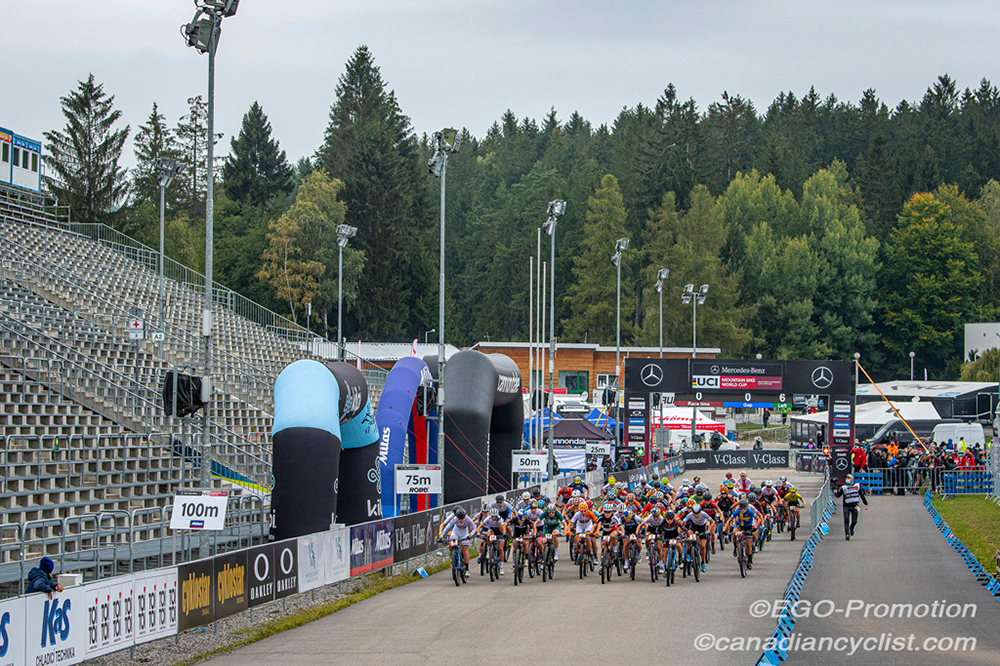 Nove Mesto with no fans

Unlike Tuesday, when riders raced in cold rain for the Short Track, it was cold for the XCO but there was no rain. Sections of the track were still muddy and slippery, however, the biggest change from usual was the complete lack of fans; Nove Mesto is renown for its huge and enthusiastic crowds.

In the women's race - five laps plus a shortened start lap - seven riders had a gap by the end of the opening lap - Lecomte, Anne Terpstra (Ghost Factory), world champion Pauline Ferrand Prevot (Canyon Collective), Laura Stigger, Kate Courtney (Scott-SRAM), Sina Frei (Ghost Factory) and Short Track winner Evie Richards (Trek Factory). A lap later and it was just Ferrand Prevot and Lecomte, and those two rode together until the fourth lap, when Lecomte dropped her countrywoman to race in the lead solo to the finish. Ferrand Prevot held onto second until the last lap, when she was caught by Terpstra, who finished 31 seconds behind the winner, with Ferrand Prevot a further six seconds back. Emily Batty (Trek Factory) was the top Canadian, in 28th, with Jenn Jackson (Norco Factory) finishing 33rd. Haley Smith (Norco Factory) did not finish.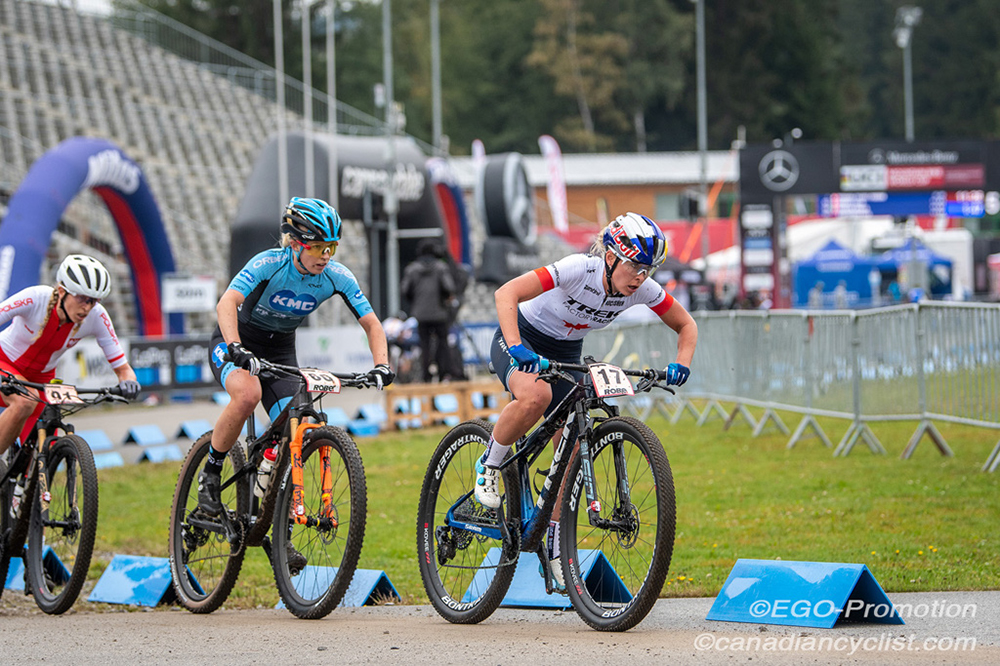 Emily Batty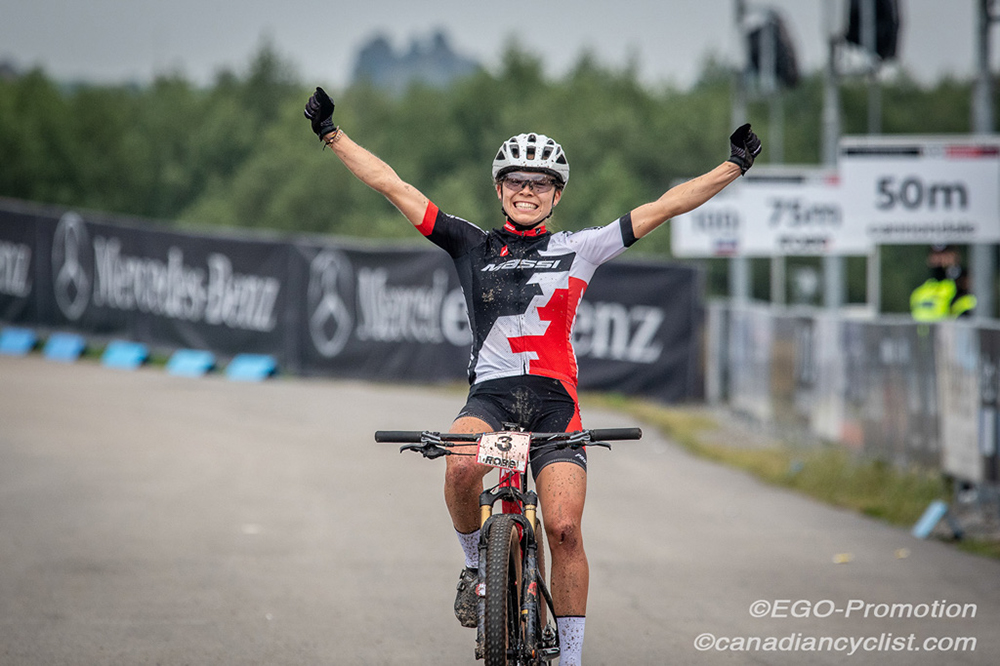 Loana Lecomte wins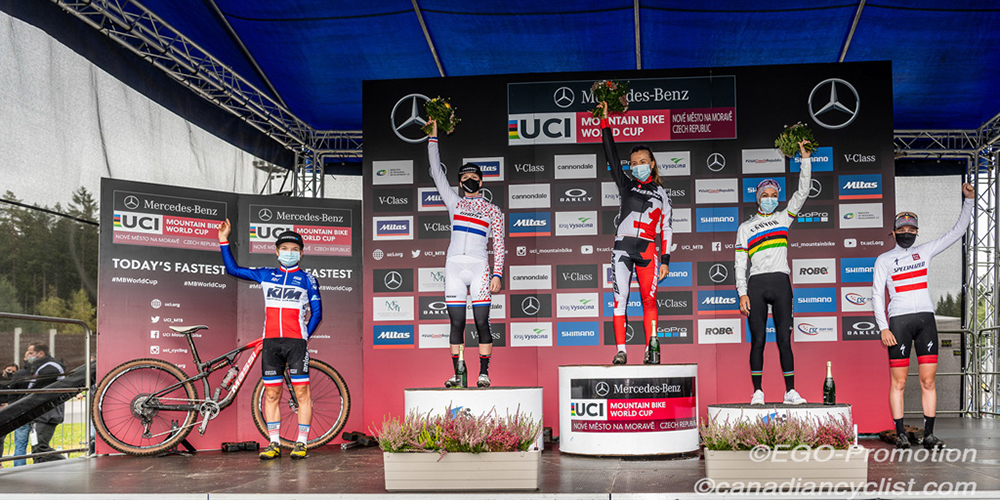 Women's podium

"Well, that was interesting, but fun and exciting none the less," commented Batty. "Despite feeling pretty good and happy with my short track performance, I found myself a little further down the rankings than I was hoping. I was a little swarmed off the start and perhaps lacking the starting speed I need, but eventually found a rhythm on lap three and began moving up. I'm not thrilled about it, but I'm also not super disappointed either. I'm still in the points, a few small wins along the way, and a bunch of racing left. It's honestly just so cool that we are fortunate enough to have some racing this year. Many athletes without trade teams aren't so lucky to be here, so I'm very thankful to represent Canada."

The men's race saw ten riders open a slight gap on the first short lap, led by Henrique Avancini (Cannondale Factory). Riding behind that group by 15 seconds was Andreassen and, at 20 seconds was world champion Nino Schurter (Scott-SRAM), who struggled in the early laps of the race. Andreassen was up with the leaders by the second lap, but even by the end of the penultimate seventh lap there were still three riders together at the front - Andreassen, Maxime Marotte (Cannondale Factory) and Milan Vader (KMC-Orbea). Andreassen attacked on the last lap to beat Marotte by nine seconds with Vader taking third. Schurter managed to recover slightly in the final few laps to finish fourth, still 44 seconds behind the winner. Leandre Bouchard (Pivot Cycles-OTE) was the top Canadian in 35th, followed by Andrew L'Esperance (Norco Factory) in 59th, Marc Andre Fortier (Pivot Cycles-OTE) in 60th, Peter Disera (Norco Factory) in 70th and Raphael Auclair (Pivot Cycles-OTE) in 71st.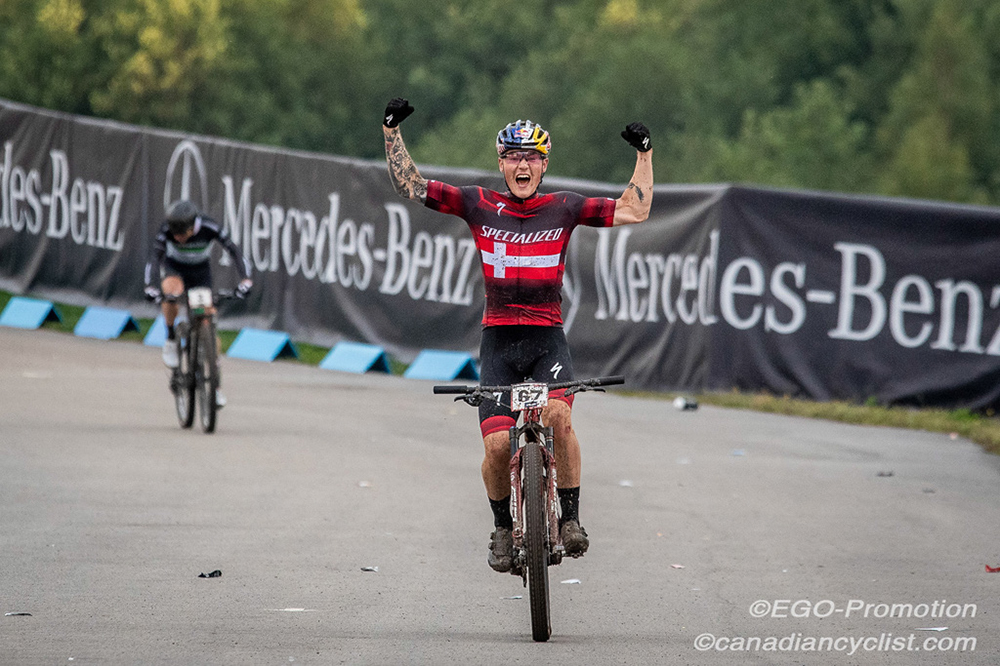 Simon Andreassen wins his first Elite World Cup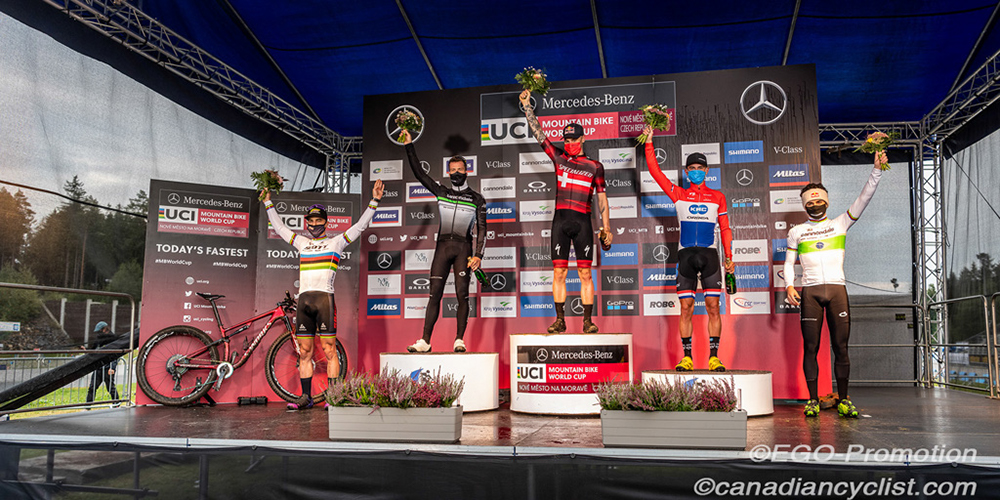 Men's podium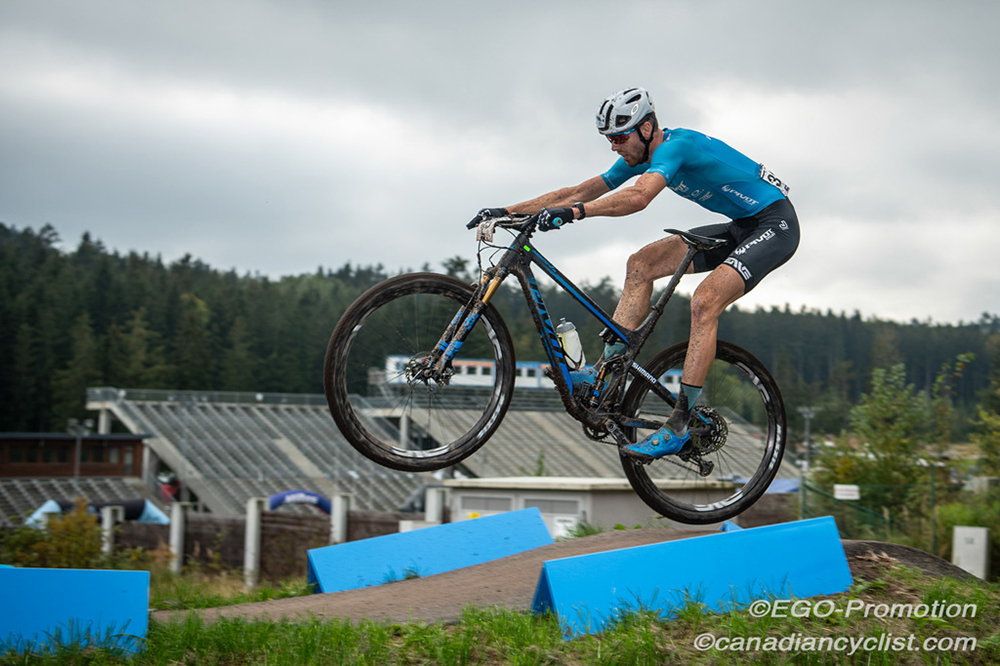 Leandre Bouchard
"It was a pretty tough course but just nice to be there," said Bouchard. "I had a good start and felt good, but was stuck on the top-40. I pushed a bit harder in the last lap to move up a few spots. It was a pretty consistent race for me, with no technical errors, and I just did my best. I'm looking forward to the next race, the Short Track tomorrow."

In the Under-23 races, Canada's lone women's entry, Marianne Theberge (Pivot Cycles-OTE) was seventh, and in the men's race, in addition to Fincham's fifth, Carter Woods (Norco Factory) was ninth, Quinton Disera (Norco Factory) was 11th, Gunnar Holmgren (Pivot Cycles-OTE) was 17th and Tyler Orschel was 26th.
Nove Mesto World Cup: U23 Men and Women results
Nove Mesto World Cup: Elite XC race results