October 9/20 9:43 am - Sean Fincham 5th at MTB Worlds in U23 Men's XCO UPDATED

Posted by Editoress on 10/9/20

Canada's Sean Fincham finished fifth in the Men's Under-23 XCO race at the Mountain Bike World Championships on Friday, in Leogang, Austria. Great Britain's Thomas Pidcock rode away from the field to win his second world title in three days, after taking the rainbow jersey in the E-MTB competition on Wednesday. Chris Blevins (USA) was second and Joel Roth (Switzerland) was third. In other Canadian results, Carter Woods was 15th, Gunnar Holmgren 20th, Quinton Disera 22nd and Tyler Orschel 23rd, putting all five Canadians in the top-25.
"A hectic day out there for my last U23 Worlds," said Fincham. "Stoked to finish with my best ever Worlds result. It was exciting fighting for third place for most of the race. The conditions were super sloppy. There was nowhere to hide and it was always all on."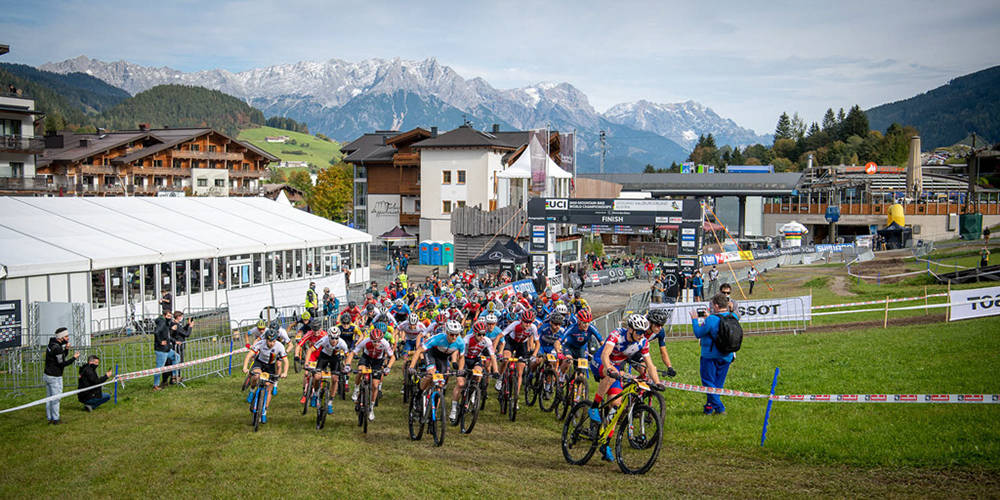 While the sun was shining and the venue was rain-free for a second day, the course was still extremely muddy, especially on downhill sections. This led to a section being cut out, with the U23 men doing two shorter start laps followed by four full laps.

Blevins had his characteristic fast start, leading for the two start laps, but then Pidcock went by him and steadily pulled away for the rest of the race to finish nearly two minutes ahead of the American.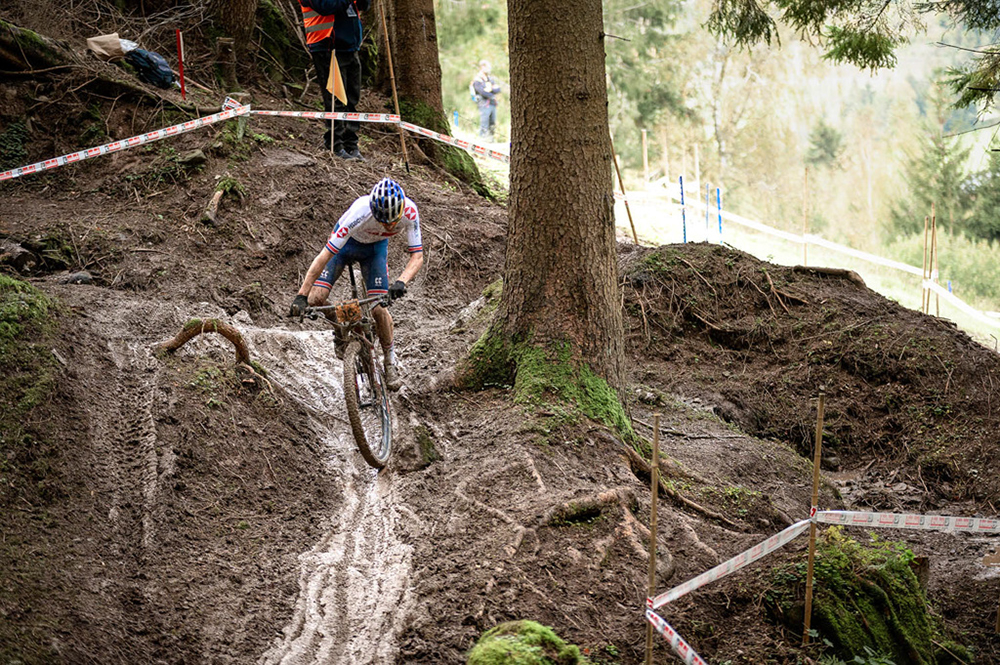 Thomas Pidcock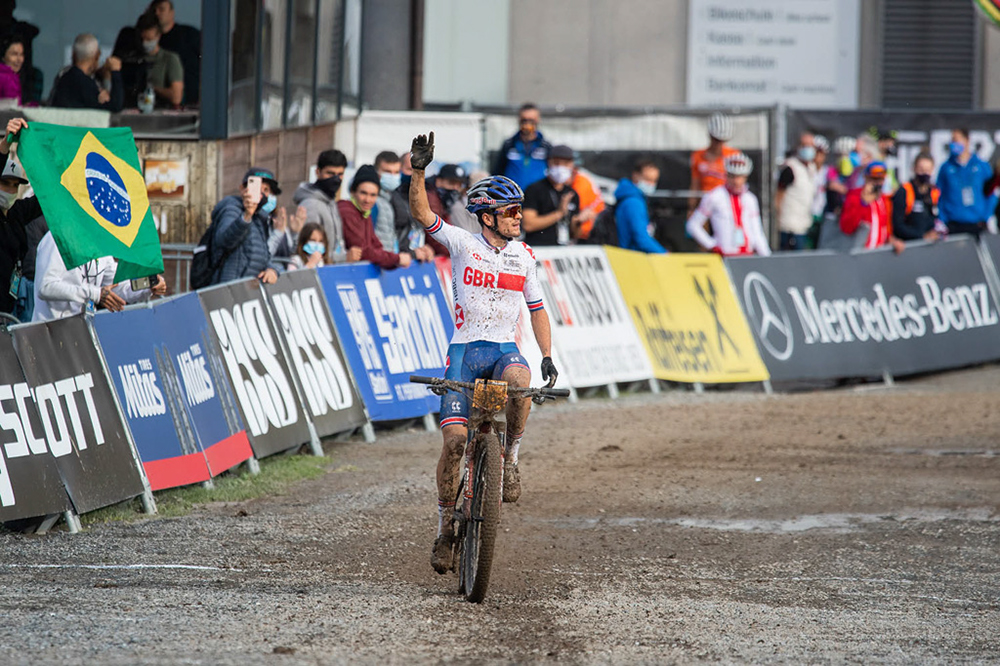 Thomas Pidcock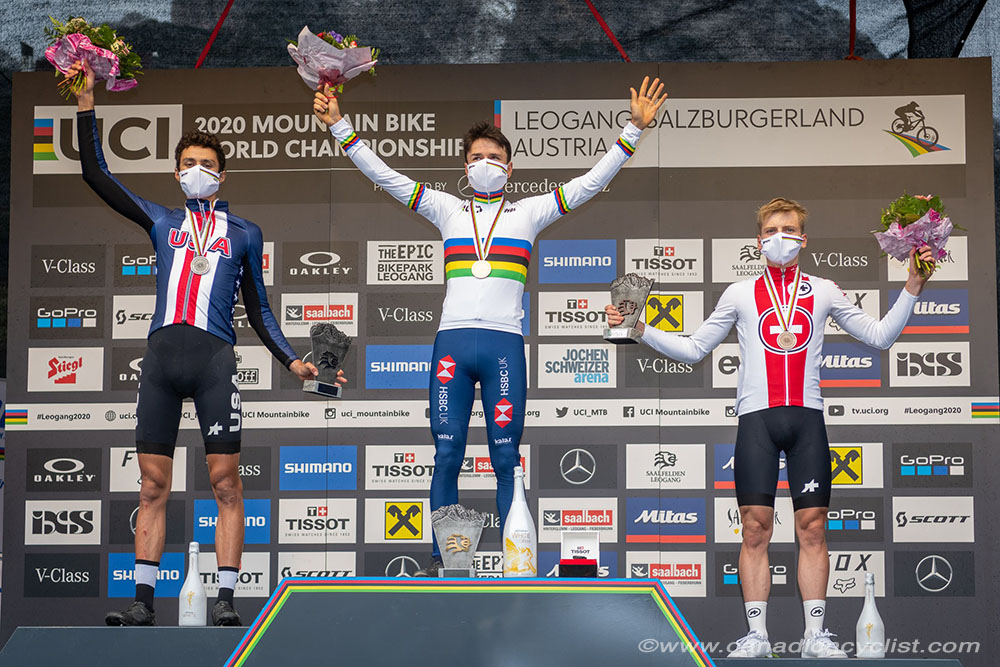 l tor: Christopher Blevins, Thomas Pidcock, Joel Roth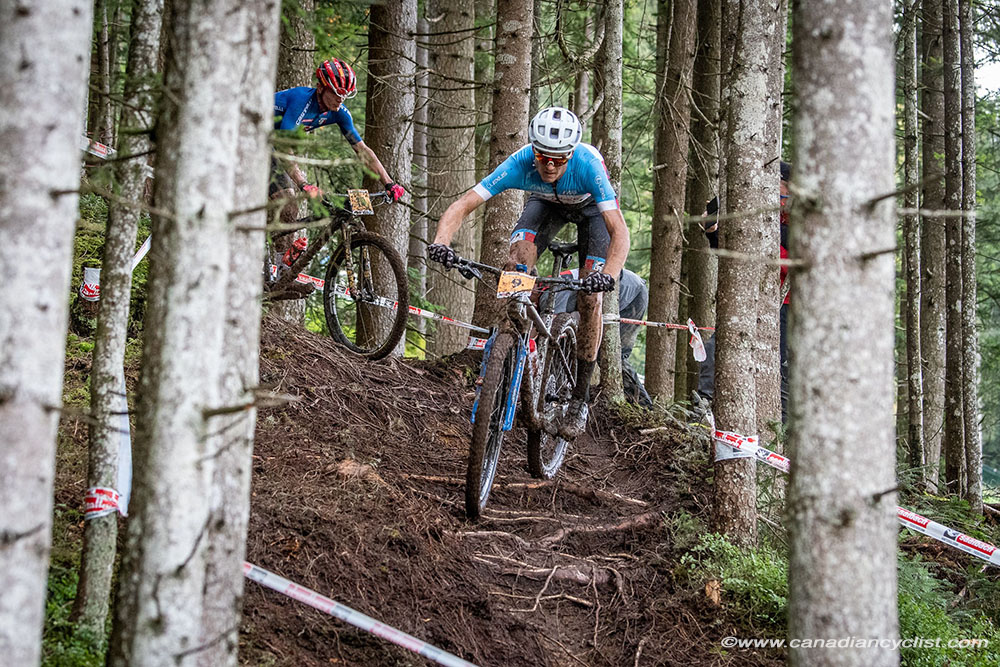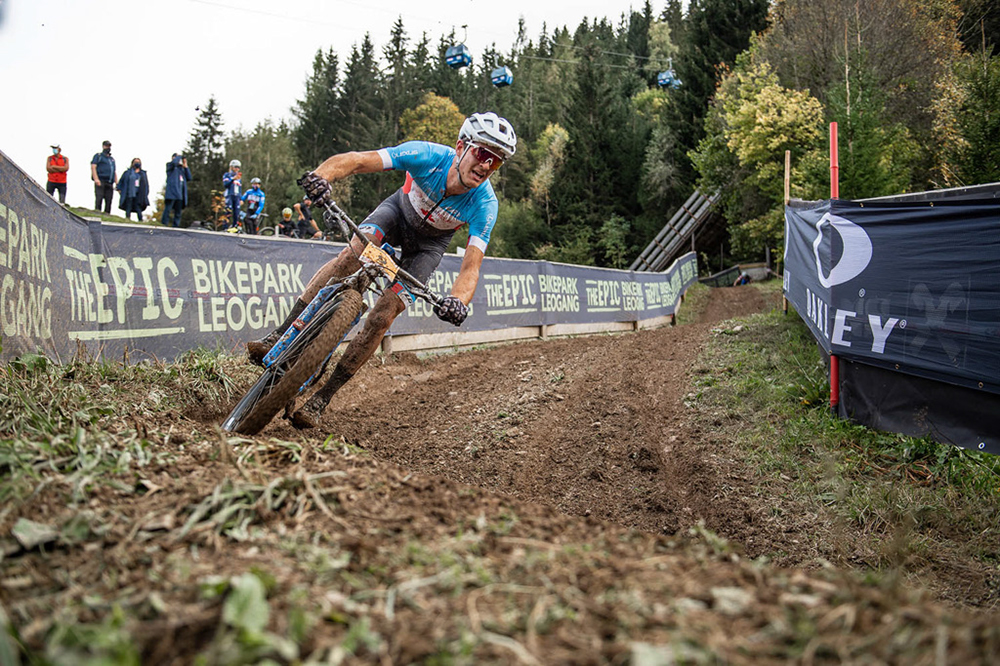 Sean Fincham
In the early part of the race it was a four-way battle for third, with Fincham, Roth, Simone Avondetto (Italy) and Martin Kossman (Chile) all riding within a few seconds of each other and swapping positions. Roth then moved into third, before being overtaken by Fincham early in Lap 2. The Canadian held onto the bronze medal spot through the secon lap, but began to fall back on the third lap, with Roth moving back into third. Starting the last lap, Fincham and Avondetto were together, but the Canadian faded and was almost caught by sixth-placed Kossman before rallying in the final kilometre.
"It's my last race as an Under-23 so it's nice to finish on a high," said Pidcock. "Now I can move on and have no regrets. On this course you had to ride your own rhythm and your own pace; there was no benefit in being on anyone's wheel. There is no secret about winning; you work hard and you can win."

Blevins commented, "It didn't quite feel like a world championships out there without fans ... Like Tom said, you have to ride your own race here, so I got in a rhythm and tried to minimize mistakes. I'm happy with the way I rode; Tom is exceptional and is a worthy champion. I am happy to get second. The U.S. is the birthplace of mountain biking and we haven't really performed on the men's side in a number of years, so I hope I can be one of a new wave coming up."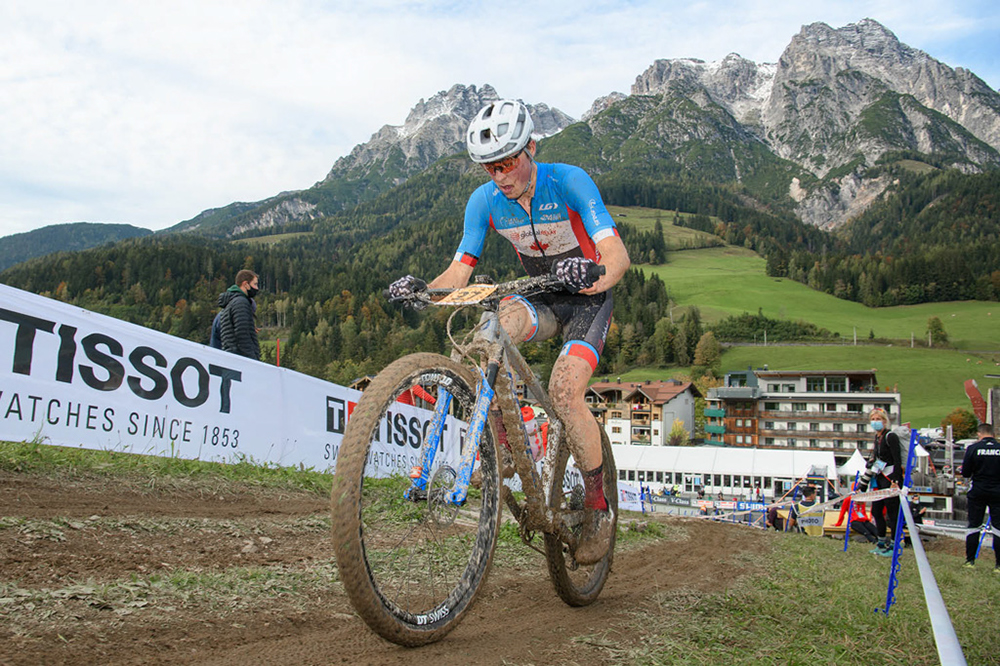 Carter Woods
Carter Woods, in his first year of Under-23, said, "Leogang was an interesting race for me. Not the best legs but was able to use the conditions to my advantage and push through for a top 15! Was looking for more but I will take it in this crazy season we have had."
Results
U23 Men, 18.2 km (2 start loops +4 laps)

1 Thomas Pidcock (Great Britain)
1:08:15
2 Christopher Blevins (United States of America)
at 1:52
3 Joel Roth (Switzerland)
3:05
4 Simone Avondetto (Italy)
3:21
5 Sean Fincham (Canada)
3:46
6 Martin Vidaurre Kossmann (Chile)
3:50
7 Vital Albin (Switzerland)
4:58
8 Filippo Fontana (Italy)
5:05
9 Basile Allard (France)
5:21
10 Juri Zanotti (Italy)
5:27
11 Fabio Puntener (Switzerland)
5:48
12 David List (Germany)
5:53
13 Luca Schatti (Switzerland)
6:29
14 Ulan Bastos Galinski (Brazil)
6:37
15 Carter Woods (Canada)
6:53
16 Hennadii Moiseiev (Ukraine)
7:40
17 Loan Cheneval (France)
7:40
18 Charlie Aldridge (Great Britain)
7:59
19 Andreas Emanuele Vittone (Italy)
8:04
20 Gunnar Holmgren (Canada)
8:14
21 Mathis Azzaro (France)
8:22
22 Quinton Disera (Canada)
8:26
23 Tyler Orschel (Canada)
8:35
24 Leon Reinhard Kaiser (Germany)
9:05
25 Alexandre Balmer (Switzerland)
9:12
26 Stanislaw Nowak (Poland)
9:20
27 Mario Bair (Austria)
9:25
28 Alexander Young Andersen (Denmark)
10:26
29 Niklas Schehl (Germany)
10:52
30 Tomer Zaltsman (Israel)
11:23
31 Mick van Dijke (Netherlands)
-1 lap
32 Sean Flynn (Great Britain)
-1 lap
33 Alex Bregenzer (Germany)
-1 lap
34 Lukas Malezsewski (Belgium)
-1 lap
35 Adair Zabdiel Gutierrez Prieto (Mexico)
-1 lap
36 Samuel Jirous (Czech Republic)
-1 lap
37 Ian Schumacher (Netherlands)
-1 lap
38 Harry Birchill (Great Britain)
-1 lap
39 Loris Rouiller (Switzerland)
-1 lap
40 Pavel Lunde (Russian Federation)
-1 lap
41 Nick Burki (Switzerland)
-1 lap
42 Markus Kaad Heuer (Denmark)
-1 lap
43 Victor Philipsen (Denmark)
-2 laps
44 Gustavo Xavier De Oliveira Pereira (Brazil)
-2 laps
45 Josef Jelinek (Czech Republic)
-2 laps
46 Matevz Govekar (Slovenia)
-2 laps
47 Karol Ostaszewski (Poland)
-2 laps
48 Pavlo Lukan (Ukraine)
-2 laps
49 Nicolas Martin Soto (Chile)
-2 laps
50 Jaromir Skala (Czech Republic)
-2 laps
51 Vilgot Lindh (Sweden)
-2 laps
52 Gil-Li Gonen (Israel)
-2 laps
53 David Risberg (Sweden)
-2 laps
54 Hugo Eliasson (Sweden)
-2 laps
55 Piotr Krynski (Poland)
-2 laps
56 Sam de Nijs (Netherlands)
-2 laps
57 Emanuel Zangerle (Austria)
-2 laps
58 Daniel van der Walt (South Africa)
-2 laps
59 Nikolay Ivanov (Russian Federation)
-2 laps
60 Ignacio Gallo Florido (Chile)
-2 laps
61 Kilian Folguera Diaz (Andorra)
-2 laps
62 Valeriy Sukhnev (Russian Federation)
-2 laps
63 Jakub Jencus (Slovakia)
-2 laps
64 Anthony Bilic (Croatia)
-2 laps
65 Sebastian Brenes Mata (Costa Rica)
-2 laps
66 Emilio Azcona Acosta (Mexico)
-2 laps
67 Roberto-Dumitru Burta (Romania)
-2 laps
68 Gerhard-Cristin Moldansky (Romania)
-3 laps
69 Antonio de Jesus Sandoval Jimenez (Mexico)
-3 laps
70 Alek Bonev (Bulgaria)
-3 laps
71 Esteban Herrera Ochoa (Mexico)
-3 laps
DNS Eitan Levi (Israel)
DNS Julian Pochacker (Austria)

MTB World Championships: Team Relay photos and results
Pidcock & Pugin Win E-MTB World Titles, Rochette 5th
MTB World Championships: Junior XC race results and photos
MTB World Championships: DH Qualifying results