October 11/20 12:29 pm - Mark Wallace 4th in Downhill as MTB Worlds Concludes

Posted by Editor on 10/11/20

The 2020 Mountain Bike World Championships concluded on Sunday in Leogang, Austria, with big upsets in the Downhill, as the favourites struggled in the cold and muddy conditions. The Elite jerseys were taken by unheralded Camille Balanche of Switzerland for the women and Reece Wilson of Great Britain for the men. Canada's Mark Wallace was just off the podium in fourth place in the men's race.
Wallace commented "What a wild day! Racing is the best. Fourth for me today; I'm happy with how I rode in the tough conditions and excited to get back at it next week in Maribor [World Cup]."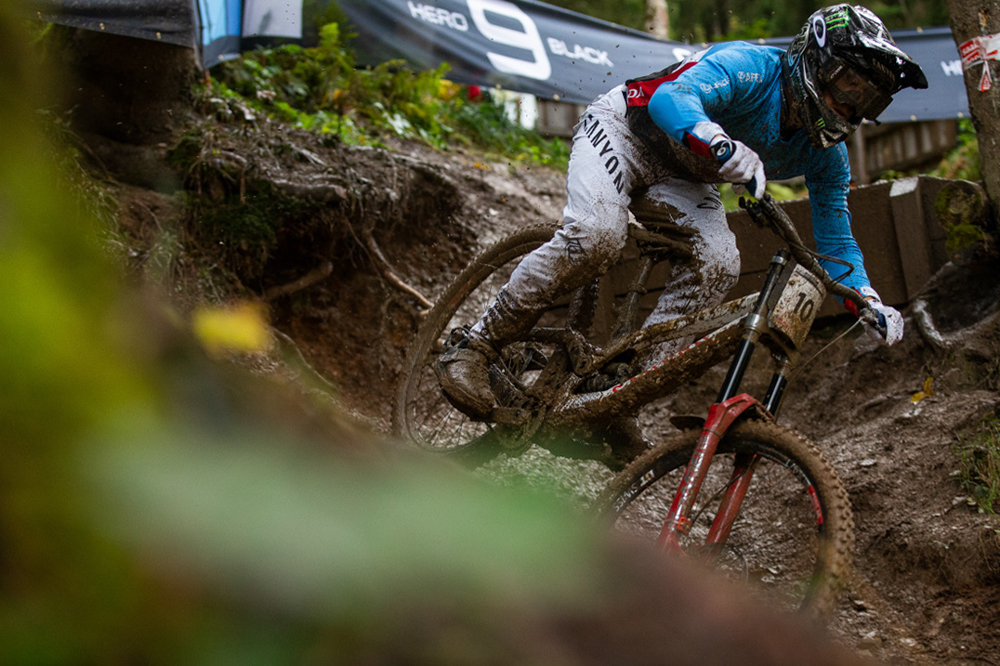 Mark Wallace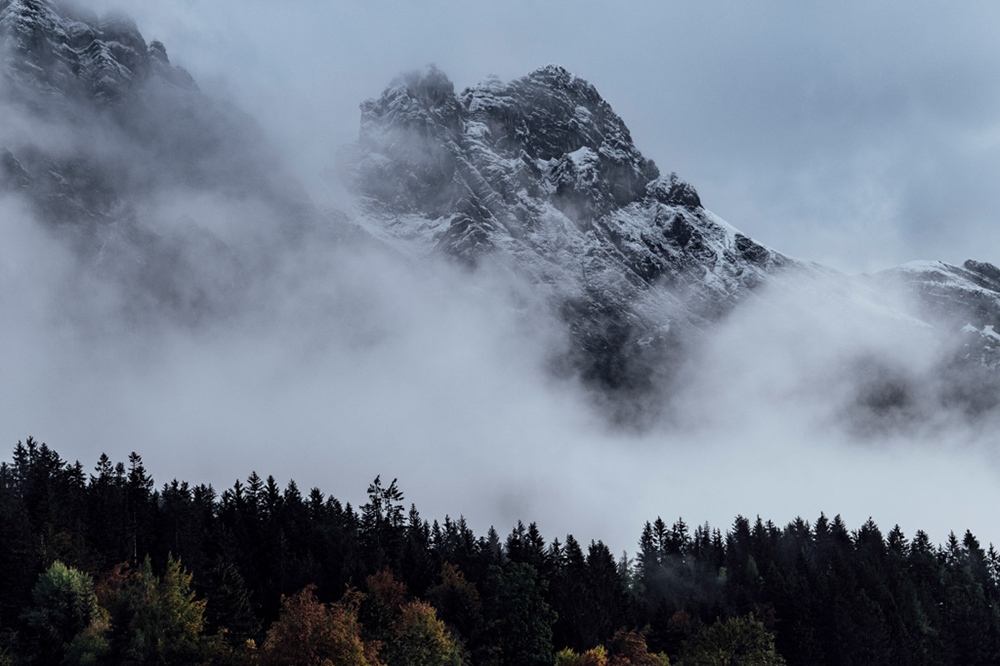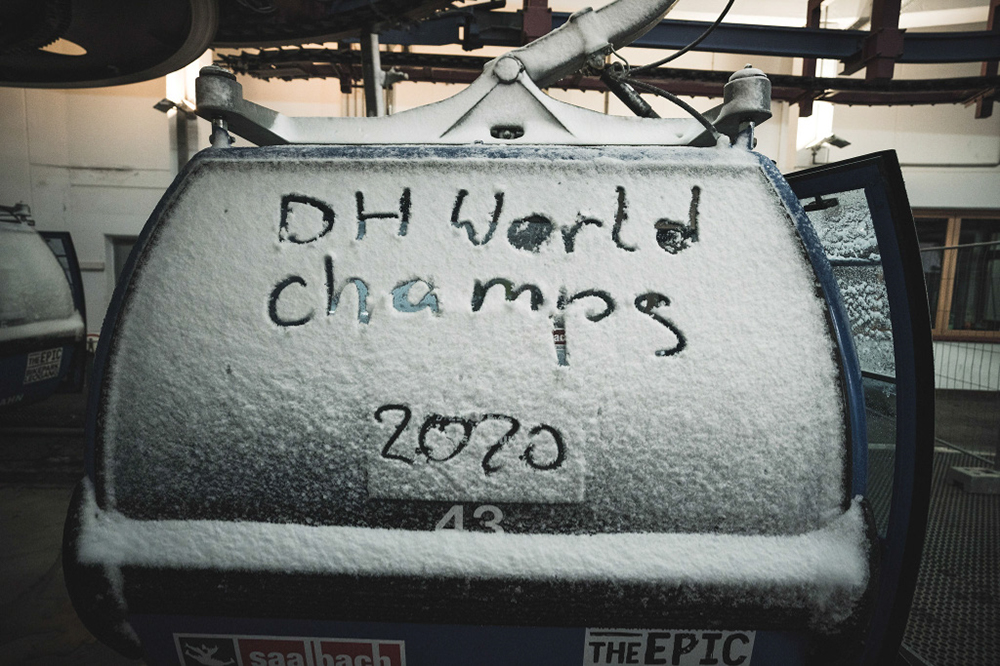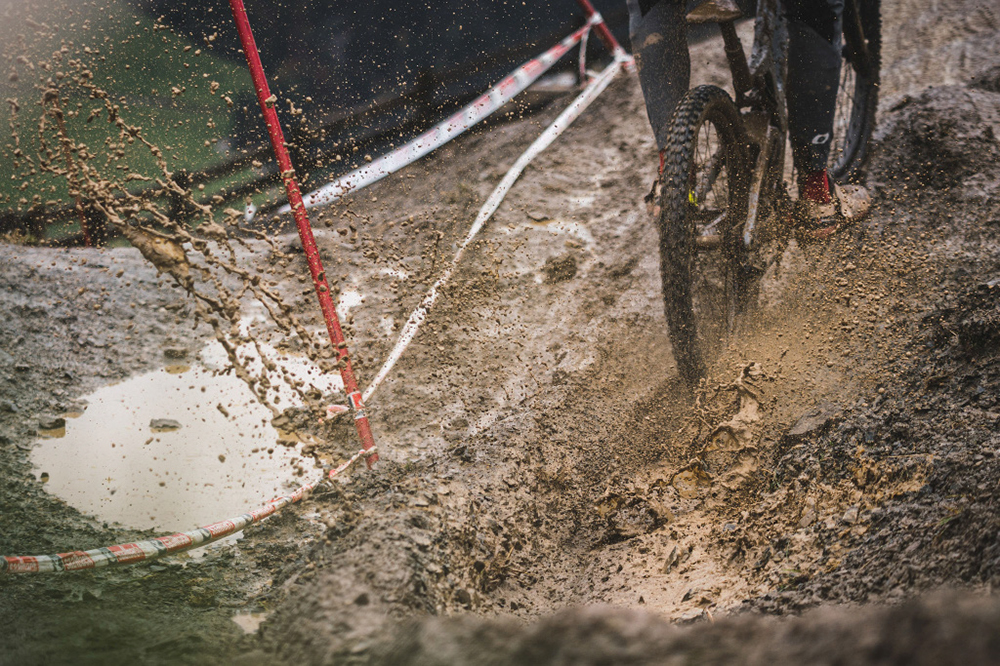 Conditions were very different from the much drier course riders rode on Friday in qualifying. While the threatened snowstorm did not materialize at race level, it was still very wet and muddy, and only 4C. In the men's race, snow flurries greeted riders at the top of the course and rain further down. There were two technical sections that caused the majority of problems for riders - one near the top through tree stumps and rocks, where Greg Minnaar (South Africa) was among those that went down, and halfway down in the Enchanted Forest section, where almost everyone struggled and more than half the riders crashed or went off course.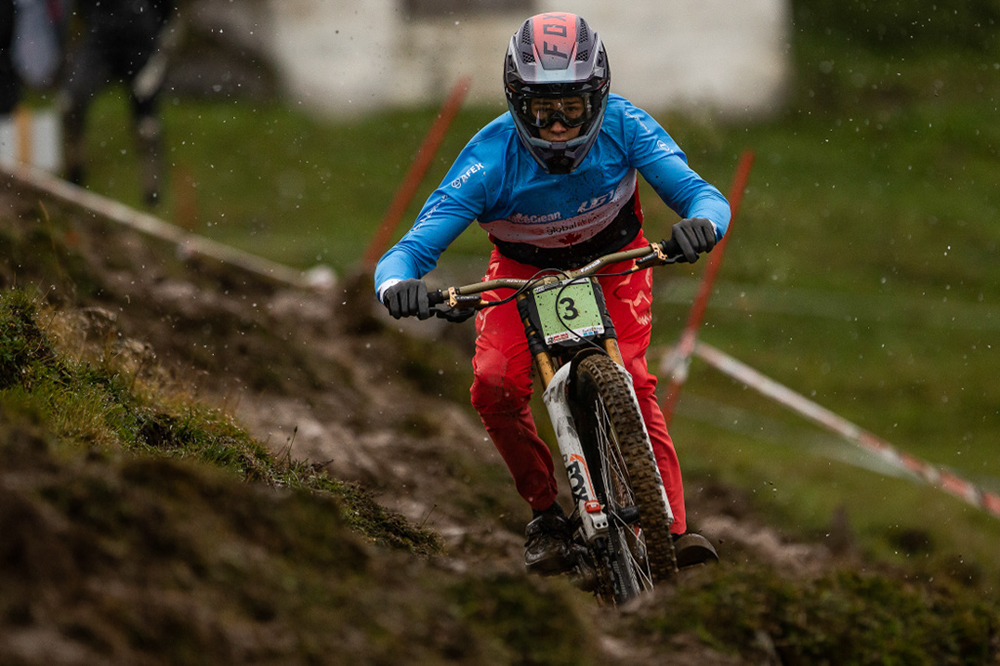 Seth Sherlock
Canada's only Junior, Seth Sherlock in the men's race, finished 22nd. He had a strong start and was fifth after the first split, seventh after the next one and eighth following the third, then crashed in the forest. Oisin O'Callaghan brought Ireland its first ever Downhill world title in the men's race, while Lauryne Chappaz took the Junior women's title for France.

Canada had no women in the Elite race. Defending champion Myriam Nicole (France) was the early leader for the women, despite crashing. However, it was former Swiss Olympic hockey player Balanche who put together the most consistent ride, avoiding going down in the forest to record a time 3.13 seconds ahead of Nicole. Monika Hrastnik (Slovenia) took bronze. Pre-race favourite and final starter Tracey Hannah (Australia) crashed multiple times and could only manage fourth.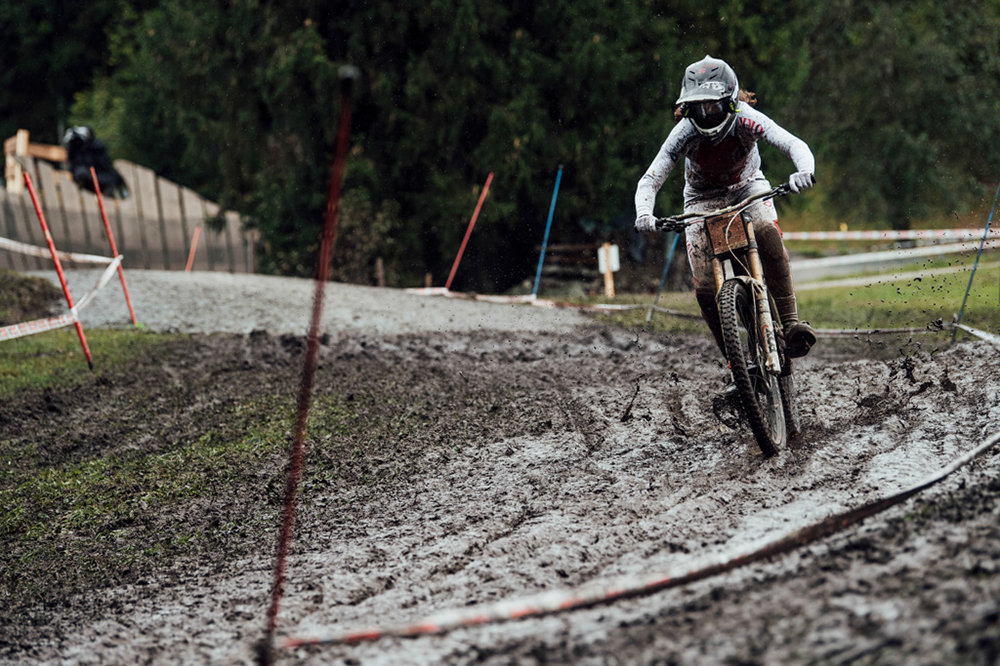 Camille Balanche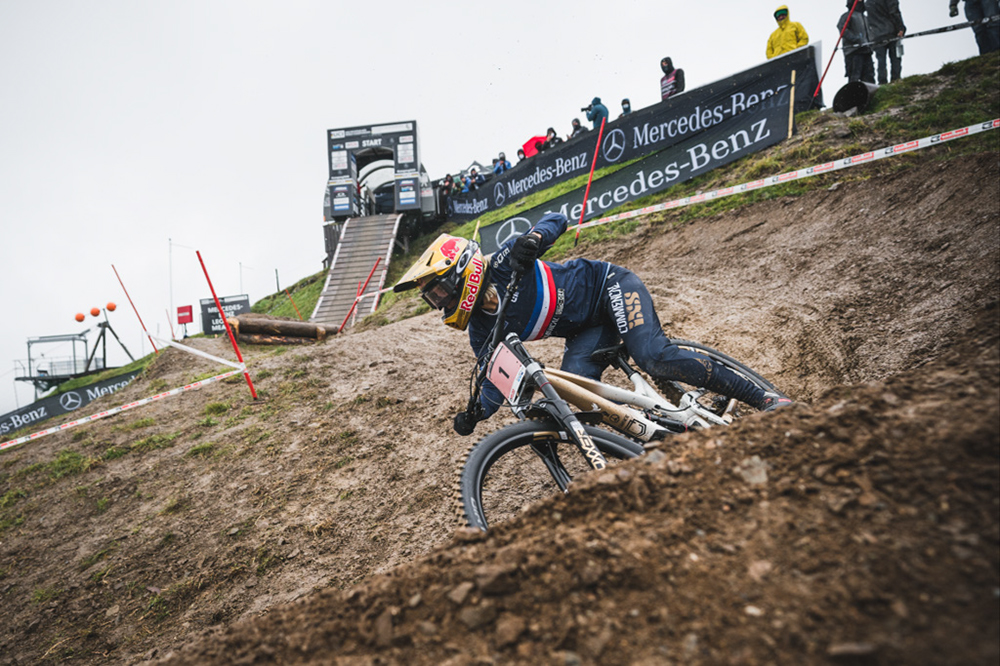 Myriam Nicole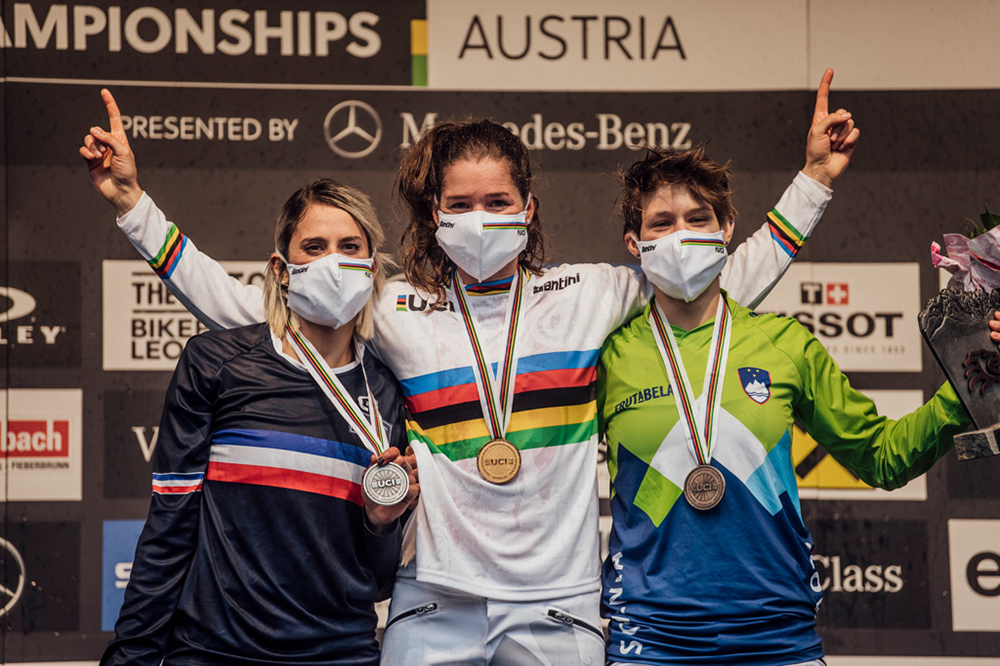 Womens podium: Myriam Nicole, Camille Balanche, Monika Hrastnik
"For sure, this is the toughest race I have ever done," said Balanche, who is also the European champion. "This morning I wanted to cry; it was extreme. My main goal was to just make it to the bottom without crashing, so I decided to take safe lines and just not rush it. It paid off. Right now I can't believe it, I'm just blown. It's going to take some time for me to realize what just happened."

In the men's competition, Jack Moir (Australia), set the first sub-4 minute time. Young Canadian riders Elliot Jamieson and Henry Fitzgerald were both in the top five and the top ten for a significant length of time, eventually finishing 30th and 31st, respectively. The fifth and final Canadian, Lucas Cruz, was 58th.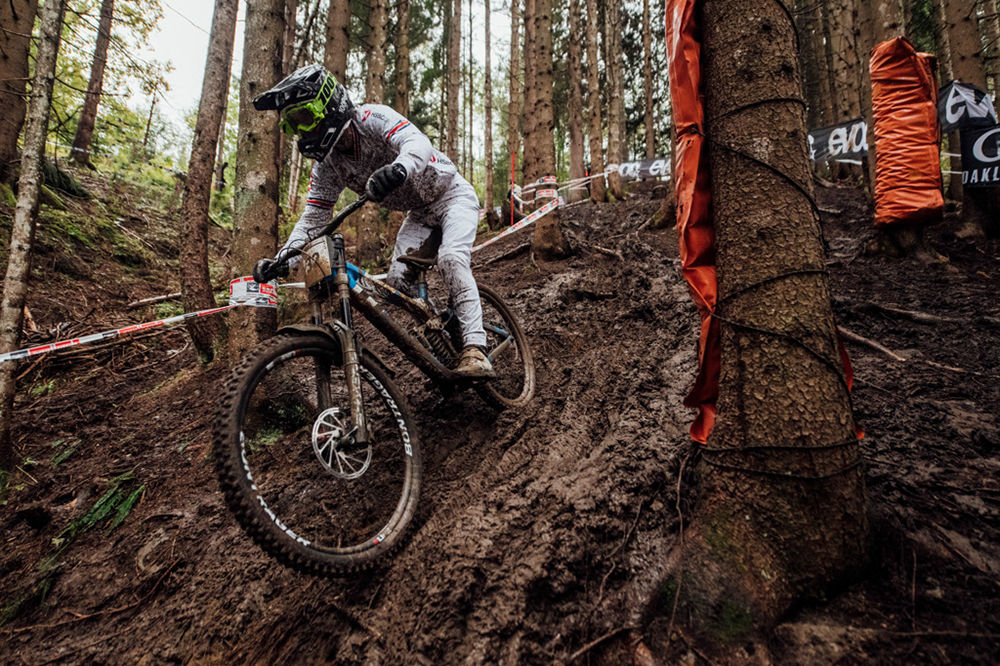 Reece Wilson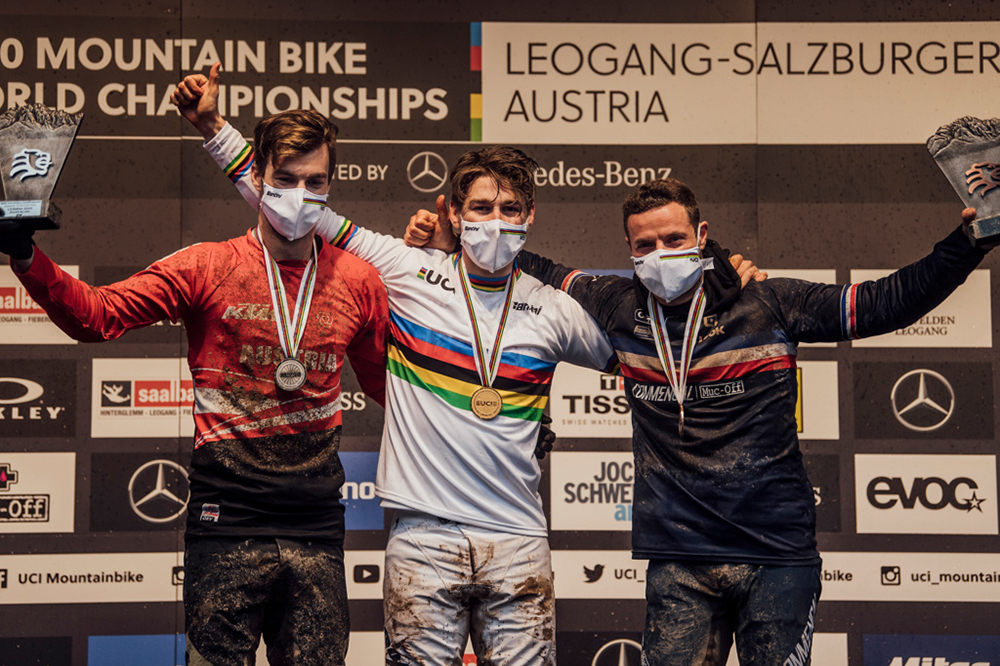 Men podium: David Trummer, Reece Wilson, Remi Thirion
Wilson, a former motocross racer from Scotland who had taken a year off from competition, started with 31 riders to go. His speed was only the 41st fastest through the trap, which may have contributed to his success. He was third fastest through the first three time splits, but after the final split following the forest, he was fastest. Compatriot Bernard Kerr started right after him and slotted into second. Canada's Finn Iles, third in qualifying, crashed multiple times in the forest to finish 34th. Aaron Gwin (USA) also crashed to end up 26th.

Remi Thirion (France), with 12 to go, finally bumped Kerr out of second, and Wallace, two riders later, slotted into third. Local Austrian favourite, David Trummer, knocked Wallace off the podium as the seventh last rider, but there were still big names to come.

However, all of those riders succumbed to the course, with only two making the top-10 - Loris Vergier (France) in tenth and Troy Brosnan (Australia) in eighth. Loic Bruni (France), going for his fourth consecutive title, was an astounding 62nd after an almost unwatchable series of crashes in the forest.

"I don't know what it was, I was ready for it to be wet or dry," said Wilson. "I just believed in myself and used the year off productively, and came here believing that I was a guy that could win. But now I can't believe it. I've been doing this seven years, but there's been three or four of those when I almost gave up."

"I was really worried when the top-5 started, and when those last guys came down and crashed ... I don't know what to say ... I can't believe it. I think this weekend has shown that the British are great technical riders; we haven't been at the top for a while as the French had it, but this shows [three in the top-10] we are definitely competitive as a nation."
MTB World Championships: DH Final results