November 6/20 14:09 pm - Dorel Posts Record Quarter for Cycling Division

Posted by Editoress on 11/6/20

Dorel Industries Inc. announced on Friday results for the third quarter and nine months ended September 30, 2020. Third quarter revenue was US$753.4 million, up 9.9% from US$685.7 million last year. Reported net income was US$26.2 million or US$0.80 per diluted share, compared to a net loss of US$4.3 million or US$0.13 per diluted share last year. It should be noted that Dorel recently announced plans to take the company private.

Nine-month revenue was US$2.1 billion, an increase of 3.9% compared to US$1.98 billion last year. Reported net loss year-to-date was US$20.5 million or US$0.63 per diluted share, compared to US$9.8 million or US$0.30 per diluted share in 2019.

"All three of our business segments contributed to an excellent quarter for Dorel," stated Dorel President & CEO, Martin Schwartz. "In Sports, the second quarter trend of increased demand for bicycles continued and outpaced product availability. In spite of this, the segment was still able to achieve the highest earnings in its history."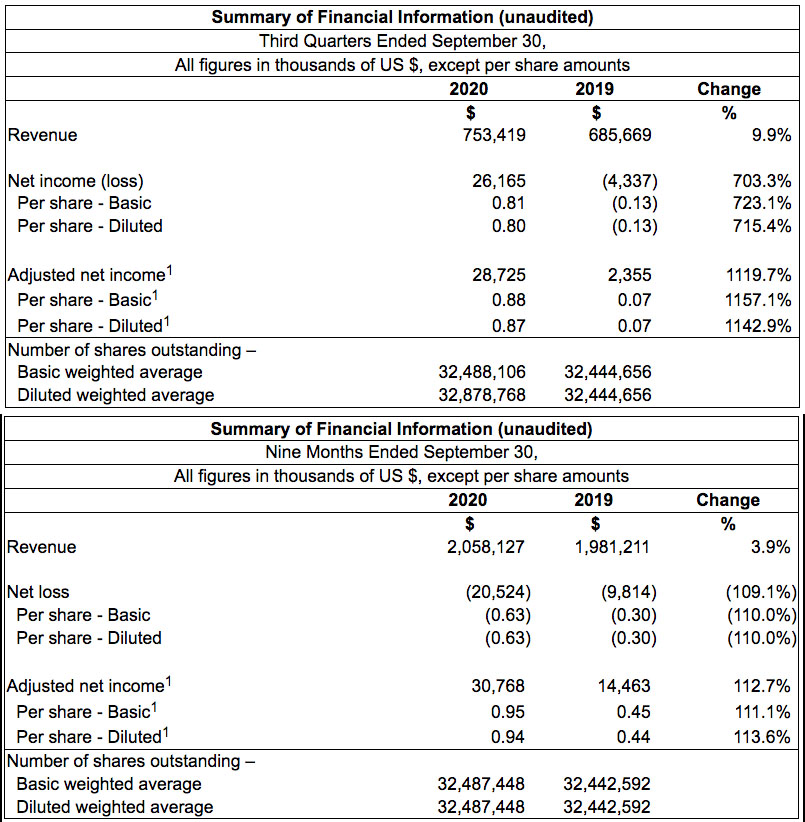 Dorel Sports

For the Sports division, third quarter revenue was US$305.6 million, an increase of US$55.3 million, or 22.1%. Excluding the impact of foreign exchange rates, year-over-year organic revenue improved approximately 23.8%. This was the sixth consecutive quarter of revenue growth for the segment. The continuing record demand for bicycles throughout the summer drove another quarter of substantial growth at the Cycling Sports Group (CSG) and Pacific Cycle divisions. Caloi's revenue increased in local currency as IBD sales increased and mass market stores began re-opening following the COVID-19 shutdowns. Nine-month revenue was US$779.4 million, up US$103.6 million, or 15.3%.

Operating profit for the quarter was US$24.2 million compared to US$6.0 million a year ago, with the improvement at both the CSG and Pacific Cycle divisions. Operating margins were strong, helped by the lack of discounting and the curtailment of events and marketing which lowered related expenses. Caloi's operating profit rose year-over-year and reversed an operating loss from this year's second quarter. Excluding restructuring costs, adjusted operating profit set a record at US$27.8 million, up US$22.2 million, or 395.5%. Nine-month operating profit was US$50.4 million, compared to US$20.6 million in 2019. Adjusted operating profit was US$54.4 million, an increase of US$34.2 million, or 169.2%.