November 16/20 11:04 am - Hugo Houle Talks About Premier Tech & Steve Bauer Joining Astana

Posted by Editoress on 11/16/20

We reported earlier today that Canadian multinational corporation Premier Tech will be stepping up to title sponsor status at Astana, and that Steve Bauer will be joining the team as a directeur sportif [see Canadian Company Premier Tech to Co-Sponsor Astana, Bauer to Join as DS]. Now, we have spoken with Astana rider Hugo Houle, the only Canadian rider with the team, about the changes. Hugo spoke to us from Monaco, where he lives with his girlfriend.

Canadian Cyclist: Premier Tech has been a sponsor of the Astana team for a few years, but now they are stepping up to title sponsor; were you involved in this move?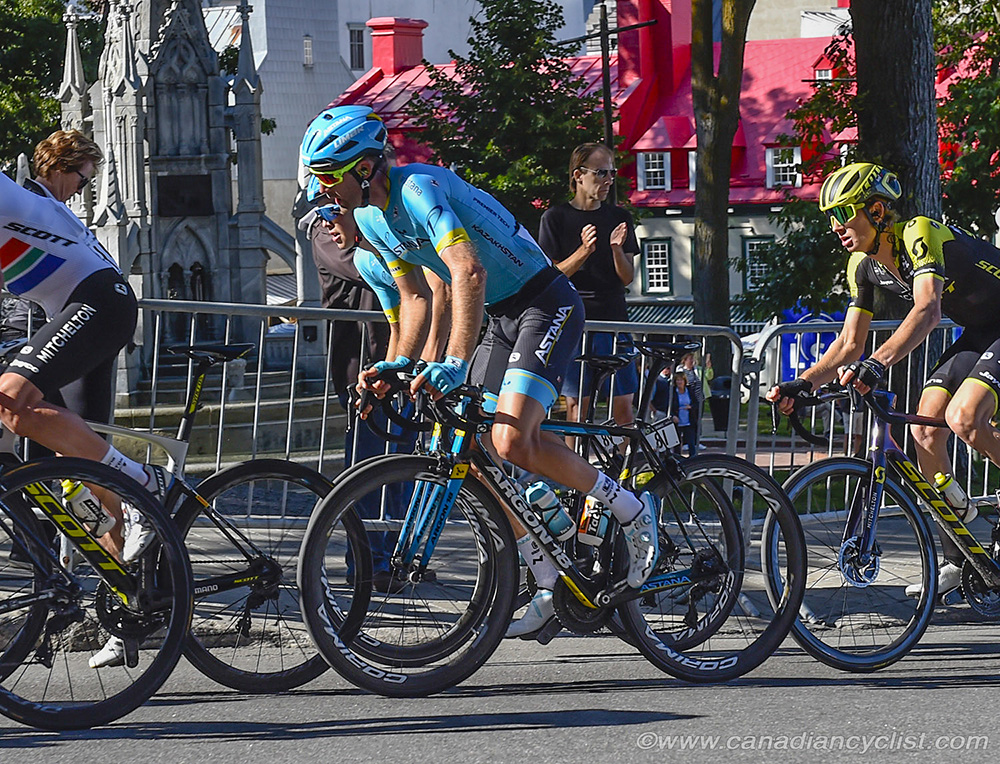 Hugo Houle: No, I don't think so. I'm a rider on the team, and it is important for them to have a Canadian, especially from Quebec, since the company is from Riviere-du-Loop. I have a really good relationship with Jean Bélanger, who is the owner [President and CEO], and of course it is good to be part of a project with them, but I don't think it is because of Hugo Houle that Premier Tech is a co-sponsor of the team!

Premier Tech has a big passion for cycling, and they want to help and support the pro team. But it is also important for the future to get some more "Hugo Houle's" into the WorldTour, and I think it is part of their [Premier Tech's] vision to step up. It's really nice to have a Canadian - and especially a Quebec - sponsor into the highest level of the sport. For me, it is a big, big thing. I've been racing in Europe for a long time, but to say we have a strong Canadian sponsor in a WorldTour team who will have an impact and try to develop some cycling in Canada ... it's great news for us and for cycling in Canada. I'm really happy to be part of this project, and I feel that I'm really, really lucky to be an ambassador of Premier Tech as a member of the team.

CC: One of the things announced in the team statement was that there would be a youth program in Canada. Were you involved in that?

HH: There is some discussion about it, but I do not know where they are at. For Premier Tech, it is good to have a pro team, but they really care about developing cycling in Canada; I think it's one of the main reasons they are in the sport and it is a passion for them. It's great to have a team at the top level, but we need to have a structure under that and use the pro team to inspire the kids in Quebec and Canada, and [to] have a chance to show themselves on the WorldTour level in the future. I think, at the moment, everything still has to be established; there will be a lot of work to do on that side.

CC: Steve Bauer is joining the team as well; you rode for him on Spidertech.

HH: Yes, I think having Steve with us will be a really good boost. I would say that Steve Bauer is the only Canadian who knows how the WorldTour works at the highest level, as a sports director. He has a lot of knowledge and experience that he can bring into the team. I think the timing was great for him to come as CCC was closing.

I have a lot of respect for him, he is one of the guys that gave me my chance when I was younger, and I really enjoyed working with Spidertech and Steve. It's great to have the chance to work with him again, and I will look forward to it. I'm really happy he chose to join our project.

CC: Were you involved in getting Steve to come to Astana?

XHH: The team did its work, but I'm not involved in that; I'm still a rider and it's important I keep the focus on that. It's quite easy, if you look at who is available in Canada, to help build a project at this level, that there aren't too many people. When there is one of the quality of Steve available, you need to take it. It was obvious for Premier Tech and Astana to recruit Steve.

CC: So you are currently in Monaco; any plans to come back to Canada for the off-season?

HH: I will stay in Europe ... I don't know until when. I'm not coming back this winter, I'm well established here in Monaco with my girlfriend, and she is working here. We decided to stay here, it's way easier. We would like to come [back to Canada] for one or two weeks, to say hello to the family, but with the situation right now, we just decided it would be easier for us to stay here and wait for the moment when it will be easier to come home. But it won't be this year.