November 20/20 11:06 am - Ben Perry Joins Astana-Premier Tech - Interview

Posted by Editoress on 11/20/20

Ben Perry has become the latest Canadian rider to join the WorldTour, with today's announcement that he will join Astana-Premier Tech for the 2021 season on a one year contract (to start).

Earlier this week, Astana announced that Canadian company Premier Tech will become a title co-sponsor of the team beginning next year [see Canadian Company Premier Tech to Co-Sponsor Astana, Bauer to Join as DS], with Steve Bauer also joining as a Directeur Sportif. We spoke with Canada's Hugo Houle, a current member of Astana, also [see Hugo Houle Talks About Premier Tech & Steve Bauer Joining Astana].

Ben Perry has been based in Girona, Spain, racing for Israel Cycling Academy, the feeder Continental team for Israel Start-up Nation, and we spoke to him there today about his move.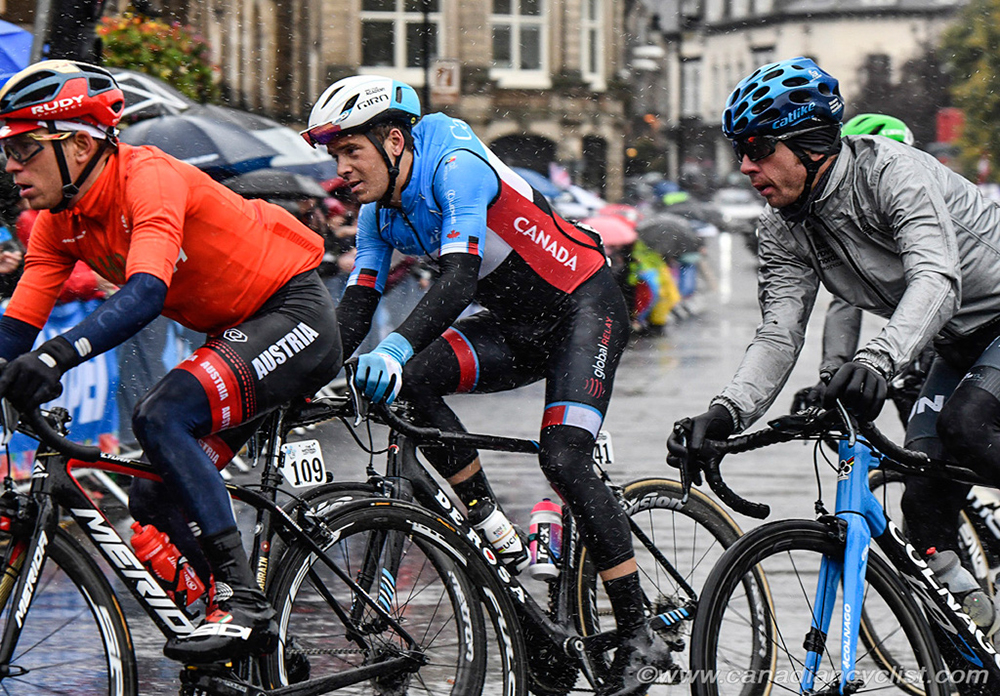 Canadian Cyclist: So, another step up for you; to the WorldTour finally.

Ben Perry: Yes, I got some WorldTour team experience in the past doing WorldTour races with Israel Cycling Academy and Israel Start-up Nation, earlier this year, but now I can do full time WorldTour next year with Astana-Premier Tech.

CC: How did this come about; it's been a weird season, so you haven't been able to make the usual contacts through racing.

BP: It's been a strange year, with some countries having lockdowns and others not. I waited it out in Spain - seven weeks on the trainer at one point - so the racing I did was just a lot of sprinting in Poland at the early start to the year and at the end of the year. The second part wasn't as good and I found that it's a bit harder to get results in those kind of races.

On paper, it didn't seem like a great year, but from what I've done in the past and performances at big events as a domestique got me a good reputation. So, when Premier Tech and Astana were looking to find a Canadian who was ready to go immediately onto the WorldTour ... I think they asked everyone they could who had experience with cycling in Canada, and I guess, luckily enough, my name came back and they decided to offer me the spot.

CC: Do you have any feel yet for what your role is going to be or what your program is going to be, at least for the early part of the season?

BP: I have goals on the calendar that I am hoping they will give me, but we are going to do a training camp probably in early January, depending on how things go with COVID. I have already met my DS [Directeur Sportif] over the phone and I've been assigned a coach from the team, but I think for the calendar it is impossible to say now, because we don't know what's going to be cancelled, what's going to be added or moved. I would like to do some of the cobbled classics, they might be more available to me, like Roubaix and Flanders, but this is pure speculation right now.

CC: Hugo has been with the team for a while and now Steve Bauer is also joining. I don't think you have really had a chance to work with Steve as a DS before?

BP: I was just a little too young to get involved with the Spidertech program. He was my DS at Montreal-Quebec [WorldTour races] one year with the national team. And we are both from the same club - he started with the St Catharines club, I started with the St Catharines club ... my best friend growing up lives on the same street as him, so it's just like a weird small world moment, where he would talk about doing renovations on his house, and I could picture the street.

I don't have much experience working professionally with Steve, but he's got a lot of experience and it is good to have the Canadian perspective in there ... we come from such a small cycling nation, relative to the Italians and Spanish ... so just figuring it out with that 'Canadian ear' in management is going to be really helpful, I think.

CC: So what are you doing for the coming months; staying in Spain?

BP: I think with the global situation and everything ... all the travel I've done in past years - going home and back for Christmas - it's a lot easier to just stay here and train. There's good weather and I'll be able to get ready for team camp. I have a lot of friends here, a close circle I can have Christmas with and it means I can focus on preparing for next season. So it's probably just better this year to stay put. I feel really fortunate, especially this year. All my little turns of bad luck are over.