December 22/20 14:16 pm - CC Award Winner Mike Woods Talks About 2020 & a New Team in 2021

Posted by Editoress on 12/22/20

On Monday, road pro Mike Woods was selected as the Male Canadian Cyclist of the Year for the fourth consecutive time [see Woods & Kirchmann Chosen as Male & Female Canadian Cyclists of 2020], after a season of ups and downs that began with a broken femur at the beginning of what was expected to be an Olympic year, but saw him come back to score stage wins at Tirreno-Adriatico (where he finished fifth overall and wore the leader's jersey for a day) and the Vuelta a Espana (where he finished second in two other stages), as well as 12th at the world championships.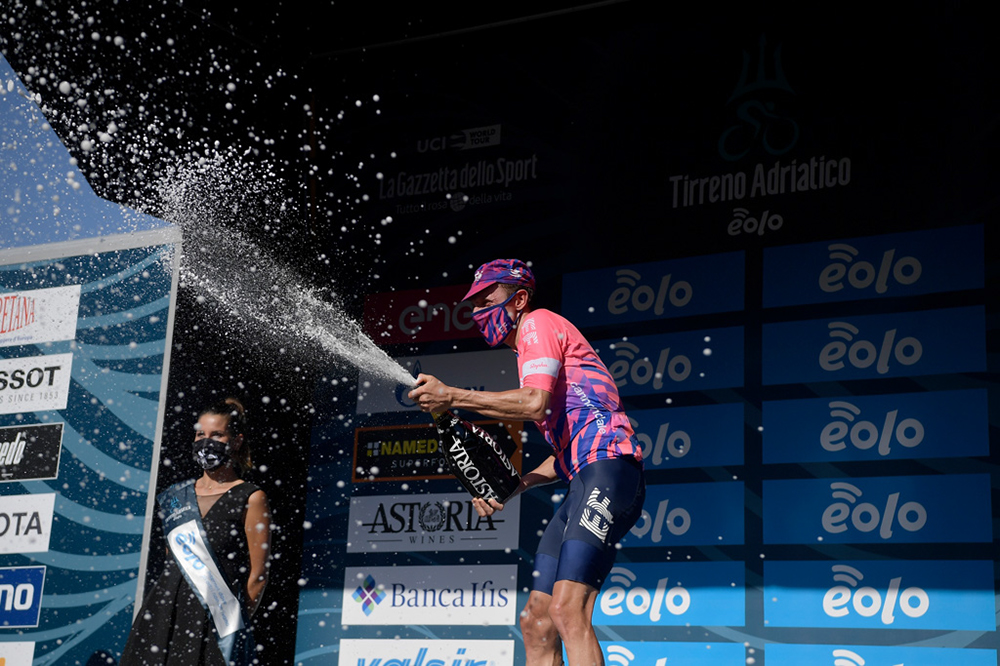 Celebrating Stage 4 win at Tirreno-Adriatico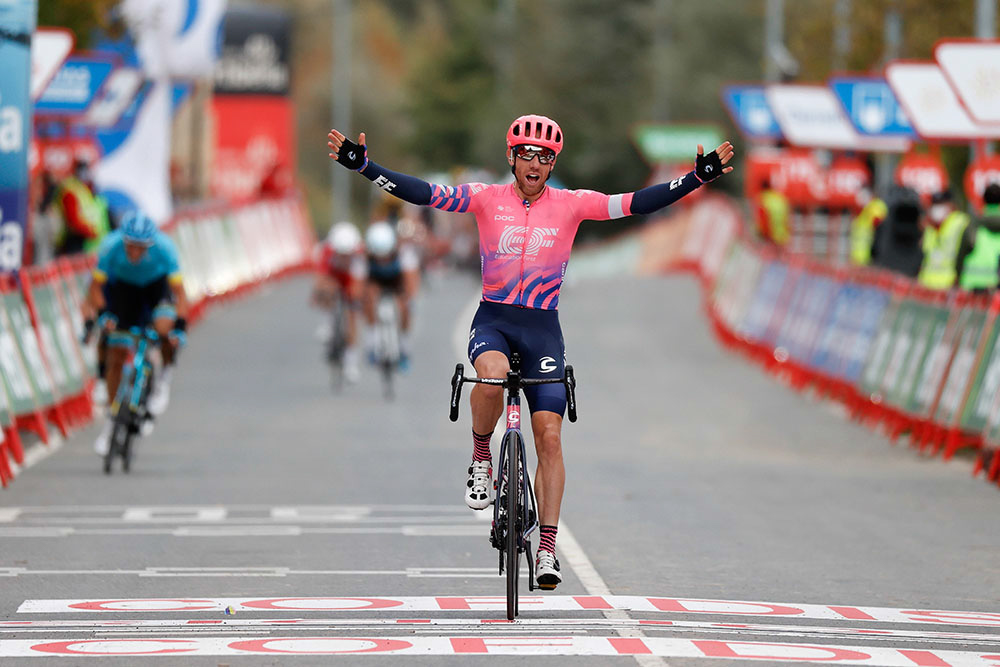 Vuelta Stage win
He is currently back in Canada with his family for Christmas, before heading back to Europe to prepare for a new season, this time with his new team, Israel Start-Up Nation. Mike spoke to us from his home in Chelsea, Quebec.

Canadian Cyclist: So, congratulations - fourth year in a row as Canadian Cyclist of the Year.

Mike Woods: Thank you, it's a big honour. As always, I appreciate it and love it, especially considering that it is something that is voted on by fans. I take that especially to heart, I really appreciate it.

CC: Obviously, it's been a very strange year, with almost all of the racing compressed to the end. That may have been to your benefit after your accident early in the year.

MW: Yes, it has been a really strange year. I would never want or wish a pandemic to ever happen, but I'm one of the few people who is a beneficiary of the effects of the pandemic, from a cycling perspective. With my bad fracture to my femur at Paris-Nice it looked like I would be missing a large percentage of the calendar and potentially missing out my biggest goal of the year, the Olympics.

But with the effects [to the calendar] of the pandemic, I literally missed zero days of racing. My last race [of the Spring] was Paris-Nice and my next one back [in the restarted season] was Strade Bianchi, so I didn't miss anything. I'm sure I'm first person ever to break their femur at Paris-Nice and race Strade Bianchi in the same season!

I feel pretty fortunate in that sense; obviously not fortunate to have broken my femur - I think without that I probably would have been able to do the Tour, but other than that I really benefited from the delay.

CC: Next year you move to a new team and you have spent your entire WorldTour career thus far with one program, so this is a pretty big change.

MW: Yes, definitely it is a big change. I've been really comfortable at EF and its many iterations. I've had a lot of support from them and I'm used to the environment, the people and the staff, the equipment, everything. So, it will be a dramatic change going over to Israel, but I think it is going to be good for me.

Working with Paulo [Saldanha, the Performance Director and Woods' long-time coach] and working under Sylvan [Adams, team owner, Canadian-Israeli business man] and with three other Canadians [Guillaume Boivin, James Piccoli and Alex Cataford] ... I think it is going to be only a benefit to my riding. I think there is more to improve on for me, and I hope to do that next year at ISN.

CC: You are joining the team at the same time as Chris Froome, a multi-time Tour winner.

MW: Totally, yeah. I think with Chris Froome and Dan Martin on board ... those are two guys my age or older but have a boatload more experience then I do; champions for years now. I think that in order for me to make an even higher step, a step where I am winning Monuments, is working with those guys and learning from them.

CC: It's obviously pretty early, but have you had a chance to talk Paulo and the team about what some of your major goals and races will be for the season?

MW: I've definitely had a chance to talk with Paulo. One of the reasons that I signed on with this team is my clear objective for next year - the Olympic Games. That's my main target and we are going to base the calendar around that.

CC: So does that mean some early season Monuments and then you go to Olympic training? What about things like the Tour?

MW: I definitely want to do the Tour next year; I think that is going to be an important piece of preparing for the Olympics. The world championships this past season [in Imola, Italy] were a really good world championships for me and, I think, had I done the Tour, I would have had a nice result there, I could have repeated my medal performance of 2018 [bronze in Innsbruck, Austria].

But I didn't do the Tour, and I was just off of making the front group that was competing for medals. Every guy in that group attended the Tour, and I was the first guy over the [last] climb that hadn't done the Tour. I think that really showed that I was just missing that one last percentage point, and showed to me that I just can't miss the Tour next year.

CC: How long are you home in Canada before you head back to Europe and do your first camp with ISN?

MW: We arrived back here on November 30th and we are heading out on December 29th; we are going back to our home up in Andorra to prepare for the season. Obviously, I love it here, but with the weather the way it is, it is impossible to get the big miles I need to prepare for the season. This will give me lots of runway to prepare for my big early targets, which are the Ardennes [Amstel Gold race, La Fleche Wallonne and Liege-Bastogne-Liege].