December 23/20 11:32 am - Woods & O'Brien Chosen for Best Individual Performances of 2020

Posted by Editoress on 12/23/20

The final awards for the 24th annual Canadian Cyclists of the Year are the Best Individual Performances. Mike Woods, our Male Canadian Cyclist for 2020 took first place with his stage win at the Vuelta a Espana, while the 2020 Para Female Cyclist of 2020, Kate O'Brien, had the top Para performance with her world record ride to capture the C4 Women's world title in the 500 metre Time Trial.

Woods won Stage 7 of the Spanish Grand Tour with a completely dominating performance. He attacked solo with 22 kilometres to go on the Puerto de Orduña climb, cresting the top alone. Four riders joined him on the descent with 16 kilometres remaining - Alejandro Valverde, Omar Fraile, Guillaume Martin and Nans Peters. All five attempted to drop the others on the final climb to the summit but were unsuccessful. Woods then made the winning move with just over a kilometre to go, finishing four seconds in front of Fraile and Valverde.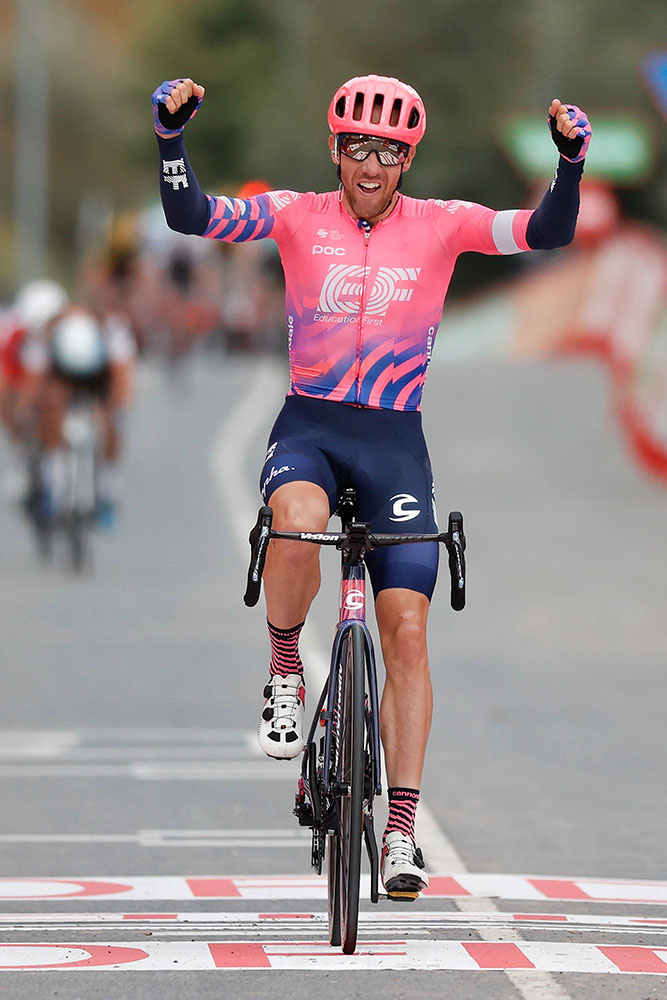 Track sprinter Kelsey Mitchell was second in voting for her fourth place finish at the world championships, while the women's Team Sprint duo of Mitchell and Lauriane Genest were third for their gold medal performance at the Track World Cup final in Milton.

"It was a special day and it's amazing to be racing in the Basque country," said Woods. "I got away with those four other guys and they were riding super strong. With Valverde in the group I couldn't pull through because of McCarthy [Woods' EF team mate sitting second overall]; we didn't want to give him [Valverde] any time in the general classification [Valverde was tenth overall on GC, improving to ninth after this stage]. So I was able to sit in a bit and had some luck with the legs."

"I had pencilled this [stage] in a bit, but initially I wasn't supposed to be in the break; I was supposed to be with Hugh. However, the race just got so crazy and the [lead] group got so big that I had to go across to make sure that we had numbers in it. I'm going to savour this one."

We described yesterday [see O'Brien & Chernove Chosen as Male & Female Canadian Para-cyclists of 2020] how Rio Olympian sprinter Kate O'Brien came back from a life-threatening crash to compete as a para track cyclist. Her first-ever competition as a para-cyclist was the Para Track World Championships at the Mattamy National Cycling Centre in Milton, Ontario, at the end of January. O'Brien crushed the existing world record of 35.716 seconds for 500 metres with a time of 35.223 seconds; 51.102 kilometres per hour. A day later, she destroyed the 200 metre world record by 1.438 seconds, setting a new best time of 11.519 seconds (this is not a world championship medal event).

"I am pleasantly surprised," admitted O'Brien, "and looking forward to wearing the rainbow stripes [as world champion]. The world record was certainly a surprise. It was really, really fun and amazing to be back competing. I'm looking forward to what's to come."