December 31/20 8:50 am - Nigel Ellsay Retires with No Regrets

Posted by Editoress on 12/31/20

After six years as a road pro, Canada's Nigel Ellsay has decided that 2020 will be his final year in the professional peloton. Ellsay was national champion in the time trial as a Junior in 2012, the same year he won the time trial at the Ronde des Vallées stage race in France. Other notable results include finishing second overall in the Young Rider classification and seventh overall at the 2016 Tour of Alberta, as well as second overall on the GC at the Joe Martin stage race in the same year. In 2017, he won the Climber's jersey at Tour de Beauce and was third in the time trial at Tour of the Gila. In 2018 he was third in the Road Race at Nationals and finished second in the same race a year later. He was second in 2017 at the Nationals in the time trial as an Elite rider and in 2011 as a Junior. This year saw him finish sixth in the Mountains classification at the Tour des Alpes Maritimes et du Var at the beginning of the year before his year ended abruptly in September when the season restarted, after breaking his back in a crash at the Volta a Portugal.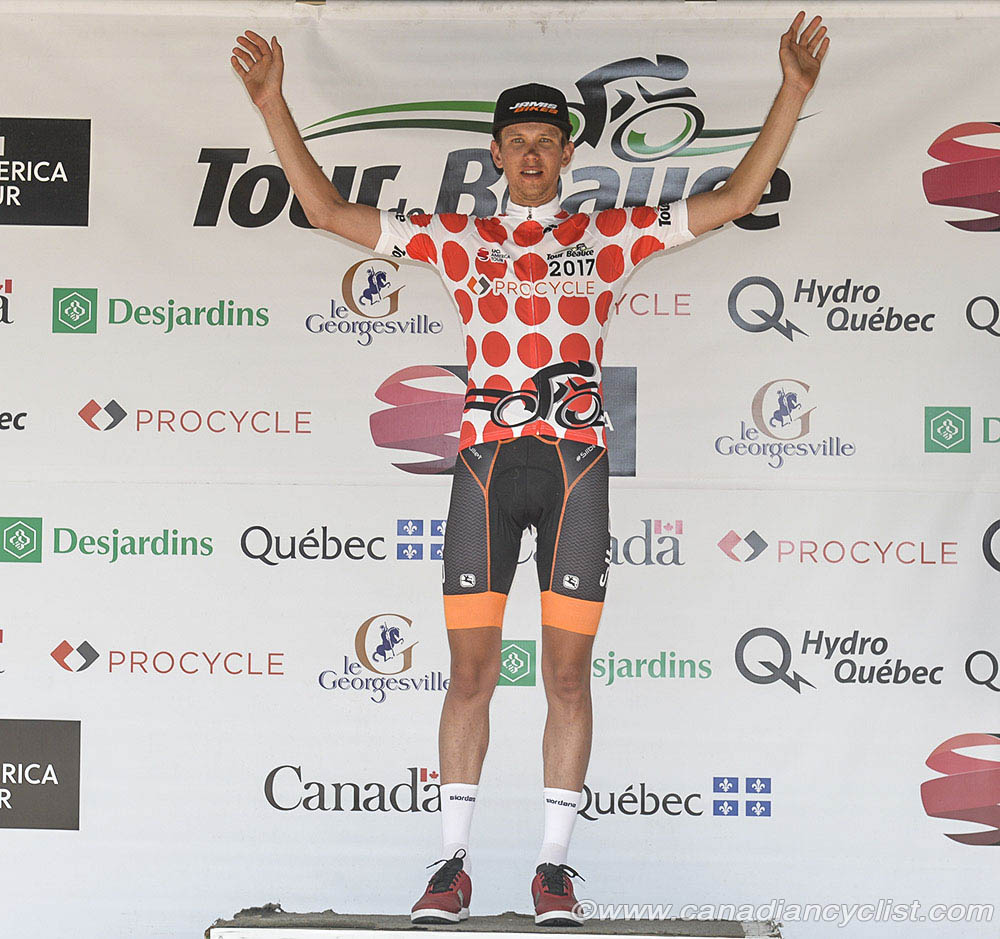 2017 Tour de Beauce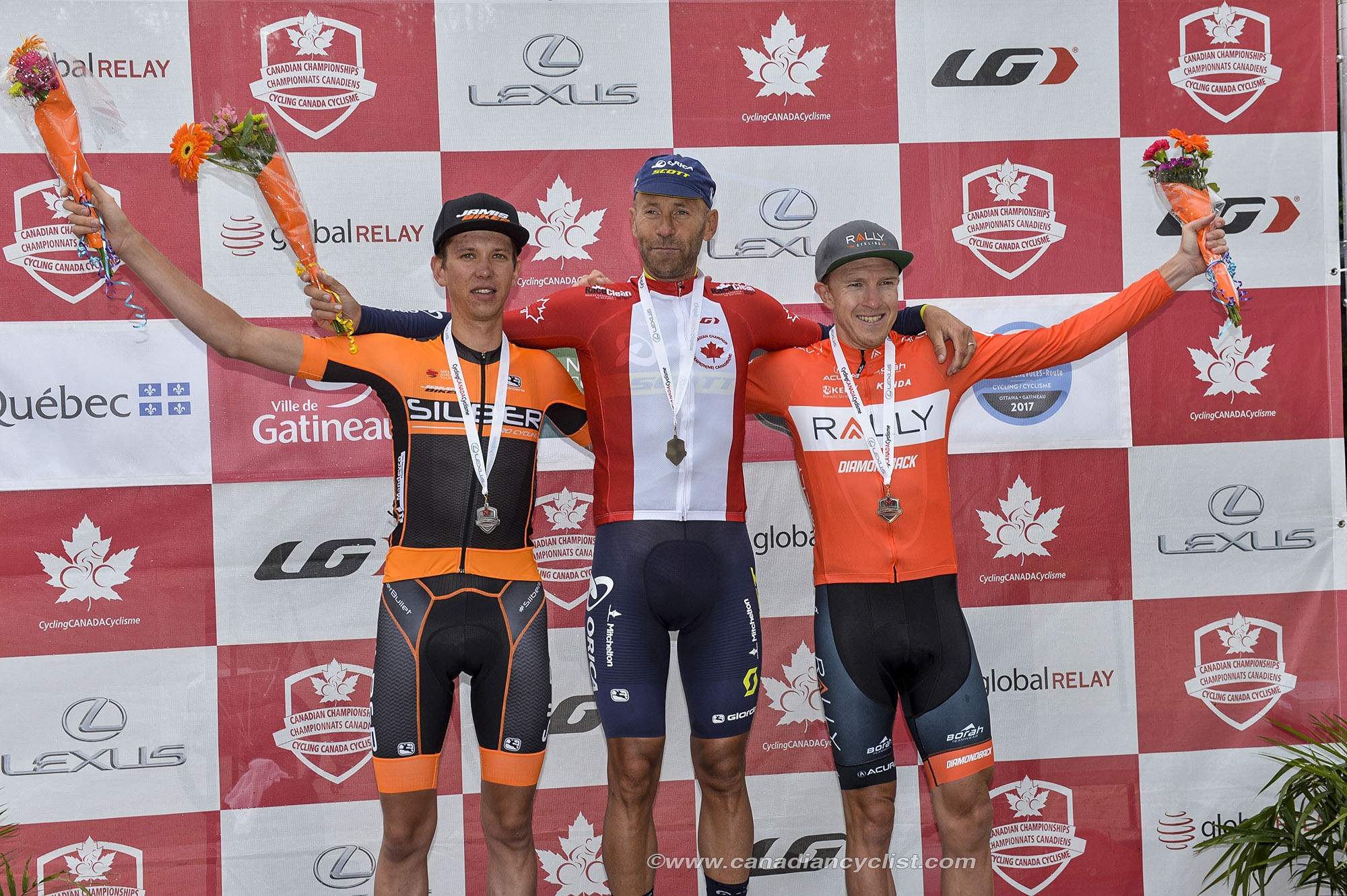 2017 Road Nationals ITT, l to r: Elsay, Tuft, Britton

Canadian Cyclist: Retirement ... what brought that on for you at this time?

Nigel Ellsay: I was racing in the Tour of Portugal in the last week of September and I crashed and broke my back. I fractured four vertebrae and spent almost three weeks in the hospital in Portugal. That, coupled with the fact that in the back of my mind I was ready to fully commit to school ... I have had a good six years racing bikes professionally and I was ready to commit to other things. I wouldn't say that I made the decision to retire in a heartbeat, but it happened relatively quickly, over the course of a month.

CC: So was it while you were in hospital, or were you thinking about it before?

NE: I would said that before [the crash] I was not sure when I was going to retire. I knew that it could be kind of a sudden thing or I could keep racing for a long time. But I think in the back of my mind that it was something I was going to do sooner rather than later. And then the crash ... and realizing that there were a lot of other things I really wanted to do; and that I didn't want to keep finding myself in the hospital with life-threatening injuries.

CC: So what exactly happened in the crash?

NE: I don't really remember it all. I lost my memory from a few seconds before the crash until about 15 minutes after. But from what I was told we were racing along a highway .... well, a European highway. We were going downhill on a fairly twisty road; I remember it was about 60-65 K an hour. I was on the outside of the group and the road was bending to the right. I was following a wheel and as we exited the bend we turned hard right off of the highway and onto a smaller road. There was a motor cop, a flagger, in the middle of the road telling us to turn and the rider in front of me that I was following was going to go below the flagger on the corner [to the outside], and at the last second he turned hard right to go inside of the flagger, and the flagger jumped backwards and into the path that we were going. I ran into the flagger headfirst. He broke a few ribs, but he was overall okay.

CC: So are you fully recovered now, or still working on that?

NE: I'm still working on it. I was in the hospital - the ICU - for ten days and then a ward for another week. Like I said, I broke four vertebrae, broke a bone in my face, concussion, some strained ligaments and chest trauma. So, a pretty good list of injuries. I underwent two surgeries; one on my back and I have some hardware in my back now which I should get out next summer. But I've been told I'll make a full recovery, and I'm swimming and walking now, and should be able to ride in the next couple of months.

CC: So you said that there are 'other things you want to do', and mentioned school.

NE: I have a year left in a Bachelor of Arts at the University of Victoria, so I'm planning on finishing that this coming Spring and next Fall, and then pursuing a graduate degree. I have some ideas [for graduate school], but I'm not ready to tell everyone yet; I want to make sure that that is what I want to do.

CC: Lesley Tomlinson at TaG Cycling told me that you are going to be working with their racing program?

NE: Yes, I'm super excited about that. Cycling has given me so much; It's allowed me to come to where I am - I'm not bitter in the least and have really enjoyed my time racing. She approached me during the time I was in the hospital in Portugal; she had heard that I had crashed and wasn't sure what my plans were for the future. She asked me if I would direct her Under-23 team for next year [2021]. We had some discussions, but pretty well off the bat I was convinced that that was what I wanted to do. We're not too sure at this point what next year is going to entail, in terms of racing and the restrictions, but we're planning on racing in the U.S. [for the early season], which might not happen. In that case we'll run training camps in Canada for February-March, and then go over to Europe at the end of April and for the month of May. That will go ahead no matter what happens with the U.S. racing, and we will race a lot of Under-23 UCI races. Hopefully, we will do another trip to Europe in August with the team.

I'm pretty excited; it's something I missed in my own development because the national team wasn't really doing much on the road side. I did a bit with Silber, which I'm super grateful for. But it was mostly North American-based and I think I really missed out on the European experience. So I'm excited to give back and teach some of the young guys the things that I learned, and the things that I didn't learn but wish I had. I want to use the resources I've developed over the years to help some young guys and girls.

CC: So, let's talk about your career. It's not just you - your sister Gillian has also been involved in racing. Have you always been a cycling family?

NE: My mom didn't really ride, but my dad raced as an amateur in B.C.; he was pretty good back in the '80s. He got my sister and I into riding; it was just a nice thing to do together. I pushed him to get us involved with the local cycling club; I think I fell in love with the sport when I was around ten, watching Lance [Armstrong] beat up on people in the Tour. That's how it started for me, and it just kind of spiralled into wanting to go to races when I was around 16-17.

CC: Has it always been road racing?

NE: Yeah. Obviously, I grew up in a mountain bike town, in Courtney, home to Kiara Bisaro and Geoff Kabush. But road racing was always my thing. I rode mountain bikes a bit and wasn't very good at it ... maybe if I had stuck with it I could have developed the technique side of it, but road racing was more of a success initially, and I think that's part of the reason I stuck with it.

CC: What was your trajectory, in terms of making it into the pro ranks? You mentioned Silber, but what was your path to becoming a pro?

NE: I was helped along a lot by the provincial federation [Cycling BC], especially Richard Wooles. He started helping me when I was 17 years racing age and helped me out for the season. Then I went over and raced for a year as a Junior in France with a club team. I had a great experience and then went back and raced two more years as an espoir [Under-23] with the Sojasun feeder team [2013-14]. After that, I came back and raced three years with Silber [2014-17], and finally three years with Rally [2018-20].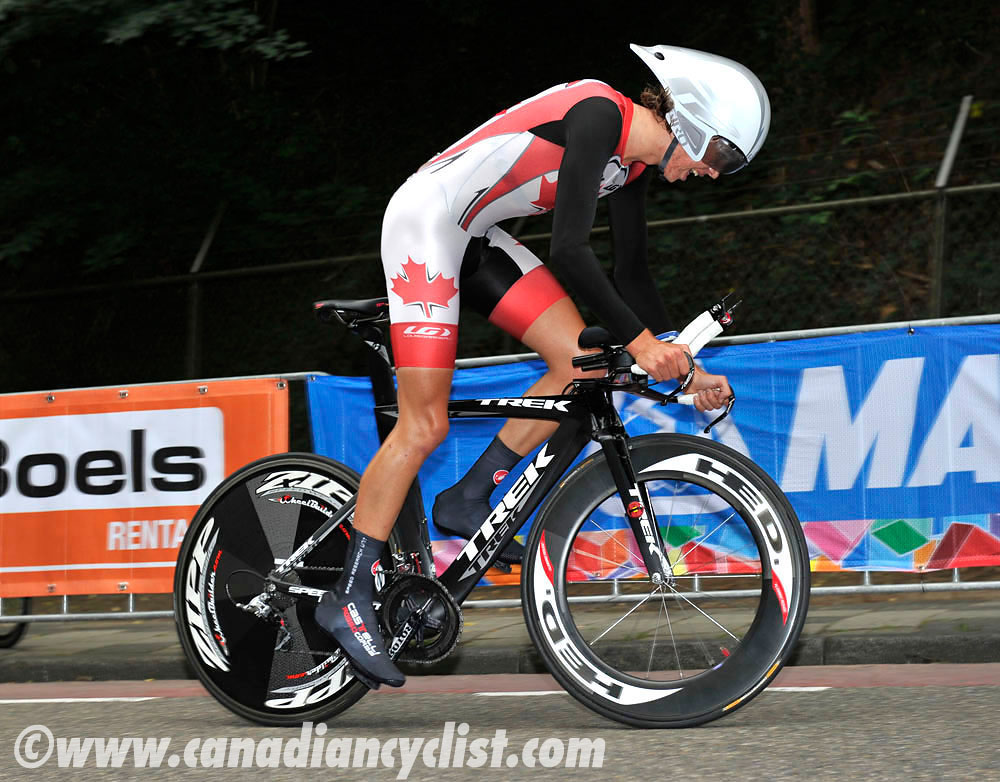 2012 Road Worlds ITT (Junior)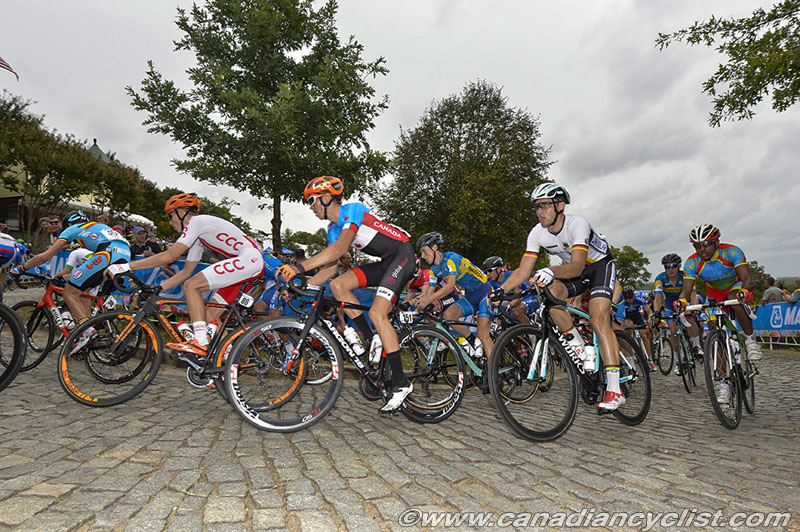 2015 Road Worlds (U23)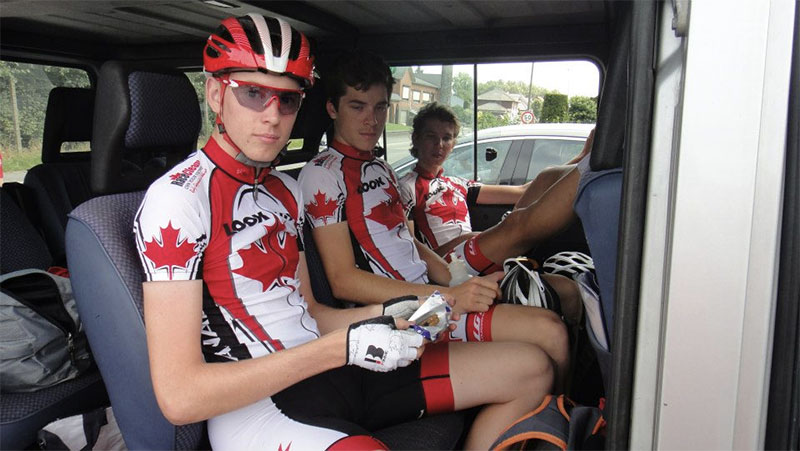 2012 Road Worlds with Yohan Patry, Ben Perry and Ellsay (from left to right)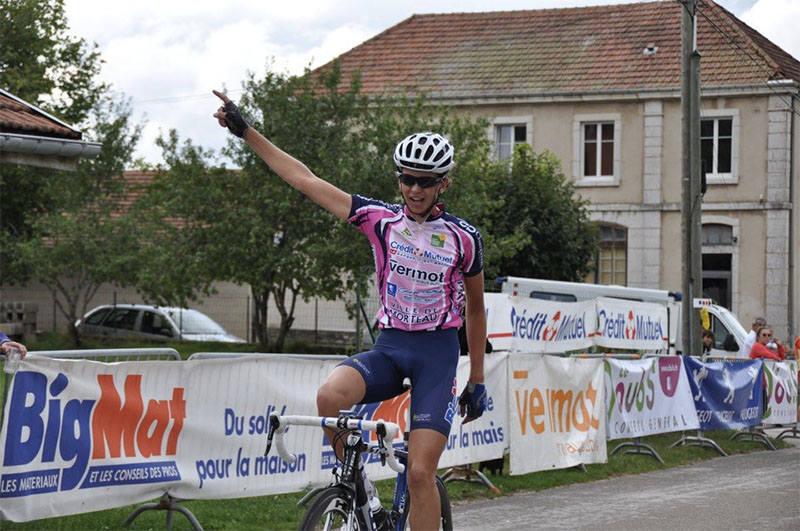 2012 as a junior with VCCMM


2013 with Sojasun, teammates with Guillaume Martin (KoM winner 2020 Vuelta)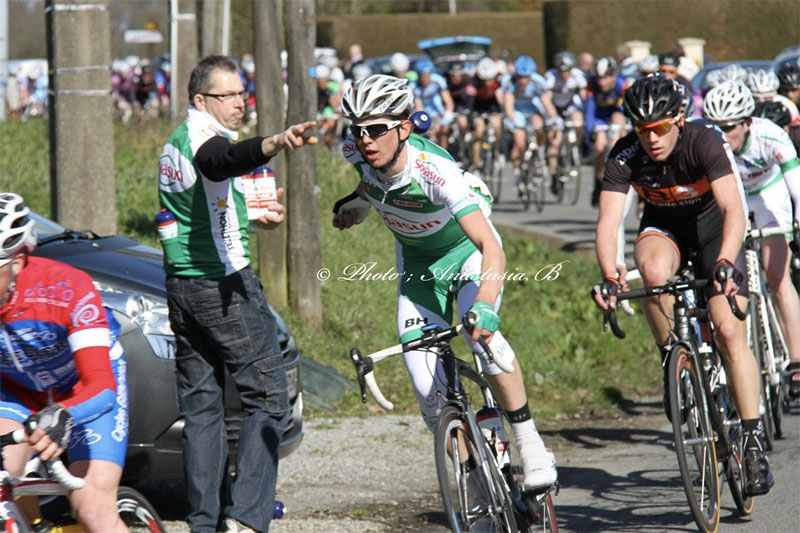 2013 with Sojasun Espoir

CC: When you look back on your career, what do you consider to be some of your big accomplishments, what stands out for you?

NE: I think two biggies stand out. One is going over to Europe as a younger lad and getting stuck in racing with new people and having success; I really enjoyed that. And, I think the second one is kind of a bigger picture thing, and is the years racing with Silber. When I first went to the team in 2015 it wasn't a big team but we assembled what Scott [McFarlane, team owner] thought was a good roster of mostly younger guys, with a few senior ones like Ryan Roth and Derrick St John. We were able to get together as a team and find success, especially in the 2016 year. It seemed like we would have a guy on the podium every race, but almost never the same guy. That was something that it was cool to be a part of, and for that reason I think it was probably the most fun year I had racing a bike. I can still remember riding in the breakaway with Matteo [Dal-Cin] at Redlands and us pulling off the overall win for Matteo. That was such a fun day on the bike. Those are the days that, for me, I look back on as fond memories. It wasn't necessarily a day for me but it was a day for the team and so cool to be a part of.

CC: The other side of that is regrets....

NE: Regrets is kind of a funny one ... I would say there are no particular experiences that I am regretful for. For sure, I made tons of mistakes, but I wouldn't say I necessarily regret them because without mistakes I don't really see a point to doing things. From mistakes I can learn and try to get better, and now hopefully teach people how not to make those mistakes. So I'm not sure if there is any one particular regret I have. I'm pretty thankful and fortunate with the career I was able to have, racing in Europe and around the world.

CC: Canadian men's road cycling is in a bit of a difficult time; we don't have Symmetrics, or Silber, or Spidertech. Those programs were pretty important, and what is the impact of not having those programs, from your perspective?

NE: I think it's disappointing for sure. I don't think there is any one reason that we no longer have these programs, I think it is due to a number of smaller reasons. But that is for sure part of the reason that I want to be part of TaG. I think TaG can develop into one of these feeder teams to the Pro Conti and WorldTour teams. I think it can be a good team to bring in the Under-23 riders, give them some European experience and hopefully from that we can send them on to the Pro Conti and WorldTour teams.

But I also think the Pro Conti and WorldTour teams have changed since programs like Spidertech were around. They are taking more younger riders, so you don't necessarily need teams developing the guys into their late-20s. You can have 19 or 20 year old guys popping off one or two good rides in Europe and the WorldTour teams won't risk missing out on them. You could see that this year with the Tour de France winner. Hopefully, we can develop that at TaG.