January 24/21 9:37 am - Scott Kelly wants to 'Build the best possible version of Cycling Canada'

Posted by Editoress on 01/24/21

On Friday, Cycling Canada announced that they have hired Scott Kelly to fill the newly created position of Chief Sport Officer. Scott is well-known in the Canadian off-road cycling community (mountain bike and cyclo-cross) as staff for various pro teams and the national team (including the 2012 Olympics), as well as heading up the Cyclo-cross Committee that oversees the volunteer work to help Canadian athletes compete in Cyclo-cross World Cups and the world championships (and managing the national team at Worlds). He is also a partner in the well-regarded Dundas Speed Shop bike shop, in Dundas, Ontario. Finally, he has in the past been a Board member at Cycling Canada, as well as serving on numerous committees at both a national and provincial level.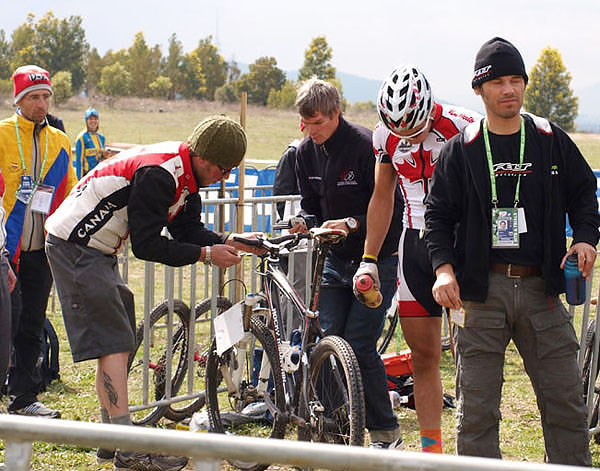 2009 MTB World Championships: Scott Kelly works on Evan Guthries bike in the pit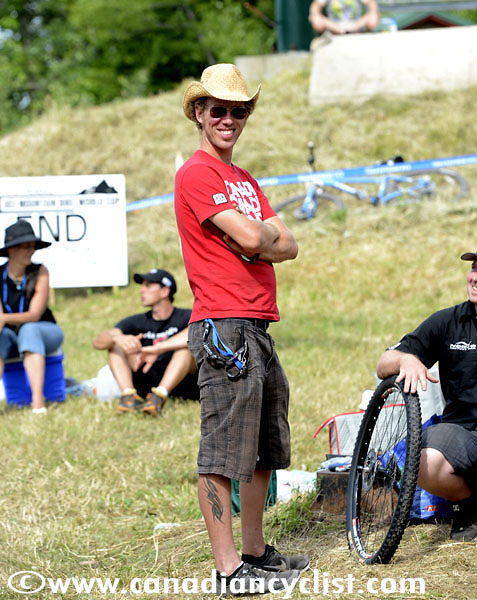 2012 Windham World Cup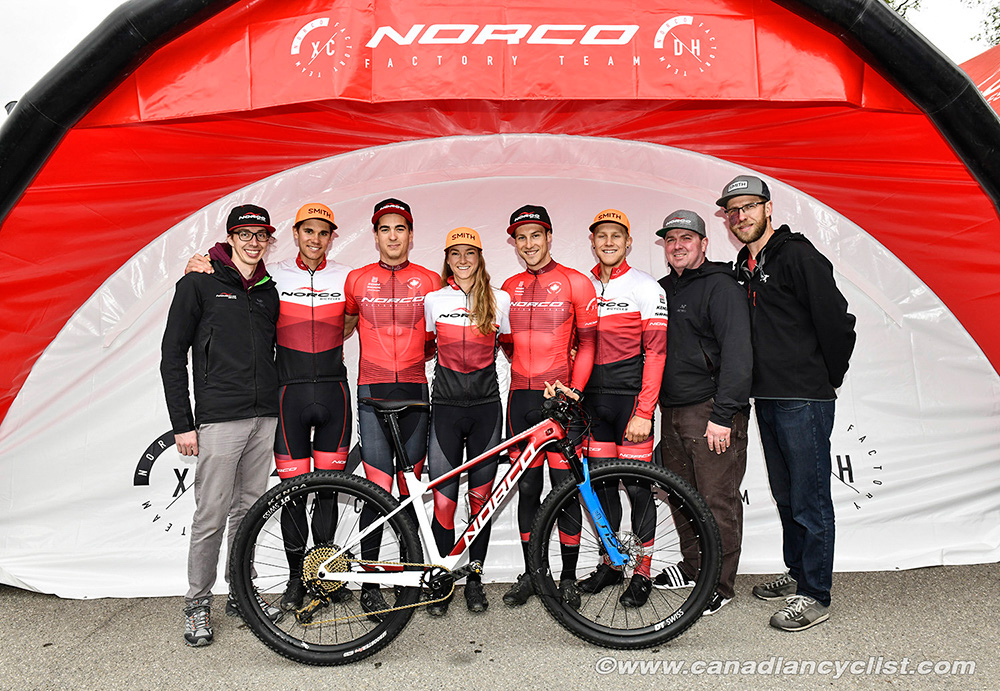 Scott Kelly (far right) with Team Norco in 2019
We spoke with Scott from his home in Dundas, as he prepares to undertake this new position, starting on February 1st.

Canadian Cyclist: Let's start by talking about what exactly the Chief Sport Officer is.

Scott Kelly: It's a position Cycling Canada has had in the past, that has been reimagined with an eye towards building a better sport system for Cycling in Canada. How can we get all the different stakeholders and all the different players on the same page working together and doing what's best for the sport. We need all the different facets of the sport working together in unison, throughout the development process. It's not enough to have strong provincial programs, or a strong national program, we need to improve at the intersections and transition points.

That starts at intake and could mean kids developing from a provincial team to a NextGen program, from the NextGen to the Senior National team, and from the Senior National team to Professional teams. We want to improve the team work between the different stages of the sport and all the different disciplines of the sport. What I've been telling people is that what we want to build the best possible version of Cycling Canada. We don't want to reinvent the wheel, we don't want to throw everything out and build it back up again. Instead, we want to take the good and improve upon that.

CC: What sort of things will that mean? You talk about keeping what's good and improving upon it - what are some examples of this?

SK: I've been with Cycling Canada in various capacities since 2008 and I've been through a couple of different administrations, if you will. We're in a really good spot now with the organization as a business. The finances are in order, we have really great staff and really good coaches. It's more about getting everyone and every discipline on the same page and working together with the different stakeholders; whether that be clubs, provincial teams or professional teams. We want to grow our community of cyclists and one way to do so is to have a robust performance program. I think people take pride in Canadians doing great things on the world stage, but they also want a strong development program that can impact kids even down to a club level.

CC: American President Joe Biden is just starting his first 100 days in office - what's your first 100 days going to look like?

SK: I don't think there is going to be much monumental change in the first 100 days. In terms of the march towards Tokyo [Olympics], Kris Westwood [High Performance Director] and his team will continue to lead that and we're going to stay the course. I will sit in on those conversations, but he has taken the lead on that and will continue to do so. There will be a lot of communication, interacting with the provinces and the other stakeholders on what they see the situation looking like and how we can work together going forward.

CC: It sounds like a lot of your job isn't necessarily just high performance, which is what people think of, when they think of Chief Sport Officer.

SK: That's where the reimagining of the position comes into play. We've had high performance directors and technical directors in the past, and really it's like taking a step back and realizing that cycling is certainly high performance, but it's also more than high performance. It's also development, it's grassroots, it's events and all those things. They all exist together and they are all interdependent upon each other. In order to have the best possible high performance program, we need to have the best possible development program. We need amazing events and a strong and engaged membership. We have some really great folks driving things in the development department and we're going to give our level best in the performance department.

CC: We are coming out of a 12 month period where there has literally nothing been happening domestically, in terms of competition or events. Hopefully, it's going to open up at some point this year, but what do you see as some of the most important domestic things to be done?

SK: I think some of the most important things have already started. If you look at what Jenny Trew [NextGen coach] and the NextGen program have started with the OCA [Ontario Cycling Association] advancement group, and, more recently, Laura Brown [coach] with Cycling BC ... I think these are an indication of things to come. They aren't discipline-specific - it doesn't matter if you are track rider, if you are a downhill rider, if you are a cyclo-cross athlete ... what we want to do is expose you to other high performance athletes, to high performance coaching and the IST team [Integrated Support Team - offers sports science/medicine, etc., services], and further your advancement in the sport. Those initiatives are really quite great, and something I would love to see more of.

CC: What areas are we likely to see you directly involved?

SK: A big reason why I am in this position, I think, is because I'm one of the people who has been out in the field 100-150 days a year for the last decade at races and events. I've been at road races, cyclo-cross races, mountain bike, the works. So, again, and I apologize for the repetition, what I want to do is focus on alignment, and bringing everyone together and seeing how the different disciplines can work together, and how the NSO [National Sport Organization - Cycling Canada] can work with the PSOs, work with the clubs, and especially work with the trade teams. A big part of what I plan to work away at is opening those channels of communication and collaboration.

When I look at some of our young athletes, they might end up being a road athlete, or a mountain bike athlete or a track athlete but what we do know is they are exceptional young cyclists and we want to help them become World Class cyclists. I've spent a lot of time working with multi-dimensional riders like Geoff Kabush and Katerina Nash, and if you look at someone like Mathieu van der Poel, Ceylin del Carmen Alvarado or Thomas Pidcock, you can see how other countries are developing their athletes. I remember having Maggie Coles-Lyster and Stefan Ritter at Cross Worlds as Juniors. And they excelled on the Track. Leah Kirchmann raced MTB Worlds as a Junior. All of these experiences are valuable and make them better bike racers. Magdeleine Vallieres-Mill raced Cyclo-cross Worlds twice as a Junior, and Mountain Bike Worlds once. So she had three more opportunities to learn from and experience World Championships then she would have, had she just focused on road. So, let's take a step back and not assume anything at the age of 16; let's expose them to a bunch of different disciplines and a bunch of different teammates and a bunch of different coaches, all within the high performance realm. It will figure itself out and the cream will rise to the top.

In Canada, we've kind of been stuck in a 'track is track, road is road, mountain bike is mountain bike' type mindset and we certainly have exceptional athletes that will end up specializing in one field and we will be there to provide them World Class support. But I think when it comes to development, we can and should mix it up a bit. How can we use all our resources to benefit all the different disciplines? And how can we expose our coaches, our staff and our athletes to all the different disciplines and to each other?

Ultimately, we want to improve upon our depth as a country. We want to increase both the quality and the quantity of the athletes we're producing, the quality and quantity of coaching we're providing, and the quality and quantity of programming we offer as a National Team and all the way down to when a kid first grabs a bike and thinks...'oh man, this sure would be fun to go fast on'.