March 16/21 16:21 pm - Hugo Houle - 'The Best Result of My Career'

Posted by Editoress on 03/16/21

Canada's Hugo Houle, riding for the Astana - Premier Tech WorldTour team, finished 13th overall on Tuesday at the Tirreno-Adriatico stage race. It is Houle's best ever result and he was the top rider for the team. Houle moved into 13th overall on Stage 5, finishing 16th on the stage in bitterly cold and wet conditions. Astana - Premier Tech also won the team competition. We spoke with Hugo as he was driving back to his European base in Monaco after today's (Stage 7) final time trial.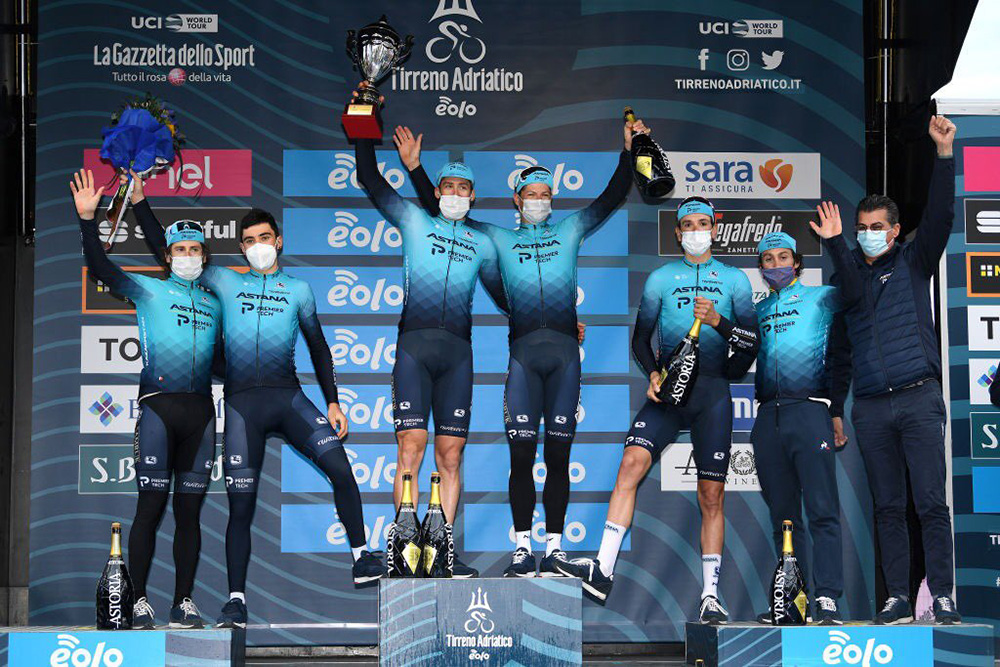 Hugo Houle, centre left, holding trophy for best team
Canadian Cyclist: Congratulations! 13th at Tirreno has to be one of your biggest WorldTour results.

Hugo Houle: Yes, there is no doubt about that! It's a very good result for me, the best so far. It is my best for the GC [General Classification] and I'm really happy. I was not expecting that, and really happy that I could achieve this result for the team. I was there to help Jakob [Fuglsang] get a good result, but the race played out that I had the opportunity to go ahead on the stage that was really cold and hard, and I was able to stay with the best. I'm really happy with the result and the way I raced over the week. It's a great result for me and shows that I have progressed.

CC: Yes, it was on Stage 5, when it was so cold and wet. So what was it like that day; we've heard a number of reports about how tough it was.

HH: It was really cold, and when it started to rain it was almost ice at one point. After it became a bit better, but it was a really technical circuit, so in my mind I had to keep going full gas just to keep warm, and at the end, we kept riding as hard as we could to keep warm, and we were catching some good guys, and we were able to come back to the front group. When we caught the front group, I was thinking, 'Oh well, there's not so many guys here', so I just pushed as hard as I could to the end. I'm really happy that I was able to keep pushing and didn't give up. At the end of the day, that's what meant I had the best result of my career, by keeping fighting. I know that in the cold I react pretty well; I'm lucky that I don't get major problems with the cold weather. But I don't like it!

CC: For most of your career you have been more of a supporting rider. This was a chance to show that you can be a GC rider.

HH: Yeah, it's a big thing to say that I'm a GC rider. I'm pretty consistent; I don't have any strengths where I'm really exceptional, but I would say that I am quite a complete rider. I'm not really, really good at one thing, but I think I am quite complete. My TT [time trial] is not so bad, and now that I am climbing more, living in Monaco, my climbing ability is getting way better. This is a really helpful for GC riding. But I would also say that that I have quite a good vision of the race and good skills to stay well placed, so I can manage to save my legs and stay in the front in the critical moments; I think that is one of the things that makes a big difference. I have a good ability on the bike and I can read the race quite well, so I'm able to save myself a little this way.

CC: What's next for you?

HH: I'm going to do the Belgian Classics, the cobblestone stuff. Starting with De Panne, E3 [Saxo Bank Classic], Gent-Wevelgem, Dwars dorr Vlaanderen and Tour of Flanders [Ronde van Vlaanderen]. It's going to be great, I'm going to be there I think with Steve Bauer as the Director and [Canadian team mate] Ben Perry should be there. I'm going to try to do something good and, if I can, a top-10, that would be a really good Spring Classic campaign for me. I will have quite a lot of opportunity because we don't have a strong Classics team, so it's basically up to me to get some results there. We'll see which riders come with me, because there is still some selections going on, but we will see.

CC: What about the Giro?

HH: No, I don't do the Giro; I will rest because I will do the Tour de France.