April 19/21 11:44 am - Sad News

Posted by Editoress on 04/19/21

David Bogue provided this tribute to Patrick Shea, an Ontario-based member of the Canadian racing community, who passed away on April 9th at the age of 53. Our condolences to his family and friends.

A legend of Ontario cycling, Patrick Shea, has passed away. Pat began his cycling journey at 14 joining the Woodstock Cycling Club in the mid 80's and competed as a Junior.

After taking a couple years off cycling he returned to competition as a Senior. He then raced with the Forest City Cycling Club out of London, Ontario, in the early to mid 90's and was a key member of that club's many wins at the Elite level, and also can count many Elite wins of his own, including being a two-time winner of Paris Ancaster. He then competed with the Saeco Cycling Team out of Montreal, the Ital Pasta Team of Toronto and the KHS team. He also competed as a successful Master racer.

Pat touched many people: those he raced with and those he competed against. He was a true gentleman and well respected teammate; never afraid to do the hard work needed for the team. Anyone who knew Pat or followed him on Strava knew he still had an unrivalled motivation to keep riding his bike ALOT still to this day. You will be missed by many people, my friend.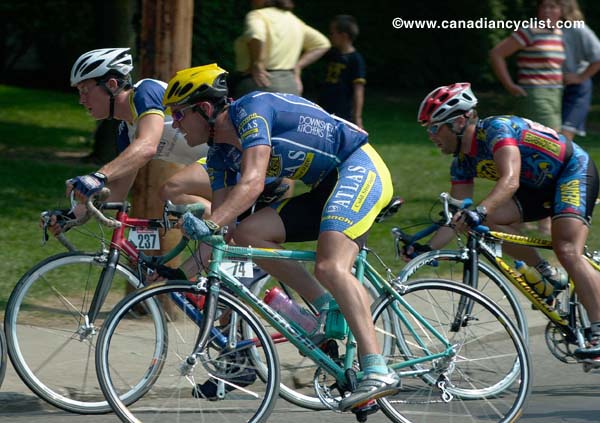 2002 Road Nationals, with Ryan Roth (l) and Piers Davidge (r)