April 28/21 10:49 am - Curt Harnett Talks About Club 1882

Posted by Editoress on 04/28/21

Today, Cycling Canada announced a new initiative called Club 1882, headed up by three-time Olympic medalist and Cycling Canada Board member Curt Harnett. You can see the official release Here. We also spoke with Curt about how this program came about and his goals for it.

For more information including how to join please click Here.

Canadian Cyclist: How did it come about?

Curt Harnett: I've been working on this for 18 months, so I'm awfully close to it. I'm very passionate about it.

It all started when I was elected to the Board of Cycling Canada. My time at the Canadian Olympic Committee had run its course. Once that was said and done and my responsibilities were over, I said 'what's next, what's my next commitment?'.

With cycling being what it means to me, I had conversations with then President John Tolkamp, [Executive Director] Matt Jeffries and [current President] Pierre Laflamme about getting involved and giving back as much as I can.

I ended up getting onto the Board and they had this Strategic Plan, which was very ambitious, but they needed to find external resources, diversify revenue to pull it off. Pierre [Laflamme] looked over and said to me, 'Curt, I'm putting you in charge of fundraising'. So I was 'volun-told' put in charge of the fundraising campaign.

We spent some time reflecting on what fundraising meant to the organization and, to be brutally honest, we had a bit of a poor reputation in the stewardship of donors and communicating with people; showing that the money was being put to good use and having an impact, and that we appreciated their support.

So there were some internal systems that needed to be reworked and a bit of a culture shift in understanding the value and importance of stewarding donors.

We had to start thinking about how do we get a couple of early victories in coming back out, where is the community at, what's their willingness to give to a national sport organization? So we did a lot of research and came up with this idea of Club 1882; it's a play off of our legacy and history as an organization. We are one of the oldest national sports organizations in Canada, incorporated in 1882 as the Canadian Wheelman's Association.

This idea of bringing together people that are passionate themselves about cycling and have the capacity to give a gift that would help grow cycling in Canada; it fits together with the idea of a movement bringing people together coast-to-coast-to-coast that have that desire, that have that capacity to build a community that's going to help Cycling Canada do the great things that it has the potential of doing.

The idea is to get the resources into the organization that will help us to do some of the things that government funding and corporate sponsorship don't allow us to achieve.

CC: A quarter of a million dollars is pretty ambitious for a first year. How confident are you about making that commitment.

CH: It's definitely ambitious, but why not set the bar to a certain level to put the pressure on everybody to get out and realize the opportunity? I've had a chance to do just that; I've had a lot of conversations with a lot of people - yourself included - about the concept and what the plan was going to be. The uptake on many fronts has been strong, and I've spoken with a number of people who fit the demographic, and they have committed. Before we even launch, we've got commitments in place of over $100,000. So I think once we get the message out to a broader community and they see that not only are we seeing success, that they will want to be a part of it. The validation is there that people are willing to put their money behind this initiative. But the work isn't over; getting the word out to people and bringing them on board is still required.

CC: What are some of the specific things that will be done with the money raised through this program?

CH: We've split the distribution of funds up in a rough estimate of 60-20-20. The core amount, 60 percent, is going to go to grassroots and domestic programs. Specifically, HopOn; [the Cycling Canada initiative], to help the organization fulfill its role and responsibilities with our partner members, the provinces, in building out HopOn.

The other pieces are some Junior development programming, some multi-discipline activities, obviously diversity and inclusion are really important to us as an organization, as well as cycling in general. Helping us grow into the communities that may feel marginalized and not necessarily part of the cycling community.

We are looking for another 20% to go into some under-funded national team and NextGen programming. That does include men's and women's Road, Cyclo-cross and Downhill mountain bike.

The final part is building internal capacity. As I said, Cycling Canada didn't have a great reputation in the stewardship of donors, so we will be building some internal capacity to ensure that we build out a legacy; proper donor management and administration, and proper reporting of the use of the money.

We do have some donors that want to direct their money towards one particular area; they may want to support underfunded programs or help HopOn, and we'll work to ensure that the donor sees the value of their donation year over year, so that we get returning donors, and that donor base grows.

CC: For someone who is going to join Club 1882, besides the obvious value of supporting cycling, what are they getting for almost $2,000 a year?

CH: Of course, a donation is really about helping the growth of cycling in Canada; a sense of being part of the solution. But there are some tangible benefits. I remember getting my first Team Canada jersey as a Junior; it was a wool zip up jersey. So as a play on the history of the organization, members will receive this really awesome merino wool long sleeve Team Canada replica jersey. I'm personally pretty excited about that. It'll be exciting to see, over time, people out riding in their long sleeve wool Club 1882 Team Canada jerseys.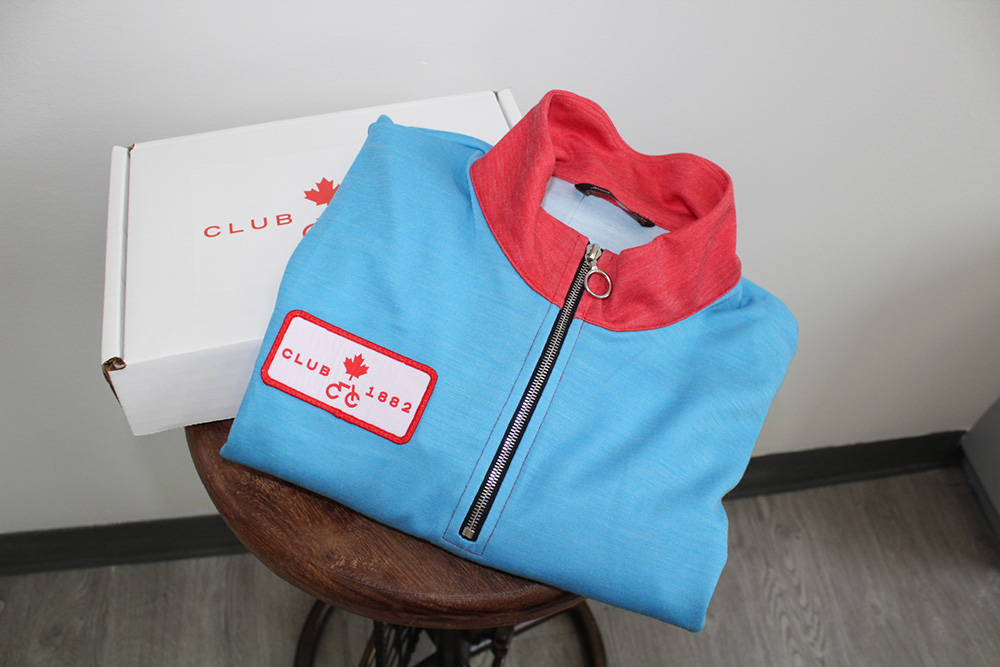 But one of the other elements is this idea of experiences; building on the social aspects of cycling. The opportunities of meeting with our champions and bringing them to the donor base. So, things like hosting pop-up rides in communities across Canada, maybe organized events like trips overseas to visit Christian Meier in Spain and maybe do a training camp for a week ... these types of really unique exclusive member-only experiences. It's about bringing a more personal approach to how we build our relationships; not only individually, but collectively.

CC: There's the low hanging fruit - the people already involved in the community and sponsorship - but how are you going to expand that?

CH: One of the opportunities I've had is to travel coast to coast to coast and be involved in bike events - hopefully that comes back soon - that is where we have seen great success in the past; just spreading the word. I've had conversations that last an hour and half and others that took ten minutes, and they're in. It's those people that will help spread the word; they'll be wearing their Club 1882 jersey and socks when they are out on their ride, and hopefully they talk to other people. So, word of mouth is definitely where Phase 2 success will come from.

I'm very passionate about doing this to help cycling; I'm a volunteer trying to make a difference and hopefully that comes across in my communication with people.