May 8/21 12:49 pm - Race Report - Carter Woods Wins Albstadt U23 World Cup

Posted by Editoress on 05/8/21

Canada's Carter Woods (Norco Factory) became the first Canadian man to win an Under-23 cross-country (XCO) World Cup on Saturday, in Albstadt, Germany. Woods is the first Canadian male rider to win at an XCO World Cup since Peter Disera won a Junior race in 2013 at Mont-Ste-Anne, and the first Canadian male XCO World Cup winner since Geoff Kabush at Bromont in 2009.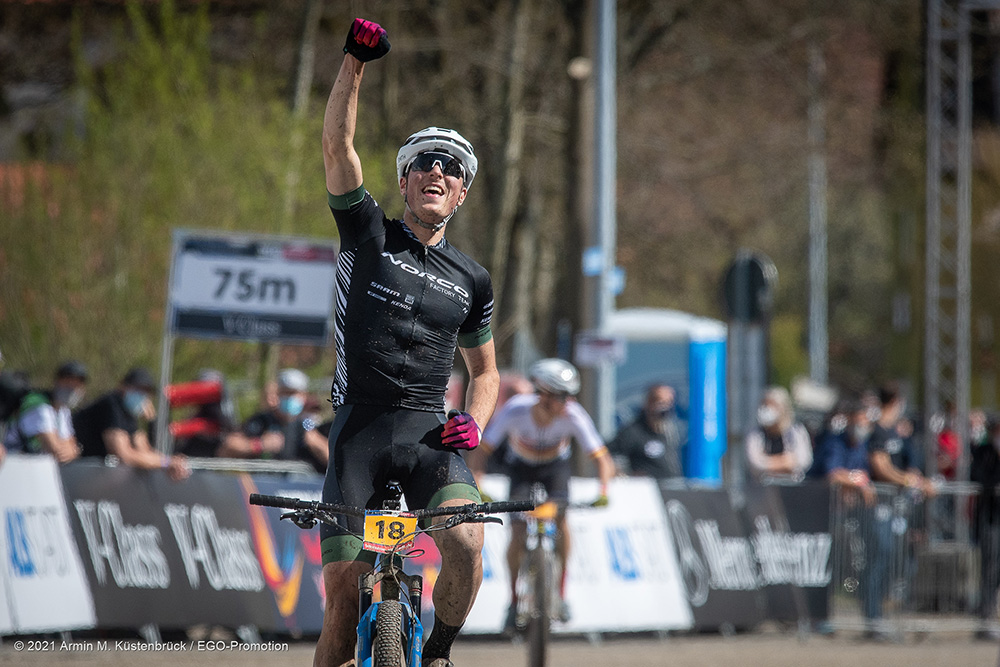 In other Canadian results, Gunnar Holmgren (Pivot-OTE) was 21st in the U23 men's race, and in the U23 women's race, Emilly Johnston (Canada) was 18th, Marianne Theberge (Pivot-OTE) was 31st, Julianne Sarrazin (Canada) was 44th and Roxanne Vermette (Canada) was 49th. There was one Canadian racing in the Junior races, Mara Roldan (TaG Cycling), who did not finish the women's race.

Carter Woods has come close to winning at Albstadt before - in 2019 as a Junior, he was in the lead with Charlie Aldridge (Great Britain) on the last lap, when they both crashed in the second to last corner, and Carter twisted his bars, finishing second.

This time, the Vancouver Island native left nothing to chance with a solo win after attacking on the last lap - in the same spot that Mathieu van der Poel (Alpecin-Fenix) had attacked a day earlier to win the Short Track; the flyover bridge into the last climb.

A group of seven riders, including Woods, got a gap on the start loop, and by the start of the fourth lap it was down to five - Woods, David List (Germany), Simone Avondetto (Trek-Pirelli), Joel Roth (Bike Team Solothurn) and Riley Amos (USA). Woods bided his time in the group until the final lap, when he launched his attack coming out of the feedzone, soloing in to win six seconds ahead of List, with Avondetto at 17 seconds. His final lap was the fastest lap of the race.

"It's pretty special for sure," agreed Woods. "Last time in Albstadt I had a rough one [with the crash], so it felt good to get a clean race. First start loop I got up to the top five and there became an established group of six of us. Once that happened, I kept myself hidden through the start-finish and out of the wind. I put in a couple of little digs on the third and fourth laps to test the legs, and they were good, so I rolled through the rest of the race. Coming down to the last lap, I knew it was going to happen on the [last] climb and I was well prepared. I laid it down and it went great."

"There's a little bit more pressure involved and more eyes on you [at a World Cup], but the last couple of weekends have gone great and I felt good, so I knew that I could lay it down on the last lap, for sure. I'm very happy, it was super special and a great race. I'm looking forward to the next one."
Disera 7th at Opening World Cup Short Track
U23 Men's XC in Albstadt World Cup results
Albstadt MTB World Cup: U23 Women results