May 9/21 14:01 pm - Koretzky Completes French Sweep at Albstadt, Bouchard 15th

Posted by Editoress on 05/9/21

Victor Koretzky (KMC-Orbea) took his first elite mountain bike World Cup win on Sunday at the season-opener in Albstadt, Germany, after French women had finished 1-2 a few hours earlier. With his win and second place in the Short track on Friday, Koretzky also donned the World Cup leader's jersey.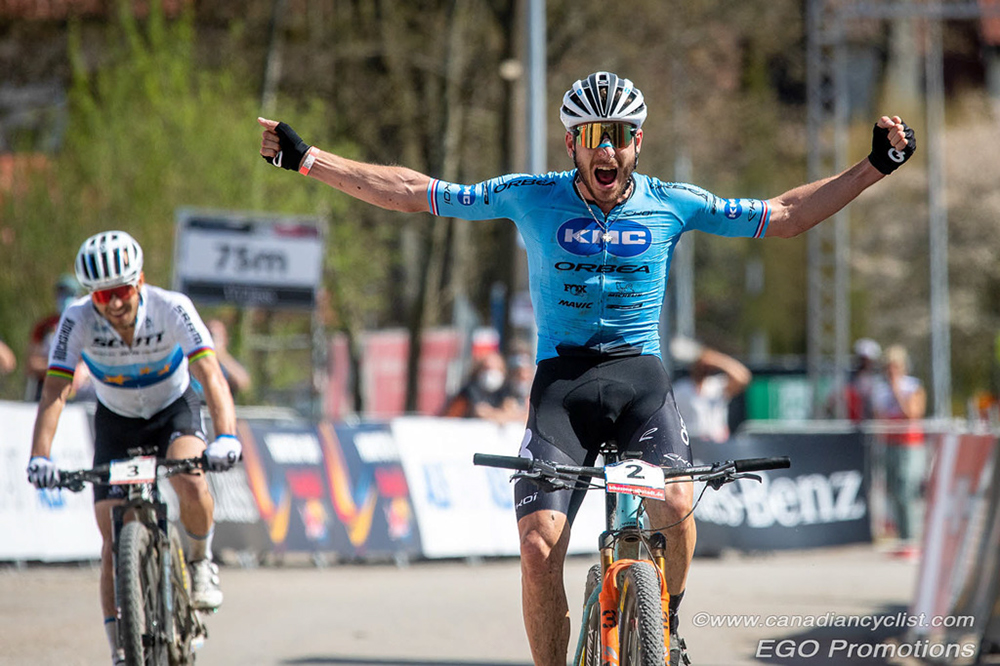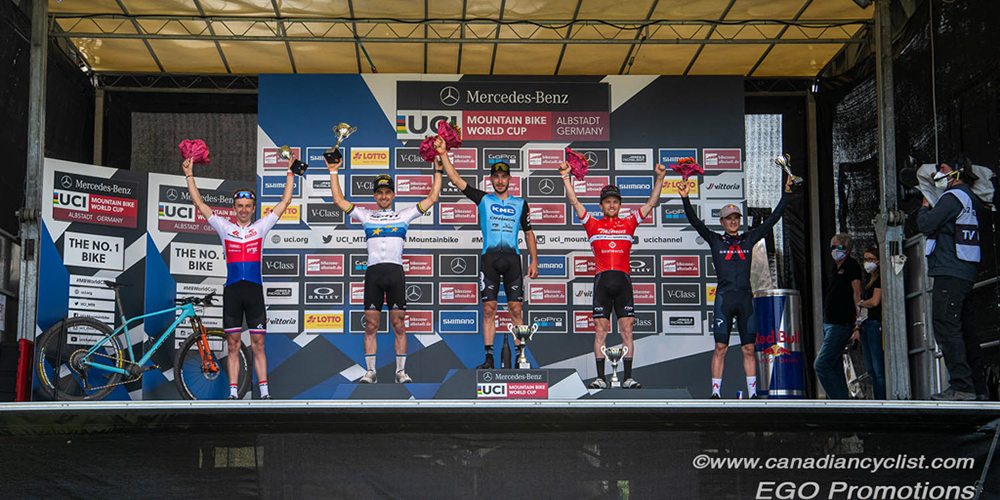 Leandre Bouchard (Pivot-OTE) finished a strong 15th, with a consistent effort that saw him move up steadily from the 30s in the start loop. Peter Disera (Norco Factory) rode near the front of the race for the start loop and first lap before paying for his efforts to fade back to 42nd. Other Canadian results: Andrew L'Esperance (Norco Factory) in 63rd, Sean Fincham (Norco Factory) in 91st, Raphael Auclair (Pivot-OTE) in 102nd, Marc Andre Fortier (Pivot-OTE) in 110th, Quinton Disera (Norco Factory) in 114th, Alexandre Vialle in 122nd, Tyler Orschel in 131st, Raphael Gagne in 135th and Felix Belhumeur (Pivot-OTE) in 142nd.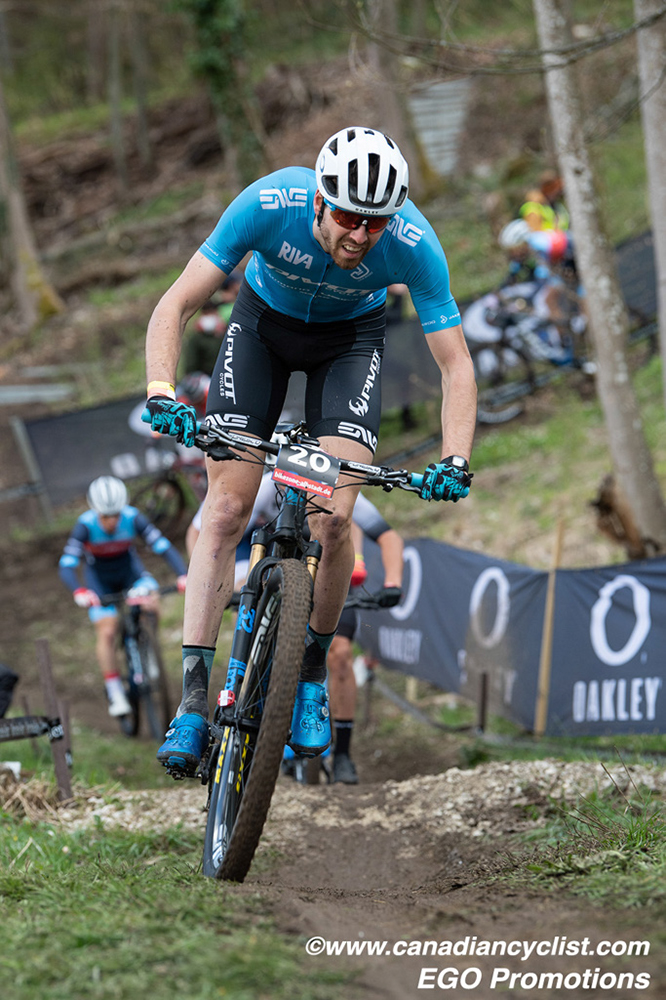 "Today was one of my best performances in the World Cup and I am super proud of it," said Bouchard. "Everything clicked today and I was on point on all the aspects - physically, mentally, technically. I'm proud of mentally where I was; I have made a lot of progress in my mental preparation from previous years. I started my race calmly and my goal was to avoid losing too much time, using too much energy or overheating."

"I was able to move up through positions; I knew where I wanted to put forth effort to make progressions. I'm looking forward to next weekend in Nove Mesto, and I will try to reproduce everything that worked great today. It feels great that I can achieve such a performance; it's my second best result on the World Cup."
"Today was a spicy one," commented Peter Disera, "didn't have the legs I wanted but it was what it was. Almost immediately off the start I was aware of how tough of a day it was going to be. I buckled in but by the second lap it was clear I didn't have the pace. Heat was definitely a factor and I had to take a few moments to compose myself before having a little burst on the last lap to hold onto some spots. Wild weekend out there. Very stoked on my short track."
Albstadt is one of the hardest courses on the World Cup circuit with two long, steep climbs per lap, and once again it tested the riders. Along with Round 2 of the World Cup, next weekend in Nove Mesto, Czech Republic, Albstadt is a final qualification event for the Tokyo Olympics, so there were 'races within races', as riders fight to qualify for their Olympic teams. After being cold all week, the temperature had shifted overnight to hot - 27 Celcius - adding to the difficulties the riders faced.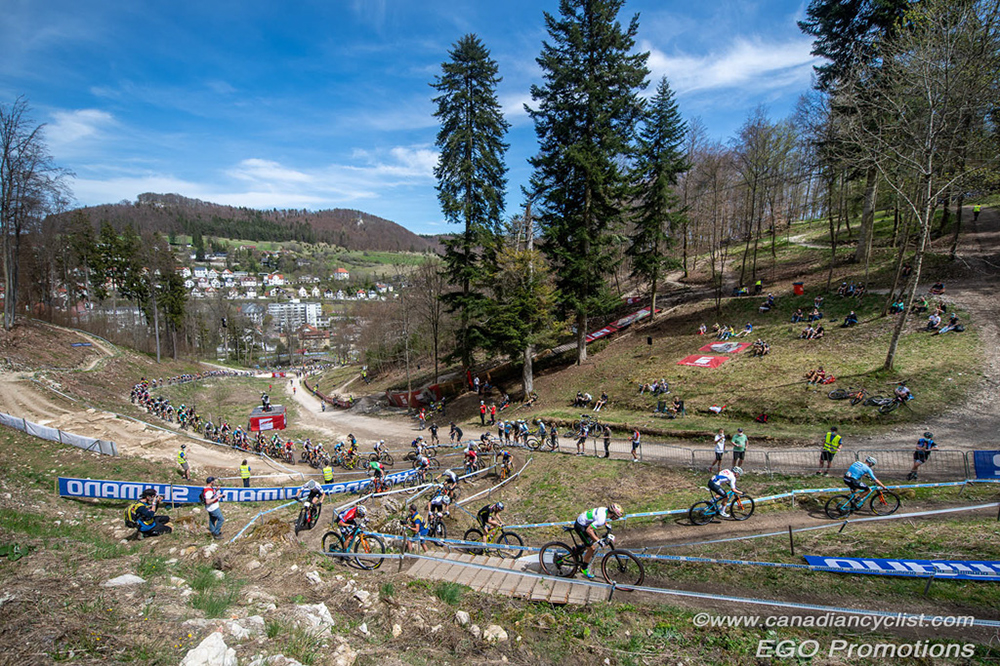 The men's race boasted a stellar field, including Nino Schurter (Scott-SRAM) looking for a record-tying 33rd World Cup win, Short Track winner Mathieu van der Poel (Alpecin-Fenix) in his first XCO since 2019 and Amstel Gold second place finisher Thomas Pidcock (Ineos Grenadiers) in his first elite World Cup race.

Henrique Avancini (Cannondale Factory) took the lead on the start loop and was quickly joined by van der Poel, who attacked on the climb. Avancini was the only rider able to join the Dutchman and the two went ten seconds clear before a chase group led by Schurter began to reel them in, catching them late on the first lap. The attack proved to be ill-advised, with both riders falling off the pace of the leaders; van der Poel would eventually recover to finish seventh, while Avancini was tenth.

At the front, a group formed containing Schurter, Koretzky, 2019 Albstadt winner Mathias Flueckiger (Thomus RN Swiss Bike), Ondrej Cink (Kross Orlen) and world champion Jordan Sarrou (Specialized). Flueckiger and Cink were the most aggressive on the climbs, with only Koretzky and Schurter able to consistently follow them. Others would come back to the group after the descents, but were eventually dropped after successive climbs, reducing the race to these four.

Behind them, Pidcock was having a remarkable ride up through the field. Having no UCI mountain bike ranking, Pidcock started on the 11th row with plate 100. He passed over 60 riders on the start loop to move into the top-25, and was up with the leaders by the end of Lap 2. However, the effort took its toll, and he began yo-yoing off the group whenever attacks took place on the climbs. He managed to claw his way back to fifth by the finish, only six seconds out of a top-3.

"I was happy with how it went," said Pidcock. "It was very hot and I think a lot of guys blew themselves up on the first lap, me included. After that I tried to just settle in. But I had a slow leak in my rear tire and on the last lap it had gone completely flat by the time I got to the finish. But next week I'll be able to do the Short Track, and hopefully I can go for a front row start in the XCO and I'll be in a much better situation."

Flueckiger looked to be the strongest on the climbs, with Koretzky and Schurter just following, and Cink getting dropped regularly whenever the pace went up. On the fifth and second to last lap, Flueckiger managed to get a small gap on the other two before they fought back, however, on the final lap he looked to have a problem - his dropper post, which he had dropped for the descent, didn't spring back up, forcing him to ride standing up. When Schurter attacked, only Koretzky could respond.

"I felt very strong," said Flueckiger, "and my tactic was to be first on the first climb of the last lap, because if I could make it to the top in first then I could probably have the victory. But then I had the mechanical problem and I had to stand up for the full lap. This was really hard, and all I could do was fight for third place. Bad luck happens some times, so I'm very happy to get third place in this situation."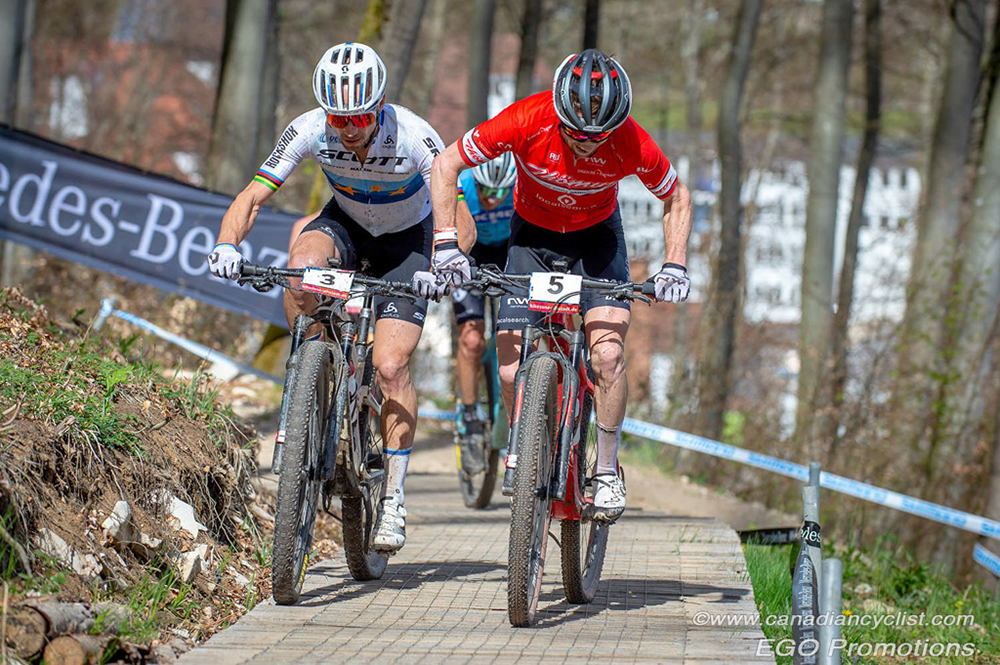 Schurter led up the final climb and down the descent, with Koretzky on his wheel. It looked like the race would come down to a sprint on the final 100 metres of asphalt, but then Koretzky managed to overtake Schurter in one of the final corners, leading through the pump track section and onto the asphalt finishing straight. Schurter attempted to catch him in the sprint, but Koretzky held him off for his first elite World Cup win. Flueckiger managed to stay ahead of Cink for third, with Pidcock taking the fifth and final podium spot.

"I can't believe, it's amazing," said Koretzky. "In the warmup I didn't feel like I was in my best shape, but after the first two laps it got better and better. On the first lap I was able to follow the front group. I didn't take the lead and just focussed on the finish line. It was the tactic my manager and I talked about before the race because it was so hot. Then I was able to pass Nino in the grass and just take my sprint to the finish line. It was amazing and I don't know what else to say."
Albstadt MTB World Cup: Elite Men results
French Dominate Women's XCO at Albstadt, Batty 27th
Race Report - Carter Woods Wins Albstadt U23 World Cup
Disera 7th at Opening World Cup Short Track