May 14/21 14:31 pm - UPDATED - Batten & van der Poel Win Short Tracks at World Cup #2

Posted by Editoress on 05/14/21

The second round of the Mountain Bike World Cup opened on Friday evening in Nove Mesto, Czech Republic, with a muddy Short Track (XCC). Under-23 rider Haley Batten (Trinity Racing) won the women's race in only her second start for this event, while Mathieu van der Poel (Alpecin-Fenix) confirmed, once again, that he dominates the men's field, with his eighth consecutive win in the XCCs he has entered since 2019. The overall leader's jerseys remain with Loana Lecomte (Massi) and Victor Koretzky (KMC-Orbea).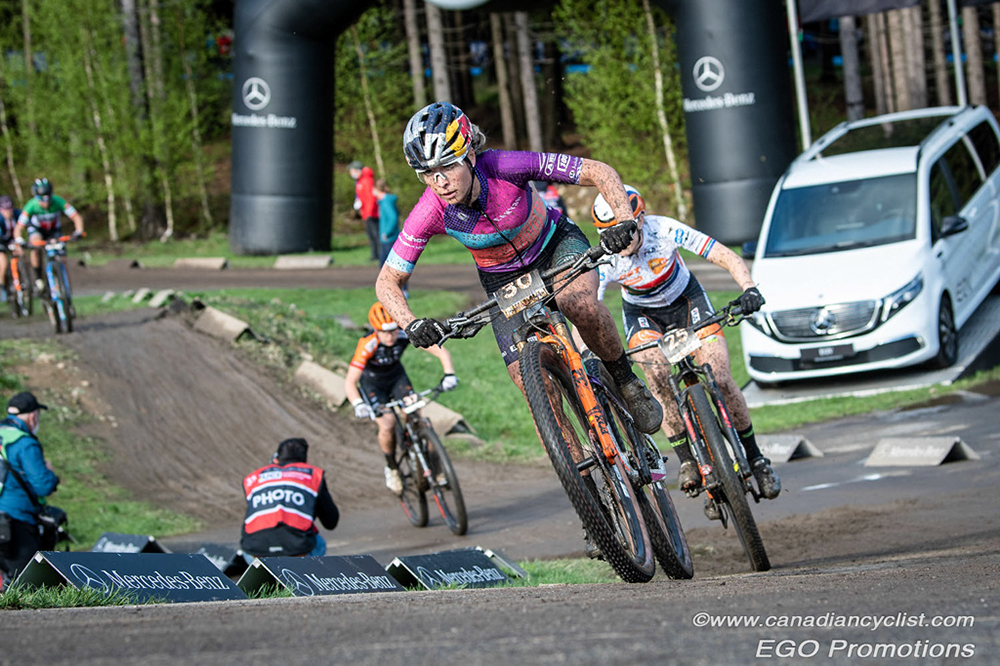 Emily Batty (Canyon Factory Collective) was the top Canadian finisher for the day; 15th in the women after riding in the mid-teens all race. Haley Smith (Norco Factory) was 37th and Catharine Pendrel (Clif Pro), who was eligible to race, decided to skip the event and save her legs for Sunday's XCO. In the men's race, Leandre Bouchard (Pivot-OTE) rode with the large front group for the first half of the race before sliding back slightly to finish 17th. Peter Disera (Norco Factory), started in the last row and managed to work his way about to 26th by the finish, running out of laps before he could manage to get into the top-24 for a better starting position on Sunday.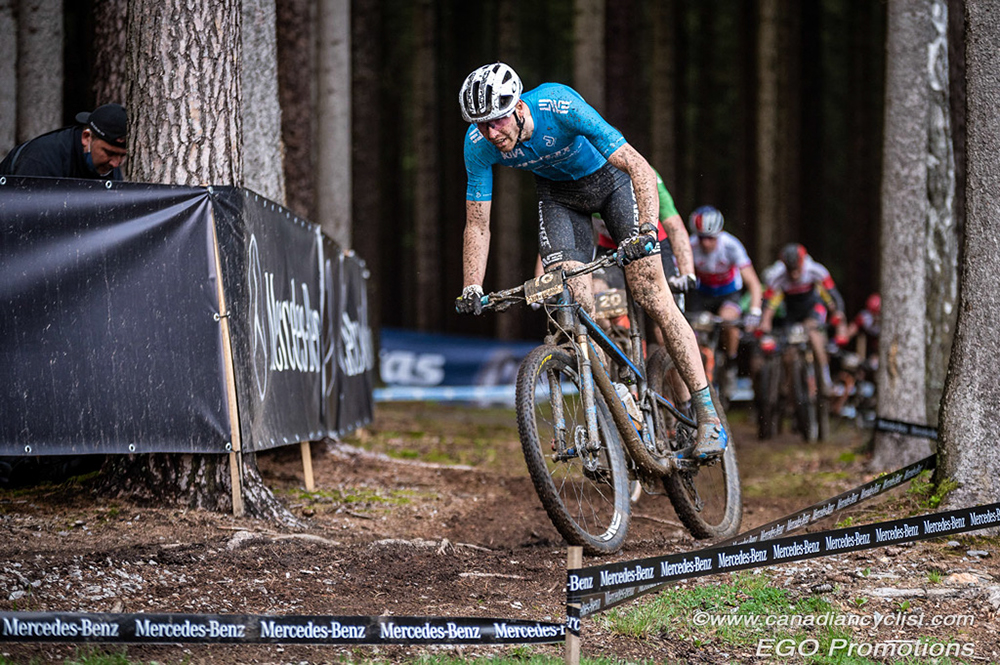 "It was really muddy today, the mud was thick and it was quite insane," said Bouchard. "I'm pretty happy with my performance today, at the start I got a bit squeezed, but at the same time I was still mid-pack. I stayed calm from there and didn't put in too much energy because it was a yo-yo effect with the new course making it a long section of singletrack. I was fighting in the sprint with Manuel Fumic and finished 17th, so third row [for the XCO], which is good. I'm really looking forward to Sunday; my shape is great and it's going to be fun."
The roughly 20 minute Short Track offers half the points of a cross-country (XCO) win, and the top 24 finishers occupy the first three rows on the start line for Sunday's XCO so, for the top 40 ranked riders who are allowed to enter, it is a serious battle.

After rain all week, the 1.5 kilometre circuit was extremely slick and muddy, with an extended climb added over previous years, making the circuit 50% longer then in the past. It made the women's race almost four minutes longer then the usual 20 minutes, and the men's race was shortened to the same six laps as the women for this reason.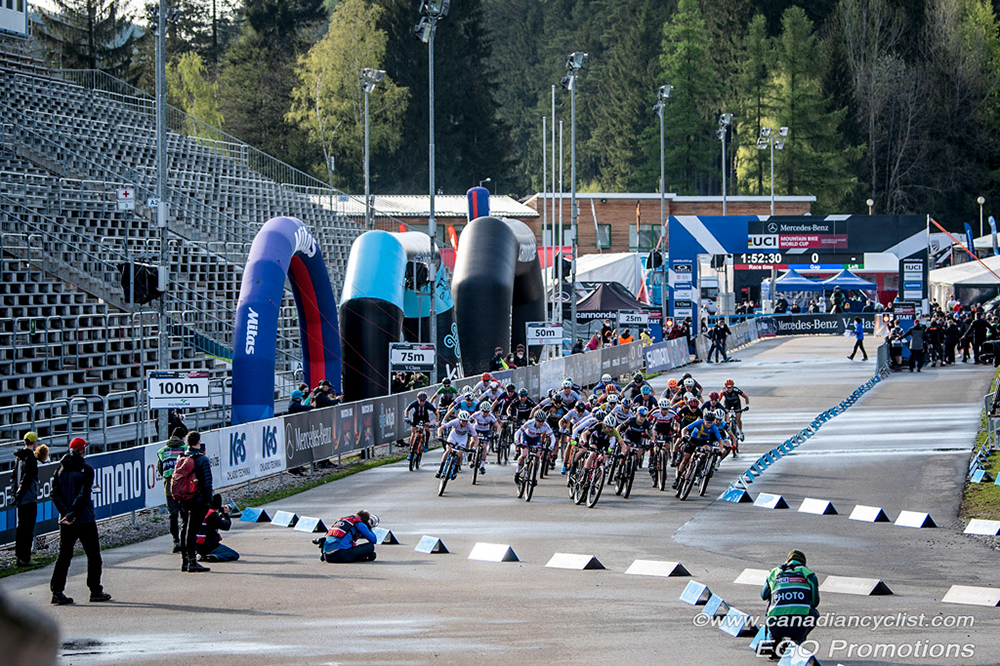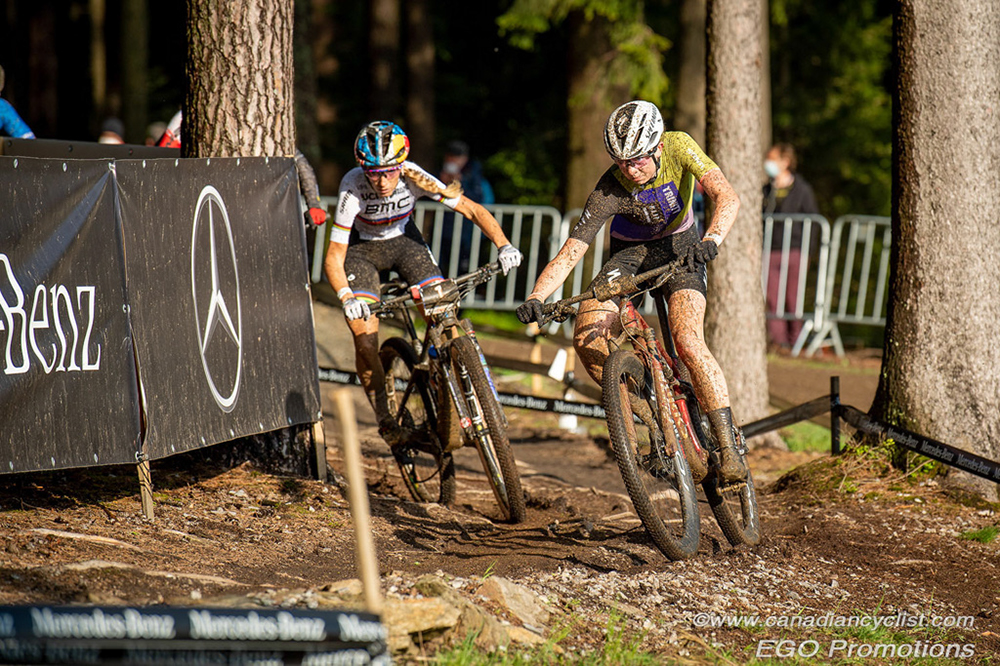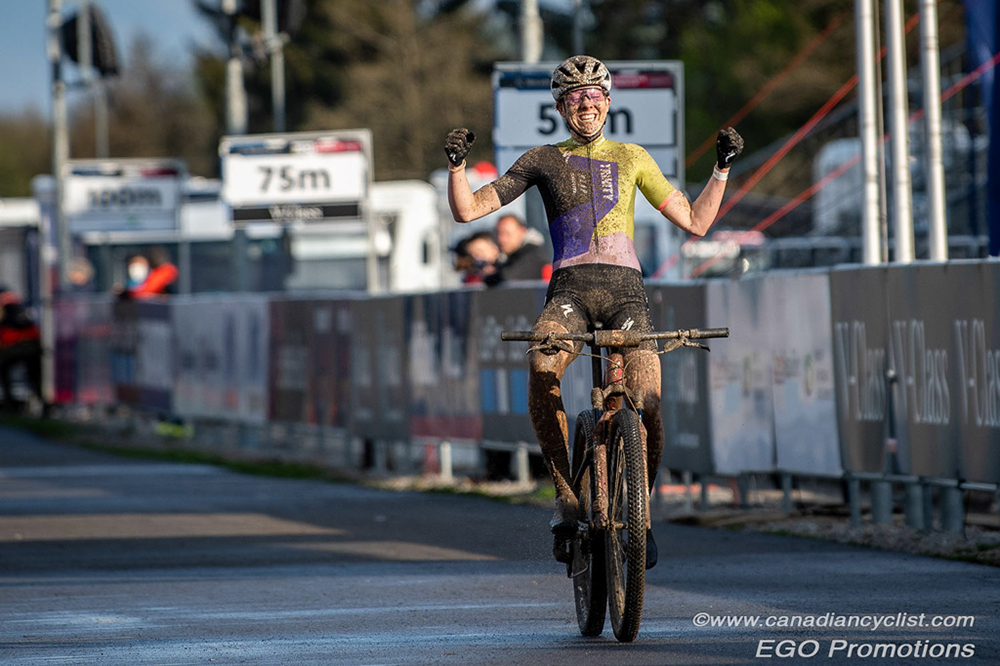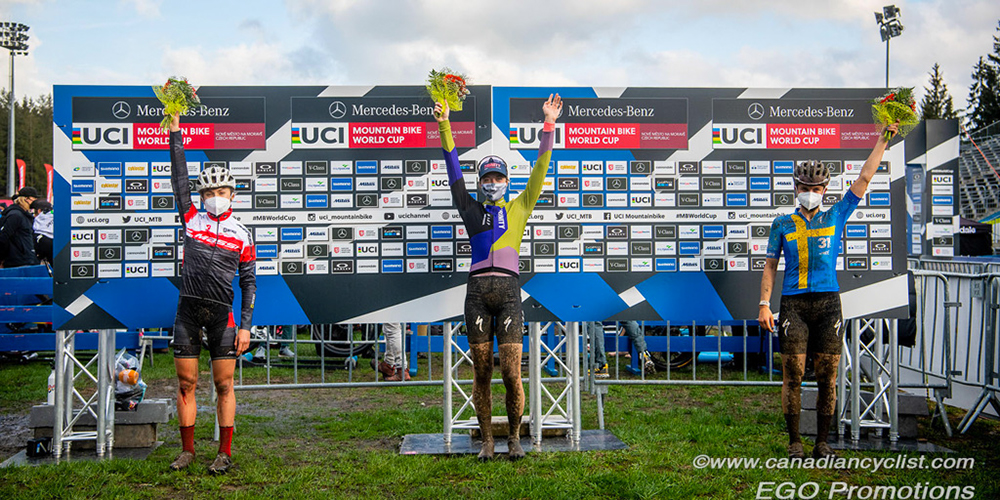 Batten, who is one of four American women battling for two Olympic spots, showed that last week's third place in the XCO was no fluke; grabbing the holeshot at the start and consistently sitting in the top-3 through the first half of the race. By the end of the third lap, the lead group was down to six, with last week's XCC winner, world champion Pauline Ferrand Prevot (Absolute-Absalon-BMC), and 2016 Olympic champion Jenny Rissveds (Sweden) also in the group. Ferrand Prevot then crashed hard in a muddy section, dropping out of the race and lying on the side of the course, clutching her abdomen. She went to hospital, but it appears she will be okay to start Sunday's XCO.

Batten and Lecomte rode away from remaining chasers - Rissveds, Linda Indergand (Liv Factory) and Annie Last (Great Britain) - on the fourth lap, and it looked like it might come down to a sprint until Lecomte had a small crash on the penultimate lap. It allowed Batten to open a seven second lead going into the final lap, which she extended to 16 seconds by the finish. Rissveds dropped the other two chasers for third.

"I have no words," said Batten, "I knew I was going pretty strong after last weekend, but I wasn't sure, with that slippery rock garden. But I got to the front and I felt really good; it was an exciting race in the mud, it's crazy. I couldn't think about it being the last lap [when Lecomte was chasing her]. There are so many sections where you have to be in control and technically skilled, so my eyes were just on the course; crossing the line was the first time I really realized I was in the front. I'm bummed [about the crash]; I was hoping we could work together and finish strong, but racing happens. I'm glad she still finished second."

The men's race had multiple contenders for the win besides van der Poel - last week's XCO winner Koretzky, world number one Nino Schurter (Scott-SRAM), van der Poel's road and cyclo-cross rival Tom Pidcock (Ineos Grenadiers) and Henrique Avancini (Cannondale Factory), who won here last year.

While the pace was high in the opening laps, there was still a group of nearly 20 riders at the front by the halfway mark. Pidcock, Avancini and van der Poel tooks turns at the front, but no one seemed willing to make an all out effort to splinter the field. By fifth lap, it was down to seven after a surge by Koretzky, and then van der Poel went to the front on the climb, with Pidcock and Avacini both trying to sprint by him on the climb before the singletrack. They were joined by Koretzky, world champion Jordan Sarrou (Specialized) and Max Brandl (Lexware) before the start of the last lap, but when van der Poel surged again on the climb, only Pidcock could go with him. The British rider then moved into the lead for the descent to the asphalt finishing straight and began the sprint with 150 metres to go, but van der Poel used his well-known explosive kick to come by in the final ten metres and win by a bike length.

Van der Poel admitted that Pidcock was a concern, "I've known him for a while now, and I know what he is capable of. He was very strong, as expected."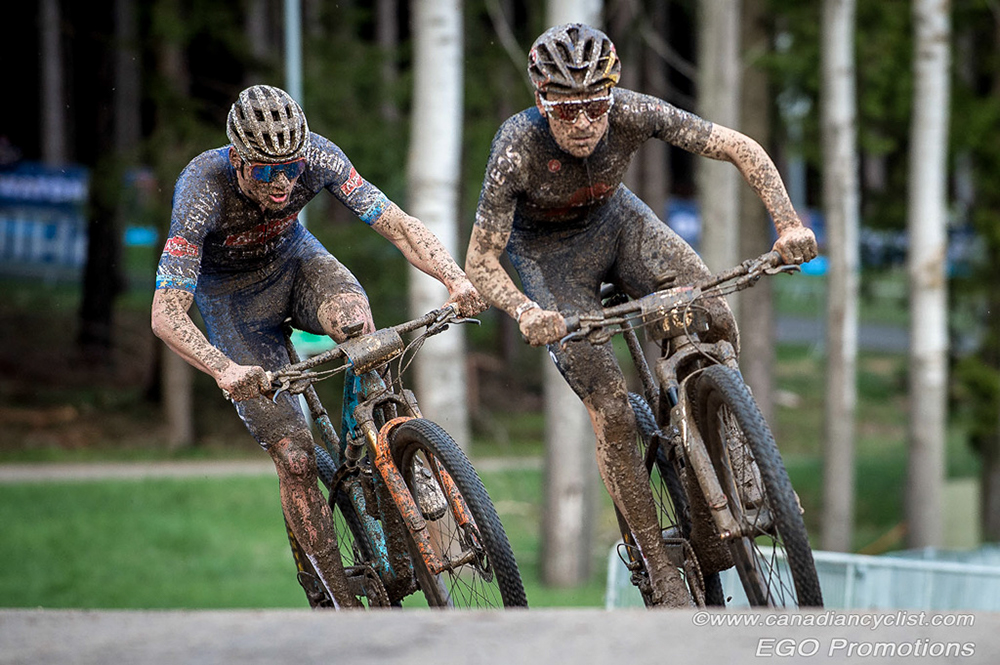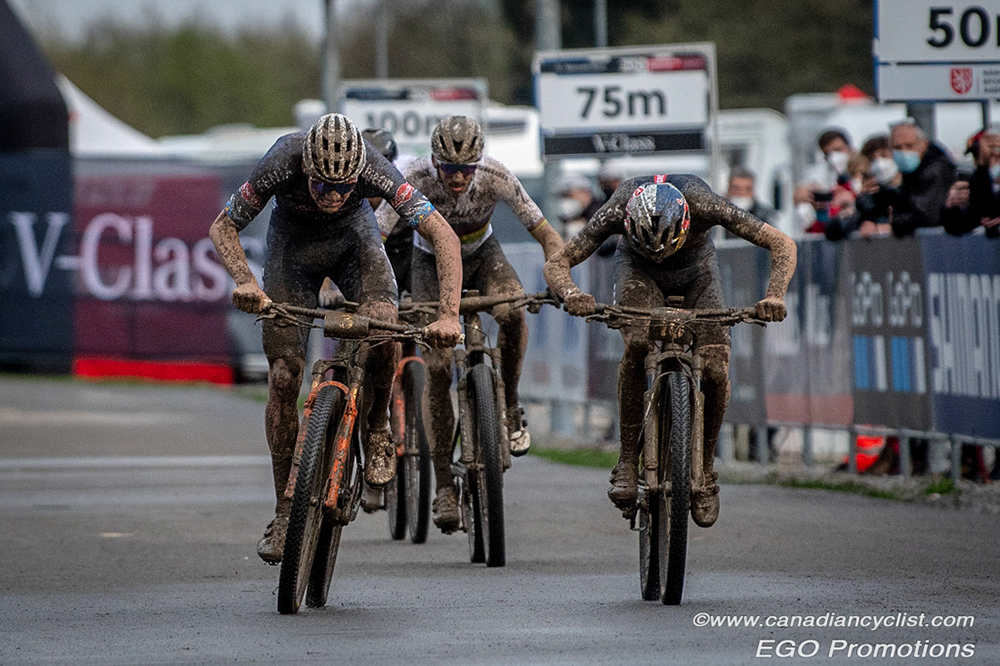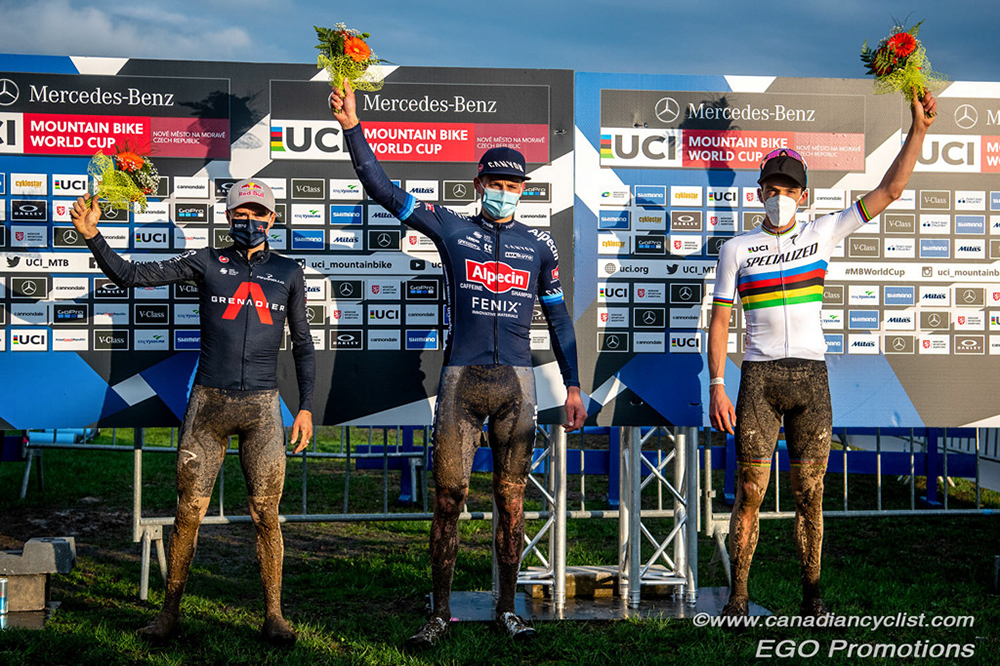 Van der Poel stated earlier in the week that he wasn't at 100%, saying "I didn't have the best legs today, but I hope to have them for Sunday [XCO]. Last weekend I had better legs [in the XCC] then I had [in the XCO], so I hope to change that around this week. This course suits me pretty well, so I'm just hoping for a really good day."

Pidcock revealed that he was hampered in the sprint by not being able to get into his biggest gear; part of a ongoing litany of mechanical issues: "It was a little bit annoying, because I couldn't get into my biggest gear; that's why I was spinning so fast. I had to change bikes at the last minute because my suspension wasn't working, so the mechanic didn't have time to check it. I was feeling really good, so I'm happy with how I felt. I was thinking I wouldn't feel so good in this race compared to the Olympic distance, because it's more explosive, but I think this track suits me well with the longer climbs."

Speaking to his ongoing technical issues in mountain biking, Pidcock pointed to the newness of his WorldTour road team to mountain biking: "It's inexperience. I think if we didn't have any problems it would be abnormal; I'm relatively inexperienced [to mountain biking] and so is the team; we're all still learning and have to work around it. Hopefully, some day we will get it all right."

He also spoke about being able to start on the front row on Sunday, compared to his remarkable but exhausting climb up to fifth from an 11th row start last week: "For sure it will make such a big difference. I won't have to go so hard; in the first part of the race I'll be able to sit back and reserve as much as I can. Last week I was fighting every second."
Nove Mesto World Cup: Short Track results