May 15/21 13:21 pm - Carter Woods Dominates at World Cup #2

Posted by Editoress on 05/15/21

Canada's Carter Woods (Norco Factory) proved that last week's win in the opening round of the Under-23 men's World Cup was no fluke, by riding away from the rest of the field to win by almost two minutes at Round 2 in Nove Mesto, Czech Republic, on Saturday.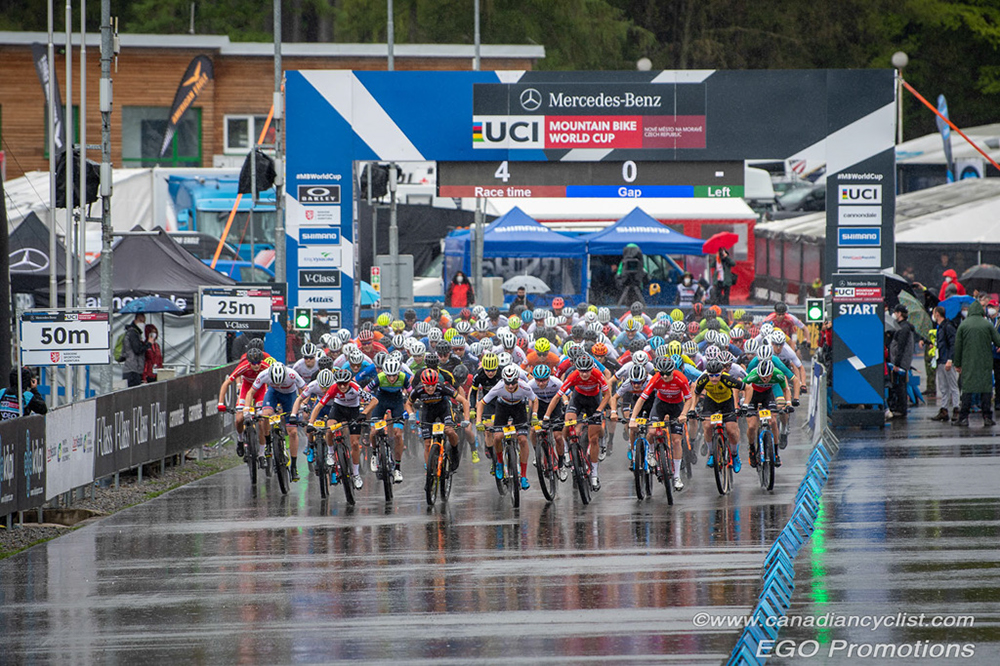 Wet start
Woods, of course, retains the leader's jersey with his victory and leads the standings with a perfect 180 points. Canada's only other entry, Gunnar Holmgren (Pivot-OTE), had a crash early in the race and then broke his chain on the fifth lap, forcing him to abandon.

In the women's race, Emilly Johnston (Canada) was the top Canadian finisher in 20th place. Roxanne Vermette (Canada) was 27th, Marianne Theberge (Pivot-OTE) was 34th and Julianne Sarrazin (Canada) was 53rd. Sarrazin was a member of the 2019 Worlds team as a Junior and is competing in Europe for the first time. Mona Mitterwallner (Trek-Vaude) won her second consecutive World Cup.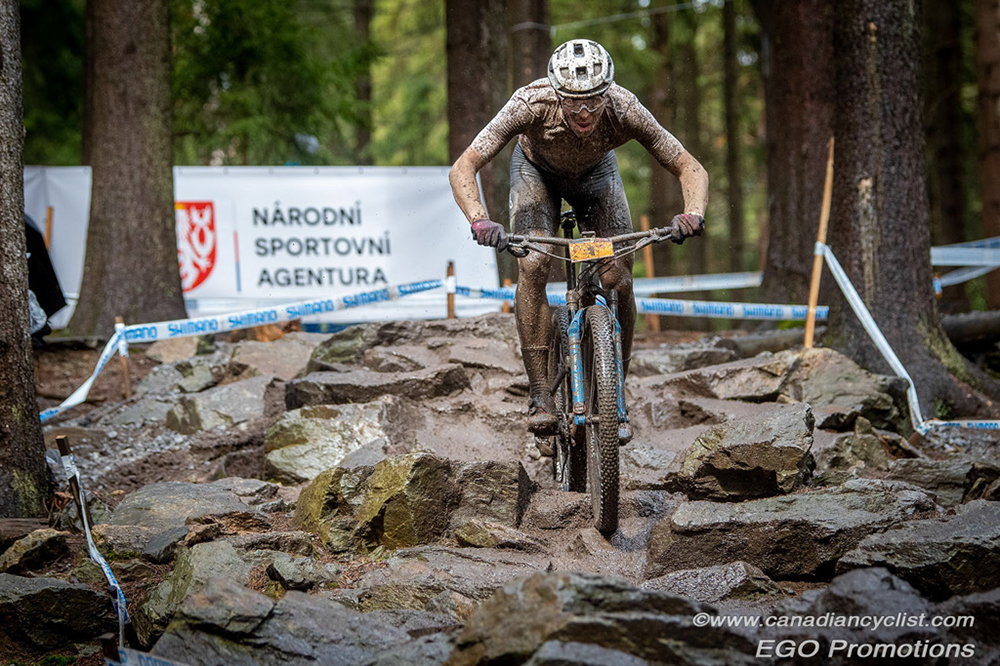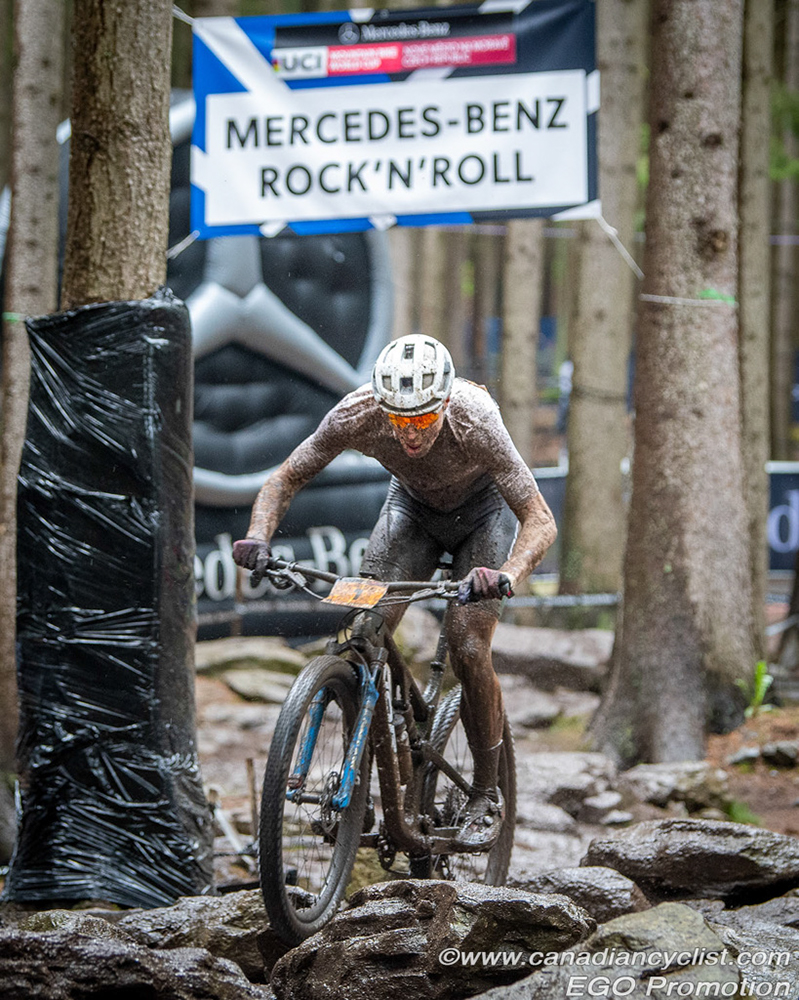 Carter Woods
Wet conditions made for a muddy and slippery race, and the length was adjusted after the early morning Junior races, with the U23 men doing two start loops and five laps of the tough Nove Mesto course. Taking place mostly in pine forest, the course has two long straight climbs - one on singletrack - which always prove to be decisive.

Swiss riders Alexandre Balmer (Thomus RN Swiss Bike) and Joel Roth (Bike Team Solothurn) opened a small gap on the two start loops, after Woods slipped a pedal on the start, but by the time the riders began the first full lap, Woods, Riley Amos (USA) and Cameron Orr (Great Britain) had joined them at the front, with Woods launching an attack through the tech zone.

Woods then proceeded to, in the words of teammate Jenn Jackson, 'crush it'. He reeled off two consecutive sub-13 minute laps (the only rider to go below 13 minutes) to open a gap that would continue to grow throughout the rest of the race. He actually set the four fastest splits, for every full lap except the final one. The chase group of Amos, Balmer, Roth began to come apart on the second lap, with Amos finishing 1:55 down, Balmer at 2:21 and Roth at 2:30.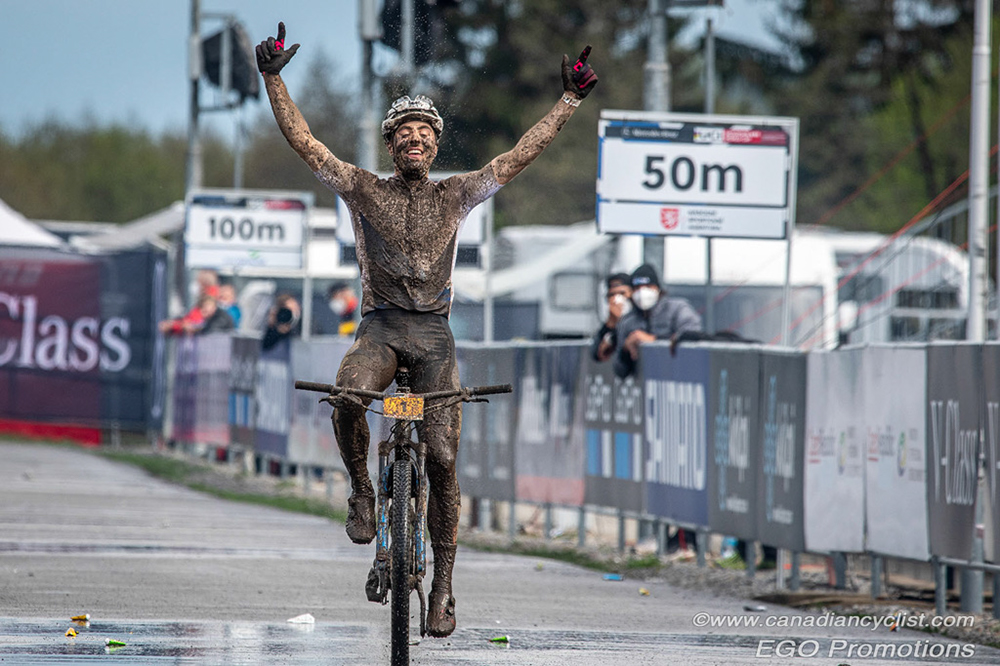 Woods wins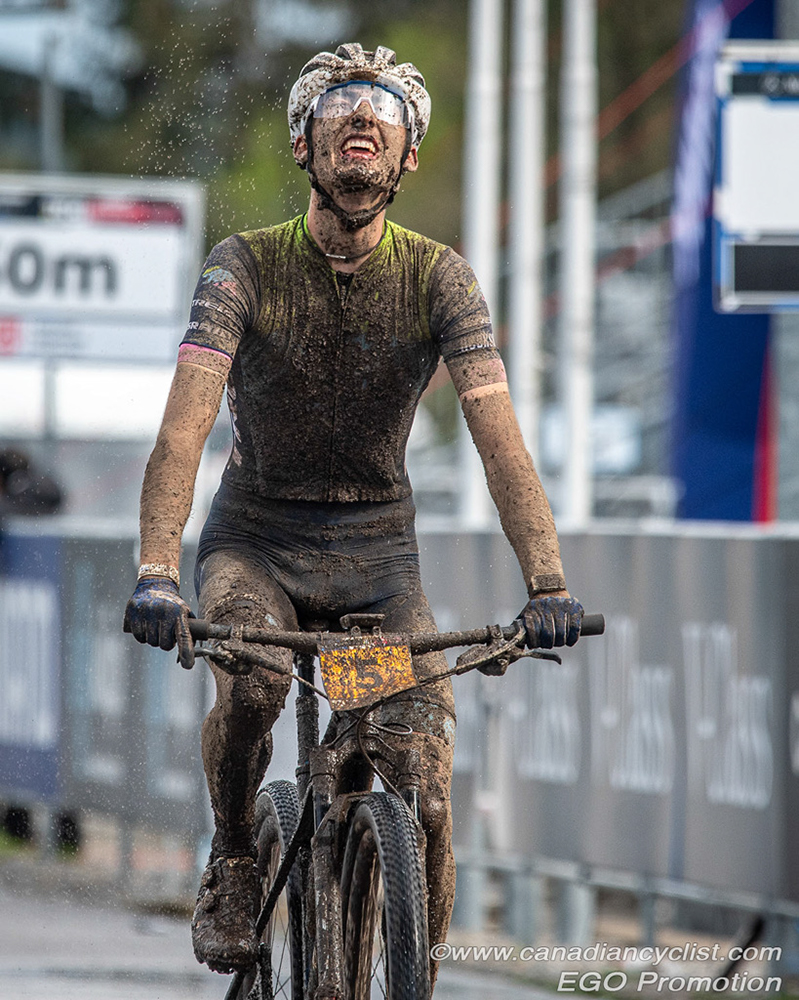 Riley Amos (USA) finishing 2nd
National mountain bike coach Dan Proulx said, "Carter's ride was incredible. His west coast skills were on display today. He also made some key decisions - choosing the most opportune times to get off the bike and run. A smart and gutsy ride in horrendous conditions. This is yet another step forward for him and his Coach Jeff Ain (Cycling Canada NextGen Coach)."

Carter, a first year U23 rider, says, "It's pretty crazy. I knew I had some good form after a couple of weeks racing in Europe [prior to the World Cups] and having some solid results. I knew there was a chance [of winning the World Cups], but I didn't know if it was all going to come together. It's a super big relief to have the second one done."

"Last weekend, I played a pretty conservative game because I didn't really know any of the others riders. So I just wanted to gauge where everyone was at. But coming into this race, the goal was to go on the second or third lap. The course was super muddy, which played to my advantage, too. So second [start loop] I put in a pretty solid dig and just rode with the gap. I just kept it pretty smooth and keeping the bike's drivetrain clean was key. It was super solid."

"I slipped my pedal at the start, but I managed to work my way back. The pace was pretty fast for the first half [of the start loops], but by the second climb people were starting to fade. So I was in a good spot by the end of the start loop. Coming through the feedzone on the second loop is where I laid down my attack; I did a 30 minute long, pretty solid attack. I just rode away with it from there."

"I'm super happy with how the first part of the season has gone; it's been a good month here so I'm looking forward to getting back to some more training."

Carter says the team will now go to Andorra for a training camp before the next World Cup in mid-June at Leogang, Austria. "We're off to Andorra on Monday, where we will be meeting up with the rest of the Norco Factory team [the Downhill squad]. We'll have the whole crew there, so we'll be able to do some testing, and get some solid base miles, so it should be good."
Nove Mesto MTB World Cup: U23 Men results
Nove Mesto MTB World Cup: U23 Women results