June 11/21 13:48 pm - Lecomte & Flueckiger Win World Cup Short Tracks, Pendrel 17th

Posted by Editoress on 06/11/21

Two first time Short Track winners were victorious at Round 3 of the Mountain Bike World Cup in Leogang, Austria, on Friday. Loana Lecomte (Massi) won the women's race, while Mathias Flueckiger (Thomus RN Swiss Bike) took the men's win.

Catharine Pendrel (Clif Pro) was the top Canadian finisher, 17th in the women's race, while Peter Disera (Norco Factory) was 25th in the men's.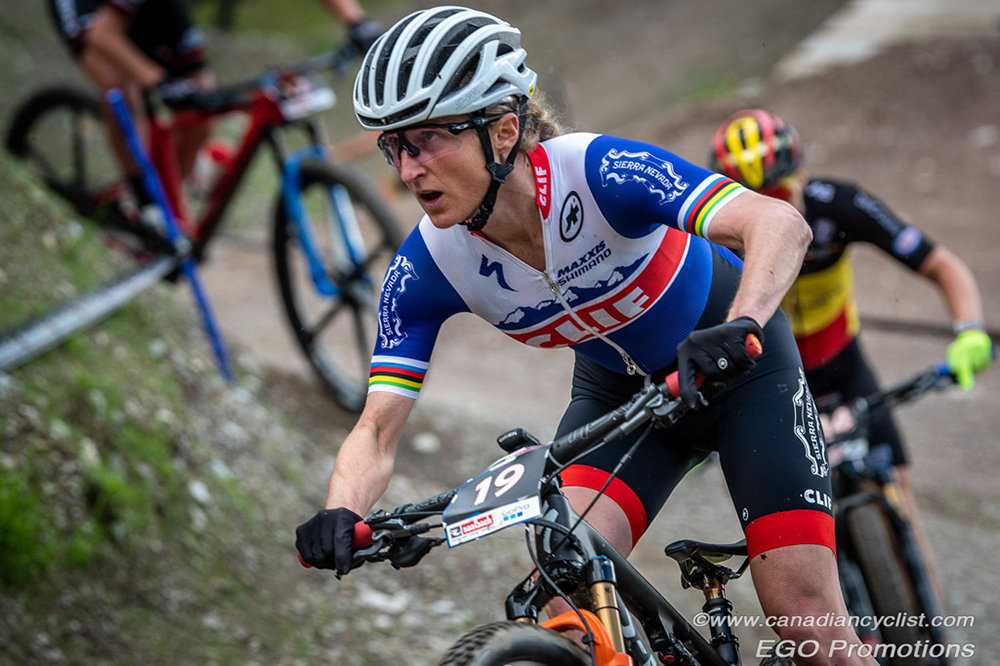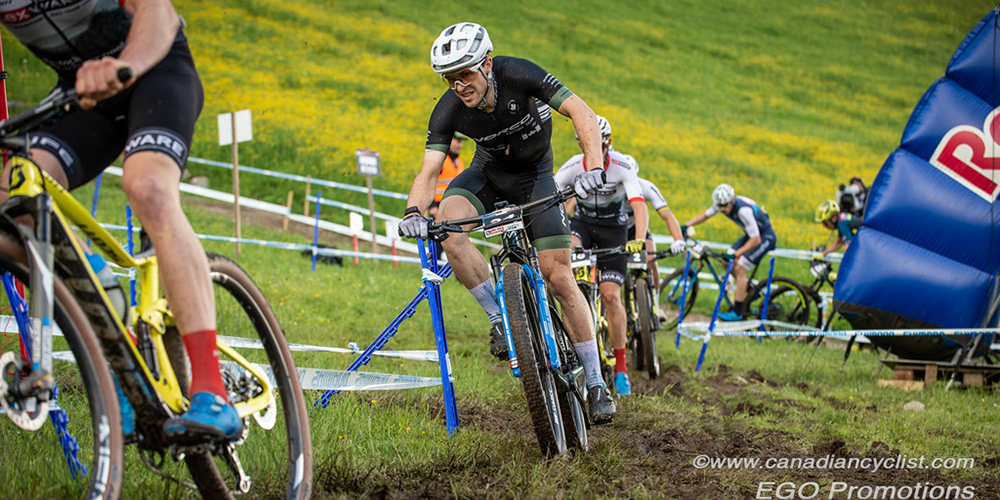 The 20 minute races offer half the World Cup points of a cross-country (XCO) and the top 24 finishers (of the 40 rider field) make up the first three rows on the start line for Sunday's XCO. Leogang's one kilometre track was called by many riders the toughest ever, starting with a long, steep grassy climb, followed by a section through a pump track and then a switchback descent to the finish line.

The women's race had a full field of the top riders, with only American Kate Courtney (Scott-SRAM) missing, due to a broken arm suffered at the previous round. Local favourite Laura Stigger (Specialized) jumped into the lead on the first lap, but quickly fell back by Lap 2 (of seven). Lecomte, winner of the first two rounds of the XCO series and the World Cup leader, then moved to the front and rode away on the climb.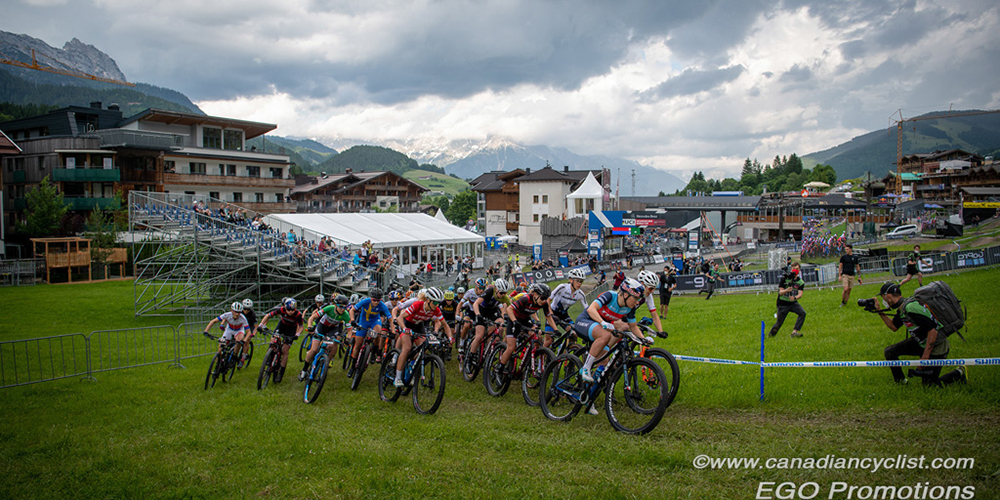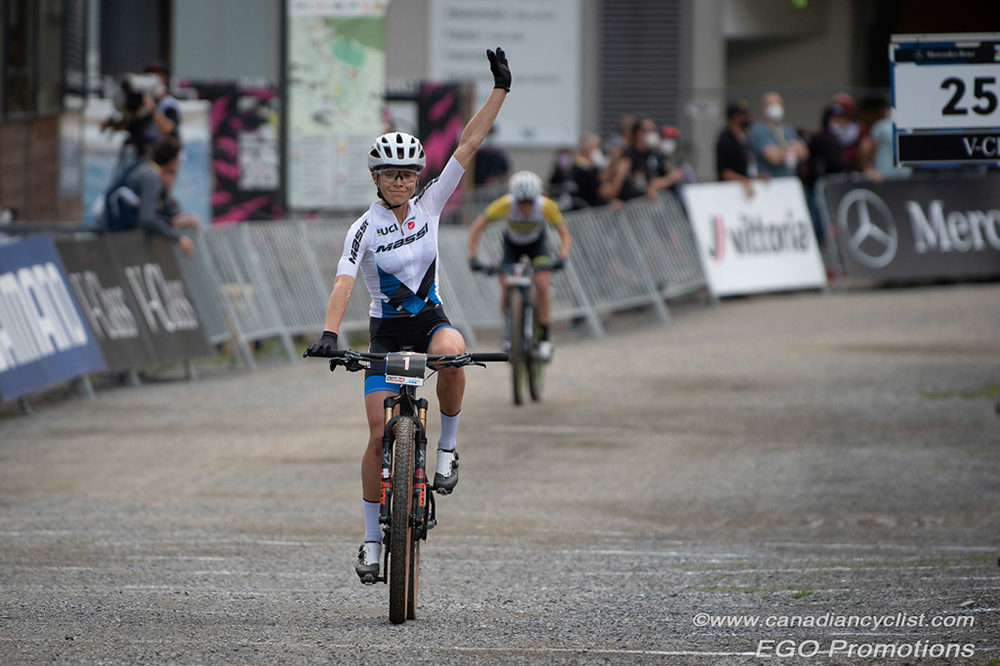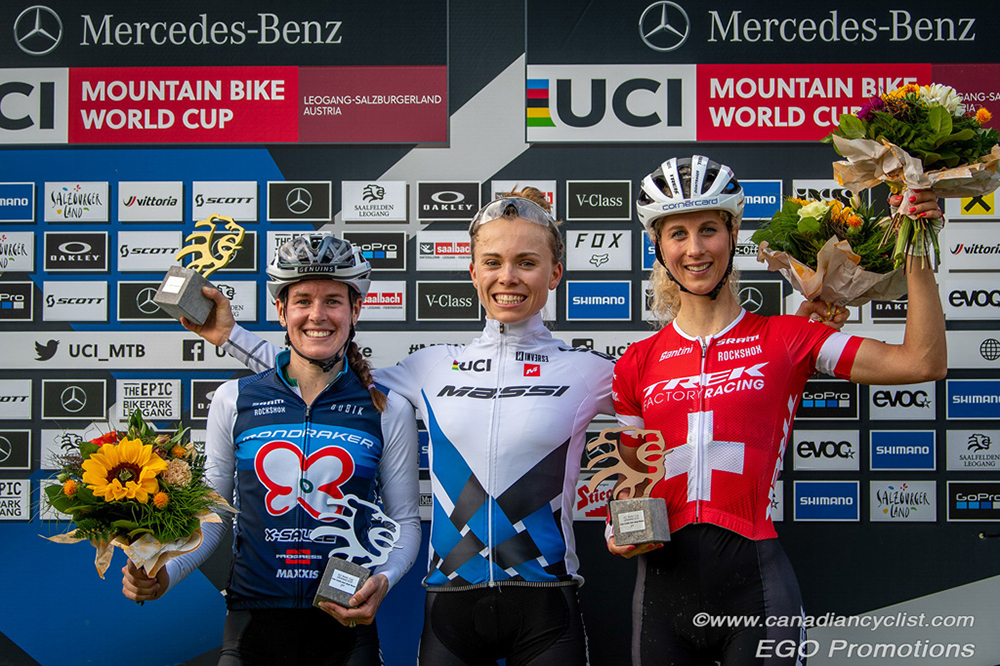 World champion Pauline Ferrand Prevot (Absolute-Absalon-BMC), Australian champion Rebecca McConnell (Primaflora Mondraker XSauce) and Swiss champion Jolanda Neff (Trek Factory) took turns setting the pace of the chase, but none could make a dent in Lecomte's lead. In the penultimate lap Ferrand Prevot was the first to crack, leaving McConnell and Neff alone in the chase. McConnell then attacked Neff on the last lap and began to reel in Lecomte, but ran out of track, finishing four seconds back. Lecomte padded her lead in the overall standings, and now leads Haley Batten (Trinity Racing) by 200 points, with Ferrand Prevot a further 55 points back.

"I'm very happy to win my first Short Track," said Lecomte, who won the U23 XCO world title in Leogang last Fall. "Since the last World Cup I have not been racing, so today I just wanted to see what is my shape [form]. The big goal of the season [Olympics] is just more than one month away, so I am very happy with how this went. When I saw the track, I went 'Oh my God!'; I didn't want to race today. With Pauline [we discussed that] on the first climb [Lap 1] we didn't want to go full out, because it would be too hard to finish the race."

Jenn Jackson (Norco Factory) had a strong start, riding as high as 15th before fading in the second half of the race to finish 25th, just outside a front three row start on Sunday. Pendrel had a conservative start, before moving up mid-race to as high as 13th. She lost a couple of spots in the last two laps, but will start on the third row on Sunday. Haley Smith (Norco Factory) also had a good start, joining Pendrel in the top-20 before falling back to finish 28th, one spot behind Emily Batty (Canyon Collective Factory) and one ahead of Sandra Walter.

Catharine, who skipped the Nove Mesto Short Track, said to us, "I felt strong. In Nove Mesto I still had a lot of travel fatigue and needed to give myself more recovery. I now have another month of high intensity training to handle the double header weekends so hope I can put out another strong ride Sunday."
"So close, but so far!," commented Jackson. "It was a brutal track. I'm a bit of a Short Track novice, and was just happy to have the opportunity to be out there to suffer it out. There wasn't much real opportunity to pass once you'd slogged it up to the top of the course, the grass was super heavy, and I was trending backwards anyway, so 25th is a decent ride, hopefully I can hold on better next time. Catharine was very kind to cheer for me as she motored past mid-race. It would've been awesome to nab a call up, but having the legs to give it the beans from the start and be in the mix has me looking forward to Sunday."
The men's race was missing two of its biggest stars, and the two top riders in the World Cup standings - World Cup leader Mathieu van der Poel (Alpecin-Fenix) has shifted his efforts to the road for his pre-Olympic run up, while Round 2 XCO winner Thomas Pidcock (Ineos Grenadiers) is out with injury after getting hit by a car while training.

World Number 1 Nino Schurter (Scott-SRAM) was immediately knocked out of contention when he pulled a foot out of a pedal on the start line and dropped to the back of the field. He never recovered and finished a distant 29th.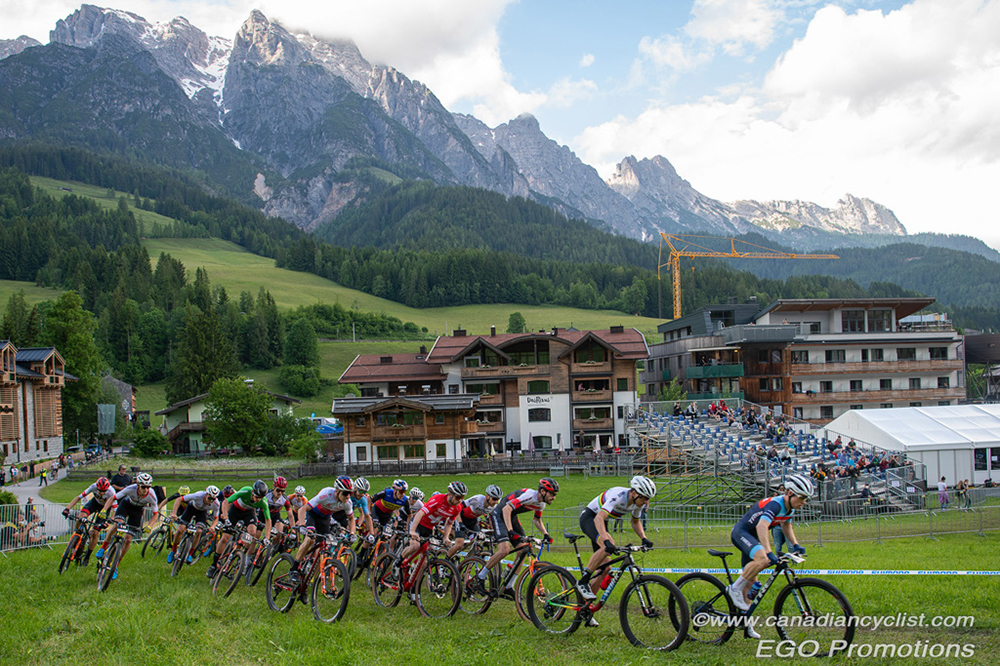 At the front, Anton Cooper (Trek Factory) took an early lead, but the top contenders were all together for most of the first half of the eight lap race, as no one could establish a gap. However, on Lap 5, Ondrej Cink (Kross Orlen) attacked on the climb and only Flueckiger could go with him, as the chase splintered behind them. Cink continued to set the pace each lap on the climb, with Flueckiger, the new Swiss champion, content to follow. On the final lap, Cink tried an attack on the climb, but Flueckiger responded easily, going straight by him to open a gap, which he extended on the descent. Milan Vader (KMC-Orbea) won a three-way battle with world champion Jordan Sarrou (Specialized) and Cooper for third.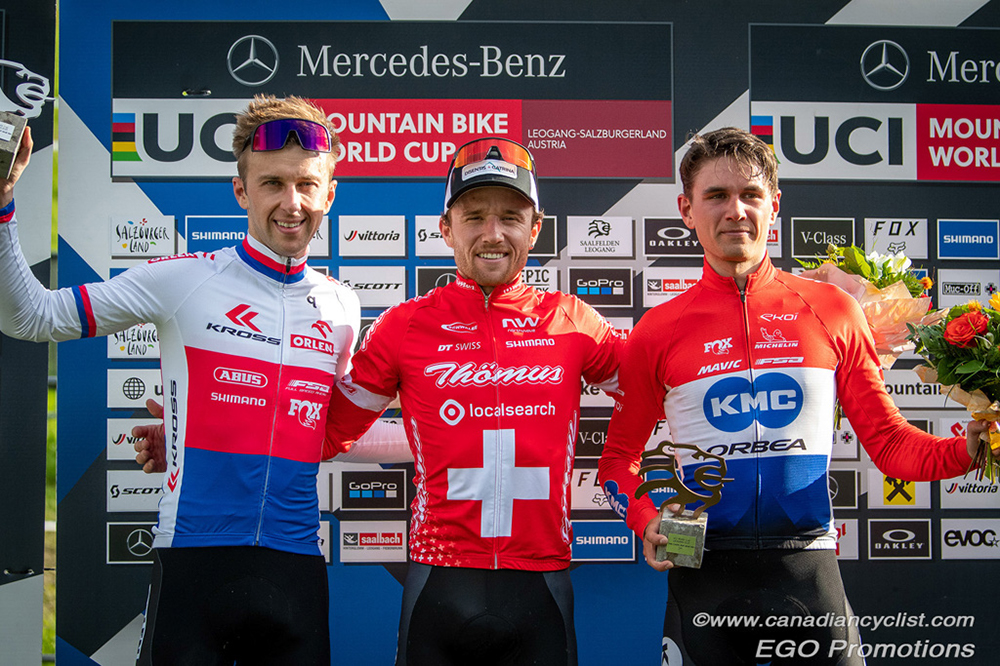 Despite missing the race, van der Poel still leads the World Cup, but Flueckiger has moved up to second from fifth and is only 26 points back. He will likely take the leader's jersey after Sunday's XCO.

"It's very cool [to win his first Short Track] and I didn't expected it," said Flueckiger, "I like the longer distance of the cross-country. But I'm pretty happy, and I would say that this track suits me pretty good with a longer climb and not so much sprinting. I knew from the second last lap that I had to stay on the wheel of Ondrej; it was pretty tough, but I recognized that I could pass him and I made a little gap, and it was enough. I hope I can continue like this on Sunday."

Leandre Bouchard (Pivot-OTE) had a second row start, and rode in the top-20 for the first few laps before gradually falling back to eventually finish 32nd. Disera, starting further back, moved up in the first few laps and was sitting in the low-20s by the halfway mark. That was as high as he would get before losing a few spots in the final laps.
"It was super hard racing," said Disera, "but [there was a] decent amount of recover compared to other XCCs. I'm bummed being outside the top 24. Almost had it, but decisions made a couple laps before put me out of touch in the end. Sunday is shaping up to be a solid day. The course here is very physical and should be a good time."
Leogang World Cup: Short Track results